This post may contain affiliate links.
My first question in Sun City, South Africa, a ritzy Vegas-style resort complex is, "Who are these people?" And by people, I mean South African women. And by women I mean long-legged gazelles.
UPDATE: Brainiac beauty Miss South Africa, Rolene Strauss, has just been crowned Miss World 2014. Congratulations South Africa! Strauss was competing at the Miss World pageant in London while I was in Sun City hanging with golf pros, the 2015 Miss South Africa finalists and a seeming endless array of former South Africa beauty queens. Read on to find out what that's like.
Sun City
I'm in Sun City, Africa, a two-hour drive from Johannesburg, for the Nedbank Golf Challenge, a long-standing golf tournament held at Sun City's Gary Player Country Club. It's a huge event for Sun City and for South Africa – if the swanky events surrounding the tournament are anything to go by.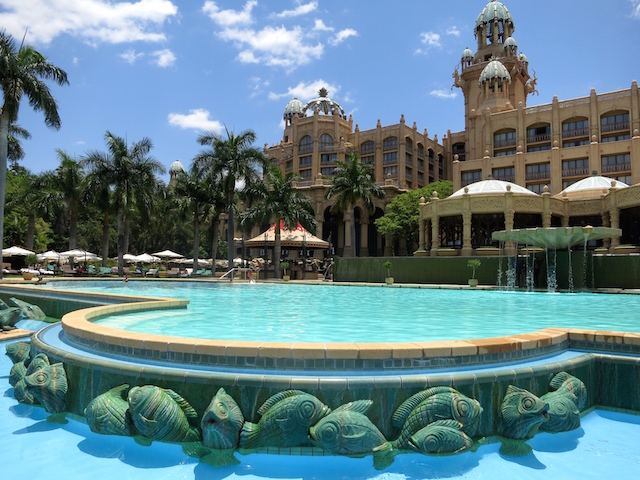 Golf at Sun City, a million dollar pastime
The Nedbank Golf Challenge used to be called the Millionaire Challenge because when it began in 1981, that was the prize amount. (Now it's $1,250,00 – which makes me wonder why anyone would go into travel writing instead of golf. Then again, if you saw me play golf, you'd certainly know why I haven't.)
Sun City, South Africa, home to beautiful women
I expected to see golfers. I did not expect to be sharing pool time with a flock of 24 Miss South African finalists and elegant golf wives, but that's life at Sun City, where golf comes complete with sunshine, crocodiles – seriously, there's a water hazard at Hole 13 on the Lost City Golf Course with 38 Nile crocodiles – and 6-foot tall ethereal-looking amazons.
What do Sun City and Miss South Africa have in common?
Yes, there is a connection. Thanks for asking. Sol Kerzner, hotel magnate, developer, creator of the wildly successful Sun International Hotel Group and the man behind Sun City, was once married to Anneline Kriel, a former Miss South Africa who went on to be Miss World in 1974.
Today Sun International owns the rights to the Miss South Africa Pageant so there you go, this explains the beautiful women in Sun City phenomenon.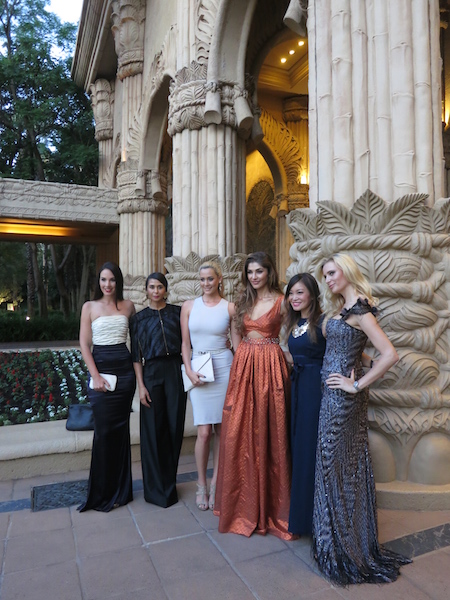 Beautiful women culture shock in Sun City, South Africa
As I waited all jet-lagged and fog headed for the shuttle outside the Palace of the Lost City Hotel, the most deluxe hotel in Sun City (not to mention a Leading Hotel of the World), to go to the Nedbank Golf Challenge Opening Night at Sun City's Entertainment Centre, I saw a group of women looking divine in formal gowns.
Clearly, they had just stepped fully airbrushed out of Vogue. I looked down at the broken fingernail on my right hand, then thought, well, at least my dress has some glitter.
Being my usual nosy self, I asked, "Are you Miss South Africa finalists?"
"No. We're media," one told me cheerfully. Say what???? At this point I was close to retreating to my room for room service French fries and cheesecake, but what helped me soldier on was that earlier that day I had discovered Pearl, a hairdresser at the Sun City's Gatsby Spa who had actually coerced my hair into behaving.
No point in wasting a good hair night. Also, all these gorgeous South African creatures seem very nice and welcoming, even if no one seems to understand a word I say because of my Canadian accent. (Which I didn't know I had.)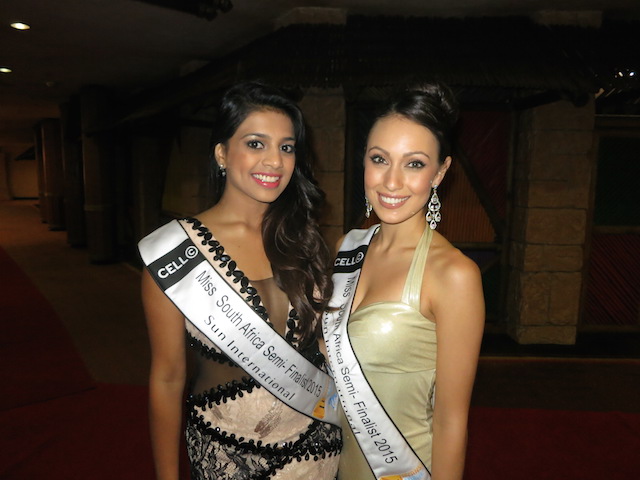 Nedbank Golf Challenge Opening Night
At the opening reception I was assigned to a table full of male sports writers. They all know each other and all of them no doubt consider me slightly less intelligent than the warthog that whipped across Sun City's Gary Player designed golf course last year.
It's not my fault I know nothing about golf. If we'd been talking designer purses I would have been a shining star. In fact, I may have more in common with the Miss South Africa contestants than I realized. I considered finding some to sit with just to put the sports writers out of their misery. Instead, I asked them what makes the Nedbank Golf Challenge so special.
The truth about the Nedbank Golf Challenge
Here's what I learned: 79-year-old Gary Player, who is at the event, is a revered figure in the world of golf, having won a whopping 163 tournaments in his career.
I also learned the Nedbank Golf Challenge is more than a tournament. It's plain fun. "Sun City is a great place to bring the family," the sports photographer beside me told me as an all-female South African band called the Muses was rocking on stage. "There's the Valley of the Waves, the Palace … lots of things to do."
The Valley of the Waves at Sun City
The Valley of the Waves is a water theme park complete with sandy beach and wave machine, just one more element of this over-the-top entertainment resort and casino where animal safaris, foot massages by the pool and palm trees go hand in hand with two golf courses and an elephant fountain in the Crystal Court Restaurant at the Palace of the Lost City Hotel.
So why am I in Sun City Africa?
This brings me to the question of why Sun International would invite me, a luxury travel blogger who knows as much about golf as the baboon I saw stealing someone's lunch yesterday. At first I thought it was so the good folks at Sun International could laugh at me and all share a fun joke, then I realized it's a long way to bring someone when they could just as easily have laughed at me from a distance.
Oh, that's why I'm in Sun City
Luckily I figured it out. I'm here to prove that even if you're a golf imbecile you can have fun in Sun City during the Nedbank Golf Challenge!
However
Just be forewarned that not only will you be surrounded by Miss South Africa finalists, impeccably-dressed golf wives, girlfriends, golfers and fans, you will also have to contend with Mrs. South Africa 2015, Sarah Kate Scott, and an endless supply of former Miss South Africa winners. One, Claudia Henkel, is now the PR Manager for Sun Lux. Plus there is Melinda Bam, currently the Miss South Africa National Executive.
Models models and models. Oh, and they're probably smart, too.
Another former Miss South Africa here at Sun City is Tatum Keshwar, who now struts runways in Paris and London. See what I'm going through here?
Style events at Sun City
Today, when I attended the Style Affair Event at the Palace of the Lost City Hotel, one of the many non-golf events surrounding the tournament, it was hard work indeed. Even if I'm not a celebrity, I almost fooled myself into thinking I was.
The dress code was black and white and you spent the morning wandering around having foot massages, manicures and cocktails, and trying to pretend you weren't eating too much candy from the massive candy bar.
South African designer chic
One of the best parts of the Style Affair was rifling through the collection of my new favourite South African designer, Suzaan Heyns who, in her more whimsical moments creates dresses out of unexpected materials such as acrylic nails and cement.
While I was buying a pair of cropped pants (don't worry, they weren't cement) hoping they were flattering enough to help me contend with all the fashionistas around here, I realized something.
Surrendering to South African beauty
The beautiful women in Sun City, South Africa, are all so poised and perfect that at some point you just have to give up being astonished or awed (or deeply depressed) and let them all blur together, like a graceful herd of impalas.
Of course each woman has her own style, charm and spirit (not to mention really long eyelashes and legs). Some have a cool sort of finesse while others are as adorable as kittens, but en masse it's best to just accept the situation for what it is, a rare sight that should be captured by National Geographic.
What is South Africa without a safari?
And now tomorrow at 4:00 a.m. (you heard me) I'm going on a hot air ballon animal safari, because Sun City backs on to the massive Pilanesberg Game Reserve, the only place in the world you can do a hot air balloon animal safari, and I already know what I'm going to see.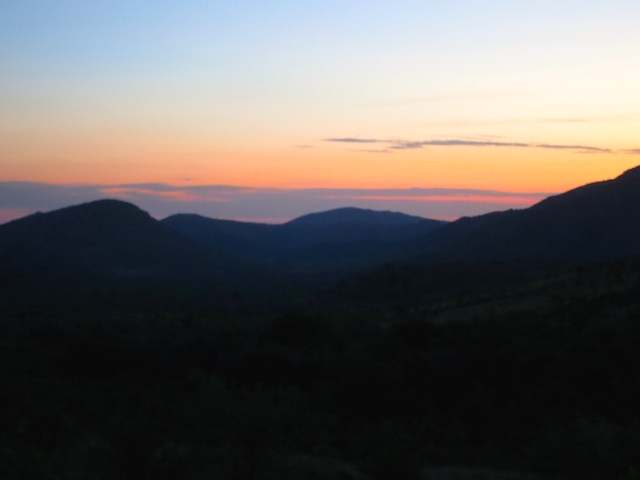 Animal Safari Sun City Style
No, it won't be running zebras, zigzagging across the bush veld as they escape attacking lions. Not hippos or crocodiles in the water or ostriches in a forested ravine. I can envision it now, herds of Miss South Africas leaping gracefully across the grasslands, 5-inch heels strapped to their dainty hooves as the sun glints off their long curled tresses and the sun rises over the ridges of the long extinct volcanic crater. Forget the Big 5 or the Magnificent 7. The new world of the Miss South African Safari has begun.
Travel tips for Sun City, South Africa
I flew to South Africa with South African Airways via Washington.
Learn more about Sun City and the Palace of the Lost City, and all the activities available.
Learn more about Sun International and its SunLux Collection, four spectacular properties – a Golden Triangle of luxury 5-star hotels: The Table Bay, The Palace of the Lost City, The Royal Livingstone and The Maslow.
Oh, and let's not forget the Nedbank Golf Challenge. The reason 100,000 fans are descending on Sun City this week.