This post may contain affiliate links.
I don't get up at 3:00 a.m. for just any old adventure, but a Pilanesberg Game Reserve Hot Air Balloon Safari sounded like one of those bucket list things that, if I had a bucket list, and had known hot air balloon animal safaris in South Africa even existed, would certainly have been in my top ten.
Why do a Pilanesberg Hot Air Balloon Safari?
Well. Why wouldn't you? It's like having a view from a helicopter, only quiet, so you can fly over all the wild animals like the Big 5, which, if you don't know are: lions, elephants, Cape buffalos, leopards and rhinoceros.
Too bad it didn't turn out that way.
Pilanesberg Game Reserve
The good thing about the Pilanesberg Game Reserve, also known as the Pilanesberg National Park, is that it's so close to Sun City, the ritzy glitzy resort complex I'm staying in in South Africa, that they rub each other's shoulders and massage each other's backs.
So, if you're tired of golf, done with the casino and finished lying around the pool at one of the Sun City hotels, a hot air balloon safari makes an excellent early morning excursion.
Let the Airtrackers Hot Air Balloon Safari Begin
At the crack of 4 a.m. an open-air range rover the size of a bus came to pick me and Winsor, a writer from Australia, up at our hotel, the wonderfully-named Palace of the Lost City. We joined a few other couples already on the bus, wrapped ourselves up in blankets – yes it can get cold in South Africa in the morning – and trundled out of Sun City and into Pilanesberg National Park.
Pilanesberg Game Reserve
Pilanesberg Game Reserve is the fourth largest park in South Africa. It's 55,000 hectares of hills, ravines, plains and watering holes, and sits in an extinct volcanic crater that is 1,300 million years old. Some 7,000 animals call Pilanesberg home, not to mention 300 bird species.
Getting to Pilanesberg Game Reserve
Pilanesberg is also the most accessible game reserve from Johannesburg, being only a couple of hours away by car. It's only about five minutes from Sun City, but we're not talking about cars, we're talking about hot air balloons so let's move on.
What makes the Pilanesberg Game Reserve unique?
Sitting smack in a transition zone between the arid Kalahari and the wetter Bushveld, Pilanesberg has flora and fauna of all types and stripes. That's why you'll find dry-loving springboks and brown hyaenas along with moisture-loving impalas and black-eyed bulbuls. (Please don't ask me what a blackeyed bulbul is. Oh, okay, go ahead. It's a bird.)
How to organize an Airtrackers Hot Air Balloon Safari
The company that flies over Pilanesberg Game Reserve is called Airtrackers, and it's part of Mankwe GameTrackers. You can book at the GameTrackers desk at the Sun City Welcome Centre, speak to your concierge or check out Airtrackers online.
Is a hot air balloon safari dangerous?
In the years Airtrackers has been doing these one-hour balloon ride safaris over Pilanesberg, they haven't lost a tourist yet. (I asked.)
Hot air balloon safari dreams deflated
After we'd entered the Pilanesberg Bakubung entrance and were bouncing down a red-soil road past brown grassy fields, thorn trees, aloe and cape chestnutl, the driver got a call from the pilot. "Oh, oh," said the driver. "That can't be good news."
Nope! It was too windy to fly. "But maybe," the pilot told the driver, "if we wait 20 minutes, the wind will die down."
Waiting and Hoping for the Pilanesberg Hot Air Balloon Safari to happen
While we were waiting, our safari bus stopped at a watering hole the size of a lake. "You can get out," said the driver. "Just stick to the boardwalk." I bounded out immediately then turned around. "Isn't anyone else coming?"
The answer was no. Great, I thought. Now if a leopard springs out of a camphor bush, I'm the only meal in sight. Nonetheless I hadn't come all the way to Pilanesberg to do nothing, so I walked down the boardwalk to the water, watched the sunrise then started back before leaping in the air when a ferocious snort burst through the air.
My stomach clenched, my senses went on high alert, and I was ready to … do nothing except scream, but when nothing lunged at me with bared fangs I got back on the bus.
"Did you hear the hippo?" Windsor asked.
Oh, is that what it was?
Well, I thought. I might not get to ride in a hot air balloon over Pilanesberg National Park and probably won't see anything more exotic than a marula tree, but at least I can tell people back home I heard a hippo snort. I mean, that's something, right?
And then …
By this time the hot air balloon safari was definitely cancelled and I thought all was lost. Then we saw them. Three male lions lounging in the grass.
What? No way! I was so excited I wanted to leap out of the bus and run up and rub their furry lion-y ears. (Before remembering they were wild animals and could eat me.)
PS: Never leave your car on a safari. Are you crazy?
The lion kings of Pilanesberg
The three lions sauntered through the grass and padded across the road, right in front of us. Like two feet in front of the bus. Probably if you live in Africa seeing lions in the wild is not the most riveting nature moment you've had since cycling past a rabbit in Toronto, but as I have never seen a wild cat larger than a lynx it was mind crackling.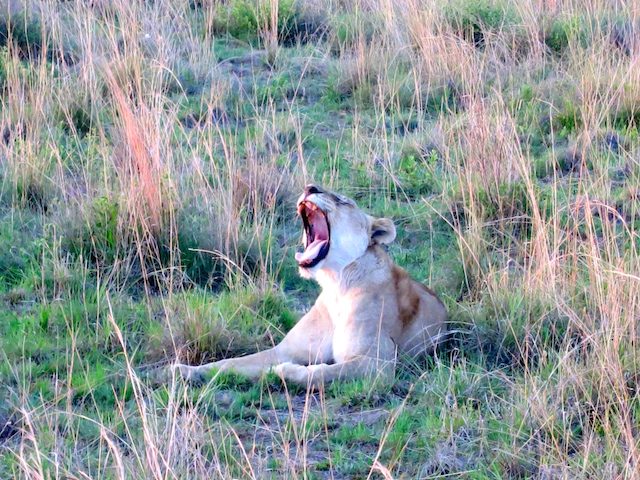 I never would have gotten this close in a hot air balloon, I thought. At least not as far as I know.
Eventually our bus travelled on to the plain where the balloon usually launches. Since there was obviously no hot air balloon billowing in the air, waiting for us to board, the area had instead turned into an animal theme park, except the park was real and the theme part was only in my head.
Our Pilanesberg Hot Air Balloon Adventure without a Hot Air Balloon Continues
We saw zebras and impalas, though admittedly from a distance, and then a springbok sprinted off as a black-backed jackal loped through the bush after it. (At least the driver said it was a black-backed jackal, all I saw was a fox-like blur.)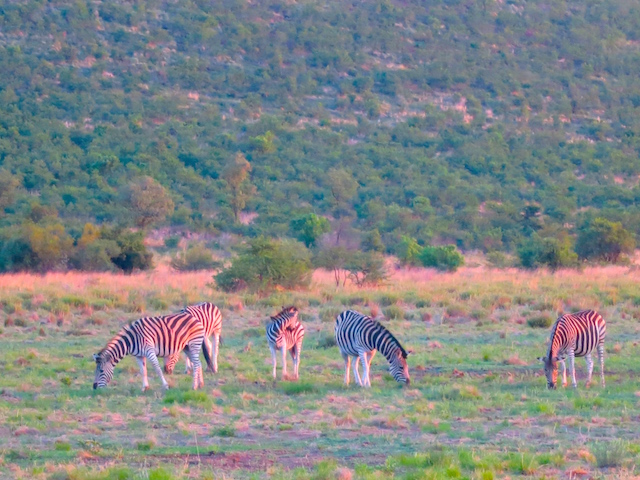 So. Would I sign up for a Pilanesberg Balloon Safari again?
Are you kidding? If I ever have a chance to fly in a hot air balloon over the Pilanesberg Game Reserve again, I'll grab it faster than a meerkat darting into a burrow. I still have romantic African safari visions of sailing over herds of wildebeests and leaf-munching giraffes and of being one with the South African air. But. I have to say, for a trip in the adventure-not-happening category, the morning couldn't have turned out more right.
Travel tips for a Pilanesberg Game Reserve Hot Air Balloon Safari from Sun City
A hot air balloon ride takes about 4 hours from the time you leave your hotel to your return. Breakfast at a game lodge is included as is transport from your hotel. Price approximately $400 pp. (R3995)
Safety is of prime importance and the trip is weather dependent. If management cancels the excursion, you're money will be refunded.
Read more: If you want to know about a very different side of Sun City, check out Sun City, South Africa, Land of Beautiful Women.