This post may contain affiliate links.
After I watched Arnold and Undertaker, two massive crocodiles at the Kwena Crocodile Farm at Sun City, South Africa, bustle out of the water to eat some dead chickens, I noticed a couple ahead of me on the walkway.
They were young and attractive (the couple, not the crocs). The woman had white blond hair, a blue and white striped T-shirt and white shorts. The man was wearing white pants. They looked casual, low key and affectionate, and I thought they sounded British. Maybe they're on their honeymoon, I thought. Romance in Sun City!
Golf in Sun City, South Africa
"Are you here as tourists, to watch golf or to play it?" I asked them. And the reason I used golf as an icebreaker was because it was the second last day of the Nedbank Golf Challenge, South Africa's premier golf tournament.
The Nedbank Golf Challenge is held at the Gary Player Country Club in Sun City, with some 100,000 people streaming in during the week from Johannesburg, Cape Town, London and who knows where else.
The Gary Player Country Club
Designed by golf legend Gary Player, the Gary Player Country Club is one of two golf courses at Sun City, a much-loved South African resort complex based on a faux mythical city, à la Atlantis in the Bahamas, where golf, casinos, water slides, botanical gardens and a manmade beach complete with wave machine are all part of the fun.
Those awkward moments with pro golfers and their wives
The couple I'd spoken to, who at this point had been joined by another couple, paused – you know those minuscule pauses when people are wondering how to politely ignore you but were raised too well to be rude? (What? You don't? You obviously don't talk to enough strangers then.)
"We're here to watch, but he's here to play," one of them said, waving vaguely toward the man in white pants.
My big pro golfer moment comes to a finish
"Oh, well, good luck," I called out after them. Then I kicked myself, because what if the player had had his worst day ever, or had gotten kicked out of the tournament or been laughed off the green because a baboon had stolen his golf ball and then he'd tripped while chasing it down?
Maybe he'd had a terrible day and that was the reason he was out looking at crocodiles on a romantic outing with his wife (if, you know, you consider crocodiles romantic, which I personally don't), instead of having strategy meetings with his caddy or doing power stretches or whatever it is pro golfers do during tournaments.
Sun City embarrassment
I slunk away hoping I hadn't ruined his day. On the plus side, I thought. I'd just met my first pro golfer. And maybe my first pro golf wife, too. Although they didn't look like sports celebrities. They looked like any other vacationing couple out for romance in Sun City.
Hm. If he really was a pro golfer and she was a sports celebrity wife wouldn't she be dressed in something like heels and a black mesh dress à la  Victoria Beckham, or maybe a scarlet Hervé Léger bandage dress like one of those basketball wives on the Real Housewives of Atlanta? Maybe they were totally putting me on.
The Palace of the Lost City, in which I do some investigative pro golfer detective work
Back at my hotel, the magnificently-named Palace of the Lost City, a towering 5-star hotel modelled after the pretend former royal residence of the mythical Lost City that never existed, where animal carvings adorn walls and (I am not making this up) taxidermied palm trees grace the lobby, I asked around, describing the possible pro golfer I'd met.
I think I did meet a pro golfer at Sun City!
I was told the man was probably Luke Donald from the UK, and that he was actually doing very well in the tournament.
That's a relief, I thought. At least I hadn't ruined his day.
The final day of the Nedbank Golf Challenge at Sun City
The next morning I woke up very excited, not just about the Nedbank Golf Challenge, but because I'd managed to get a hair appointment at the Gary Player Country Club Spa at 3 p.m. Considering all the celebrities, beauty queens and pro golfer wives in Sun City at the moment this was a hairdressing miracle.
"But that's when the tournament will be finishing," another journalist told me. "You're going to miss the most important part."
Oh, I thought, that explains why the salon could fit me in.
The final Nedbank Golf Challenge run down
So, while some 60,000 people were watching the golf tournament, I was in the salon, the only customer there until a distinguished-looking man in a dark shirt popped in.
"Is there a brush I can borrow?" he asked.
One of the stylists found him a brush and he gave his hair a quick swipe. "This is a strong brush," he said, somehow managing to sound charming and happy and even grateful, as if everyone had totally made his day by helping him out.
And then, like a true gentleman, he glanced over at me. "Your hair looks very nice," he said (or something complimentary to that effect, which was a total white lie because if you've ever sat with your hair half dry in a salon chair you'd know it's not a good look.) "What are you having done?" he asked.
"Oh, a wash and style. Pearl is a terrific hairdresser," I said, feeling happy because someone had initiated a conversation without me approaching them first.
Two seconds later he left, and with my hair all shiny and blowdried I hurried off to the Gary Player Country Club golf course. I was in luck! The Nedbank Golf Challenge was running late and I could watch the big finish after all.
Hanging with the VIPS at Sun City
I know you will think I don't deserve it, and you would be correct, but nonetheless I had a VIP Grandstand Pass so I got to sit with the bigwigs. I was looking around for loads of elegant golf wives but obviously they were cloistered somewhere private, probably a mythical golf wife palace as legendary as the Lost City itself. (Then again, I'm not sure I'd recognize an elegant golf wife if she hit me in the head with a putter.)
"Hurry up!" said an official-looking man in a bright yellow shirt as I hesitated at the entrance of the grandstand. "Sit quickly."
I suffered a moment of anxiety. I didn't want to interrupt anyone's game by clambering around the VIP Grandstand when they were trying to concentrate or, even worse, tumbling over the side and onto the green while someone, maybe even Luke Donald himself was taking a shot, but the grandstand was packed and I couldn't see a free seat.
"Where do I go?" I asked the official-looking man, who waved toward the top of the stand, so I hurried up the steps and made two men move out of the way so I could squeeze into a spot.
A nail biting moment at Sun City
There was a big groan from the audience so I asked the man beside me what had happened.
"He missed," he said.
"I'm rooting for Luke Donald," I told him, not wanting to admit that other than last year's winner, Thomas Björn, Luke Donald was the only player I knew. "What about you?"
"Danny Willett," he said. "He's been playing really well."
A Nedbank Golf Challenge weather report
"Oh, no!" I said, feeling a drop of rain on my arm.
"That always happens," said the man. "Don't worry. They'll still play."
Wandering Carol has a luxury travel diva moment
"You don't understand!" I shrieked. "I just had my hair done! Tomorrow I have to get up at 5 a.m. to fly to Cape Town and the next day I have a 7 a.m. breakfast meeting at The Table Bay Hotel and the day after that I fly to Johannesburg, and then to Zambia and then back to Toronto and after a day there I fly across Canada to appear on Breakfast TV to talk about travel. I don't have time to ruin my hair!"
A Nedbank Golf Challenge bad hair solution
To the man's credit, he didn't laugh me out of the grandstand or search for another seat. He gave me his hat, proving once and for all that South Africans are nicest people in the world. I mean, first there was that lovely man at the salon, who said my hair looked nice even when it didn't, and now someone had lent me a hat.
A high fashion moment in Sun City
I jammed the man's baseball cap on my head and then, because it's important to look your best while sitting in a VIP Grandstand, especially one filled with South African dignitaries, possible sports celebrities and golf wives, I completed the outfit by putting my sweater on top of the cap, sort of like a double-layered fascinator – a trend that will totally catch on once Princess Beatrice or the Duchess of Cambridge catches wind of my fashion forwardness.
Back to the golf tournament at Sun City
"Ohhh, sorry," said the man beside me, who amazingly was still talking to me even though at this point I was barely visible through my many-layered rain gear. "Your man just lost."
"What?" I said. "Who? Luke Donald? Oh, well. You can't win them all."
The winner of the Nedbank Golf Challenge
And then the crowd went wild and champagne was being shaken over a golfer in white pants, and I realized that I knew who he was. It hadn't been Luke Donald I'd seen at the Crocodile Farm, it had been the new Nedbank Golf Challenge winner, Danny Willett. What kind of coincidence is that?
Danny Willett wins big and his wife is probably very happy
I gave the man his hat back and sprinted over to the media centre, where sure enough, Danny Willet, the man from the croc farm, came in to give a press conference.
It was an incredibly heartwarming moment for me as Danny and I were practically on a first name basis, or at least I was, even if I'd had the wrong first name. Not to mention the wrong last name, too.
Danny Willett, pro golfers and romance at Sun City
Ignoring sports comments such as 'carding a final-round six-under-par 66' and 'holing six birdies,' I concentrated on vital information such as how I could tell he was a good man because he kept mentioning his wife, Nicole, and how she had always been there for him, and how he'd tried to make the trip to Sun City special for her, too, by doing together-y things such as taking her to dinner.
A little romance at Sun City tip for Danny Willett
When he said dinner I just hope he meant Plume for Springbuk Schnitzel or The Grill Room in the Palace of the Lost City for Chateaubriand, because Willett might be one of the hottest new pro golf celebrities on the planet, but if he considers a crocodile farm a romantic date, he might just need a wee bit of direction.
Pro golfer and romantic celebrity gossip
At some point I heard a commentator say to Willett, "After the last tournament you won you proposed to your wife. How are you going to top that?"
"I don't know," Willett said. "Buy her a big diamond?"
I wanted to pipe up and suggest he buy Nicole tanzanite instead, a deep blue stone that seems to be all the rage in South Africa, and then I thought how Sun City brings out the best in people because there are all these fun things to do such as go jewelry shopping with your wife and win golf tournaments and have your hair done at the spa, and while I was thinking this I looked up at the big TV screen in the media centre where three men were being interviewed.
"Who's the guy in the middle?" I asked the reporter beside me.
"Gary Player," he said, and I nearly choked in surprise. Not only had I (sort of) met the winner of the Nedbank Golf Challenge, Danny Willett, and had my faith in love, romance and sports celebrities restored by seeing how in love he was with his wife, I'd met the biggest South African golfing superstar of all time in the hair salon when he'd asked for a hairbrush.
It just goes to show that anything can happen, especically n the mythical land of the Lost City.
Romance in Sun City: Here are my Top 5 Romantic Things to do in Sun City, South Africa
Note: This is excellent advice for all pro golfers who love their wives, and for any other couples seeking togetherness in South Africa.


1)  Have a private dinner for two on the King's Tower, 70 metres up at the top of the Palace of the Lost City. Romantic, dreamy and the best views of Sun City.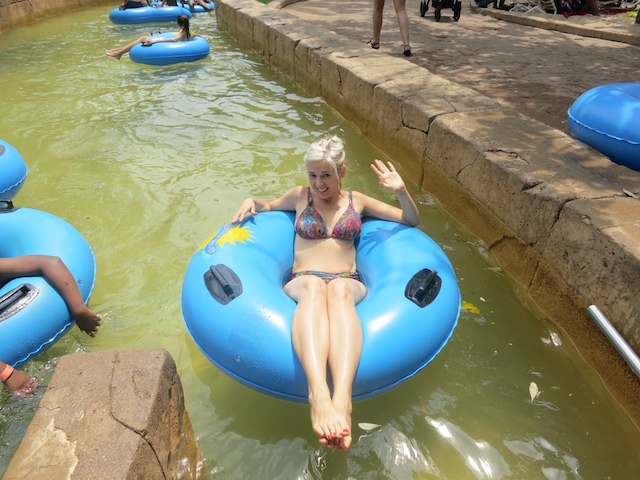 2)  Get an inner tube for two and float down the Lazy River at the Valley of Waves. Okay, so it's mostly kids, but I'm hopelessly addicted to Lazy Rivers and besides, it's a lot more romantic than the impossibly steep and scary Temple of Courage water slide.
3) Book a private sunset safari game drive in Pilanesberg Game Reserve with Mankwe Gametrackers. An intimate excursion in a Range Rover with an experienced guide, you'll get nature, wine and plenty of potential exotic animal sightings.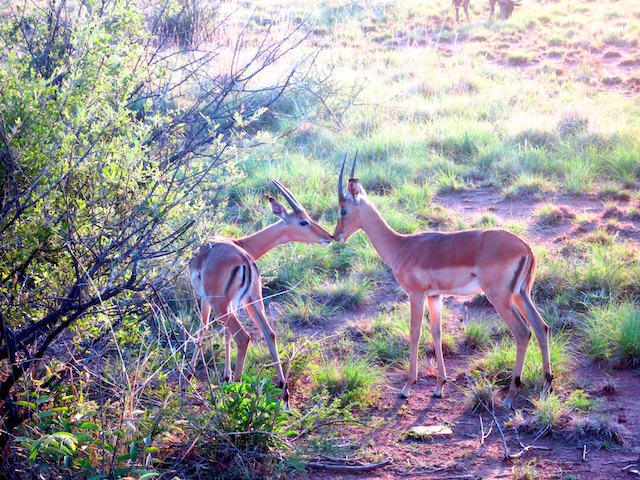 4) High Roller Alert: Spend a night in the ultra deluxe two-bedroom suite in the Palace of the Lost City that has – wait for it – it's own private casino complete with slots, roulette and card tables. No, I'm not joking. It really exists, just like the mythical Lost City itself.
5) Did I mention tanzanite?
Read more:  Learn more about Sun City.
If you want to know more about celebs of the female variety, check out Sun City, South Africa, Land of Beautiful Women.
Prefer adventure travel? Try a Pilanesberg Game Reserve Hot Air Balloon Safari.