This post may contain affiliate links.
When it comes to extreme adventure vacations, Victoria Falls on the border of Zambia and Zimbabwe has become a prime destination. And this may be the ultimate thrill: tempting fate in Victoria Falls' Devil's Pool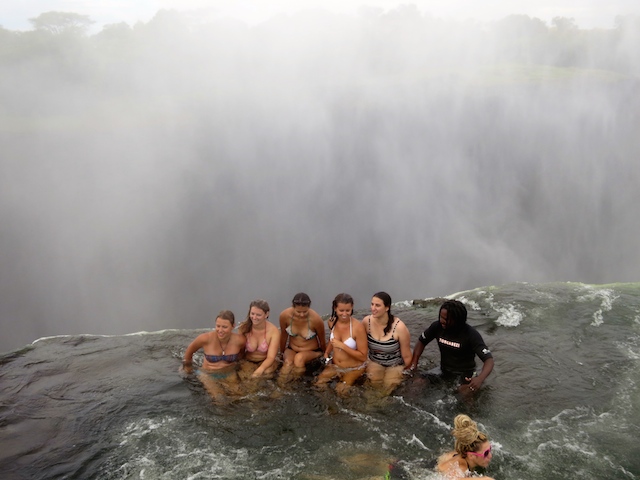 Devil's Pool at Victoria Falls – the ultimate thrill
"You're not going to do that!" my husband says, as we scroll through photos of a bunch of crazy tourists sitting in the water at the top of Africa's Victoria Falls, the largest waterfall in the world.
"Of course not," I said. Sheesh. Am I an idiot? Just because I'm flying solo to Zambia to see Victoria Falls, a 1708-metre-wide (5,600 feet) swath of water that slices through the border of Zambia and Zimbabwe like a knife through a red velvet cake, doesn't mean I'm going to risk my life for a tourist thrill.
I'm far more mature than that. I want to learn about David Livingstone.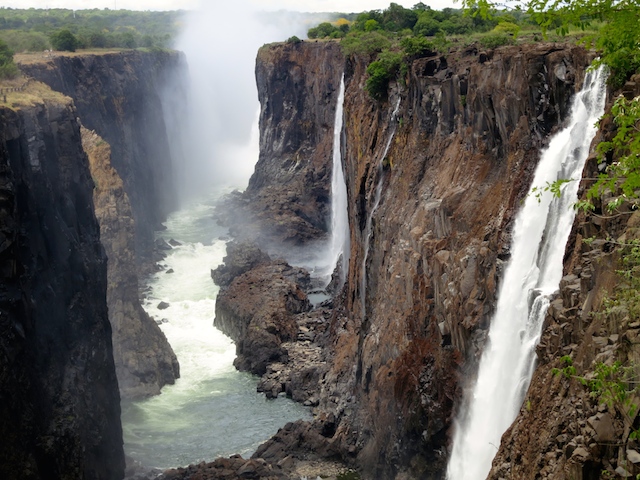 Call me immature
Two weeks later as I'm standing on the edge of Livingstone Island at the very spot where Dr. David Livingstone first saw the falls on November 16, 1855, I'm forced to accept that I'm not mature at all. I'm terrified. Because of course I'm about to swim in the notorious Victoria Falls Devil's Pool.
Extreme adventure vacations
I blame Zambia. Victoria Falls has become a major hub for extreme adventure travel and once I got here I got swept up in all the excitement. So, in my new persona as an adventure traveller I signed up for an excursion with Tongabezi, the company that lead tours to Livingstone Island and the terrifying Victoria Falls Devil's Pool.
Victoria Falls Devil's Pool adventure tour
The first part is lovely. You take a 5-minute boat ride from the Royal Livingstone Hotel to Livingstone Island. The second part is fun, too – a swim through a calm section of the Zambezi River to the jump-off point, with the guide pointing out the easiest way. There's also a safety rope to cling onto should you need it.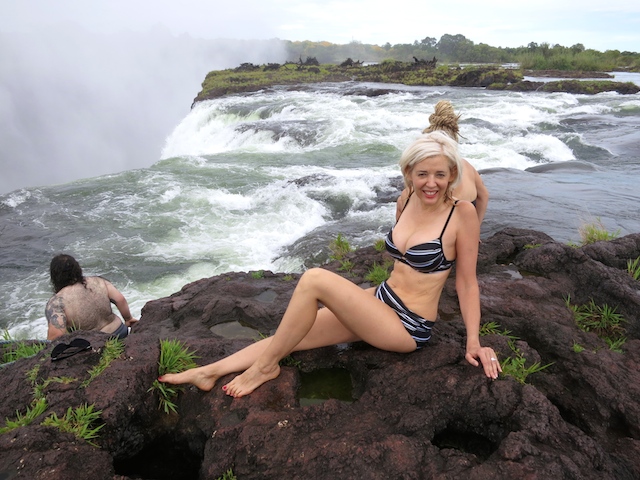 Into the Devil's Swimming Pool
But now I'm standing on the black basalt rock looking down at the swirl of water they call Devil's Pool, the edge of the falls staring me in my face.
But everyone else does it, I tell myself. And while I realize that 'everyone else does it' won't make a very romantic epitaph on my headstone should I plunge over the 360-foot-high cliff, the fact that others have swum and survived at least proves it's possible.
What the heck is the Devil's Pool?
Only accessible during dry season, Devil's Pool on the Zambia side of Victoria Falls is a naturally-formed pool at the very edge of the drop off – a drop off, I hasten to add, that is twice the height of Niagara Falls. A submerged rock wall (or so they assure me) prevents idiots adventurous tourists like me from cartwheeling over the edge. Yikes!
Taking the plunge
The other two in my group have already gone in. The guide is in the water and waiting for me. There seems no other option except to take the plunge, because 'chickened out' will never do for an epitaph either.
I am never lying to my husband again, I think as my foot touches cool water. My foot comes out again. I bet David Livingstone never did anything as crazy as this.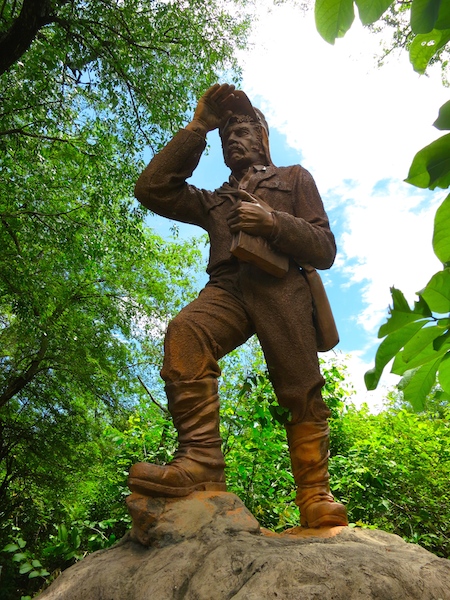 Then again between tropical diseases and wild beasts, not to mention tramping through uncharted territory, David Livingstone, Scottish missionary, passionate explorer and fervent abolitionist, risked life and limb as a matter of course. He would die, in fact, of malaria and dysentery in Zambia (formerly Northern Rhodesia) in 1873, and (literally – it's buried under a tree) left his heart in Zambia while the rest of his body was buried in Westminster Abbey.
Somehow I doubt I'll get the same kind of ceremonial burial if I go over the edge.
David Livingstone at Victoria Falls
An adventurer at heart, I can't imagine Livingstone being frightened when he paddled down the Zambezi River in a dugout canoe seeking the place the Kololo people called Mosi-Oa-Tunya, the Smoke That Thunders. Did he feel invincible? Grateful to the Kololo for safely showing him the way? He was certainly awed when he first spotted the plumes of vapour rising into the air writing that, "scenes so lovely must have been gazed upon by angels in their flight."
Though he did think the vista would be improved by a backdrop of mountains instead of the region's flat red plateau.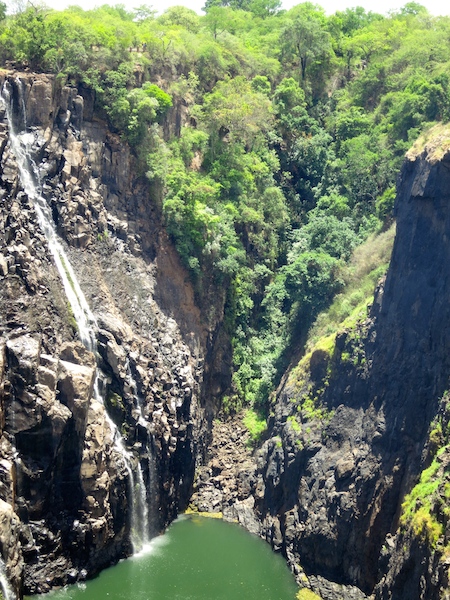 A slow approach to extreme adventure
I've seen photos of people cannonballing into the Devil's Swimming Pool with a shriek and a grin, but not me. The guide has to come and get me. I put a shaking leg into the water then, clinging to the guide as if he's a life jacket, bob towards the edge of the falls, coming to a stop a foot or two from the lip of the cliff.
Our guide, whose name I've shamefully forgotten in my terror, helps me up onto a rock ledge.
Adrenalin rush
Argghhhh! I'm up. Adrenalin is surging through my body, the noise of rushing water so deafening that I can't tell the difference between my thundering heartbeat and the roar of the falls. Then, when I realize the current isn't going to immediately hurl me over the cliff, I start to notice my surroundings.
Mist rises up over the Lala palms and papyrus plants. The water, slate grey against the basalt rock floor, turns translucent as it rolls over the edge before churning itself into a boiling froth as it plummets into the Zambezi Gorge.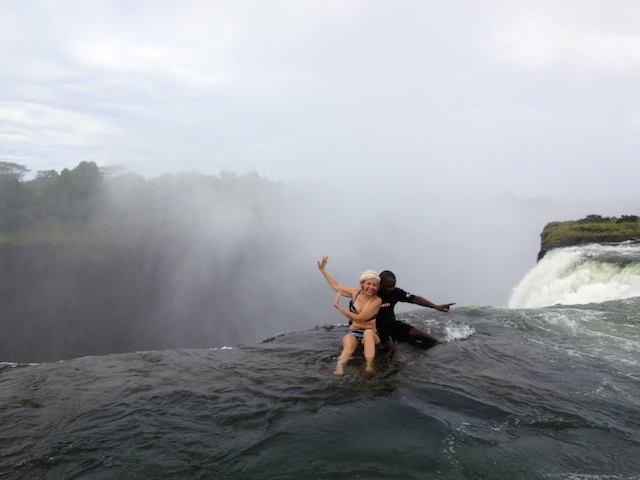 Unseen predators
It's powerful, it's majestic, it's …. wait, what's that? Something is nudging my foot. It's as if a handful of marbles are gently being tossed at my toes. I turn to the guide and shout over the boom of the water. "Something's nibbling on my foot!"
"Oh, don't worry. They're just little fish," he says.
I've heard of fish spas, where fish eat the dead skin cells off your feet, but never expected to have an impromptu spa treatment at the edge of the largest waterfall in the world. I start kicking them away, then realize that if I kick too hard I could somersault over the falls backwards.
Focus, I tell myself. Victoria Falls might be the perfect place for adventure travellers to get their kicks, but there's no point in kicking myself into oblivion. I force myself to stop dwelling on fish, falls and fear and for one awe-inspiring moment, simply enjoy the electric sensation of – literally – living life on the edge.
Travel Guide for Devil's Pool and Victoria Falls
Livingstone Island and the Devil's Swimming Pool are on the Zambia side of the falls, so if you're staying in Zimbabwe you will have to cross the border, but don't worry, everyone does. Livingstone Island itself is a protected area and limited to 16 people at a time – this means you never have to worry about the crowds.
When can you swim in the Devil's Pool?
Dry season only, generally from late August to early January. Otherwise the water levels are too high.
When is the best time to visit Victoria Falls?
That depends. Victoria Falls is a year round destination, and when the water is high between February and May, it's an astounding sight – if you can see it for the mist. At the height of dry season, around October or November, be prepared to see more rock than water – but it's ideal for visiting Devil's Pool.
Is it safe to go into Devil's Pool? Have there been any Victoria Falls deaths?
Well. Contrary to reports online, when I did further research, it seems there have been NO deaths at Victoria Falls Devil's Pool. Tragically, a guide did die at Victoria Falls while saving a tourist, but this was not on a Devil's Pool adventure trip. It was at a different part of the falls. This is yet another reason to avoid undue risks and go on officially sanctioned tours only – if not for your own safety, for the guide's.
That said, any excursion into Victoria Falls is an extreme adventure, you do so at your own risk.
Tragic Victoria Falls's facts
In 1910 the crocodile-ravaged bodies of a Mr Orchard and a Mrs Moss were found in a gorge of Victoria Falls. They'd been swept over the falls after their canoes were capsized by a hippo.
In 2007, as many as four elephants swimming across the Zambezi were swept over the falls. So sad!
How do I arrange the Devil's Pool trip?
The reputable Tongabezi tour company does 5 daily trips to Livingstone Island. The tour starts with a ride in a twin-engine boat on the Zambezi River to Livingstone Island. Though the highlight of the trip is definitely the Devil's Swimming Pool, it's a surprisingly well-rounded tour, with some history, Victoria Falls facts and a superb meal on the island (depending on the time of day) to go along with your adrenalin rush.
Tour times and prices for a Livingstone Island and Victoria Falls Devil's Pool:
7:15,

8:45, and

10:15 departures are USD $95

12:15 departure is $155

15:15 departure is $130
You can book trips online or through your hotel once you get there. It's highly advised that you go through a reputable tour operator only.
Where to stay at Victoria Falls
I stayed at the Royal Livingstone Hotel, a colonial-style luxury hotel that sits on the edge of the Zambezi River at the top of Victoria Falls. This elegant hotel is the deluxe way of visiting Zambia. It's also handy as 1) the Livingstone Island tours leave from the landing and 2) a private gate allows free access to the falls.
How do you get to Victoria Falls?
You can either stay on the Zimbabwe side or the Zambia side. If you're staying on the Zambia side you can take a flight from Johannesburg, South Africa, to Livingstone Airport. The flight is less than 2 hours.
Victoria Falls, Zimbabwe or Zambia?
For the best view of the falls the Zimbabwe side wins out, while for close ups, Zambia wins. Zimbabwe generally has more budget options for hotels while Zambia excels when it comes to riverside luxury lodges.
Extreme adventure vacations at Victoria Falls
The Devil's Pool isn't the only option for adventure activities. To name a few:
Bungee Jumping
Kayaking
Gorge Swing
Microflights over the falls
Lunar rainbow tours of the falls
Abseiling
Read more travel blog posts about Africa:
One day in Johannesburg – a traveller's conscience
Sun City Africa, the land of beautiful women