This post may contain affiliate links.
Caesarea in Israel
I was bounding around Caesarea, Israel, like an over-caffeinated bunny.
There are several things to do in Caesarea Maritima. It's a huge archeological site on the Mediterranean coast and one of Israel's top Holy Land sights.
This ancient seaport has a history as long as history itself, and I had a lot of must-see attractions to check off my list.
Holy Land History
Built by Herod the Great between 22 and 10 BCE, and now a national park, it's one of the most fascinating places to put on your Israel itinerary. Here's a travel guide to help you plan your trip.
Its rich history includes everyone from Herod, the King of Judea, to Louis IX of France, who came here on the 7th Crusade.
Travel Tip: Don't mix up Caesarea Maritima with Caesarea Philippi, which is in the Golan Heights.
Confused? Make it easy with a day tour of Caesarea, Haifa and Akko from Tel Aviv. Check prices here.
Touring Caesarea
Our group arrived at this spectacular destination halfway between Haifa and Tel Aviv just as the falling sun was pouring liquid gold through the weathered stone arches.
Everyone, including me, was scrambling around trying to get photos in this honey-tinted light and to see the best Caesarea attractions before the park closed.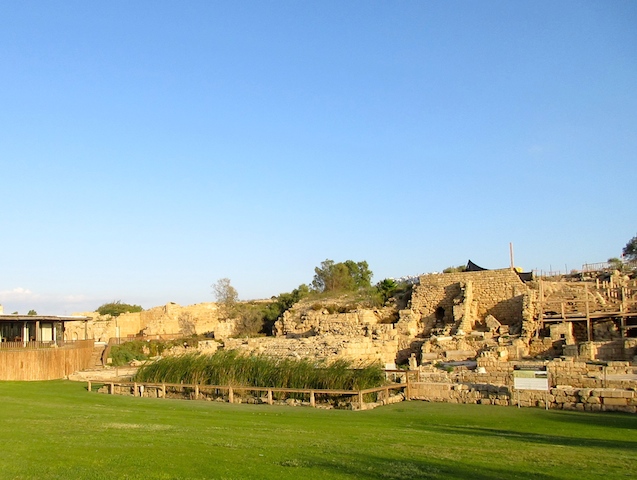 Louis IX, the Crusader
I especially wanted to get a photo with my hands on the 800-year-old crusader walls of Caesarea that Louis IX, King of France, helped restore with his own two hands during the 7th Crusade in 1251.
Pretty dirty work for a king.
Somehow, I felt that by touching the walls that had been touched by a French king who was so impassioned about fortifying Caesarea he risked his life to be here, I'd be touching a trace of that passion for myself.
And maybe understand it.
The Crusader City
The Crusades are problematic. The pillaging, the plunder and slaughter isn't something to glorify. In fact, it's terrifying.
It's the idea of the Crusade as the Quest – that eternal thirst for adventure and purpose that raises men and women out of their everyday existence – that gives it a powerful pull on the imagination.
It's a 'fire in the bones' that has fuelled everything from climbing Mount Everest to rumbling across the Wild West in a wagon train.
What Fuelled the Crusades?
The crusades, however, were no ordinary adventure.
They were backed by a faith so strong they inspired men, woman and children (Yes, there was even a Children's Crusade in 1212) to uproot their lives and march to the Holy Land to fight for control of the region's most sacred sights.
I try to reconcile this religious zeal with the fact that, during the 4th crusade, crusaders sacked Constantinople, a Christian city, which they couldn't very well justify using the excuse of religion. 
There is a Lot to See at Caesarea in Israel
Rushing to catch up with our ever-patient guide, Paule, who is trying to get us through the Crusader town of Caesarea before it closed, I realized I'be been so busy trying to sort out my feelings about the crusades that:
1) I forgot to touch the walls that Louis IX had touched and therefore understand his religious fervor better.
2) I might have missed some essential Louis IX crusade information by falling behind, like how he was captured in Egypt and ransomed before coming to Caesarea, or how he brought his wife with him on the crusade and she holed up at Acre, a crusader stronghold further north.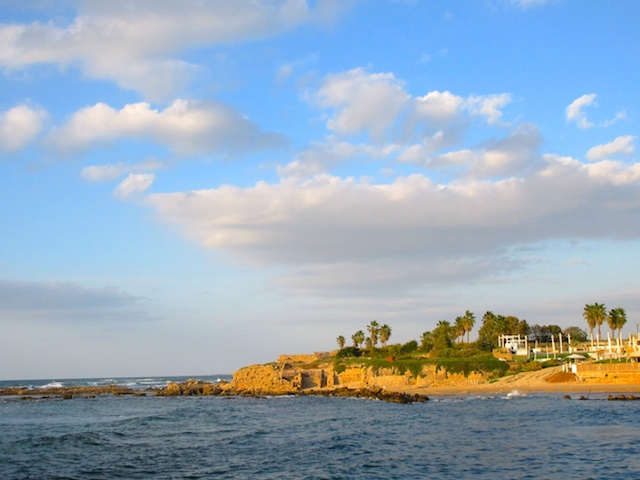 Caesarea Maritima – A Port Built on a Grand Scale
At the moment, however, Paule was explaining how King Herod built the vast port of Caesarea Maritima to rival all the other seaports such as the Nabatean Port in Gaza.
Because Herod liked his architecture on a grand scale, he created an entire town with palaces, temples, a hippodrome, amphitheatre and elaborate baths.
(If you like the idea of grand architecture, don't miss Herod's fortress of Masada in the Israeli Desert or Temple Mount in Jerusalem.)
Quick Crusader History of Caesarea
Caesarea was under Crusader control from 1101 to 1187. Then it was conquered by Saladin, the sultan of Egypt and Syria. The Crusaders wrestled it away again in 1191.
As we have already determined, in 1251 the very devout Louis IX of France came to Caesarea.
King Louis' Divine Mission
L
There is no doubt Louis IX believed in his divine mission. And, as he is the same king who built the glorious stained glass beauty of Sainte-Chapelle in Paris, and because I can't separate the king from the glittering light-filled chapel, I have a certain fondness for him.
He also understood the need for good defences. Especially as he'd already been captured once. So, he added the walls and a moat.
While parts of the crusader walls still stand today, they couldn't keep out the Mamluks. Caesarea fell to them in 1265, and lay in ruins for centuries.
The 8th Crusade
After returning to France, Louis IX embarked on yet another trip to the Holy Land, the 8th Crusade, but died of dysentery near Tunis.
He's the only French king who was ever canonized by the Catholic Church and is officially St. Louis.
Caesarea's Past
I try to imagine Louis IX here. What did he think of when he passed the Roman statues, walked on the Cardo (a north-south Roman street) or looked out at the sea?
Was he thinking of France? Of God? Of his wife, who he'd brought on the crusade and who was holed up in the stronghold of Acre?
Maybe he was thinking of Caesarea's Roman roots, and how it was the home of Pontius Pilate, whose name was found inscribed on excavated stones of the Roman Theater.
No matter how hard I try, I can't get into the head of the French King – maybe because I'm not filled with crusader zeal. (Or because I didn't touch the walls.)
I do know this, however: What Louis IX wouldn't have seen is Caesarea today.
Visiting Caesarea Today
Now, in addition to the ancient pediments, pillars and remnants of mosaic floors, you'll find a rebuilt 'Crusader' harbour, shops, multimedia attractions, restaurants and a restored Roman Theatre.
It's a popular beach destination and draws big daytime crowds.
Caesarea is also, interestingly enough, a residential community that's home to several millionaire tycoons – it's one of the wealthiest places to live in Israel.
For the average tourist, the national park with its incredible archeological attractions is the main destination. There are a lot of things to do in Caesarea and here's how I suggest you do it.
Things to Do in Caesarea, Israel
Start With the Caesarea Harbor Experience
Located at the harbor, the Caesarea Experience is the main Visitor Center and is spectacularly set in 2,000 year old vaults.
After a quick and enlightening multimedia film about the history of Caesarea, visit the Time Trek where you can interact with key holograph-induced figures of Caesarea.
(And if you manage to talk to Louis IX let me know because I was busy chatting to Helena, mother of Constantine.)
Tour the Ruins
You'll be stumbling over so many centuries of history it's mind boggling.
You'll wander through Roman, Arab, Crusader and Byzantine eras up to early Zionism and a mosque built for 19th-century Muslim Bosnian refugees during the Ottoman rule.
See the Reef Palace
Also known as the Promontory Palace, these atmospheric ruins overlook the Mediterranean.
Made up of two main sections, the Reef Palace was once a magnificent residence with pillars, a large courtyard and a swimming pool.
Whether it was built by King Herod is up for debate, but it's guaranteed he didn't live here, because while he created Caesarea, he never actually visited.
Photo Bomb a Wedding Portrait
Caesarea is a popular site for weddings and bar/bat mitzvahs and as I was scurrying past a wedding shoot I couldn't help launching myself in the air.
The couple didn't seem to mind and I wish them a long and happy marriage.
PS: Just kidding. You probably shouldn't follow my example.
Eat at the Crusader Restaurant
The main reason to eat at the Crusader Restaurant is because it overlooks the Mediterranean and also because it's called the Crusader Restaurant.
FYI: Louis IX did not eat here. Neither did Herod.
Attend a Concert in the Restored Roman Theater
Imagine attending a concert where the ancient Romans went to see their own contemporary comedies and tragedies. You can, at the restored Roman Theater.
See the Hippodrome
The Hippodrome, sometimes known as the Amphitheatre, is where gladiators fought and chariot races were held.
It also has a terrible blight on its past.
It's where the Roman General Titus forced 2500 Jews to battle wild animals during the Great Jewish Revolt against Rome, when Caesarea was the capital of Roman Palestine.
Don't Miss the Bathhouse
The Byzantine era bathhouse was a luxurious place to bathe, with mosaics, marble floors and baths of different temperatures.
Dive at the Underwater Archaeological Park
Feeling adventurous? Take a diving tour over the submerged ruins of Herod's masterfully-built port with Old Caesarea Diving Centre. The Underwater Archaeological Park is unique in the world.
See the Roman Aqueduct
The massive Roman Aqueduct is a few km north of the site along the water's edge. It's terrific at sunset.
If you want to go to a Caesarea Beach, this one is highly recommended.
Leaving Caesarea
On our way out of Caesarea, as we were hurrying to get to the Roman Aqueduct before dark, we left by a different exit, far from the original walls that Louis IX helped restore.
Drat! I'd missed my chance. There was no time to backtrack to place my hands on King Louis' walls and I can't pretend I wasn't disappointed.
Determined not to leave without some kind of contact, I found a wall near the exit and leaned against it in case I could tap into a burst of ancient quest-fuelled energy.
And okay, wasn't an original Crusader fortification, it was the back of the park's toilets, but stone is stone and it made me feel the tiniest bit connected to Caesarea's history after all.
---
Caesarea Travel Tips
Where is Caesarea?
Caesarea is in Israel. Also known as Caesarea Maritima, it's about 45 km from Haifa and the same from Tel Aviv. Today the preserved ruins have been incorporated into Caesarea National Park.
Entrance Tickets
Caesarea tickets: One all-inclusive entrance ticket includes the Roman Theatre and the Hippodrome as well as the multimedia and interactive displays at the Caesarea Harbour.
Reserve your tickets on the National Park site.
Hours: Summer 8 a.m. to 6 p.m. Winter 8 a.m. to 4 p.m. – Note: The restaurants, galleries and beaches are open during the evening.
Getting to Caesarea in Israel
The most convenient way to get to Caesarea is to rent a car, but there are other methods.
By Tour
Caesarea National Park is not very accessible by public transport, so the easiest would be to take a day tour from Jerusalem or Tel Aviv.
Check out a day tour of Caesarea, Haifa and Akko from Jerusalem here.
By Public Transport
Caesarea By Train
If you do want to come on your own and you're not driving, you can take a train to Binyamina and get a taxi from there.
You may want to arrange for the taxi to pick you up when you're finished at Caesarea. (Note: I didn't do this myself so I can't vouch for this way of getting here.)
Bus to Caesarea
You can take a bus towards Haifa or Tel Aviv and get off at the Or Akiva Interchange, but you'll have a 20 to 30 minute walk to Caesarea National Park.
How much time do you need at Caesarea?
I'd recommend at least a half day.
Read more about Israel: Attitude at the Mount of Beatitudes: A trip to the Holy Land.
For more information on visiting Israel check out Go Israel, the Israel Tourism Board site.
Disclosure: My visit was subsidized by the Israeli Tourism Board.