This post may contain affiliate links.
The Negev Desert of Israel – A Travel Guide
The Negev Desert is a cinematic dream of pale pinks, wolf greys and rocky folds of beige, and it's one of the most fascinating places to visit in Israel.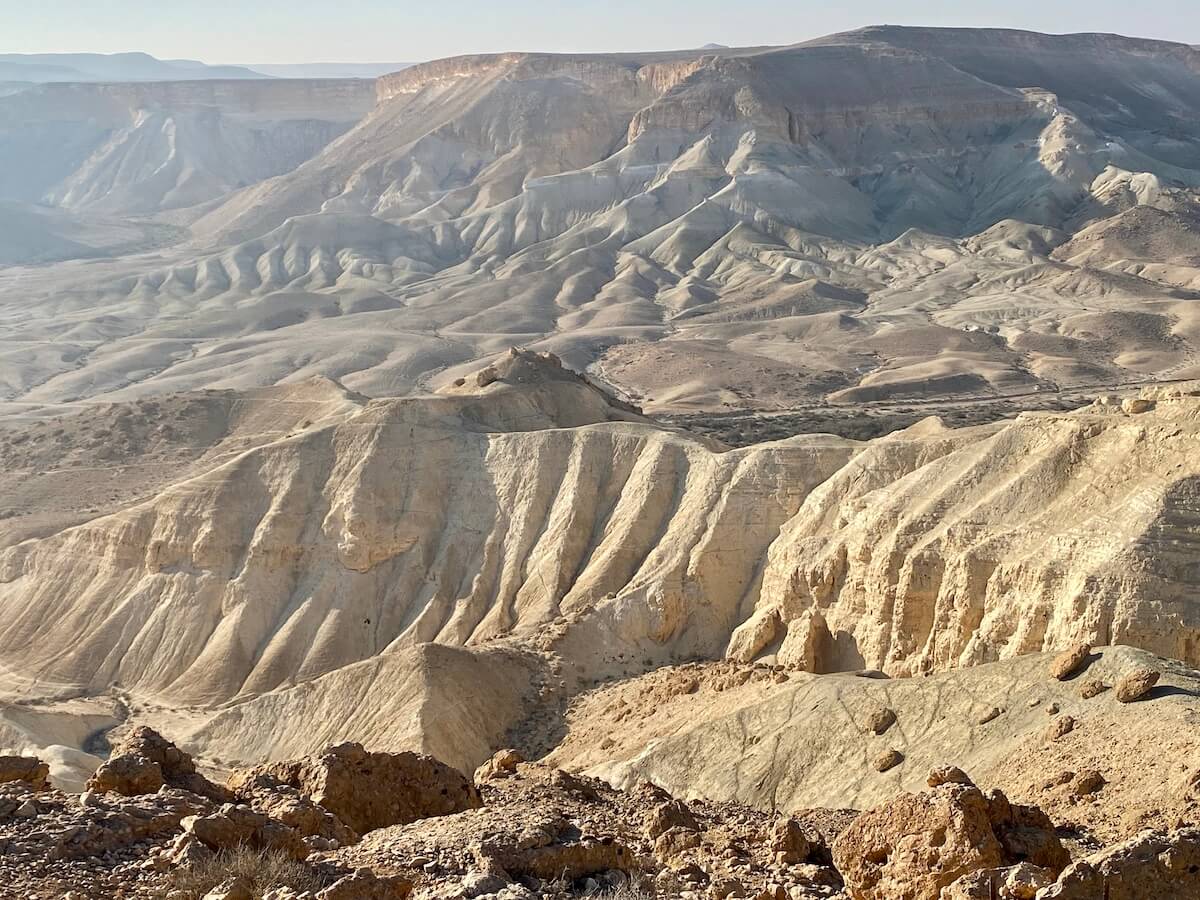 Arid and harsh to be sure, the Israeli desert – the Negev – is also dynamic. You'll find canyons and craters, remnants of once-thriving cities, Bedouin villages, hardy wildlife, determined wineries and pioneering agricultural communities.
For all that's going on here, the Negev Desert remains sparsely populated and scarcely tamed. This, of course, is a big attraction for travellers.
Negev Tourism is Going Big
For the 'been there done that' crowd, the Negev holds a special appeal, with more and more people adding it to their Israel itinerary.
Drawn by the desert's savage beauty and space to chill out, they (and when I say 'they' I mean 'me') discover something else once they get here – a buzzy new layer that has settled over its eons of history, fuelled by energetic urban escapees who are opening restaurants, starting up organic farms, vineyards and tour companies.
In short, the Negev Desert has become one of the 'hottest' destinations around.
I've made two trips into the desert in southern Israel, and visited several different sections of it, and I am constantly amazed by its many faces.
What to Do in the Negev
From outdoor adventure at the Ramon Crater (Israel's answer to the Grand Canyon) to wine tastings, stargazing and touring some amazing archeological sites, there are plenty of things to do in the Israeli desert.
Here's a guide to help you plan your Negev itinerary, with tips on the top activities, best attractions and easiest ways to visit the desert for yourself.
First, let's learn a bit more about it.
Facts About the Israel Desert
How Big is the Negev?
The Negev Desert is massive, covering about 55% of Israel.
Altogether the cone-shaped Israel desert region spreads out over 12,000 square kilometres (4,650 square miles). Of course it doesn't stop at the border, but flows over borders, making it much bigger still.
Negev Location
The Negev Desert covers the entire southern half of Israel, and stretches right down to Eilat, the country's southernmost coastal city.
From Jerusalem and Tel Aviv you can reach the Negev in about 90 minutes by traveling south.
Are the Israeli Desert and Negev Desert the Same Thing?
Yes. Kind of. Not exactly.
Within the Negev itself are a number of individual deserts, including the Arava, Paran, Zin and Zif. The Judean Desert to the east, which butts up against the Dead Sea, is often also included in the broader Negev 'umbrella.'
For the purposes of this guide, the Negev Desert and the Israeli desert are the same thing. And it's spectacular.
Looking for a private day tour into the Israeli Desert? Check out a Full Day Negev Mountains Tour from Tel Aviv here.
Things To Do in the Negev Desert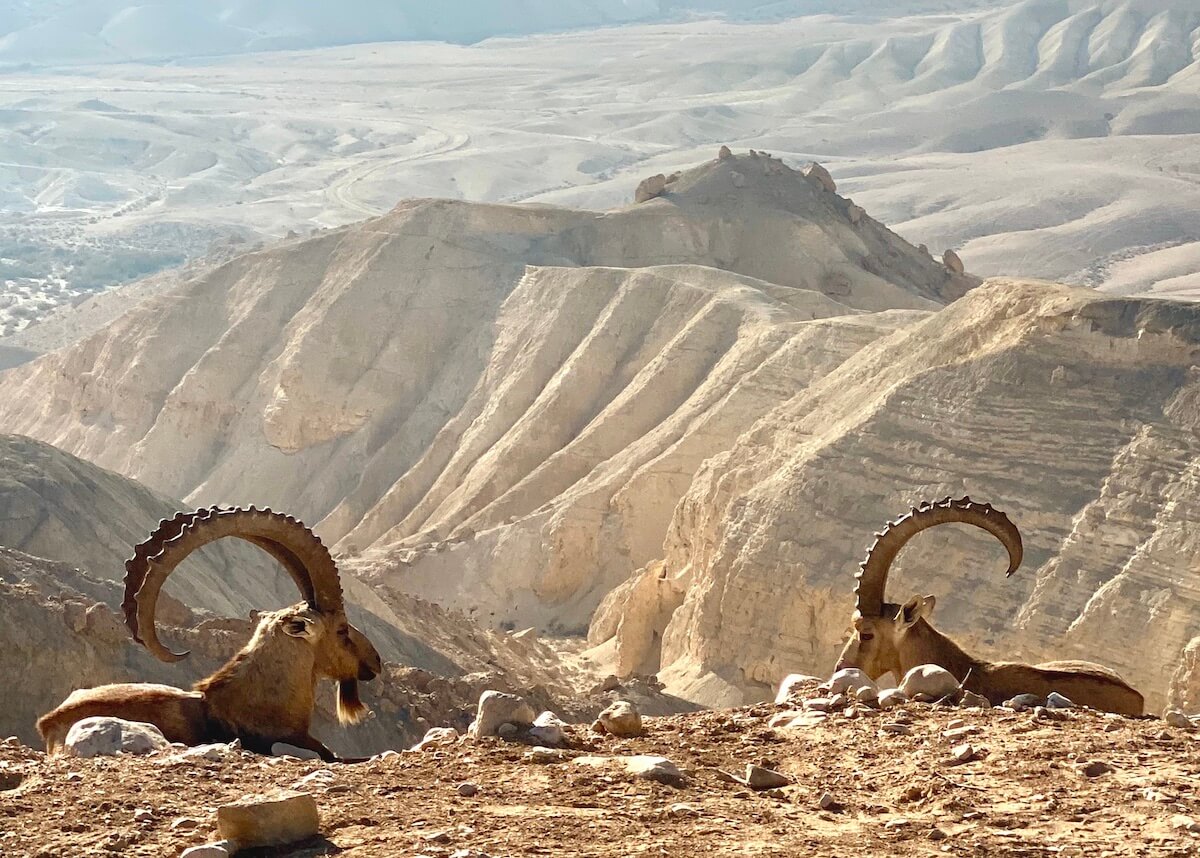 1. Visit Sde Boker for Jaw-Dropping Views and Ben-Gurion History
What is Sde Boker (pronounced Siddy Boker)? The short answer is that it's a kibbutz, an agricultural-based collective community established in 1952.
It's also much more.
Why is Sde Boker famous? Israel's first prime minister, David Ben-Gurion, was very taken by the simplicity and spirit of this desert community, and chose to retire here and live out his days.
"I wanted to … plunge myself into the vast stretches of the desert, to renew myself by experiencing the awesome effect of these open spaces."

David Ben-Gurion
I was pretty jet lagged when I arrived in Sde Boker (definitely in need of renewal) plus it was dark out and I didn't really understand where I was.
Then I woke up in the morning and bam! In front of me was one of the most dramatic desert views imaginable.
Now, when I think of the Negev Desert, it's the pale pleated cliffs (complete with unconcerned ibexes) of the Zin Desert that first spring to mind.
What Can You Do at Sde Boker?
Stroll the promenade overlooking the Zin (Tzin) Valley for spectacular views.
Look out for the wild Ibexes.
Visit the landscaped gravesite where David Ben-Gurion and his wife Paula are buried.
Check out Ben-Gurion's former home, now a museum.
Visit the Sde Boker Winery, a boutique winery next to the museum.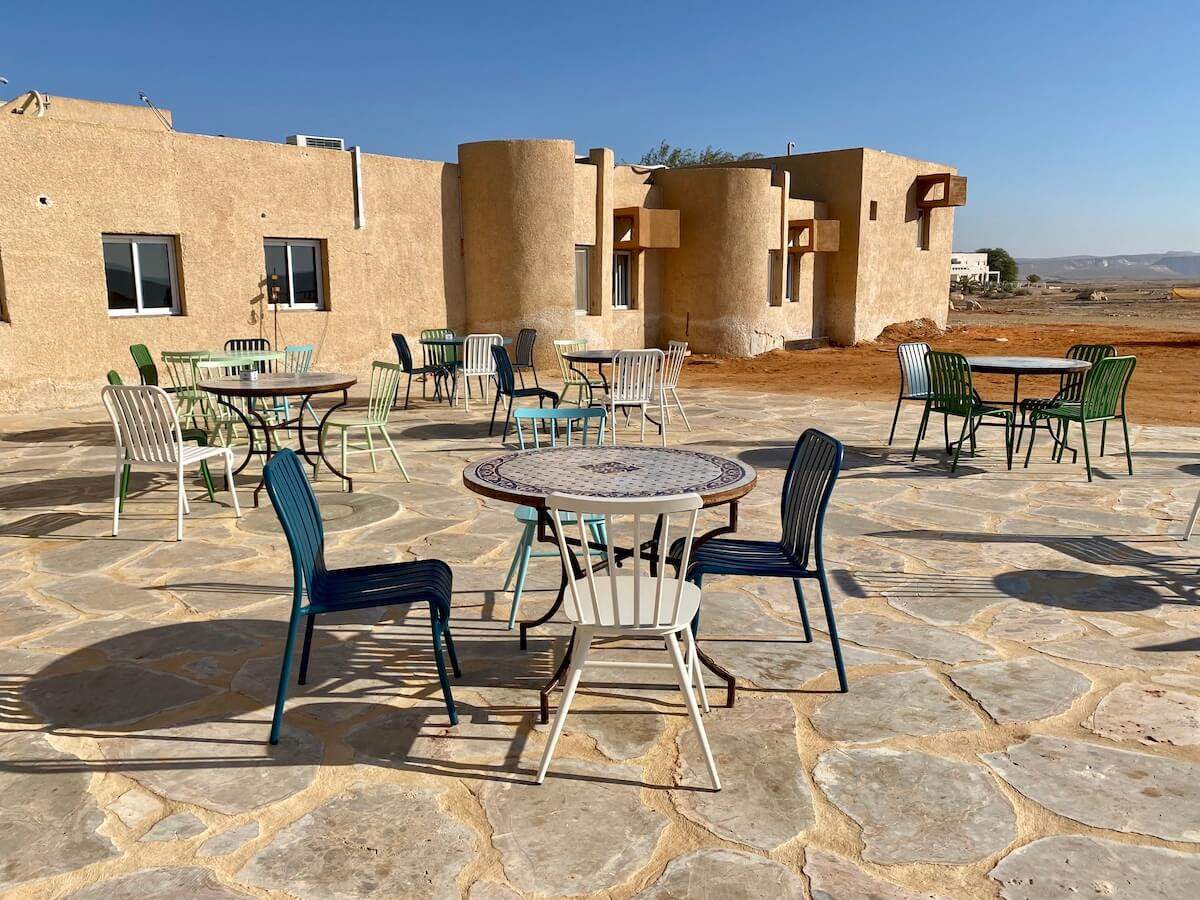 Where to Stay in Sde Boker
We stayed at the simple but friendly 3 star Sherman's Hotel in Midreshet Sde Boker.
A cross between a hotel and a guesthouse, Sherman's is a well maintained property with 14 rooms and a restaurant that offers a good spread of local dishes with plenty of dips, cheeses and salads.
It also has an eye-popping location, and it's right in front of the hotel that you can find some astonishing views.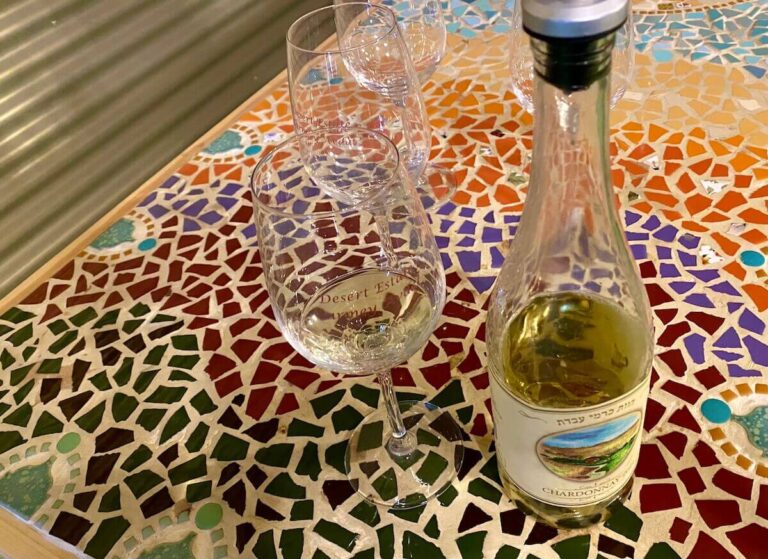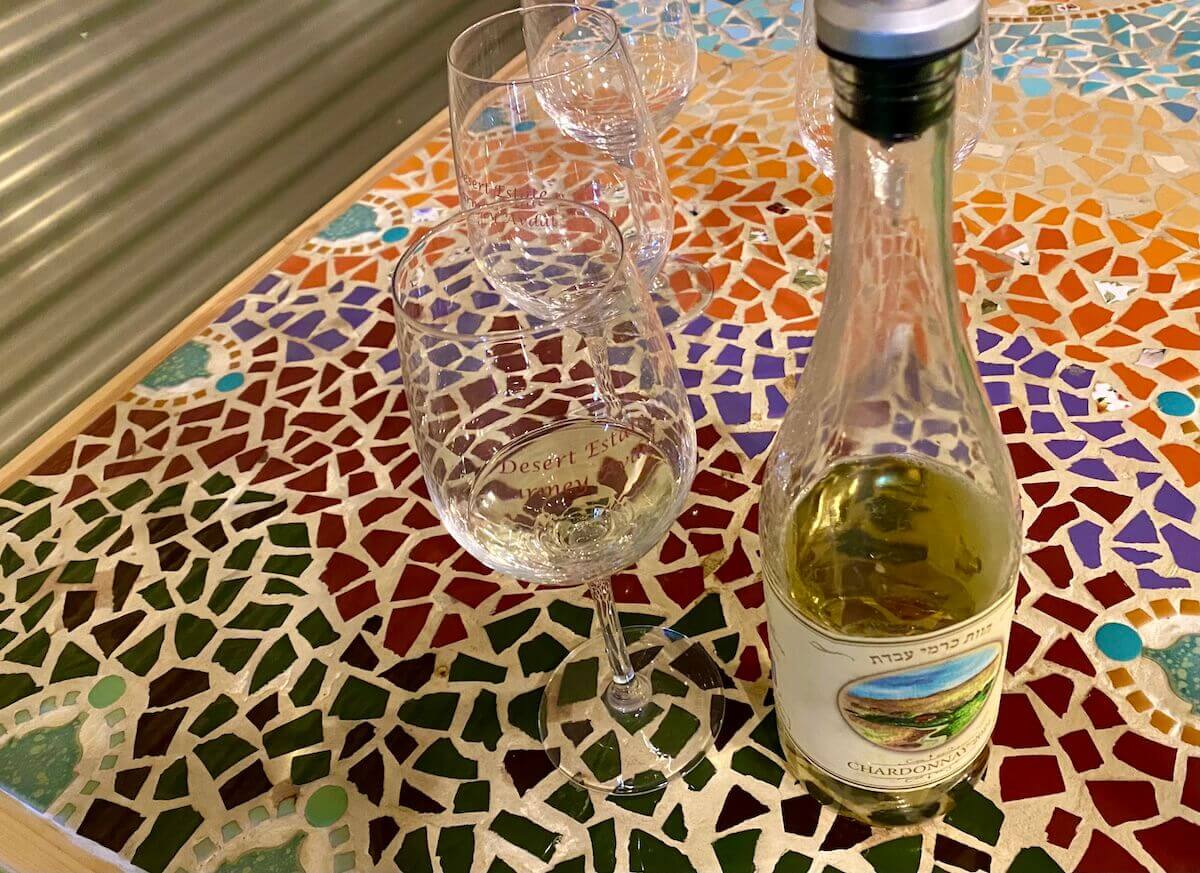 2. Check Out the Negev Desert Wine Route
Vineyards in the desert? Maybe the most extreme climate to grow grapes in the world? You bet.
Not only is it possible, it's time tested. Grapes were being harvested by the early Arab Nabateans in the Negev Desert more than 2,000 years ago.
What goes around comes around. Today the Negev has a burgeoning wine industry and a wine route that includes more than 25 independent wineries and farms.
You might not find sleek operations like in Napa, but you'll find authenticity and drive.
Boutique wineries and farms eke out moisture for their crops by way of cutting-edge computer drip irrigation systems and centuries-old harvesting methods.
It's a combination that works. The sandy soil, dry climate and day-to-night temperature swings add up to a terroir that's one of a kind.
Why Do the Wine Route?
The Negev Wine Route, created in the late 90s, is a good way to meet some of Israel's idealistic desert pioneers, to sample hyper local produce like olives, dates and pomegranates, and – of course – taste wine you won't get anywhere else in the world.
Where is the Negev Wine Route?
The Negev Wine Route stops are located between Beer Sheva and Mitzpe Ramon. Most are located along Highway 40.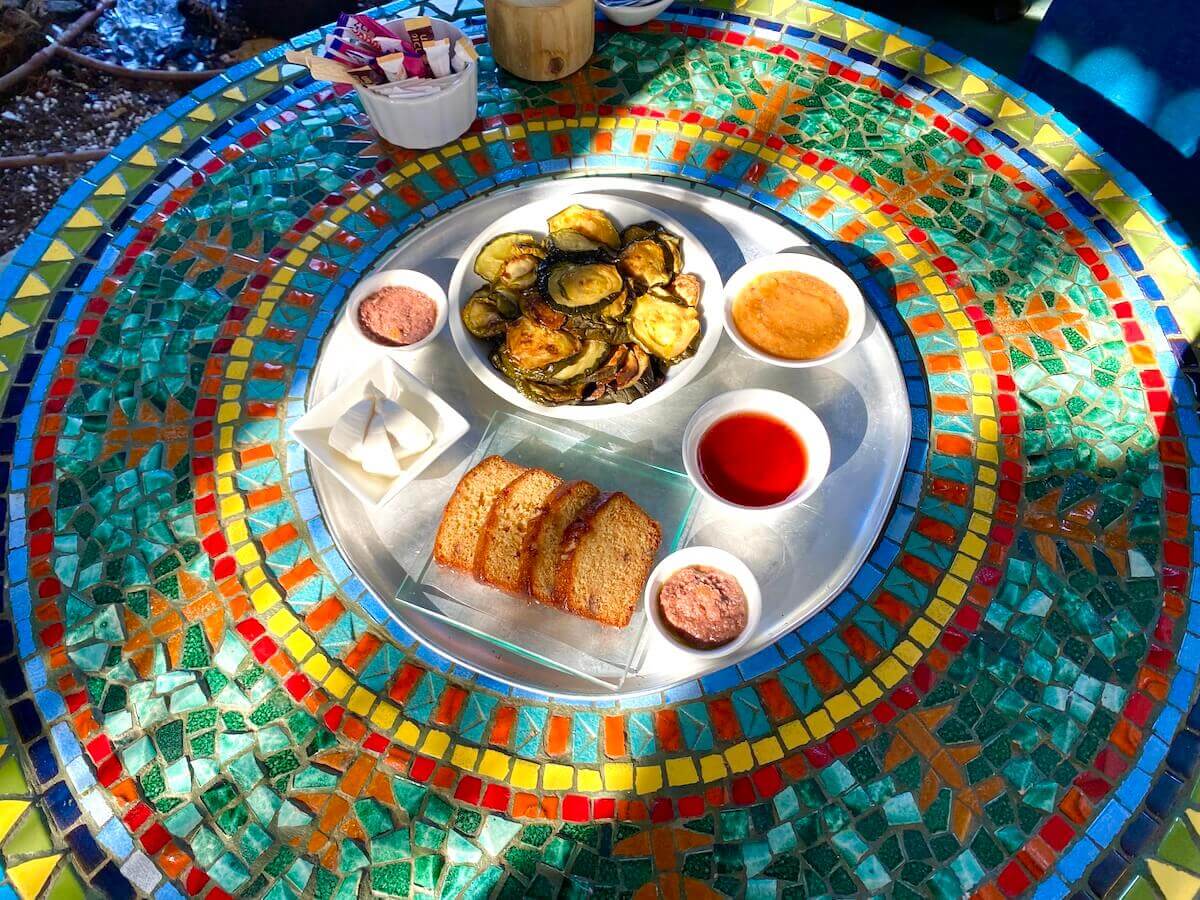 3. Visit Carmey Avdat Farm and Vineyard
Our group of six travel journalists (hosted by Visit Israel) got a taste of desert wine (not to mention dessert wine) at Carmey Farm and Vineyard. It's one of the stops on the Negev Desert Wine Route and not far from Sde Boker.
Established on an inhospitable piece of land in 1998, Carmey Farm was one of the first lone homesteads in Israel's Negev.
Against all odds the farm flourished, and sampling the vineyard's hint-of-salt Merlot and garnet Cabernet Sauvignon was like sipping history.
Why? Because to grow the grapes, owners Hana and Eyal Izrael resuscitated long-abandoned dry-riverbed terraces that date back to the Byzantine era.
What Can You Do at Carmey Farm?
Try a wine tasting.
Enjoy a light meal or a fresh-pressed juice at the onsite cafe.
Sleep: For a true desert stay, Carmey Farms has 6 barrel-shaped eco-conscious cabins (that look a bit like earthy-chic Hobbit houses). Cabins have cooking facilities, terrace and outdoor rock pools. Breakfast included.
Check prices and availability for the Carmey Avdat Desert Estate here.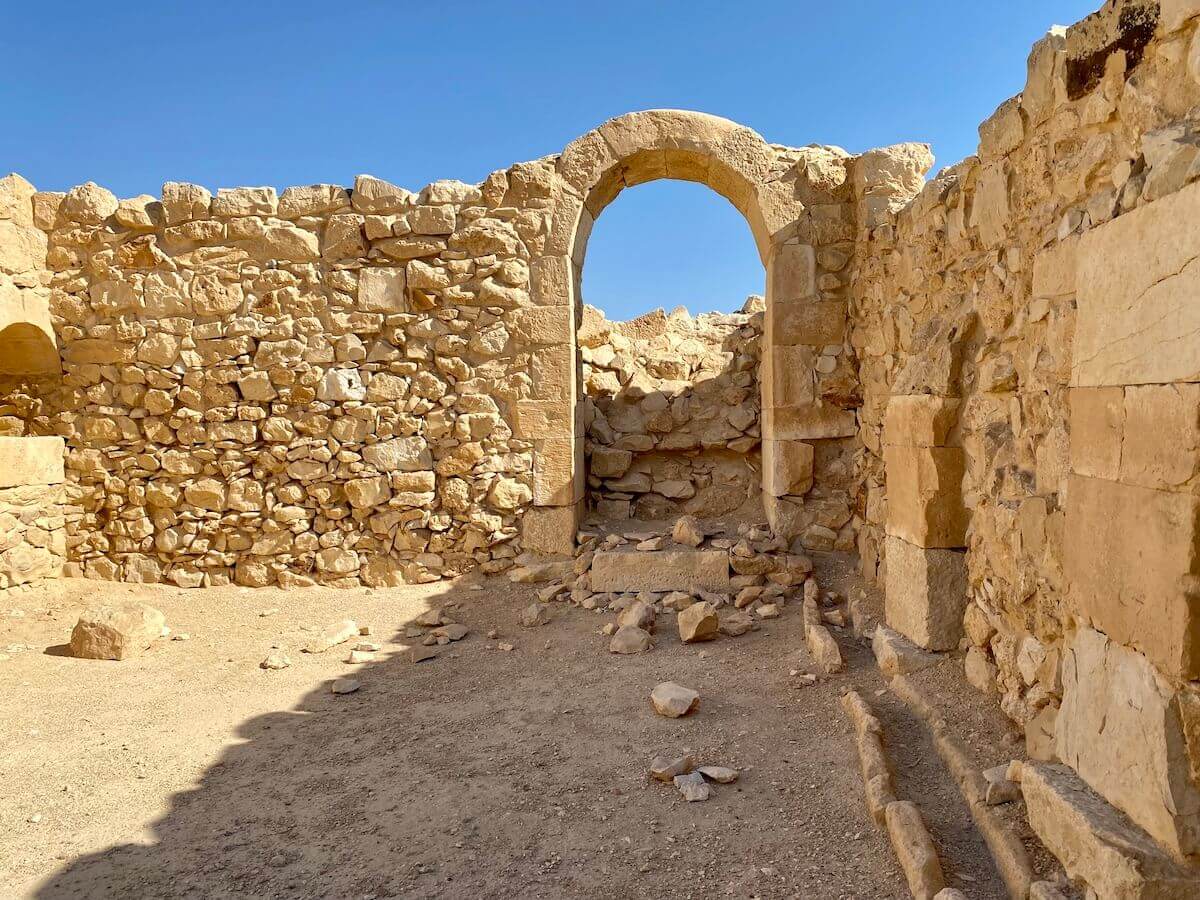 4. Visit the Ancient City of Avdat
Summon your imagination. Breathe in the scent of frankincense, myrrh and cinnamon as you wander through the sun-bleached doorways and pillars of Avdat.
The Incense Route
Now the ruins of a vanished culture, the once-thriving Nabatean city of Avdat was a key stop on the fragrant-sounding Incense Route, a 2,000 year-old trading route that was designated a UNESCO World Heritage Site in 2005.
Herbs, spices, incense, silver and gold were all transported by camel caravans through the desert from Petra in Jordan to ports in the Mediterranean.
The Byzantine Era
Later, Avdat was captured by the Romans then settled by the Byzantines.
Today you can find traces of the three cultures layered together: a Nabatean temple with an inscription to Aphrodite, a Roman tower, Byzantine churches, and burial chambers repurposed as wine cellars.
And, if the Negev Wine Route piqued your interest, don't miss the Byzantine era wine press built into the ground.
How to Tour Avdat
The best way to see Avdat National Park is to stop first at the Information Centre at the bottom of the hill for a quick video, then head up to the ruins themselves. You can drive to the upper parking lot or walk up a stepped path.
Travel Tip: There's a fair amount of walking even if you use the upper parking lot.
Where is Avdat?
Avdat National Park is only about 15 minutes from Sde Boker on Road 40.
Prefer a Tour? This small group 4×4 tour from Jerusalem or Tel Aviv includes Avdat, the Ramon Crater and a Bedouin feast. Check prices and availability.
5. Hike Ein Avdat National Park – An Oasis in the Desert
Important Travel Tip: Don't get Avdat National Park and Ein Avdat (or En Avdat) National Park mixed up. Ein Avdat is a few kilometres away from Avdat National Park off Road 40.
Ein Avdat (Ein means spring) is a hiking haven where you can head to a 15-metre waterfall that slinks its way down into a jade green pool.
You can also see caves that were once inhabited by Byzantine monks and a much-loved poplar grove.
How to Visit Ein Avdat
The North Entrance (Lower Parking Lot) nearest Sde Boker is the entrance for the 1.6 km hike to the waterfall and longer hikes are possible.
Toilet facilities are available. There is an entrance fee for the park.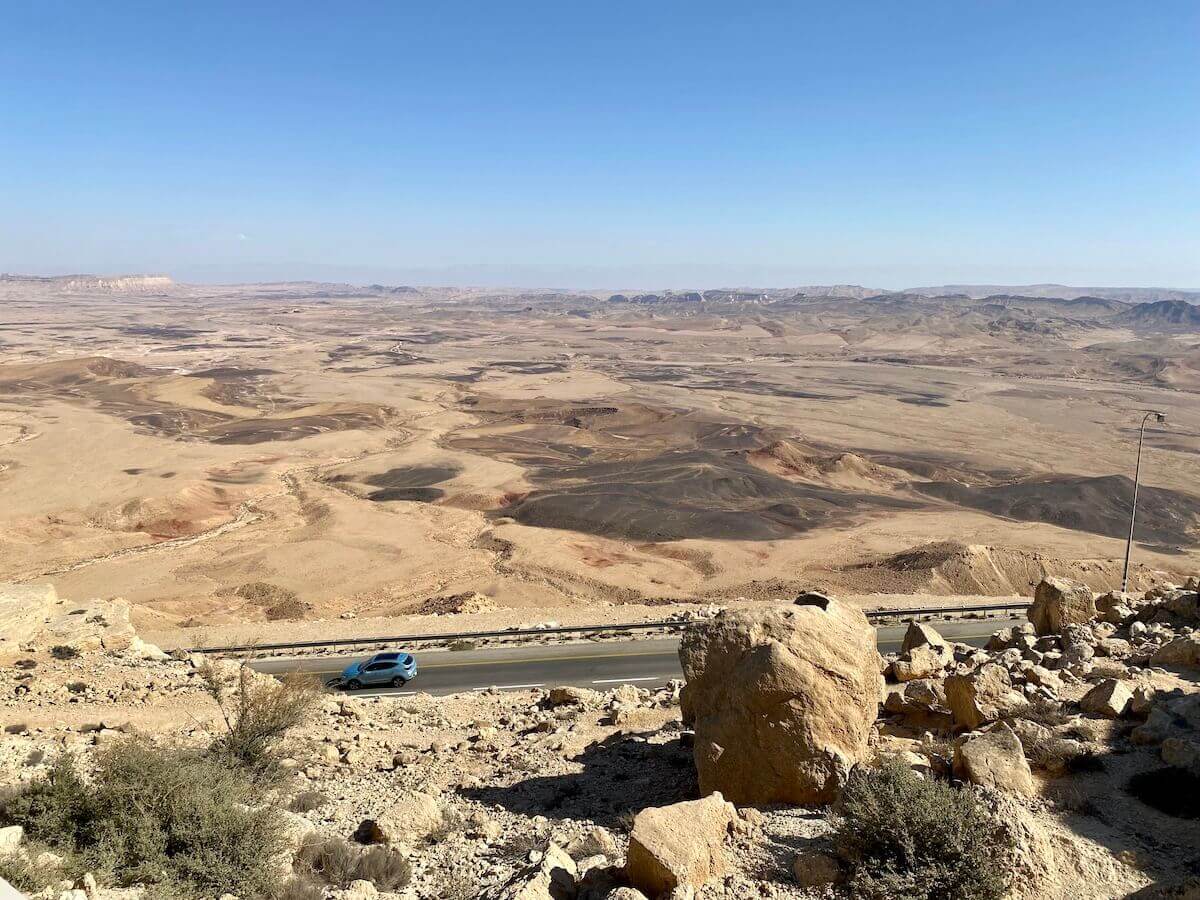 6. Don't Miss the Ramon Crater, An Israeli Desert Highlight
If you're traveling south from Tel Aviv or Jerusalem, the next stop you might want to make after Avdat or Sde Boker is to the astonishing Ramon Crater.
The 40-kilometre-long Ramon Crater, the Makhtesh Ramon, is one of the blockbuster sights in the Negev Desert.
Its layers and swirls of beige, brown and sun-lit cinnamon swoop down some 500 metres into a flat valley floor.
What's special about the Ramon Crater? Aside from its heart-shaped good looks (though it's so big you can't see its shape from the ground), and outdoor activity potential, it's a very rare crater.
Unlike most craters, it wasn't caused by a volcano or a dramatic meteor blast. It was caused by water erosion some 220 million years ago.
Erosion craters, or makhtesh, exist only in the Negev Desert and in the Sinai Desert in Egypt. The Ramon Crater is the world's largest erosion crater in the world.
The town of Mitzpe Ramon is a hub for Ramon Crater activities.
Check prices for a Ramon Crater Jeep Tour from Mitzpe Ramon Crater here.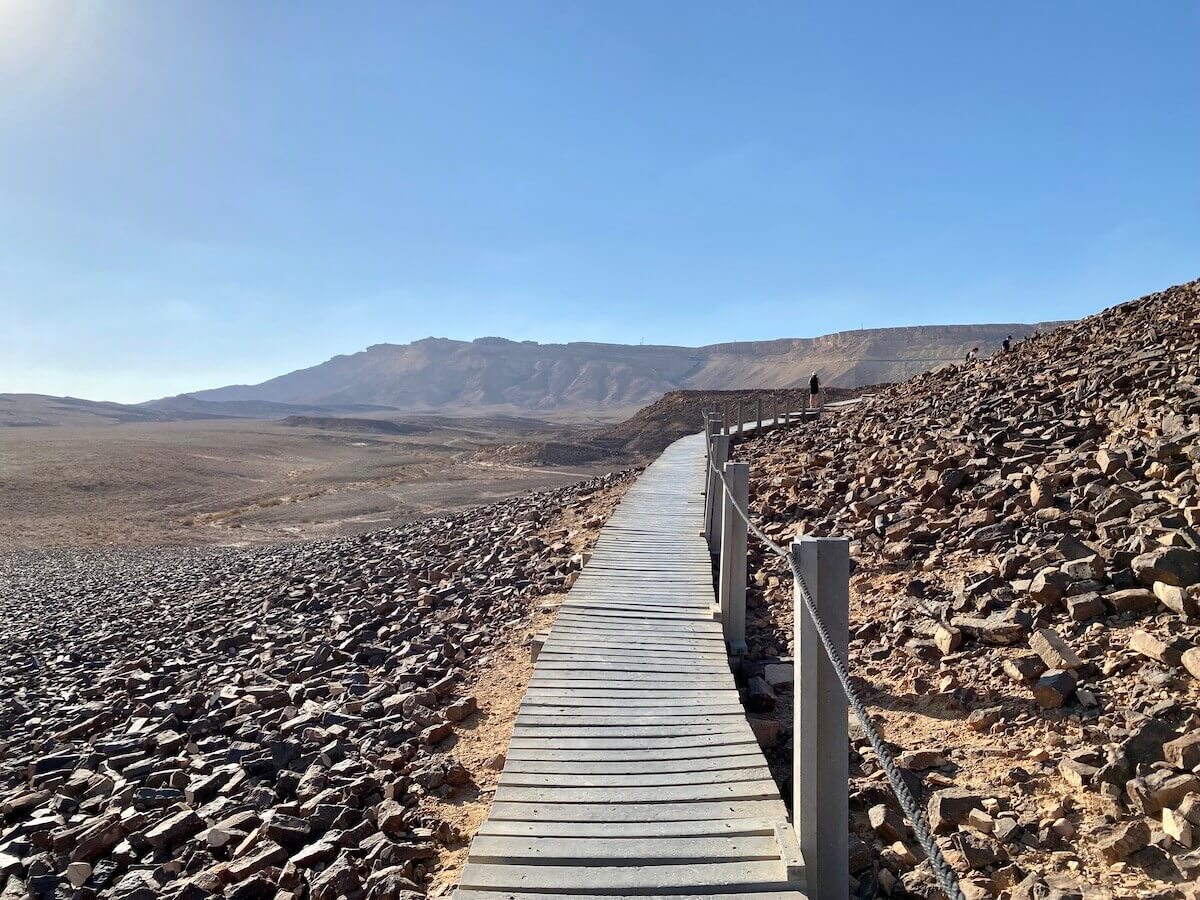 Things to Do at the Ramon Crater
Learn more about the crater and about Ilan Ramon, Israel's first astronaut, at the interactive Visitor Center in Mitzpe Ramon. You need to book tickets in advance.
Get active: The best things to do at the Ramon Crater are outdoors. You can hike, sign up for a cycling tour or even a rappelling excursion.
Walk the boardwalk at the Minsara, also known as the Carpenter's Hill, an unusual basalt rock hill in the crater that resembles a pile of wood blocks.
Have a casual lunch at Gina's Cafe in Mitzpe Ramon's trendy Spice Quarter.
7. Stay at the Best Hotel in Mitzpe Ramon – The Beresheet
Sleep in style at the fabulous Beresheet Hotel.
Overlooking the crater in Mitzpe Ramon it's a luxe way to dig your toes into the desert landscape with a temptress of a swimming pool, a restaurant with a view and villas that ooze comfort and sophistication.
Check prices and availability for the Beresheet Hotel here.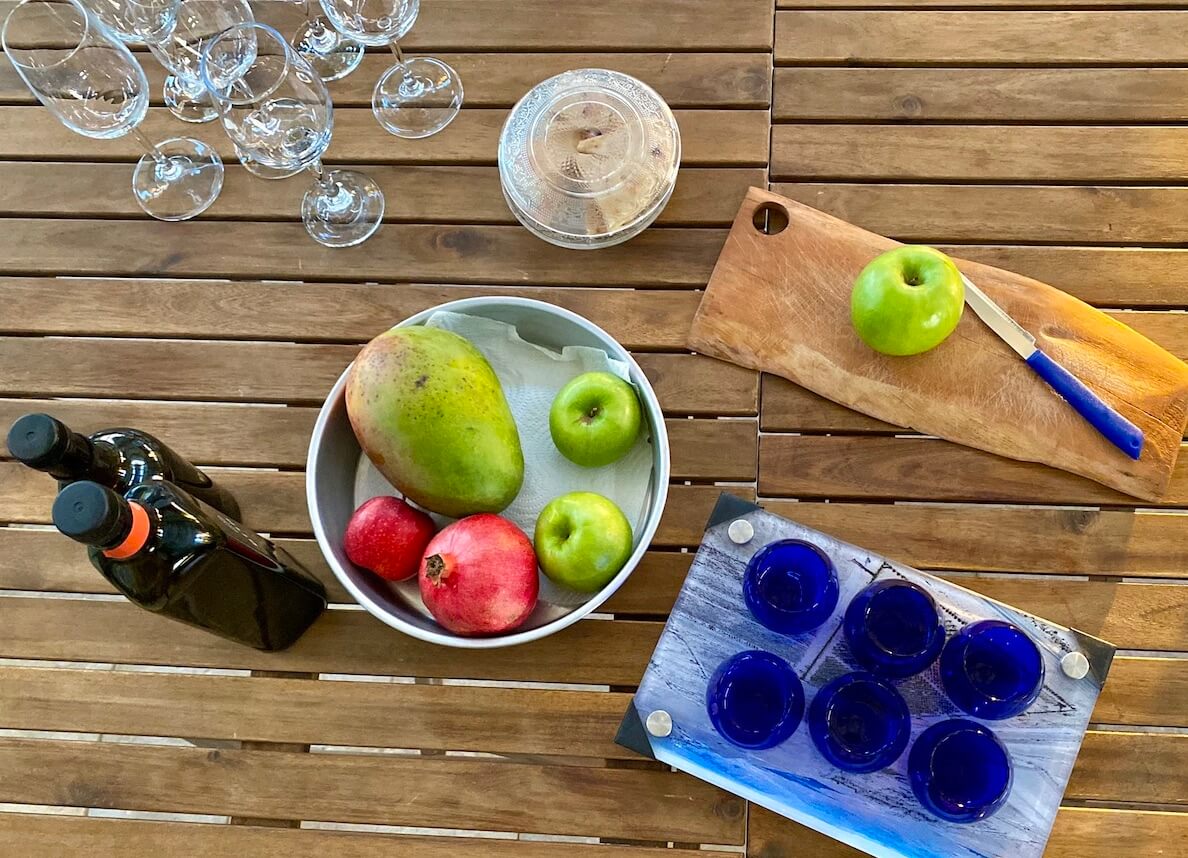 8. Do an Olive Oil Tasting at Eshkolot Marom Olive Oil Farm
There are so many different food experiences you can find in the Negev Desert, from farm-to-farm-table to 5-star deluxe, and our trip into the desert proved to be an unexpected culinary journey.
One of our first fresh tastes of the Negev came at the Eshkolot Marom Winery and Olive Oil Orchard, a teaching farm established in 2009 at the foot of an ancient cistern.
Organic wine processed from the vineyard's Shiraz and Cabernet grapes was partnered with an olive tasting served with crusty chunks of bread, apple slices and mango.
Crafted from three varieties of olives – Syrian, Picual and Barnea – Eshkolot Farm's award-winning Marom Olive Oil is a miracle of dedication and love for the hardscrabble land the orchard thrives in.
Where to find it: Eshkolot Marom Winery and Olive Oil Farm isn't far from Mitzpe Ramon off Route 40.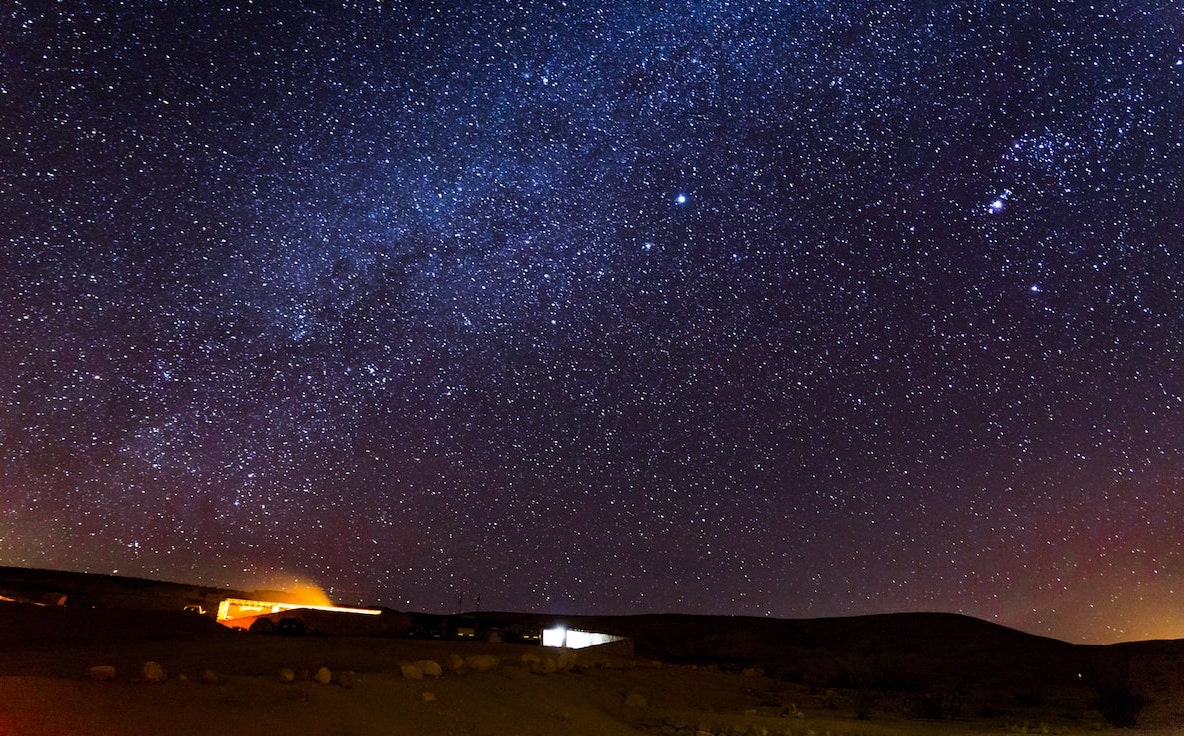 9. Go Stargazing
Astro tourism is a 'thing' in the desert, where the blissful absence of light pollution and clear dry atmosphere mean great star gazing opportunities.
(I personally heart Jupiter, which I got to know intimately on our stargazing excursion with Negevland Tours.)
Where to go galaxy gazing in the desert? For an easy and free experience, check out the night sky pretty much anywhere. Just look up. You'll be star struck.
The Ramon Crater in particular is a prime star watching spot, and it's been granted International Dark Sky Preserve status – the first in the Middle East.
For a more in-depth look at the universe, consider a tour. Telescopes and knowledgeable guides can make the experience richer. Many companies offer stargazing excursions from Mitzpe Ramon.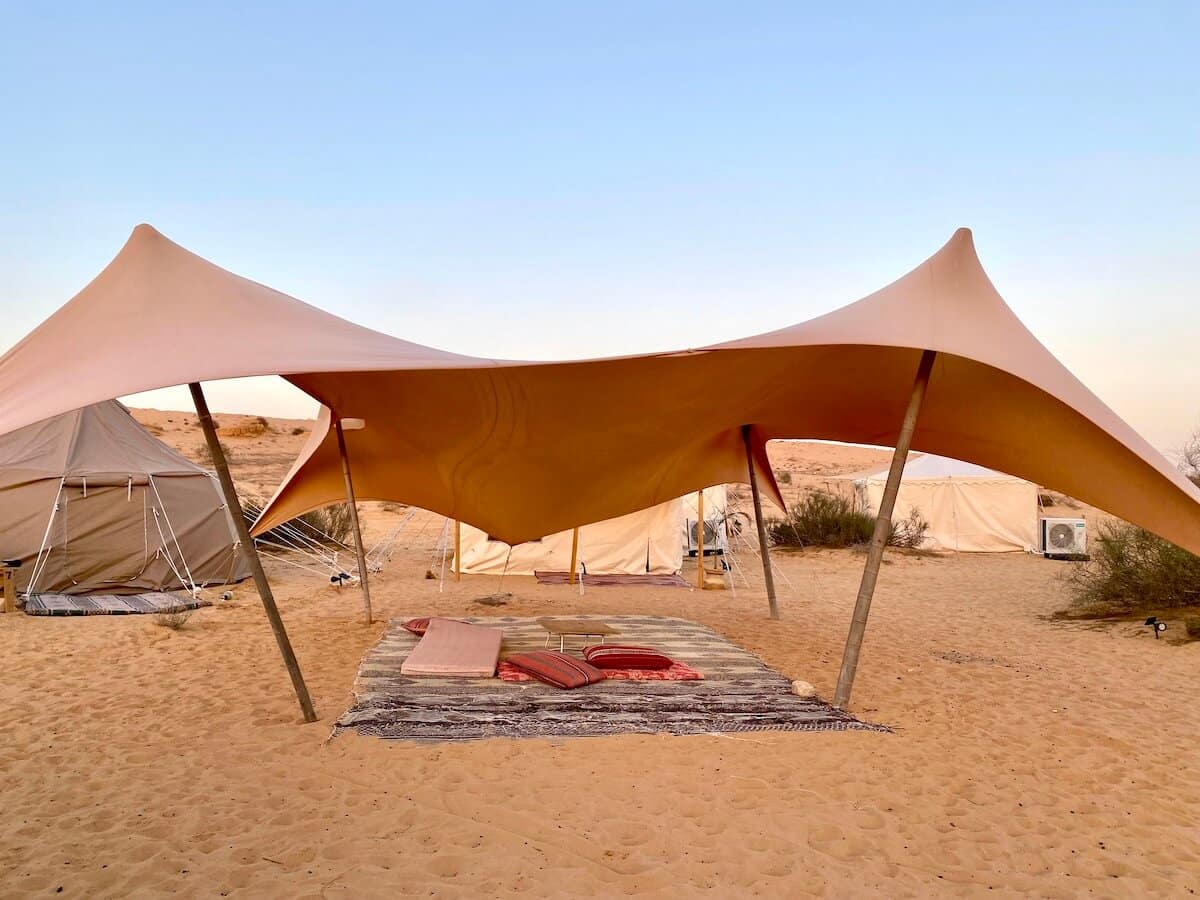 10. Try Glamping in the Negev
A genuine get-away-from-it-all experience is to go glamping in the Israeli desert. These upscale camping sites are a cross between hotel living and back-to-basics camping, and provide a true desert immersion.
We spent a night glamping in the Negev with a company called Desert Adventure.
It had been years since I'd done any sort of camping at all (Oh, no! I'm becoming a princess) so it took some getting used to, but it turned into a memorable adventure.
For star gazing opportunities, glamping in the Negev is hard to beat, and relaxing around a campfire in the evening enveloped by the desert stillness is a wonderful clash of the exotic and familiar.
Accommodation is generally in tents but they're equipped with comforts like air con, beds and linens. Meals are usually provided, and activities can be arranged.
If you want nothing between you and the elements except a supple canvas wall, a Negev glamping experience will whisk you out of your comfort zone and into the extraordinary world of the desert.
Read more about my Negev glamping experience.
11. How About Israeli Desert Sand Surfing?
When it comes to active things to do in the Israeli desert, sand boarding wasn't on my list. Only because I didn't know it was an option.
Now it's my favourite desert sport though I never did really master it well. (Actually, I was dreadful!)
First timers and small kids can zip down toboggan style, while the more adventurous can tackle the dunes standing up.
However you go down, expect to come out with a pocketful of sand. I'm still finding it in my suitcase weeks later.
Where Can You Sandboard in the Israeli Desert?
While much of the Negev Desert is rocky, there are sand dunes to be found between Be'er Sheva and Mitzpe Ramon and particularly near the Nabatean ruins of Shivta.
I was fortunate to have access to two modest slopes where we glamped in the West Negev near the Egyptian border – a perfect starter hill for the incompetent. Lol.
Dror Bamidbar seems to be the most highly recommended sand surfing company.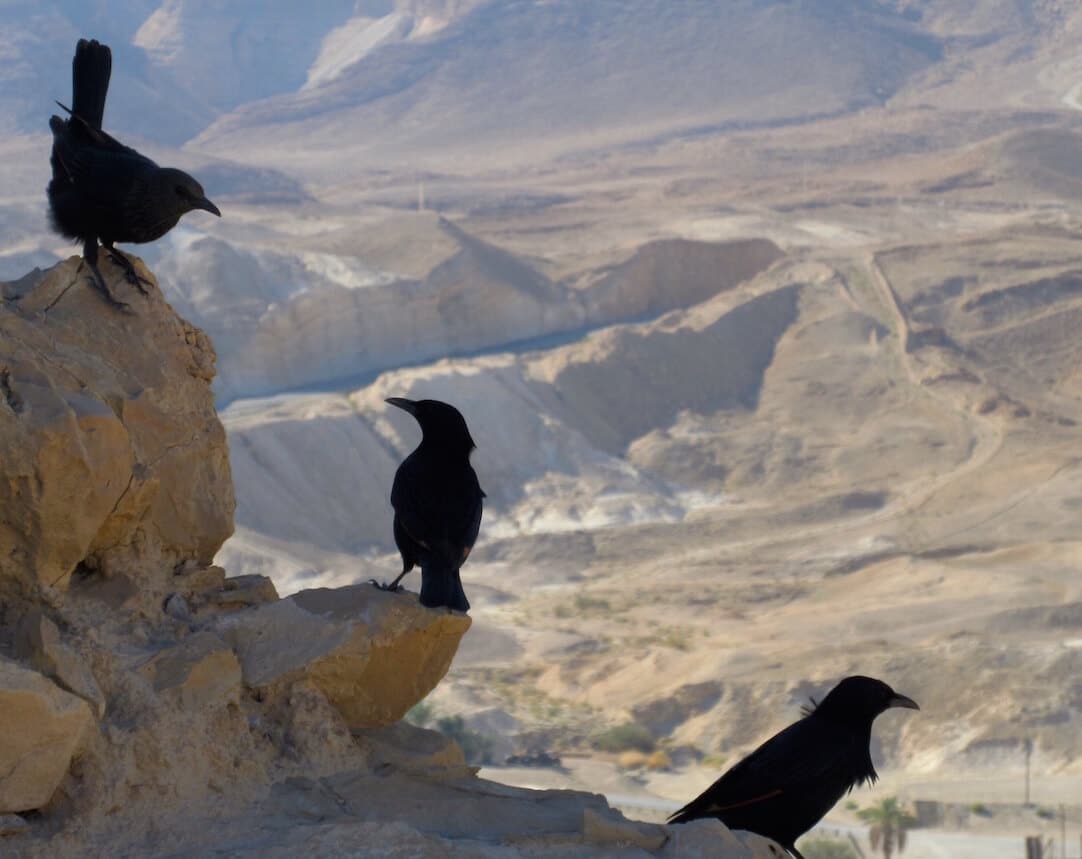 12. Tour Masada, a Fortress in the Judean Desert
We don't know exactly what happened at the cliffside fortress of Masada in 74 CE, but it was horrific. Some 960 Jewish patriots made their last stand at Masada during the Roman-Jewish wars.
In the end, the Jewish rebels chose mass suicide over slaughter and slavery when Roman soldiers lay siege to the fortress – a siege that lasted three years.
Today this stunning fortress high on a plateau edge looking over the Dead Sea is a symbol of heroism and the choice of liberty over oppression.
It's also an astonishing bit of architecture, improbably erected high in the bone dry Judean Desert.
Built by King Herod the Great around 30 BCE, Masada was not only a fortress but a lavish palace with pools and a sophisticated water system that seems unbelievable when you see it. (At least it seemed unbelievable to me.)
How to Visit Masada
Located at the east edge of the Israel Negev Desert, Masada is the second most popular place to visit in the country after Jerusalem.
You can easily take a day tour from Jerusalem, Tel Aviv or Eilat and combine it with a visit to the Dead Sea.
Visit Masada and the Dead Sea on a Day Tour from Tel Aviv. Check Prices and availability here. Traveling from Jerusalem? View it here.
By Bus to Masada: It's possible to take a public bus to Masada from Jerusalem. Bus 486 from the Central Bus Station. You can't use cash so get a free tap card at the bus station and load it.
Learn from my mistake: Put enough money on the card for the return trip too.
Masada Cable Car
From the parking lot most visitors take the cable car up to this sky high fortress, though the fit and fearless can climb up the Snake Path for a sunrise view.
(More power to you if you do it as it's a very steep hike. I took the cable car.)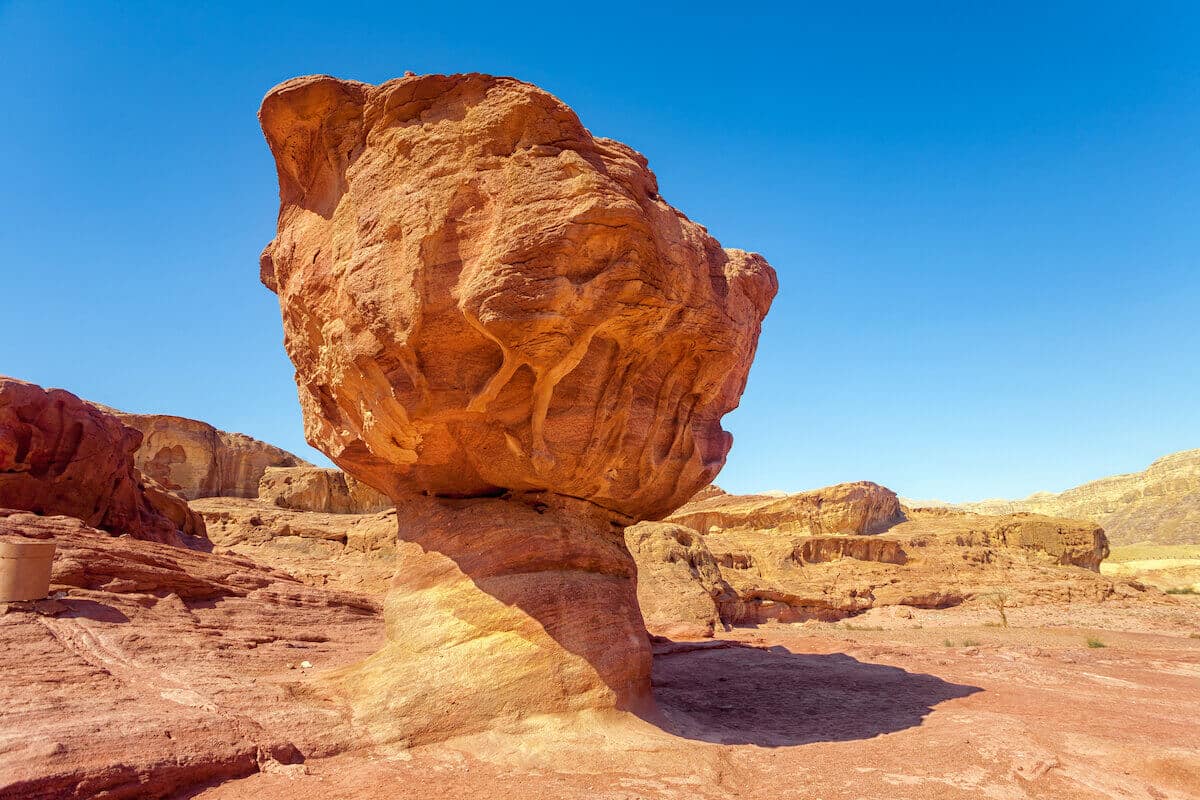 13. Visit Timna Park near Eilat
If you're looking for things to do in the Negev Desert near Eilat in the south, the 15,000-acre Timna Park comes highly recommended.
It's a stunning national park in a part of Negev called the Arava Desert, about 25 kilometers north of the seaside tourist haven of Eilat.
Surrounded by henna-red sandstone mountains, Timna Park is known for its awe-inspiring geology including the gravity defying Mushroom Rock, the Arches, and Solomon's Pillars.
Things to Do at Timna Park
Start at the Visitor Center to learn about the park.
See the ancient copper mines (possibly the oldest in the world).
Hike – There are some 20 trails for different abilities.
Rent a bike.
Visit the ruins of the Temple of Hathor, Goddess of Mining, to see the Egyptian carvings.
Look out for wildlife like Negev deer and spiny-tailed lizards.
Go peddle boating on the little lake. (A lake in the desert!)
How to visit Timna Park
The park is huge so the best way to see it is to drive or take a tour.
Check prices and availability here for this affordable Timna Park 4-hour Tour from Eilat
14. Experience Israel Desert Luxury at Six Senses Shaharut
If you're down at the Eilat end of the desert of southern Israel, you may want to go all out and stay at what is arguably Israel's best luxury hotel, the Six Senses Shaharut.
Just 45 minutes from Eilat, and 3.5 hours south of Jerusalem or Tel Aviv, this tranquil luxe haven offers refreshing pools, an architecture that fits seamlessly into the landscape, and a decor inspired soothing desert colors.
Backdropped by the Edom Mountains, the hotel has a full-service spa, organic gardens, and takes its sustainability seriously – it was the first hotel in Israel to be granted LEED Certification.
Check prices and availability for the Six Senses Shaharut here.
Easiest Ways to Visit the Desert in Southern Israel
By Car: If you're interested in checking out a lot of things to do in the Negev desert region the most convenient way to travel would be to drive. Roads are surprisingly good.
Road 40 travels north to south and takes you to many top Israel Negev attractions.
By Day Tour: For popular sights like the fortress of Masada, day tours are readily available from Tel Aviv, Jerusalem and Eilat.
By Public Transportation:
To get to the Ramon Crater – You could take a bus to the town of Mitzpe Ramon and do day tours to explore the Ramon Crater area but you need to change in Beer Sheva to Bus 60.
Masada – Bus 486 goes from Jerusalem. You can take the train or a bus to Jerusalem from Tel Aviv.
The Absolute Luxury Way Travel to the Israel Desert
Israel is an expensive country to travel in and the price of this could make you weep but …
For ultra ease and comfort, you could stay at the Six Senses Shaharut, have them arrange an airport pickup from Tel Aviv or Eilat, and arrange all your day tours through them.
Personally, I can't imagine a dreamier way to visit the Israel Negev. Then again, at the opposite extreme, camping is super popular in the desert, too.
Important Travel Note: The desert may be ideal for outdoor adventure but don't take it lightly. Take proper precautions, know your route, and make sure to carry essentials like maps, cell phone, water and sun protection, etc.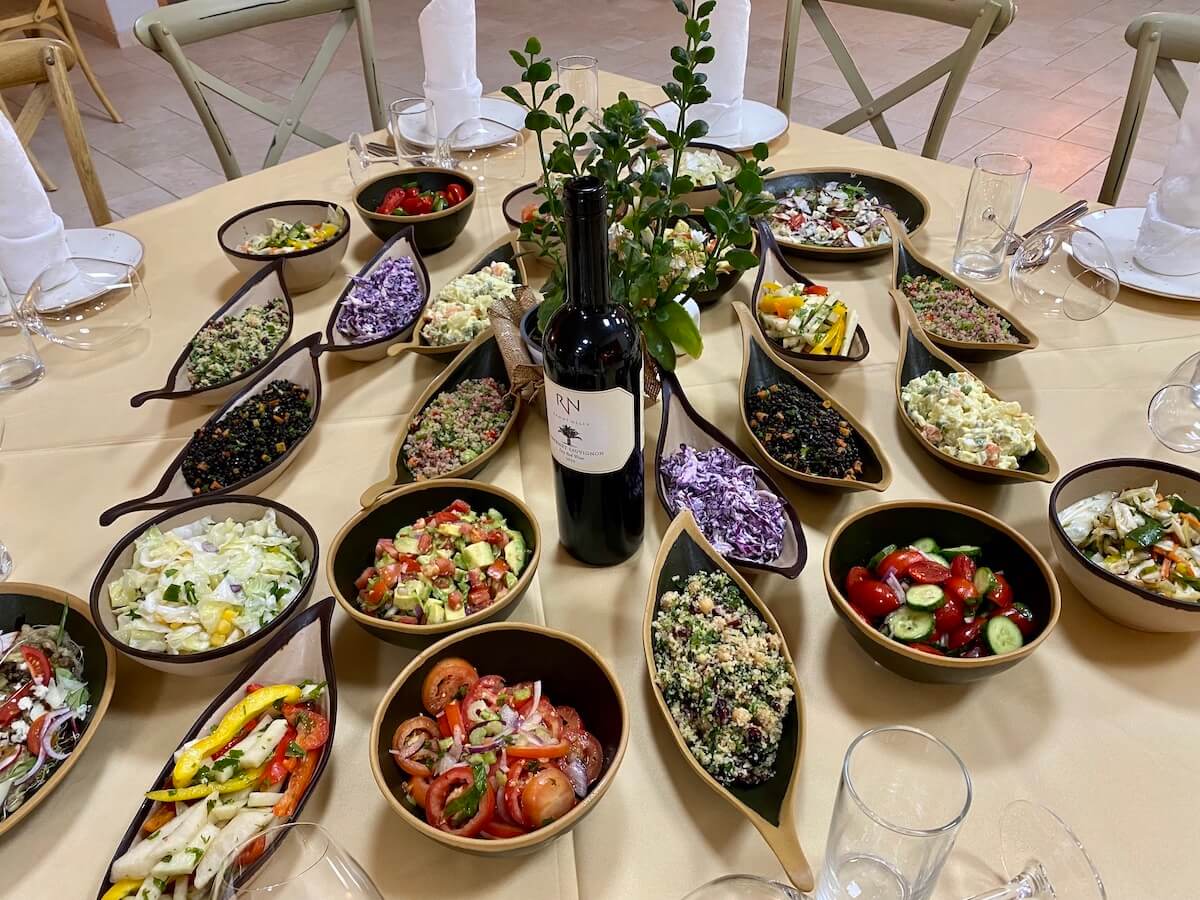 Is Visiting the Negev Desert Worth It?
A trip into the Israel desert is not your average vacation, but it is unforgettable – at least it was for me.
A scrappy destination that screams freedom and adventure, with splashes of luxury, a bit of a boho vibe and moments of culinary brilliance, the Negev Desert is a place where travelers can find space to play in and room to breathe.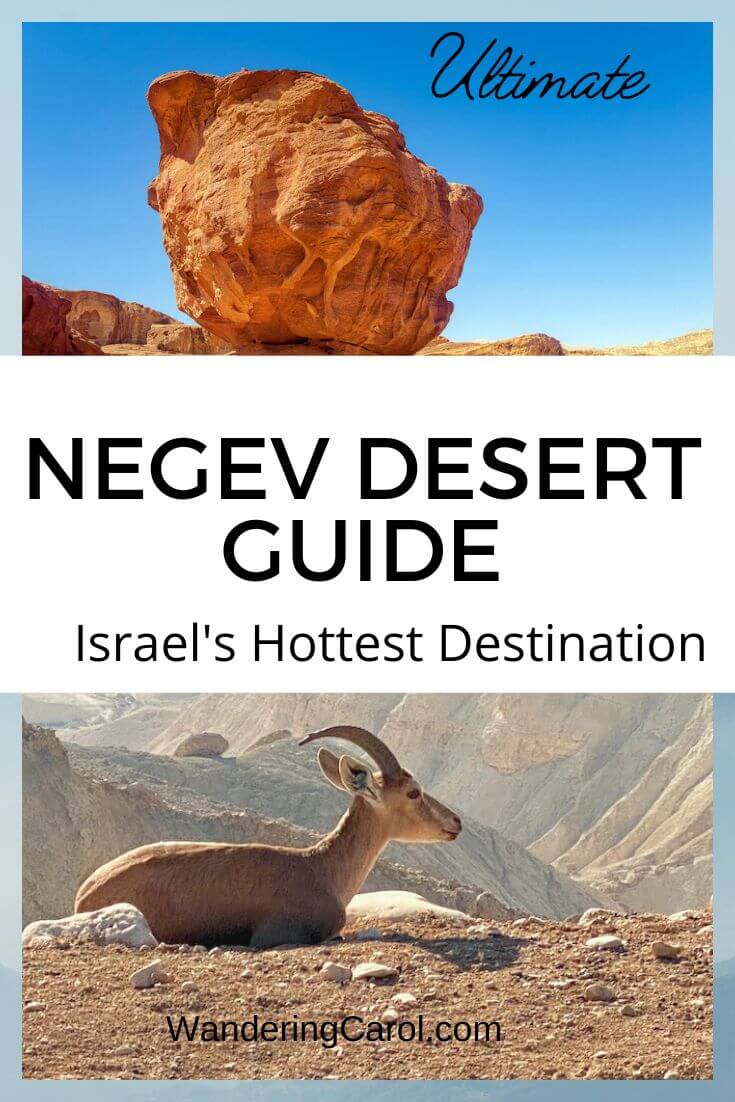 I