This post may contain affiliate links.
Are you planning a trip to Italy? If you're travelling to Tuscany, think about spending at least one day in Lucca. This charming city has cobbled streets made for wandering and Renaissance walls you can cycle on top of. Just over an hour from Florence, it's one Tuscan destination you won't want to miss. Here's my experience, or scroll down for some of Lucca's top things to do.
One day in Lucca
You won't find the Hotel Rex in Lucca, Italy, in any guidebooks – at least I doubt you will – but it suited me perfectly. My main goal was to get rid of my overstuffed suitcase as soon as humanly (or even inhumanly) possible and the Hotel Rex was right outside the train station. Even better they had a room and as I was spending only one night, I had no time to waste.
Now I could dump my bags in a hurry and get started on Lucca's number one attraction, cycling on top of its Renaissance-era walls.
Why visit Lucca?
The Tuscan city of Lucca is as pretty as the Italians kept telling me. In fact I'd had no intention of visiting Lucca at all but was eventually browbeaten into it by an onslaught of praise. (Praise for Lucca, not for me.) Very 14th-century looking, Lucca made its money in silk, was a prosperous community and still looks it today. The shops are high end, the streets windy and narrow and the cathedral facades (and there are many) are so stunning it seems surreal.  
A very involved history
Lucca was settled by the Etruscans then became a Roman colony in 180 B.C. Fun fact about Lucca: In 56 B.C. Julius Caesar attended the Lucca Conference here.
Over the centuries it's been batted about relentlessly. It was conquered by the Goths and then the Byzantines, ruled by John of Bavaria, who pawned it to the Rossi of Parma, who ceded it to Mastino della Scala, who sold to the Florentines. It was then occupied by Pisa and liberated by Charles IV. And all this was before 1370.
I'm tired of writing about history so let's jump to 1805, when Lucca was conquered by Napoleon who installed his sister here as the Queen of Etruria.
One day in Lucca when it rains
The crap thing about travelling to Lucca in low season is the prospect of rain and sure enough, it was raining when I got there. This was a shame as cycling in Lucca around its fat Renaissance walls is the thing to do. Only I almost didn't do it because I didn't want to get wet. Or cold.
Then I thought, I have only one day in Lucca, if I don't ride around the walls now, my chance is gone.
The wonderful Lucca walls
The old walls of Lucca are unique. This is because few Italian cities maintained their fortified walls once they (the cities) outgrew their (the walls's) boundaries. Constructed in the 16th century – though the first walls were laid in Roman times – the Lucca walls are massive. In fact, when you're up there, the walls look more like a street, with trees, a road wide enough to drive on, ramparts, garden-y places and benches.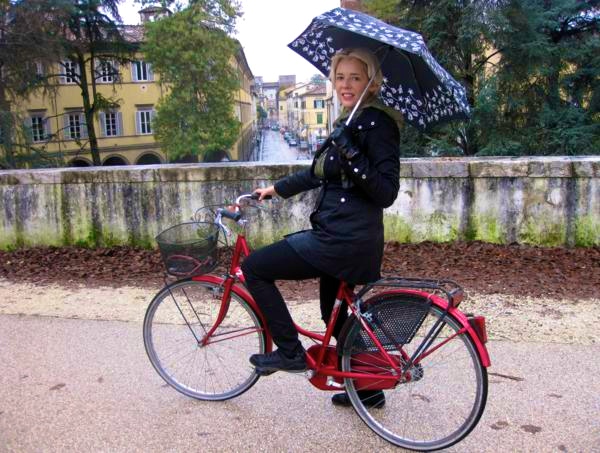 Finally I sucked it up, grabbed an umbrella and did my cycling tour of Lucca in the rain. And I'd do it again – in fact, I almost did do it again as I couldn't remember what gate I went up on and cycled right past it. My verdict? Spending one day in Lucca and cycling around the ancient walls is 4 km of fun, even in the rain. Who needs the Tuscan sun after all?
Top things to do in Lucca
How to rent a bike to cycle the city walls: Check with your hotel to see if they have bicycles you can use. If you're only in Lucca on a day trip, you can rent bikes outside the train station at Tourist Centre Lucca's Bike Rental.
Visit Lucca Cathedral: Lucca is known as the city of 100 churches, so feel free to delve into a cathedral visiting spree. Top of the list is the marble Cathedral of Saint Martin, also known as Lucca Cathedral, on San Marino Square. Built mainly in the 13th century, the cathedral houses a famous relic called the Holy Face of Lucca, the Volto Santo, a crucifix with a wooden figure of Christ. According to legend, Volto Santo was carved by Nicodemus, one of Christ's disciples (except for the face which was miraculously carved while Nicodemus was sleeping) and it came to Lucca (also miraculously) on an unmanned boat.
Visit Lucca's church of San Michele in Foro: Sitting in St Michael's Square, which was once the Roman Forum, San Michele is famous for its stunning Romanesque facade of marble blocks, inlaid figures of animal and graceful arcades.
See the Guinigi Tower: If you're not tired out from cycling climb to the top of the 14th-century Guinigi Tower for the views.
Visit the Roman Amphitheatre: or at least what's left of it. It's now the Piazza della Anfiteatro in the northern part of Lucca.
Passionate about Puccini? If you're an opera fan, visit the Puccini Museum, the former home of this famous composer who was born in Lucca.
Visit the Gardens of the Villa Reale di Marlia: 10 km outside Lucca is the Villa Reale di Marlia, a grand villa once owned by none other than Elisa Bonaparte Baciocchi who, as I mentioned, was crowned the Princess of Lucca and Grand Duchess of Tuscany thanks to her brother Napoleon. (Now I wish I had a brother.) Rumour has it it's going to one day open as a luxury hotel, but until then you can visit the park and gardens.
Travel tips for spending one day in Lucca
How do you get here? This historic Tuscan town about 30 minutes by car or by train from Pisa, and about an hour and 15 minutes by train from Florence.
Where to stay in Lucca:
Moderate: I stayed at the Hotel Rex because it was the nearest hotel to the train station. The staff was polite and the price (I paid around $100) included breakfast, Wifi and a bicycle – everything I needed for one day in Lucca. Hurrah for travelling in Italy during low season.
The Corte degli Angeli gets good reviews with a location within the city walls and trompe l'oeil murals in the rooms.
Near Lucca, luxury accommodation: After Lucca I moved to the glorious Bagni di Pisa Natural Spa Resort in nearby San Giuliano Terme. Read more about Bagni di Pisa and other spas in Tuscany.
For other hotels, prices and availability in and around Lucca, check below.
For more travel information on Italy see Cities to Visit in Italy.
For more of the top places in Europe to see: visit Destinations in Europe to visit.
Note: This post contains affiliate links, which means I may receive a (very very small) commission if you book something at no cost to you. One day I might even earn enough to book another night at a Tuscan spa.