This post may contain affiliate links.
Montecatini Terme, Italy
With its Belle Époque architecture, curative thermal springs, plentiful hotels and celebrity past, Montecatini Terme is Italy's best-known spa town.
Its location between Florence and Pisa makes it a good base to explore northern Tuscany, and whether you're here on a day trip or doing a full spa cure, it's a unique – and cleansing – experience.
Even if you're doing only a day trip to Montetcatini Terme, it's helpful to know the truth behind the spa cure, which the town is famous for. Here's what my husband and I discovered – the best of Montecatini and the worst – during our 12-day stay.
The Curative Effects of Montecatini Spa
"I'm tired of pooping," my husband, Mark said.
We were walking through the spa park in Montecatini Terme, Italy, to Tettuccio Terme, a lavish Art Nouveau spa building that houses a bank of drinking fountains, their bronze-toned taps spouting out a variety of mineral-rich thermal springs.
Oh-oh. I threw Mark a nervous glance. When I'd told him I'd planned a spa vacation in Montecatini, a Tuscan town less than an hour west of Florence, I don't think this full-on traditional medical spa program was quite what he'd had in mind.
But as a spa writer with a focus on the best thermal spas of Europe, my previous day trip to Montecatini had been too brief and I'd been determined to come back for a full treatment package.
I couldn't totally blame him. The recommended 12-day drinking cure, which can be prescribed by a spa doctor once you arrive, can be, er, rather cleansing.
It's especially cleansing if you drink the salty Leopoldina water, which is meant to cure constipation, though the less, um, forceful springs such as Regina and Tettuccio can have a laxative effect too.
My husband's drinking prescription of one glass of liver-cleansing Regina water and two cholesterol-lowering glasses of Tettuccio water before breakfast, followed by a kidney-cleansing Rinfresco after 5 p.m. is not making him happy.
So he quit.
A Montecatini Terme Spa Reckoning
Clearly he didn't care about getting healthy.
"I'm not sick to start with," he said.
"It's preventative," I said, torn between wanting him to actually enjoy his holiday and worrying about ploughing on with the spa cure on my own.
How else was I going to find the motivation to make my way through the tree-lined Parco Termale before breakfast to drink three glasses of spring water? Who was I going to talk to while I sipped?
"But the water produces in the organism of the patient a normalizing effect of the hepato-biliary and gastro-intestinal secretions with improvement of intestinal peristalsis," I said persuasively, reading from a brochure.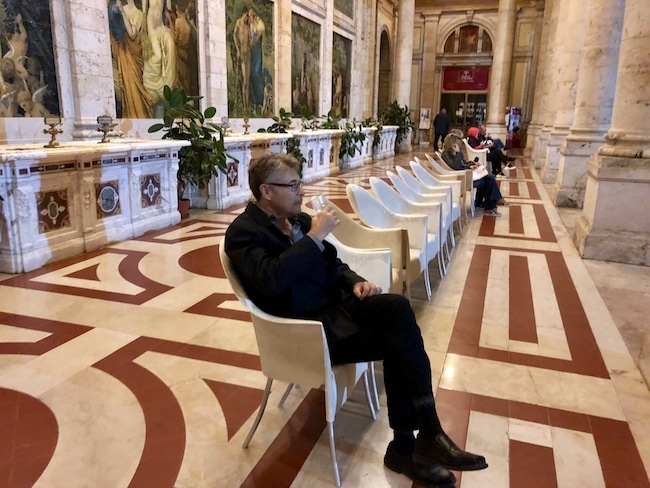 A Spa Town for Centuries
Strangely, Mark was left unmoved. I tried again. "Good for the liver, stomach, intestines and kidneys."
"Next trip let's go to a wine spa," he said.
Even if I had to go it alone, I was sticking out the cure. I'd organized this trip because I believe a good spa cure in the fall will see you through winter, and because people have been coming to Montecatini for centuries to drink from the springs.
That's because the water contains healing elements such as calcium, iodine, lithium and phosphorus.
Besides, it wasn't just my internal organs that needed refreshing. I had upper back problems, and soaking in the thermal water, along with mud treatments and massage was the ideal prescription for that.
By 'taking the waters' I was joining a long line of historical spa patrons. The gushing thermal springs were used by the Etruscans at least as far back as the 8th-century BC.
In the 14th century the first Tettuccio Terme was built, and was redone to extravagant excess in the late 18th century. The great composer Puccini was a fan of the Montecatini Terme spa cure, as was Giuseppe Verdi.
Montecatini's Inexplicable Rise as an 'It' Destination
But no one could have predicted the town's rise to fame in the mid 50s and 60s, when Montecatini suddenly became the 'It' destination for celebrities.
That's when A-listers such as Spencer Tracy, William Holden, Rose Kennedy and Audrey Hepburn swept in, staying at the lavish Grand Hotel & La Pace Spa on Via della Torretta.
Today the town's glory has faded, but it's still a popular stop for lovers of European spas, Italian families, travellers who use it as a base to explore northern Tuscany, and for bus tours that sail in for the night on their whirlwind tours of Italy.
I'd worry about my husband's desertion later, I decided as we passed a fountain with fanciful alligators and sea horses writhing around a sea shell base. Right now I had to find a bathroom. The water may have been – though I wasn't admitting to anything – having an effect on me, too.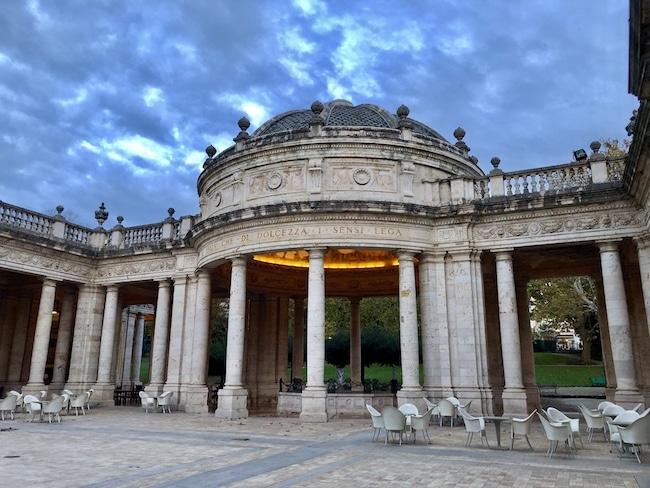 Tettuccio Terme
The surroundings were affecting me too, but in a good way.
Set in the foothills of the Apennines on the Valdinievole Plain, Montecatini has a restful appeal. This is good because the water cure can take a lot out of you. (Literally.)
The pace is slow and choreographed, with spa patrons' days revolving around their drinking schedules and therapies.
Tettuccio Terme, especially, is designed for lingering. Commissioned by the Grand Duke of Tuscany, this grand pavilion of cream-coloured travertine stone was inspired by the great Roman baths, but its graceful facade and wall of romantic paintings behind the drinking taps is pure Belle Époque.
To encourage you to sip slowly, the pavilion has much to keep you occupied: shops, an elegant cafe, a private park for outdoor strolls – and a lot of toilets.
Washrooms aside, it's the most glamorous place to drink spa water imaginable – a rival to the renowned drinking pavilions at other grand European spa towns such as Marianske Lazne and Karlovy Vary in the Czech Republic.
Although I'd never had water this strong, not even when I went to Poland to track down the saltiest spring in Europe. Did Katherine Hepburn go through this bathroom business when she came to Montecatini Terme Spa? Princess Grace? Clark Gable? Mussolini?
Mud Treatments
At least Mark was still onboard with the hot mud treatments (called fango) so I wasn't completely abandoned. In fact, he took to this part of a traditional European spa cure quite well, even if he did put his disposable underwear on sideways.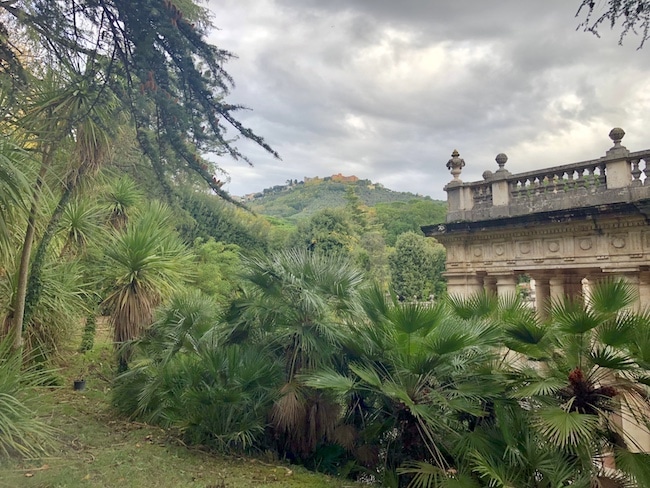 Parco Termale
Sightseeing Around Tuscany
Spa treatments were generally in the morning, and in the afternoon we kept busy sightseeing. Montecatini Terme is ideally situated for exploring the region.
Some days we hike up to Montecatini Alto, the town's medieval hilltop sister. Other days we took the train to nearby destinations such as Pistoia, Lucca or Florence. But the core of our stay was the water, whether we (and by we, I mean me) were drinking it, soaking in it or wallowing in mud.
Cleansing to the extreme, a Montecatini Terme spa vacation is an old-fashioned approach to wellness that takes a deep dive into Tuscan spa culture and its steamy geothermal roots. But it is, like the fearsome Leopoldina Spring itself, an acquired taste. Not for everyone, but wonderful for some.
Travel Guide for Montecatini Italy
Whether you're visiting this Italian spa town to take the waters, use it as a base to explore Tuscany or simply visiting on a day trip from Florence or Lucca, there are plenty of things to do. (I mean, not like a hundred million things to do, but some). Here are my top picks.
Top Things To Do in Montecatini Terme
Visit Tettuccio Spa
Contrary to almost everyone in North America's idea of a spa, Tettucio Terme is not used for spa treatments. Its palatial surroundings and Liberty-style architecture are devoted to drinking the thermal waters only.
Still, Tettucio easily the most popular attraction in Montecatini. If you go in the morning, you'll see spa devotees drinking their prescribed number of glasses, but for a tourist visit you should go after 11 a.m. as it will be 6 Euros to get in as opposed to 15 Euros for the day.
And yes, you can sample the water. Once you've paid your entrance fee you can get a free plastic cup from a woman at a kiosk and fill it up at one of the fountains.
My advice: Stay far away from the Leopoldina Spring unless you want a tour of Montecatini's bathrooms rather than the town.
If you go in the afternoon, the lighter Rinfresco Spring will probably be the only tap open to you.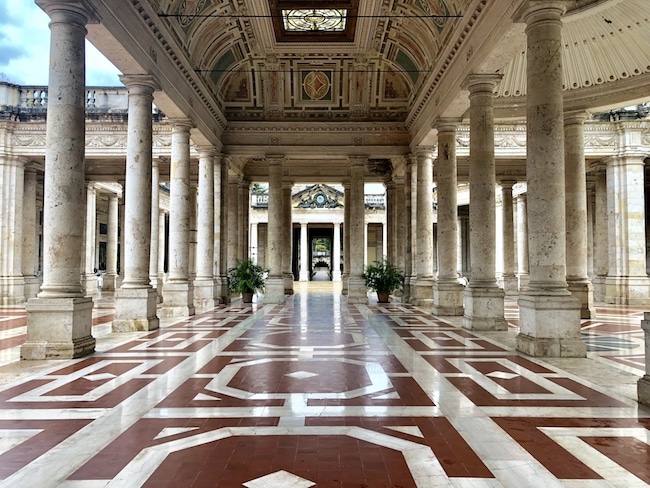 Wander through the Parco Termale
The lovely Parco Termale is really the heartbeat of Montecatini Terme. Tettuccio Terme is at the far end while Excelsior Spa, which is another eye-catching heritage building, is on the eastern edge on the Viale Giuseppi Verdi.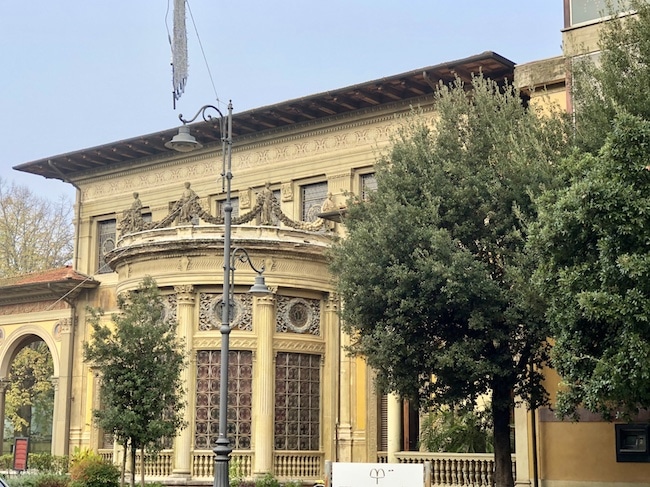 Take a Look at the Historic Excelsior Terme
The drinking cure moves to Excelsior Spa in the winter. Part of the building is modern, with a communist-block kind of look.
The other part is pure Art Deco with Renaissance-inspired touches and ornate detail. It used to be a casino. The water drinking is on the main floor while spa and beauty treatments are upstairs.
Explore Viale Giuseppi Verdi
This wide street, Viale Giuseppi Verdi, is meant for strolling and strolling is one of the main things to do in Montecatini. Running parallel to the Parco Termale, Viale Giuseppi Verdi houses the Town Hall, some appealing shops, particularly if you're in the mood for herbs and toiletries. You'll also see a War Memorial in the Royal Park across from the Town Hall.
Take the Funicular di Montecatini Terme
There are two Montecatinis. Montecatini Alto, with its medieval roots and protected position, is up the top of the hill. The easiest way is to take the funicular. Built in 1898, it connects the spa town of Montecatini Terme to the village of Montecatini Alto at the top.
6 Explore Montecatini Alto
Montecatini Alto is a fun place to explore with an attractive square called Piazza Giuseppe Giusti that has tourist restaurants and cafes, the remains of the old walls that once surrounded the town and a few very old churches.
Hike up to Montecatini Alto
Since the funicular is seasonal, you won't have much choice but to hike up or take a taxi if you don't have a car. If you hike you can eat extra pizza and not worry about it going to your thighs.
It took us a half an hour of walking straight up, with me cursing my husband the entire time, as we followed the Corta, a trail that goes pretty much alongside the funicular.
Take the Sentiero de via Amore path
A more scenic hike up to Montecatini Alto, which we also did, with me not cursing my husband quite so much, is the Trail dell'Amore, the Trail of Love. After all, who can grumble while hiking the Love Trail?
It's a little bit windier and not so steep as the Corta. You can access it by following the Viale F Fedeli that cuts through the Parco Termale. Go up past Tettuccio and the Bellavista Spa and Golf Hotel to the end of the road, then follow the path from there.
Note: There are a few forks in the road. We got lost a few times, but because it's either up or down, we pretty much knew where we were.
Enjoy the Best Montecatini Restaurants
Of course one of the best things to do in Montecatini, or anywhere in Italy, is to eat. We liked the Osso bucco at the Ristorante Caffe Giusti in Montecatini Alto, a restaurant on Piazza Giuseppe Giusti that dates back to 1898.
We returned often to Foody Farm in Montecatini Terme for their locally-sourced ingredients and fun trendy menu. I was partial to the Macceroncini Senatore Capelli with Cinta Sausage and Broccoli Cream while Mark liked the ribs (too fatty for me). It's not too expensive.
The address is Viale Giuseppe Verdi, 26 and the way to find it is to look for the huge Gambrinus Arcade, a liberty colonnade from 1913. Foody Farm is at the back.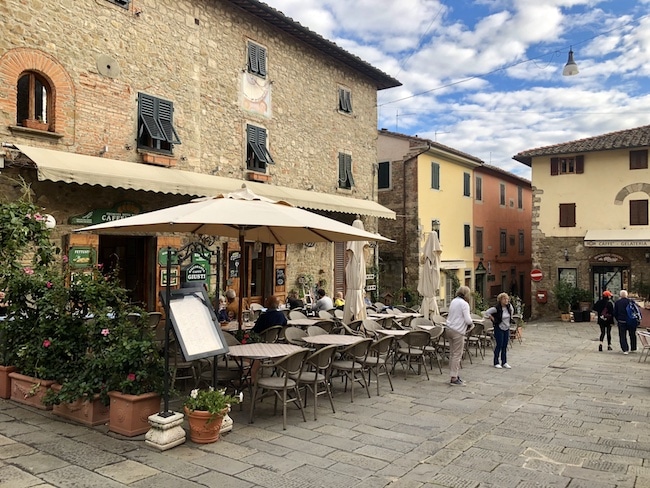 Hang Out in Cafes
We were totally addicted to the pastries at Confiserie Giovannini Corso on Giacomo Matteotti, 4. I ate so many cookies it became embarrassing to shop there for treats. Every single night.
An elegant place to stop in for a cappuccino is L'Imperiale Food and Cocktail Experience, a contemporary restaurant housed in a stunning converted Belle Epoque building.
Shop
Piazza del Popolo is the main square and the wide street, Corso Giacomo Matteotti, that extends from it is the best shopping avenue with plenty of clothing boutiques.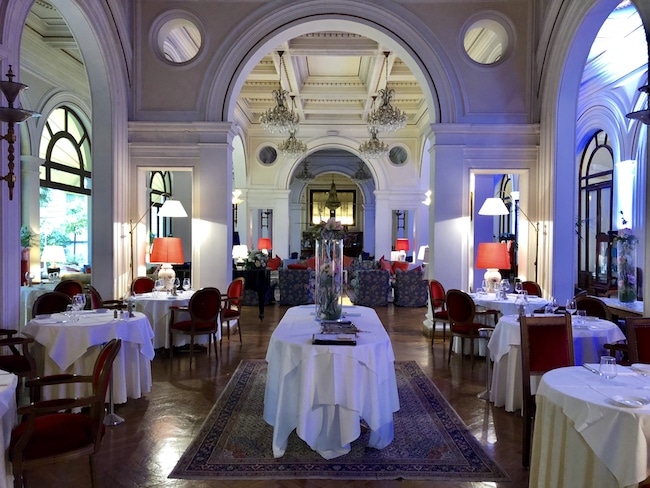 Visit the Grand Hotel & La Pace Spa
The legendary Grand Hotel & La Pace Spa on Via della Torretta is the best known hotel in Montecatini and one of the town's landmarks. They close for the winter season, though, so be forewarned.
In fact, even though we had a reservation they decided to close a week early which was mid way through our stay. They are open for the Christmas season. They did help us find another hotel, and sent us there in a taxi.
An iconic photo of Audrey Hepburn outside the Grand Hotel & La Pace says a lot about how celebrity-studded this hotel truly was. Prince Rainier and Princess Grace of Monaco spent their honeymoon here.
It has a good central location at the end of the spa park, but right in the centre of town – the best of both worlds.
There are also lovely grounds, a spa and a huge gasp-worthy lobby, though for some inexplicable reason they've closed off the main hotel entrance that opens on to it, and put reception in a much more modest area. I have no idea what their reasoning was, but you can still dine or have a drink in the lobby, or, in season, in the lovely courtyard.
In the warmer season they have a nice outdoor pool but it was closed when we were there.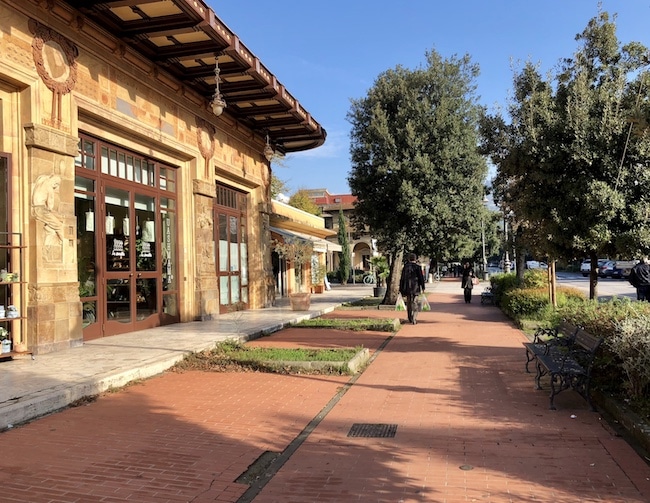 Where to stay in Montecatini
Hotels are cheap and plentiful, and while we paid more than we should have because someone (me) wanted to stay in a 5-star, we did get to experience two of the town's best hotels.
We also stepped into at least a hundred other Montecatini hotels while I was trying to convince myself we should budget. (I have a 5-star hotel addiction to my husband's despair.) There are hotels upon hotels in this town.
5-star hotels in Montecatini
The Grand Hotel & La Pace Spa
You stay at the Grand Hotel & La Pace for the history, the gorgeous lobby and the location. We had a junior suite that had a view over the courtyard. It was comfortable with a huge bathroom.
One downside was that I could hear noise from the hallway – although I quickly decided it was a vortex that swallowed up guests, because I could hear them in the hall in the evening, then they would disappear and we'd never hear sounds the next morning. A mystery I have yet to figure out.
LHP Montecatini Palace & Spa
The very modern LHP Montecatini Palace, which while sleek, has a lobby too small for my taste, but a very central location. It's the newest, one of the most popular and definitely the most contemporary hotel in town, housed in a beautiful old world building.
The Grand Hotel Bellavista Palace & Golf
We spent a week at the Grand Hotel Bellavista Palace after the Grand Hotel & La Pace closed. At the far edge of the spa park, right behind Tettucio Terme, it's a bit of a walk to the centre, though not more than 10 minutes.
If you want to be away from the crowds it's a great option.
The best part was our junior suite which was very large, with two bathrooms. This would be a fantastic choice in summer when its outdoor pool is open, but in November it was very quiet. So quiet that the restaurant was only open on weekends for breakfast, so our included breakfast was brought to our room.
The restaurant being closed came as quite a shock when we tried to go down for dinner the first night. On the plus side, breakfast was plentiful and fresh.
The other bonus of the Grand Hotel Bellavista was their excellent spa downstairs with a piping hot sauna and good-sized indoor pool.
4-star hotels in Montecatini
Two hotels that seemed to be quite lively were the Grand Hotel Tettuccio, right across from Excelsior Terme, and Ercolini & Savi (which for some reason I'm constantly calling Fettuccini).
If I went in low season again I'd choose Ercolini & Savi – I liked the atmosphere.
If you want to be right on the main street the Grand Hotel Plaza & Locanda Maggiori is dated but has an appealing Belle Epoque frontage – it was a favourite of Verdi's.
Personally I found a lot of the rooms in many of the hotels that I viewed pretty small, which is why we went for a junior suite at Bellavista.
If space is important to you and if it's in your budget, upgrade to a deluxe or junior suite wherever you're staying.
Check hotels and availability (I'm a booking.com affiliate)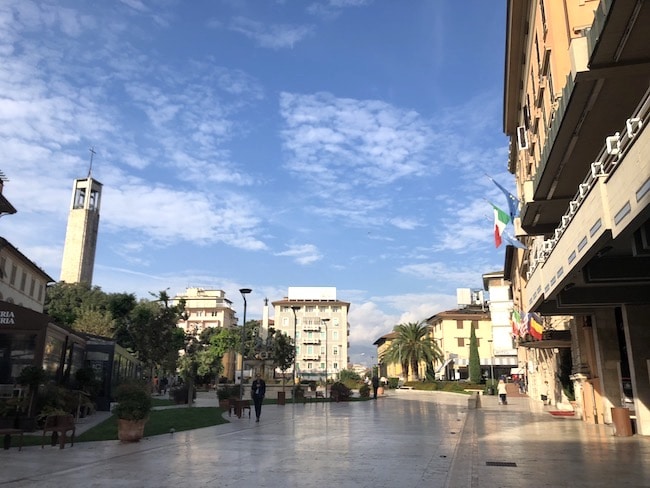 Travel tips for Montecatini
Why use Montecatini for a base to explore Tuscany?
The town of Montecatini is a solid place to stay for day trips around northern Tuscany. There is a direct train to Florence, which is about 25 miles away – about an hour away by train.
The town of Pistoia, only about 20 minutes by train, is an unsung destination well worthy of a visit, and popular Lucca is less than an hour away.
Pisa is just over an hour by train (30 miles) though you do need to change trains in Lucca.
Taking the Train
Taking the train from Forence to Montecatini Terme
Don't get out at Montecatini Terme train station (like we did) if you're visiting from Florence, even though Montecatini Terme is your destination. Montecatini Centro is much closer to the hotels and spas.
The Montecatini Centro station often has no one at the ticket counter so you'll have to use the machines to buy a new ticket. You can press the English language option on the machine so it's pretty simple to use.
Who Goes to Montecatini?
In the mornings, it's a very mature crowd, here for the spas. In the afternoons everyone vanishes and you think the town is completely empty. On Sundays and early evenings there are a lot of families and shoppers. On Saturday nights the town is overrun with twenty year olds. I have no idea where they all come from.
When To Visit
Montecatini hops in the summer and is very quiet in the winter. Many hotels close in November, but September and October would be idyllic. Mark and I like quiet spa towns, but I have to admit Montecatini Terme in November was too quiet for us.
How to Spa at Montecatini Terme
Arranging a Spa Package
To organize a traditional spa cure, you should email [email protected] and reserve treatments beforehand for mud and massage.
All the thermal spas (spas that have the hot springs water) work together and treatment packages are coordinated.
You book through the Terme Montecatini website. Once you arrive they'll tell you where to go to see the spa doctor in order to get your prescribed treatments and ideal water drinking instructions, then then the office does up a schedule for you.
The recommended treatment is 12 days but you can do how many you want.
Mud Treatments
It cost 40 Euros for a mud treatment, fangotherapy, followed by a thermal soak, and 20 Euros for a 10-minutes massage afterwards (which was more like 15 minutes and surprisingly thorough).
We also booked our appointment with the spa doctor beforehand (same email) and it cost 60 Euros for the doctor's visit. You NEED to have the appointment with the doctor if you want to do a medical cure with mud or with drinking the thermal water.
When you're doing a mud treatment, they might ask you if you want 'contact' – this means do you want the mud touching your skin or do you want a light paper barrier between you and the muck. I always have contact. It's hot and harder to shower off, but isn't getting muddy the point?
Seeing the Spa Doctor
Our appointment was at Terme Tettuccio. A woman spoke English and translated. The doctor's visit is fairly light. He'll ask you questions about your health and take your blood pressure – at least that's how ours worked.
He recommended which springs to drink from at what time of day and how much to drink.
How To Soak in the Thermal Springs
Can you soak in the water at Montecatini Terme?
Yes, and no.
Montecatini does not do huge hot springs soaking pools, which is a shame. The only place you can soak in the thermal water is in the indoor pool at Redi Spa. It's not glamorous – more clinical looking – but you can go without a doctor's appointment. Redi Spa is also where the mud treatments are.
Treatments such as facials, Oriental massage, beauty treatments etc, are at the Excelsior Terme upstairs. Hotels often have spas too for these types of treatments. The hotels may also have pools, but not with thermal water. Not in Montecatini.
Drinking the Water
To visit the Tettuccio Terme (closed from November until spring) you just go to the entrance and buy a ticket. When Tettuccio is closed you can visit Excelsior Spa to sample the water.
Read more about spas. The spa and spa travel. Choosing an Italian Spa or How to choose a spa in Tuscany or European spa towns and why you should visit one.