This post may contain affiliate links.
Once you've seen the top sights in Rome such as the Colosseum, Trevi Fountain and the Vatican, your eyes start to glaze over, tourist fatigue seeps through your body and you feel completely churched out. Before you resort to drinking vino all night and eating gelato all day (though that's fun too), check out these 12 fun and unusual things to do in Rome.
12 unusual things to do in Rome
Breakfast at the Vatican
It took a lot of convincing to get my husband to add a Breakfast at the Vatican event to our 'unusual things to do in Rome' itinerary. (I mean a lot.) But the tourist crowds can be horrendous at the Vatican, and if having the museums and Sistine Chapel all to yourself means arriving at 7:15 a.m. so be it. The carrot (or at least the bacon and coffee) at the end of the stick is that the lineup for this unique way of touring the Vatican is swift to non-existent, you have early access to the museums before they're open to the public and you get a full American buffet breakfast once you're inside. Reservations are essential.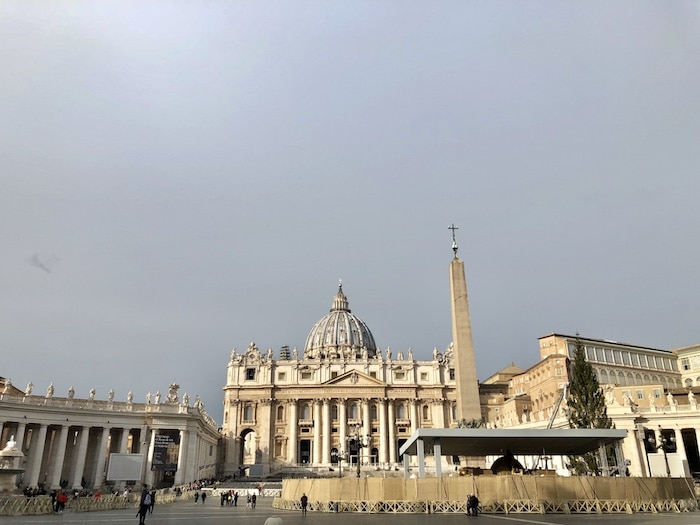 The downside: Breakfast isn't in one of the glorious art-laden rooms of the Vatican but in the cafeteria (or the Pinecone Courtyard in high season), and while getting up early might not be your idea of a fun and unusual thing to do in Rome, can you think of a more unique way to see this top Italian landmark? (68 euros per person)
How to book breakfast at the Vatican: I booked through the Vatican site itself, which was a bit of a hassle because then it triggered a security alert on my credit card (and it happens to a lot of people), so I tried it on my husband's credit card (lucky him), which triggered his security alert but he okayed it, and then I had to fill out the form for a third time and it went through. Maybe that's why it's not a crowded activity. My advice is to book it before you get home so that you can deal with any security alerts easily.
Read my article on the Vatican Breakfast
Cycle the Appian Way
Pedalling over the 2300-year-old Roman road, the Appian Way, is absolutely one of the most fun and unusual things to do in Rome and it's easy to rent bicycles along the route. I only wish we'd allotted a full day rather than an afternoon as there is a lot to see in this upscale and historic area a few kms south of the Colosseum. The Appian Way, or the Antica Appia, is an ancient super highway that linked Rome to the Adriatic Sea, and it still has parts of its original – and bumpy – stones, though there are side paths you can take when the bumps get too much.
How do you get to the Appian Way and how do you rent bikes? Getting to the Appian Way from central Rome is simple if you take a cab (about 12 Euros from the historic centre of Rome), but you can also take bus Number 118 to the Appia Antica/Domine Quo Vadis stop from the Circo Massimo (Metro Line B) stop. Two places to rent bicycles on the Appian Way are Ecobike Appian Way Bike Hire and the Appia Antica Cafe. We opted for Ecobike Appian Way Bike Hire (which is also somehow called Appia Info Point) at 58 Appia Antica. This rental starts earlier on the route than the Appia Antica Cafe, which meant we were hit with a hill at the very beginning, but the staff was so friendly and helpful, calling us a cab to get back to central Rome, and taking our photo, that we'd go back anytime. Bikes are a bargain at 3 euros an hour. E-bikes 6 euros.
Travel tip: On Sundays the road is closed except for local traffic so that's the best day to go.
If you don't want to organize it yourself, you can book an Appia Antica Picnic bike tour here or Appian Way & Aquaduct Half Day Tour here.
Free organ concert at the Chiesa di Sant'Antonio dei Portoghesi
Some call it the best kept secret in Rome. (Though if it's known, it's not really a secret, is it?) Hidden or not, this free weekly concert is a fabulous find, an hour of moving organ music at the Church of Saint Antonio of Portugal, the Chiesa di Sant'Antonio dei Portoghesi. It's certainly the most relaxing activity on my unusual things to do in Rome list. After a long day of sightseeing who doesn't want to sit down, listen to music (the church attracts some top rate organists) on the church's enormous Mascioni organ and gaze around at the over-the-top ornamentation of this Baroque Church that has been a pillar for the Portuguese community in Rome since the 17th century.
Where is the Chiesa di Sant'Antonio dei Portoghesi and how to you get tickets for the concert? The church is in Campo Marzio not far from the Piazza Navona at Via dei Portoghesi, 2. The organ concerts are held on Sundays at 6:30 p.m. You don't need tickets. Just show up – though it might get busy in the summer.
Rent a canopy bicycle in Villa Borghese Gardens
Renting a canopy bicycle is the Rome activity that mortifies my husband the most, but somehow I rope him into doing it every time we're in the Villa Borghese Gardens because it's such a silly and active way to spend your time – what better way to inspire the child within? Beetling around the largest green space in central Rome gets the circulation going and gives you an overview of the park – or at least of parts of the park because you can't ride everywhere.
The Villa Borghese Gardens is on land originally owned by Cardinal Scipioni Borghese and became a park in 1903. You can rent regular bicycles here too, but I like a canopy bicycle because it offers shade in the summer heat, a bit of shelter if it rains and it will make you laugh (and your husband grimace in embarrassment). It also forces him to ride with you instead of 18 miles ahead. Cycling is the perfect outdoor activity to combine with a visit to the Galleria Borghese, one of the best museums in Rome – just make sure you book your gallery tickets beforehand.
Places to rent bicycles in the Villa Borghese Gardens: We walked into the park at the entrance at the end of the Via Veneto, turned right and followed the bicycle rental signs. The cost for a canopy bike was 12 euros for an hour. It's e-assist, which sometimes I thought was annoying, and at other times I was grateful for it – especially the time we zoomed down a steep hill only to reach a parking lot and had to climb back out again. We also rented canopy bikes (so fun we had to do it twice!) just after you enter the gardens on the route up past the top of the Spanish Steps, near the Pincio Lookout, which gives you a lovely view of historic Rome – but the cycling area seems smaller.
Take a crypt tour and listen to Gregorian Chants at the Church of Santa Maria della Concezione dei Cappuccini
If touring a crypt full of bones crafted into chandeliers, arches and morbid wall decor and topping it off with a marvellous concert of Gregorian chants in the church upstairs isn't one of the most unusual activities to do in Rome, I don't know what is. This combo museum, crypt tour and concert at the Capuchin Church, the Santa Maria della Concezione dei Cappuccini, on Via Veneto is definitely one of the weirdest, yet strangely compelling ways to sightsee. I will never get the image of the Barberini Princess, the skeletal remains of an aristocratic female from the Barberini family, suspended from the ceiling holding a scythe like a fleshless putti (cupid) out of my mind.
How the tour works: First you shuffle through the (quite dull) museum with your guide explaining the history of the Capuchin monks, then you're faced with a spectacular painting by Caravaggio that may or may not be the original, then you walk through the crypt in which bones of something like 4,000 Christians are arranged in a macabre mosaic of designs. After that, your group moves upstairs into the church of Santa Maria della Concezione dei Cappuccini for some very atmospheric vocals of Gregorian chants and sacred music.
How do you book the crypt concert combo at the Capuchin Church? It's a bit of a process to reserve. You can email Roma Opera Omnia at info@romaoperaomnia.com, then they email you back to confirm you want to go ahead with buying a ticket, then you confirm that you do and they send you the link to pay. But they're very nice. It cost us 30 euros a piece.
Other crypt options? You can book a coach tour to three of Rome's strangest underground sights. Book the Crypts & Catacombs Tour with Bone Chapel Visit tour here. Or try an exclusive after-hours catacombs tour. Book the Catacombs of Rome Exclusive After Hours and Bone Chapel Tour here.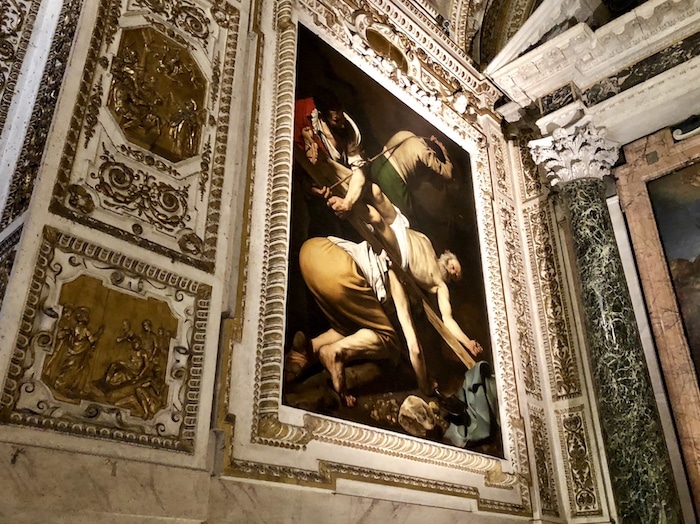 Follow the Caravaggio painting trail
Honestly, Rome is aflame with art and you need to see some of it. After all, popes fought over these masterpieces, aristocrats were killed for them and talented artists got away with murder because of their gift. Art has fuelled the passions of Rome like kindling in a fire, and one of the most fiery artists to delve into is Michelangelo Merisi da Caravaggio, a 16th and early 17th century artist with a prodigious talent.
With Caravaggio's flair for the dramatic (in life as well as art), his startling use of dark and light and his realistic brutal imagery, it's hard to find a more popular Italian artist, and tracking down Caravaggio paintings in Rome will give you an overview of some of the most beautiful churches, museums and palaces in the Eternal City. It will also give you a glimpse into the fascinating world and work of this notorious bad boy of the Baroque, a gifted painter who killed a man in a knife brawl and then had to go on the run for 15 years.
Some of the best places to see the paintings by Caravaggio in Rome are at the Galleria Borghese (Room VIII), the Contarelli Chapel in the Church of San Luigi dei Francesi for its three ground breaking paintings of St Matthew, and the Cerasi Chapel in Santa Maria del Popolo for The Conversion of St Paul and The Crucifixion of St Peter.
Love art but don't know much about it? Try a Rome: Caravaggio & Baroque Art Private Guided Tour. Book it here.
Track down Bernini sculptures
My absolute favourite statue in Italy is the ephemeral statue of Apollo and Daphne by Bernini in the Galleria Borghese, a confection of weightlessness, magic and marble. Ever since I first laid eyes on it, I've been obsessed with this 17th-century sculptor, beloved of popes and aristocrats alike. Rome is a treasure trove of Bernini's sculptures, both indoors and outside, and following a Bernini trail will leave you breathless as you track down each famous landmark, especially when you realize that his work includes such blockbuster Rome attractions as the Fountain of Four Rivers in the Piazza Navona, and the bronze canopy (the baldachin) that hangs over the high altar at St Peter's Basilica. (I just hope you are able to get closer to it than I was).
Another Bernini I love is the bust of Pope Innocent X at the Palazzo Doria Pamphilj, but above all, put the famous sculptures of David, Apollo and Daphne, and The Rape of Proserpina at the Galleria Borghese on your cool things to see in Rome list.
Read my article on the best Bernini sculptures and fountains in Rome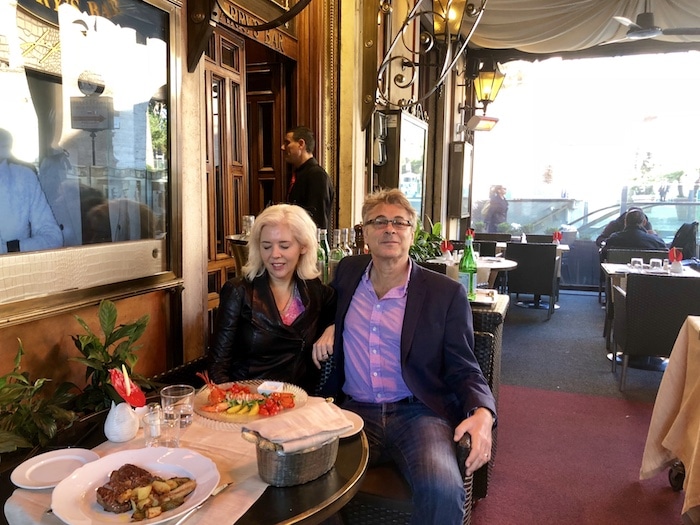 Live la Dolce Vita on the Via Veneto
In the sixties the Via Veneto ( Via Vittorio Veneto) was the street in Rome for the likes of Bridget Bardot, Yves Montand and Audrey Hepburn. Cafes were swinging, the glitterati were posing, hotels were grand and much of Federico Fellini's famous movie La Dolce Vita (The Sweet Life) was set here. Today the Via Veneto, which curves up from the Piazza Barberini to the Villa Borghese Gardens, is still here – (and so am I – we're staying in the Majestic on the Via Veneto as I write this). Stopping in for a Bellini, an expensive espresso or an even more expensive lobster salad at Harry's Bar or at one of the other people-watching spots on the street is a glamorous way to take a break.
Tip: If you are stopping into Harry's Bar (Via Vittorio Veneto 150) check out the photographs of swinging Rome back in the day. If the section is closed off, you can ask to be let in. We did.
Don't miss my Via Veneto travel post, for all la dolce vita scandal on Rome's most intriguing street.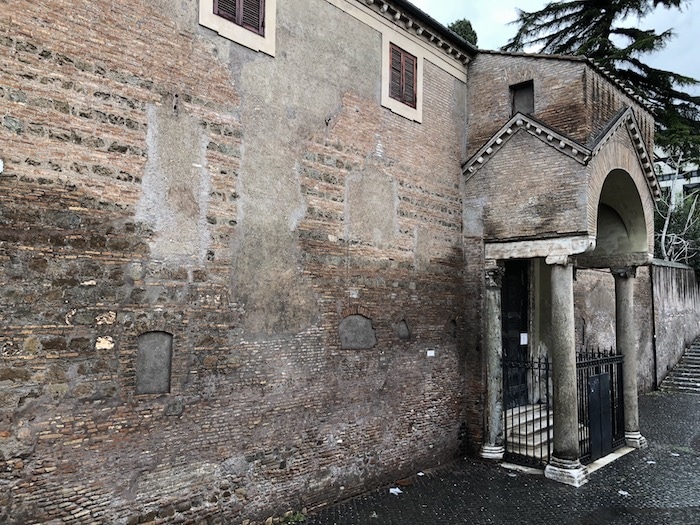 Step through layers of history at the Basilica di San Clemente al Laterano
Full confession. We walked all the way here – it's a good 10-minute walk past the Colosseum on Via di San Giovanni al Laterano – only to arrive at the imposing Basilica di San Clemente when it was closed for an afternoon break. So San Clemente is now on my 'unusual things to do in Rome … in the future' list. Here's why I want to see it. Under the 12th century basilica is a 4th century basilica and underneath that is a Roman home from the 1st century, also an Imperial mint plus a courtyard that acted as a pagan temple dedicated to the god Mithras. Time travel at its best, don't you think?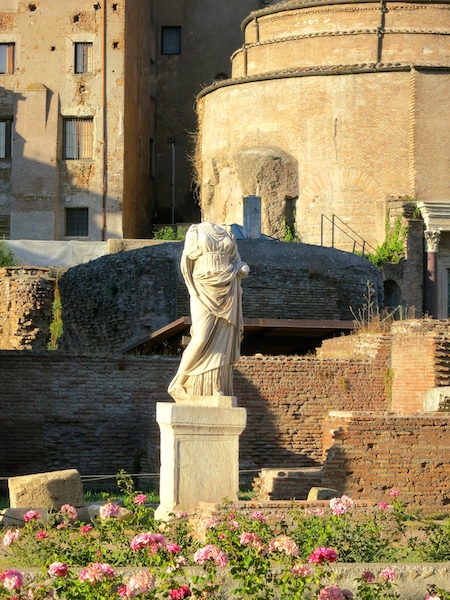 Explore the world of the Vestal Virgins
Mystical and mysterious, the Vestal Virgins were celebrities in ancient Rome and they're the stuff of legends now. Chosen for their beauty between the ages of six to ten, the six Vestal Virgins were charged with tending the sacred fire in the Temple of Vesta, caring for the sacred objects in the temple's inner sanctuary and other religious duties.
These high status women had a power that the average Roman woman could only dream of, though they needed to stay chaste. After serving for 30 years they were free to marry – but woe betide a Vestal Virgin who strayed before she was finished her 30-year servitude – while a Vestal Virgin's blood couldn't be spilled, she could be buried alive.
Trace the steps of the Vestal Virgins by following the visitors' route called Via Nova at the Forum that crosses Palentine Hill and ends at the Atrium Vestae, the House of the Vestals. To learn more about these fascinating women read my Vestal Virgins of Rome post.
Want to tour ancient Rome? You can book a Skip the Line Colosseum and Roman Forum Walking Tour here.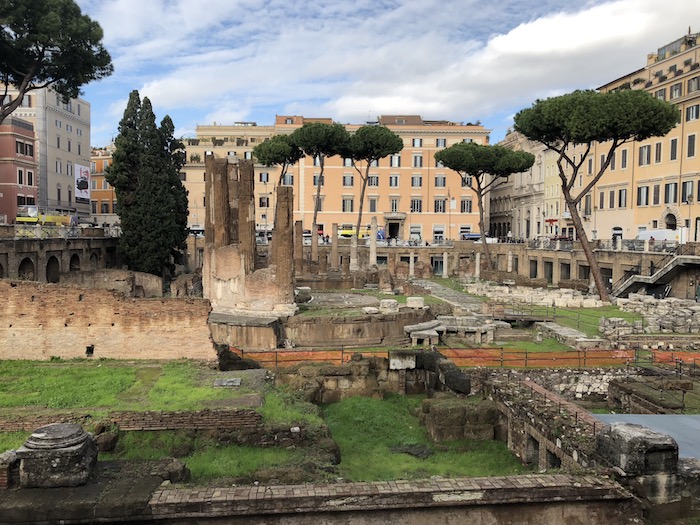 Step back into the Ides of March at Largo di Torre Argentina
So, what else is there to do in Rome? So much! I haven't even got started on Largo di Torre Argentina, the site in central Rome where Julius Caesar was murdered by Brutus. (No, Caesar wasn't killed at the Forum, the site is near the ancient Pompey's Theatre, the Pompeo Theatre, which was part of a large complex built by Pompeo in the Campo Marzio.) Especially shocking was that it was a sacred site, and today you can still see the ruins of three temples there. You'll also see a lot of lounging cats and the towering pine that marks the spot where Caesar was killed. You can also visit the cat sanctuary at one end and pet lots of kitties.
How do you visit the site of Caesar's death? Largo di Torre Argentina isn't far from the Campo de 'Fiori. It's free to walk around it, though only the cats can actually go down and wander in. The cat sanctuary is down some steps at one end of the ruins and they welcome visitors, so do the cats.
Here's something different: a Relive the Last Days of Julius Caesar Private Guided Tour. Book here.
Eat a fabulous meal below Pompey's Theatre at Hostaria Costanza
Since you're in the area anyways, staring at the site of Caesar's murder, trying to deal with the mind-bending thought that this all took place, right here, making you realize that Rome, perhaps more than anywhere else, makes history come alive, you might as well grab a good meal nearby. After all, isn't eating one of the most rewarding things to do in Italy?
The Hosteria Costanza is a restaurant at Piazza Paradiso 63/65 that sits under the subterranean arches of the old theatre. Very near the Campo de 'Fiori, it's a fun way to spend some time in Rome, and definitely one of the most delicious ways to sightsee. (My Rigatoni alla Norcina (short pasta with black truffle and sausage – 15 euros) was divine.
Want to dive deep into Rome's food culture? There are plenty of food tours you can join. Check out the Rome Half Day Food and Wine Tour here or a 4-hour Food Tour of Rome at Night that takes you to some of Rome's top food-centric neighbourhoods here.
Unusual things to do in Rome wrap up
I hope this list of unique attractions and activities in Rome helps you bump your trip up from fun to fantastic. From cycling on the Appian Way to tracking down the stories behind some of Europe's best art, there is no end to the mysteries and hidden secrets the Eternal City holds.
Read more about what to do in Italy:
Avoiding a hotel disaster in Rome
Three great sculptures you must see in Italy: David, David and David