This post may contain affiliate links.
If you're looking for a luxury apartment in Venice, Italy, the Imperiale San Marco in the Palazzo Grimani is a sumptuous private home rental near St. Mark's Square. Here's my review.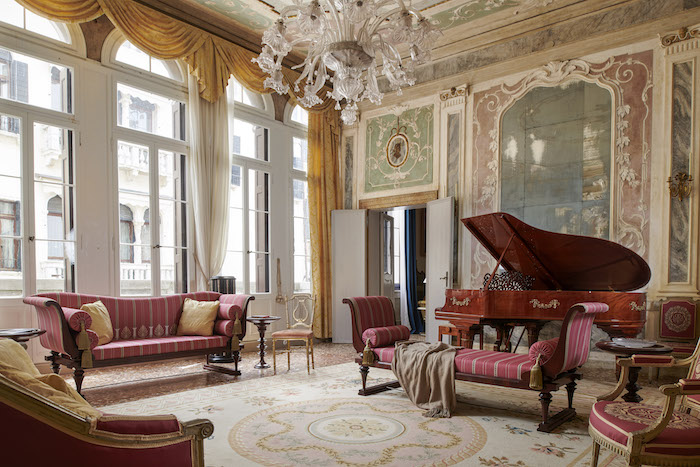 A luxury apartment in Venice
I'm swanning around my luxury apartment in Venice, surrounded by 18th-century splendour. Pausing under the enormous chandelier in the dining room, I look up at the fresco of Apollo playing the lyre overhead, then weave my way back to the drawing room. Sienna-coloured arches run along one side of the room, French windows and a balcony on the other.
Sitting down on a crimson day bed, I feel a bit like an enchanted princess who has just woken up and learned she lives in a palace. I keep blinking, checking to make sure I'm still here, then look around for a guard to tell me it's closing time and that I have to leave the museum.
A newly-restored luxury apartment in Venice
The newly-restored Palazzo Grimani – the work of renowned British architect John Simpson – does have many museum qualities, and it's hard not to get caught up in the big things: the lofty ceilings, the baby grand piano, the 19th-century four-poster bed. A deluxe three-bedroom apartment a five-minute walk from St Mark's Square, this grand piano nobile (first floor) apartment, is part of a palazzo that once belonged to the powerful Grimani family.
Staying in a Venetian palace
The Grimanis, an aristocratic lineage that produced three doges, two cardinals and a couple of bishops, were a keystone of art and culture in this wonderful floating city. (Though this Palazzo Grimani is not to be mixed up with the Palazzo Grimani di Santa Maria Formosa, which is now a museum – the wealthy Grimani family saw no reason to limit themselves to one home.)
Exquisite details
The longer I'm here, however, the more I notice the details that make this Venice apartment so unique: the painted musical instruments that trail down from stucco garlands on the walls in the dining room, the floral plasterwork in the powder room that dates back to 1700, the grey marbling and soft pinks and greens in the drawing room that create an angelic backdrop for the crimson-upholstered furniture and Louis XVI chairs purchased from the estate of the Duchess of Roxburghe.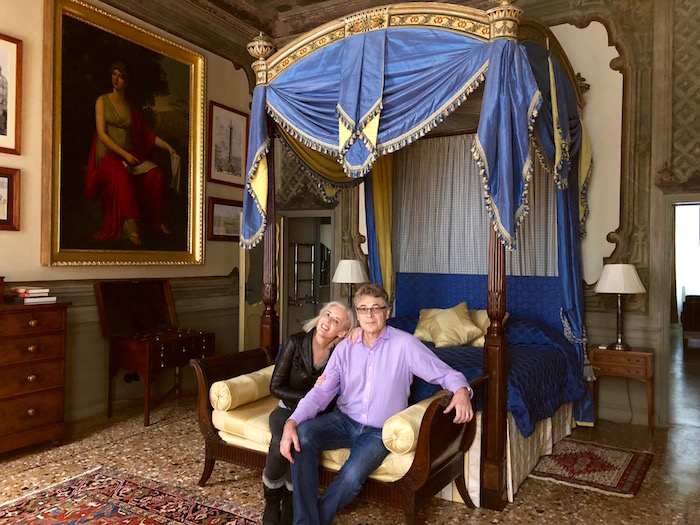 The master bedroom
There are three bedrooms in the palazzo, and the four-poster bed with its weighty royal blue canopy in the master is so evocative I worry that a doge, or at the very least a cardinal patriarch of Venice is going to sweep in at any moment.
"Is that real or a reproduction?" Mark motions to a large painting on the wall as we lounge on the bed.
I look over at a scene of The Sacrifice of Isaac looming out from the wall. "It must be a reproduction. You can't just have a painting like that on the wall unless you're a doge or a duke … or maybe a tech billionaire. Can you?"
"What about that one?" Mark waves a hand over to the other side of the bed, where a painting of a sibyl – a female oracle from ancient Greece – sits gracefully amongst the trees.
"I don't know," I say, "but it certainly ups the amount of flesh in the room."
The paintings are original. Sibyl is an 18th-century painting from France, and The Sacrifice of Isaac is from the Bolognese School, circa 1700. They were both bought at Christie's in London specifically for the Palazzo Grimani by Simpson, who, together with his wife, Erica, owns and restored this long-neglected Venetian apartment, gently coaxing it back to life.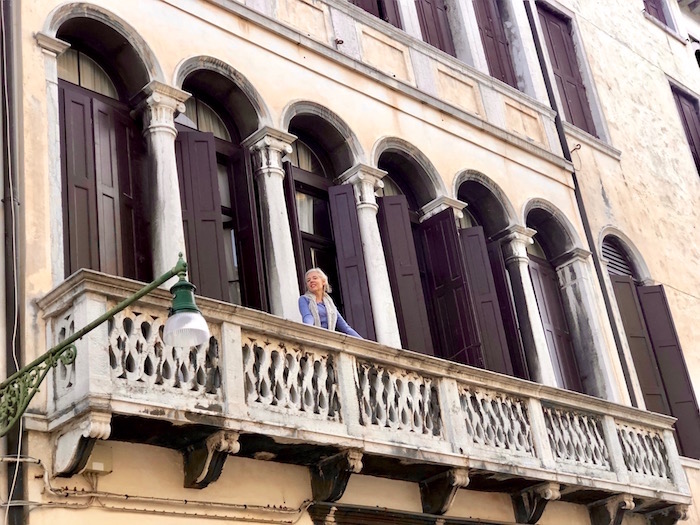 Preserving a grand apartment
It was an immense project. For the Simpsons, this luxury apartment is not just a second home or a high-end vacation rental but a a chance to play a part in the preservation of Venice itself. Simpson, a leading architect who embraces classical traditions, timelessness and preservation in his practice, has worked on numerous historical projects such as the Queen's Gallery at Buckingham Palace and Kensington Palace.
For him and his wife, turning this palazzo into a luxury apartment was a labour of love.
The history of the Palazzo Grimani, a luxury prestige apartment
The palazzo was likely built in the late 1600s and was designed to entertain and impress. It may have been a private casino, gambling being a frenzied obsession among wealthy locals and aristocratic tourists in the pleasure-seeking Venice of the 1700s.
In fact, the world's oldest casino, the Casino de Venezia is in Venice, and it's easy to imagine the Palazzo Grimani ringing with the music of Verdi, the rustle of silk and the sound of laughter and revelry. (And possibly tearful wailing – the stakes were high in decadent Venice.) And okay, let's throw Casanova in the mix, too. This apartment inspires vivid imagery.
Truly Venice apartments
In addition to the drawing room and dining room, there are a lot of smaller nooks to explore, with various sitting rooms, a breakfast room and kitchen. The second bedroom, the Biedermeier Room, has a different feel altogether – bold, clean-lined and elegant, harkening back to the German style of design in the first half of the 19th century.
Just as our bags are packed and we're doing a final check around to make sure we haven't left our passports or slippers behind, Mark calls out to me from the second bedroom. "Look what I found."
I swear, it's like Narnia. What we thought was a closet was a staircase leading up to another little mini wing with a sitting room and dressing room. We shake our head in amazement. Who stays in an apartment so large you find an extra wing after four nights? But that's the Palazzo Grimani – it's a Venetian apartment full of twists and surprises. Much like Venice itself.
Staying at the Palazzo Grimani luxury apartment in Venice, Italy – what you need to know
Pin me!
The restoration work that went into creating this apartment is outstanding, but if you're considering a vacation rental in Venice it also needs to suit your needs, so here are some practicalities.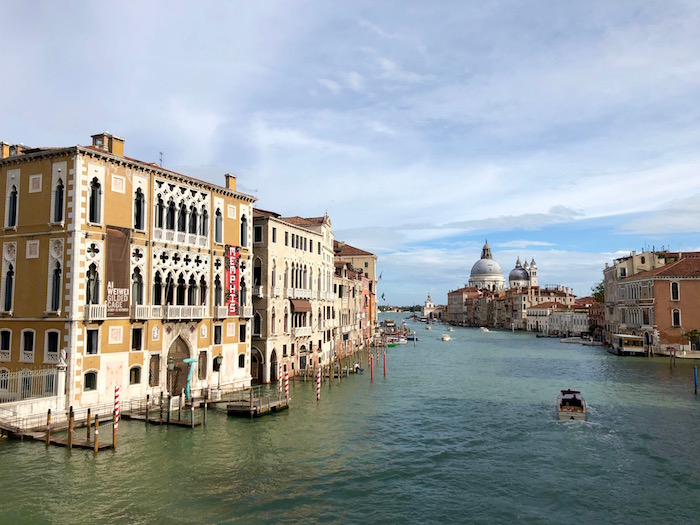 Centrally located
Just a champagne glass's toss from the Gritti Palace, one of the best luxury hotels in Venice (and where Mark and I spent part of our honeymoon), the Palazzo Grimani is a five-minute walk to St Mark's Square along a route that takes you past upscale shops such as Chanel and Falconeri, and the Baroque church of San Moise.
If you walk in the other direction you'll be at the Accademia Bridge in no time flat. The location is unbeatable for seeing the sights -always a major consideration when booking holiday apartments in Venice.
Convenient for travel
The Santa Maria del Giglio vaporetto stop is less than two minutes away – it's actually directly behind the apartment. In front of the apartment is a traghetto stop that will take you to the other side of the Grand Canal for a bargain 2 Euros – handy if you're visiting the Accademia or the Basilica di San Maria della Salute.
Quiet
So close to the sights, but so far from the noise – this extension of the Campo Santa Maria del Giglio that drips down to the Grand Canal is blissfully free of crowds. There is a restaurant with a patio, two hotels, a tobacco shop and not much else. A short walk away are the restaurants of Campo Santo Stefano. (We ate at Beccafico.)
The view
The palazzo doesn't overlook the Grand Canal directly, but it's just to your right, and you have a view of it from the balcony.
Comfort
The apartment has heating, air conditioning, wifi, a full kitchen, pots, pans, dishwasher, a breakfast nook, a washer and dryer.
Indulgence
The Palazzo Grimani is the crème de la crème of Venice luxury apartments, and in a city where there is so much grandeur it's nice to be able to revel in a bit of it yourself.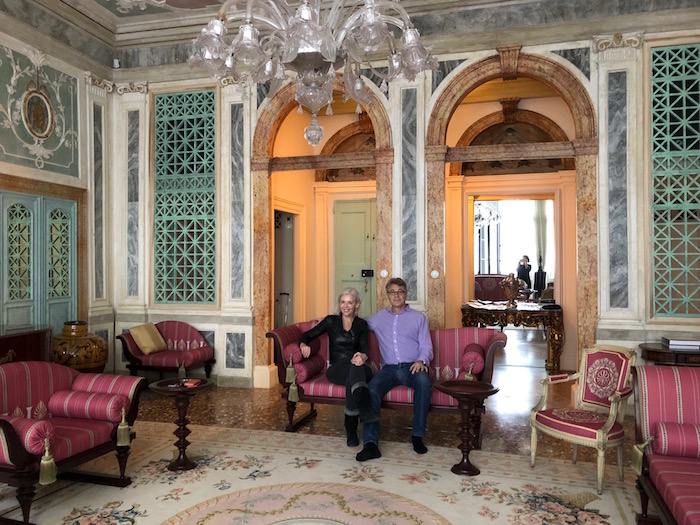 Romantic
While I'll always be a fan of 5-star hotels such as the Gritti Palace and the Danieli, this was the most romantic place to stay imaginable. I don't say this lightly. The last time we were in Venice we opted for a vacation rental and I didn't like it so I dragged Mark off to the spa town of Abano instead.
History
You've got centuries to pick from at the Palazzo Grimani. The palace may be 17th century, but it's mainly an 18th-century decor. You may want to skip the era when the apartment was the Bridge Club of Venice – the years of smoke stains and lackadaisical maintenance kept this apartment a diamond in the rough for decades.
Luxury holiday apartments in Venice offer space
Far far bigger than the average hotel room, this opulent apartment is one of the roomiest vacation rentals in Venice, Italy, you'll find.
Cost
Luxury Venice apartments can go upwards of $10,000 a week. You wouldn't normally think of this as saving. But if you're looking for 5-star accommodation in Venice for two or three couples or a family, and consider that rooms at 5-star hotels run about $600 a night and up, you'll spend less than if you book separate hotel rooms. For exact prices of Palazzo Grimani rental accommodation contact Venice Prestige. And note: periods such as the Venice Biennale or the Venice Film Festival are likely to be sold out.
Eating in
Venice restaurants can be outrageously expensive and a kitchen means you can have meals in. Few restaurants can offer surroundings as good as this glorious dining room, which was once likely a musical salon. Look up – through the fretwork you can see where the musicians would have played – it's now a cozy upstairs sitting room. I loved the reproductions of historical portraits lining the stairwell.
If you don't feel like cooking, you can entertain your party by getting a private chef – it can be arranged when you book.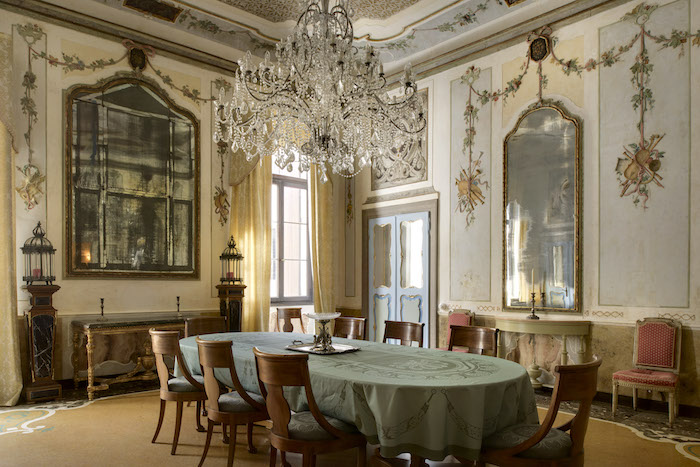 How to book
Venice Prestige is a company that offers top tier Venice luxury residences. You can book the Palazzo Grimani (the Imperiale San Marco) through them.
What you need to know before you go
*Don't be put off by the first view you get in the foyer of the apartment building. Ground floors in Venice are mainly used for storage. Your gobsmacking first impression happens when you open the door to the apartment, which is a level up.
*There is no elevator. You will need to hoist your bags up a flight.
*Call when you arrive in Venice. We called from the water bus in from the airport. Ann-Marie from Venice Prestige met us at the vaporetto stop, showed us in, and explained all the details. If you haven't got your phone sorted out, I'm sure you can discuss with them to arrange an alternate plan.
*There is no danger of being flooded out by high water. We happened to be in Venice during the highest water since 1966 (our luck) and the apartment was a cozy place to hole up and stay dry.
*The third bedroom is quite a bit smaller. Then surprise, it has its own sitting room, which is a level lower and actually burrows into the building next door. That's Venice for you.
*Details to look out for. Ah, there are so many. Check out the original terrazzo flooring in the drawing room, the Carl Laubin paintings detailing John Simpson's architectural projects in the second bedroom, and the bold portrait over the sofa in the same room by his daughter.
*Getting there from the airport This was much easier than I thought. We took the Alilaguna water bus from the airport to the Santa Maria del Giglio vaporetto stop – no need to transfer. It took about 50 minutes and was a scenic tour of the Grand Canal.
Read more about: What to do in Venice when it rains or Top cities to visit in Italy.