This post may contain affiliate links.
If you're wondering where to eat in Toronto's East End, check out the happening areas of Riverside and Corktown. Here's a bit about the area and a selection of East Toronto restaurants to visit.
Toronto's East End
"I'm carrying a birthday balloon and I just peed my pants," a woman says as she speed walks by on Queen Street near Broadview, a blue balloon bobbing behind her.
Okay, I'm thinking. Toronto's east side hasn't lost its edge.
But, as I walk into the Broadview Hotel, a luxe boutique hotel that has emerged from the husk of Jilly's Strip Club in Toronto's Riverside district, it's clear that up-to-the-moment restaurants and hipster hangouts are now co-existing with the neighbourhood's 'earthier' character.
Where are the Toronto areas of Riverside and Corktown? Riverside is between Corktown and Leslieville on Toronto's East Side, roughly ringed by Gerrard St to the north, Booth Avenue to the east, Eastern Avenue to the south and the Don Valley to the west. Corktown is south of Regent Park, north of the Gardiner Expressway, east of Parliament and west of the Don River.
Where to eat in Riverside and Corktown
With a bit of grit, a bit of gleam, and a growing number of restaurants where locally-sourced produce and premium ingredients are the rule not the exception, Riverside and Corktown are two of the burgeoning food areas on Toronto's East Side, two revitalized neighbourhoods where new condo developments rub shoulders with former working-class row houses that now can go for over a million a pop.
Today, Riverside and Corktown have a buzzing food and drink scene, and if you're wondering which East Toronto restaurants to try, here are some places to check out.
The Broadview Hotel
The Broadview Hotel at Queen and Broadview (106 Broadview Ave) makes an easy focal point for any food exploration of Riverside. A red brick landmark that combines historic architecture with the hum of today, the Broadview has been meticulously restored.
Its terra cotta relief sculptures gleam, brass and black tones in the lobby add an elegant Art Nouveau splash and the cheeky No Vacancy sign on the rooftop terrace and pink neon outline of a woman's face in the street-level Cafe proclaim the hotel's sense of whimsy.
Where to eat at the Broadview
There are three places to eat and drink in Toronto's Broadview Hotel. On the pricy side is the Victorian-era Civic Restaurant that offers a contemporary take on traditional cuisine. In the more informal Cafe you can nibble a flaked warm smoked salmon salad or sip a latte, while the rooftop bar is the place to enjoy year-round skyline views.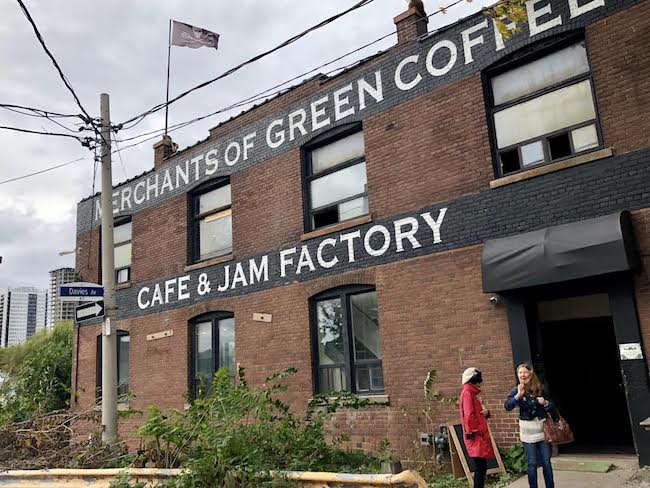 Merchants of Green Coffee
Did you know roasted coffee beans go stale after a week? I didn't, not until I visited Merchants of Green Coffee at 2 Matilda Street. Located in a former jam factory, this cafe and coffee shop elevates the art of drinking coffee to a cult-like extravaganza.
In fact, I almost feel I should be bowing down to the drip as I watch the freshly-roasted coffee make its way through the organic cotton filter and into my cup.
Between the rich aromas wafting about the room, freshly-baked scones and rustic wooden floor and beams, it's clear to see why Merchants of Green Coffee attracts a hyper local crowd as well coffee devotees from around Toronto who like their fair trade single-origin beans roasted daily. It's addictive.
It's also has a nice stay-awhile vibe if you're looking for places to go and things to do in Toronto in winter.
Dominion Pub and Kitchen
Dominion Pub and Kitchen at 500 Queen Street East, is a solid stop for craft beer (and cocktails), with 24 different beers on tap and another 20 by the bottle. While I enjoyed my Queen Street 501 cider, made with a blend of Ontario heritage apples, it was Henderson's Best that grabbed my tastebuds, an amber ale with an almost floral aftertaste.
Dominion's menu also offers snackable foods such as Buffalo cauliflower bites, hand-cut fries with parmesan and truffle oil, and Fish n' Chips battered in Mill St. organic beer.
Impact Kitchen
If I could get my husband to skip going to Impact Kitchen at 573 King St East just once after our regular Saturday workout, I'd be able to check out a lot more East Toronto restaurants. But for a healthy lunch, Impact is one of Toronto's best East Side stops and, not surprisingly, was founded by a former personal trainer. This casual counter-service eatery has plenty of seating, a gluten-free menu and straight-up simple dishes such as Macro Bowls and Lean Bowls with or without added meat or fish.
My go to option is Wild, a dish of wild rice, grilled asparagus, marinated red cabbage, radish, pumpkin seeds, and 'sweety' drop peppers, though it gets pricy once you add salmon, a Summer Greens smoothie and gluten-free donut on the side. (And, okay. Maybe a slice of banana bread too. I get hungry.)
Souk Tabule
Known for its falafels that stay crispy on the outside and soft on the inside while being the size of savoury snowballs (okay, not quite that big), Tabule is a fav with fans of Middle Eastern cuisine. Overlooking Corktown Commons, a new 18-acre waterfront park, Souk Tabule at 494 Front Street East is part of the Canary District, a newly-developed lakeside land of glass condos, street art and young urban professionals.
Roselle
Roselle Desserts is the local destination for French-inspired pastries. Best relished slowly, they're as good to look at as they are to eat. This tiny pastel-coloured pastry shop at 362 King Street East is the love child of Bruce Lee and Stephanie Duong, who bonded over a love for culinary arts (and probably eclairs, if their signature banana cream eclairs are anything to go by), honing their craft in Paris and Hong Kong.
So there you have it, a few East Toronto restaurants that are sure to get your taste buds dancing and give you a feel for the vibrant districts of Riverside and Corktown. You can visit the Toronto Tourism website for more local foodie destinations or read Top 10 places to hang out in Toronto.