This post may contain affiliate links.
Don't despair, if Venice flooding is predicted and you're worried the high water will ruin your trip, here is how to make it an adventure.
High water in Venice – what to do during Aqua Alta
When planning our honeymoon in Venice, Italy, I read in the guidebooks that November is not the time to go because of bad weather. That sounded like the perfect time to go to me. What better way to avoid the tourist crowds jammed into St. Mark's Square? So what if there is aqua alta, or 'high water' in Venice in the fall and winter. While Venice flooding can be worrisome, it's usually localized and you can generally still get around. Also on the plus side you can actually get a seat on the Vaporetto #1, which travels up the Grand Canal, and Venice's historic hotels are far more affordable than in summer.
High water every November
Update: I wrote the first version of this high water travel guide five years ago on our honeymoon. But my husband, Mark, and I just returned for our five-year anniversary, and Venice gifted us with high water again. Not just any high water this time, record-breaking high water.
Nonetheless, Venice is resilient (and so are we) and after a day of water levels so high it went over the top of our rubber boots, it was pretty much back to normal. So, while once every 50 years Venice might close down because of flooding, 90% of the time you just buy your crappy plastic booties and rain poncho and you can still have a fabulous trip. Here's how.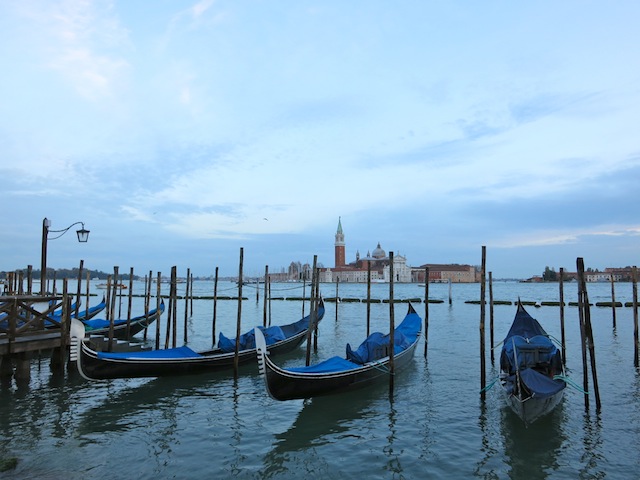 Aqua Alta
The key, Mark and I quickly learned, is learning how to cope with the high water in Venice. The notorious aqua alta, when the streets are flooded and the city is shrouded in grey. It's impossibly romantic really, as long as you're looking at it from your canal-side window or from the bar of your luxury hotel. Stepping outside is a different matter.
What causes flooding in Venice?
Curiously, flooding in Venice isn't caused so much by the rain as by the tides and the wind. High tides and southern winds can cause water from Adriatic Sea to roll into the Lagoon.
How do you know high water in Venice is coming?
Your first clue will be a siren designed to blast you out of a sound sleep. After three days of elegant indulgence at the recently renovated Hotel Gritti Palace, Mark and I moved into an apartment rental for a week, and our first morning was nearly our last because the blaring sirens nearly gave us heart attacks when they started shrieking at 7 a.m. Without a concierge, there was no one to ask if a bomb had just gone off, so it was all very confusing, and just one more reason why I love luxury hotels.
The siren is your warning that high water in Venice is coming. Either hole up where you are before water surrounds your apartment like a moat or get out while you can.
Before you do, check the levels and times at the City of Venice forecasting page. It's a lifesaver. It will tell you what time of day the Aqua Alta will occur and how high it will be. Then you can plan your day accordingly ie a good nap in the late afternoon or a get-out-while-you-can sightseeing itinerary.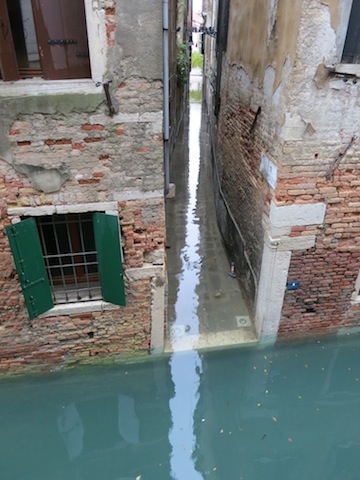 The first time the the flooding occurred Mark and I holed up as high water in Venice usually only lasts a couple of hours and the courtyard outside our apartment was underwater. The second time it happened, as soon as the sirens went off we raced out as fast as we could.
How do you dress for high water in Venice?
Carefully. And not like Mark. He has dreadful luck when it comes to rain gear. The first day it rained he bought an umbrella for 8 Euros that immediately got caught in the wind and exploded. The morning that we raced out of the apartment, we said "no" to the eager street seller that approached us holding Sasquatch-sized plastic booties and flimsy plastic raincoats outside La Fenice Opera House.
We tried to walk on but the cobbled lane ahead of us was under four inches of water. "Uh, oh," Mark and I said simultaneously. You should have seen the smile on the street-seller's face. Reluctantly, Mark and I both bought blue neon booties that are meant to slip over your regular boots, and which are hideously ugly. I also bought a pink plastic raincoat. After a moment's hesitation Mark succumbed and bought a matching pink plastic raincoat.
Hahahaha. It was a sight I never thought I'd see (and hope never to see again.)
Finally, if the wedding didn't do it, this brought it home. We truly were a couple. We were wearing matching outfits. Is this what life has come to?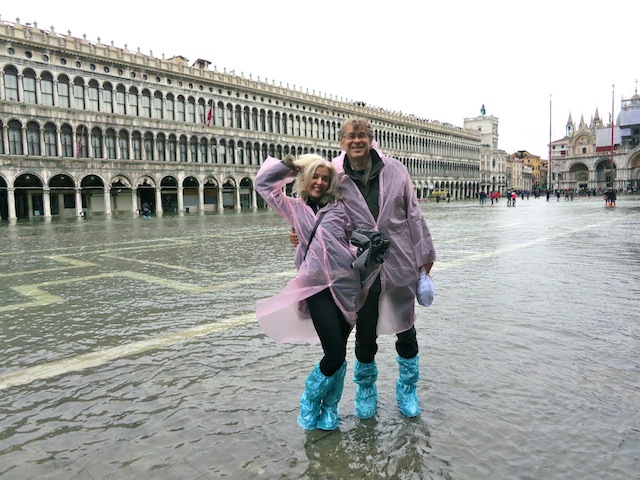 Where to you buy plastic booties during Venice flooding?
During this last trip, the street sellers seemed to have disappeared. You can find plastic booties in souvenir shops, shoe shops and some boutiques. Fortunately for us, the beautiful apartment in Venice we were staying at provided real rubber boots for us so we didn't need them this time.
There are also other means to avoid getting soaked and/or ruining your shoes. If you don't want to buy rubber boots you can wait it out – usually the really high water doesn't last long. We also saw people with plastic garbage bags on their feet and taped up around their legs, and a lot of people who just took off their socks and shoes and went barefoot. Not my choice, but if you don't want to ruin your Gucci sneakers …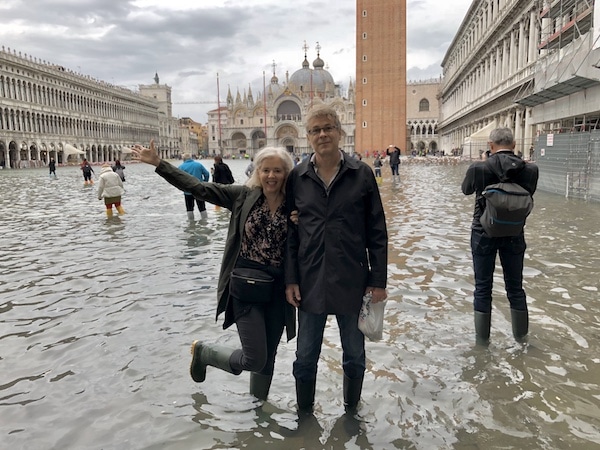 What to do during high water in Venice
Once you are kitted out in your wretched outfit, jealously eyeing all the locals in their stylish rain jackets and sturdy rubber boots, you quickly learn that high water in Venice is a total adventure.
As we splashed through the streets aiming for St. Mark's Square, which Napoleon called "the most beautiful drawing room in Europe," Mark wondered if one foot was feeling damp but thought it must be his imagination and slogged on. Our destination was the historic Caffè Quadri, which dates back to the 17th century and attracted the rich and restless such as Lord Byron. Most people visit the Cafe Florian, which is also lovely, but Quadri is almost as historic.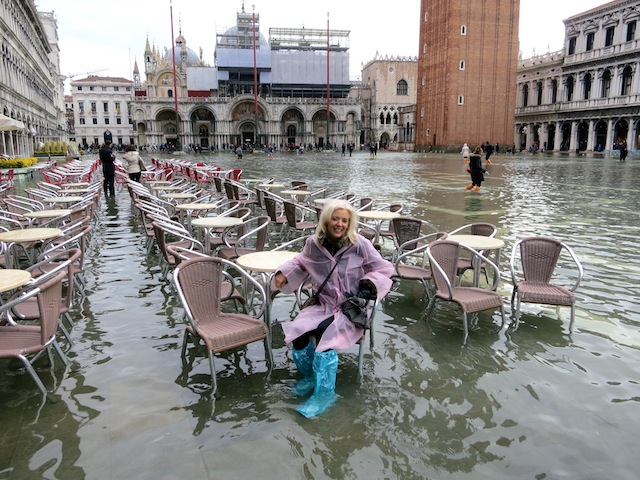 Venice flooding
"Come on!" I urged, wading out into flooded St Mark's Square, hoping that the high water didn't run over the top of my knee-high booties. It was when we were in the very middle of the square that Mark's boot developed a major leak, but there was no escape. St Mark's Square is massive and we had to continue to the other side. So there he was, walking through the flooded square with a boot full of water – I was trying not to laugh but it was like he had a goldfish bowl on his foot.
When we finally got to the cafe it was flooded and closed. All the chairs were piled up, and we had no choice but to tramp on. And poor wet Mark hadn't even had a coffee yet.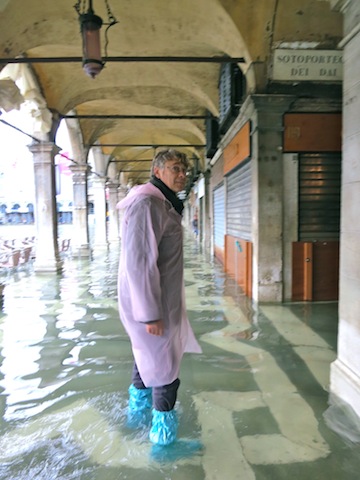 During aqua alta, there will be boardwalks put upEventually we went through a dark tunnel, high-stepped it over some unstable boards and reached a little bridge. Mark pulled off the vile booties and a litre of water poured out.
At this point he shed his pink plastic raincoat as well, but I stayed warm and dry in my fashionable tourist outfit and tried very hard to be sympathetic. I swear, I only smiled when he wasn't looking, but was secretly devastated when the rain stopped, because if you ask me, high water in Venice isn't a reason to stay away, it's one of the highlights of an off-season trip.
Read more about Venice:
Read more: about the Top Cities to Visit in Italy
For more of the best places in Europe to see: visit Top Destinations in Europe