This post may contain affiliate links.
Versailles Palace is one of the most impressive architectural achievements of 17th century France. Touring it is a highlight, but there are other great things to do in Versailles as well. Here are 14 top sights and activities to make your trip fantastic.
Things to do in Versailles
Just 17 km (12 miles) from Paris, Versailles is a city of about 90,000, and there is a lot to explore. Most people head from Paris to Versailles on a day trip but it's worth staying overnight. Once you're there, you'll likely beeline straight for the palace – and you should. If you put nothing else on your itinerary, however, you're only seeing one chunk of the city … admittedly a lavish gilt-encrusted chunk that's been a UNESCO World Heritage Site for more than 30 years.
So put Versailles Palace (the Château de Versailles) top on your list, but if you give yourself a bit of time to linger you'll get a deeper appreciation of what else there is to see. After all, if the town was good enough for the Sun King, it must have something intriguing to offer. To help you plan your trip, here are a list of 14 top things to do in Versailles, from the Château to restaurants, activities and beyond.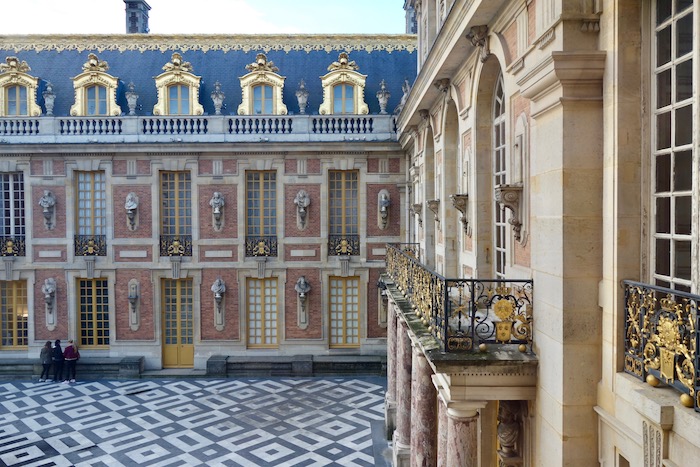 1) First, tour Versailles Palace
There are no two ways about it, visiting the Château de Versailles will up your appreciation of glitz. The Hall of Mirrors! The Royal Chapel! An opulent symbol for the extravagant world of the Sun King, Louis XIV, Versailles was the French king's principal residence from 1682, a glorious palace built up from a far more humble hunting lodge owned by his father.
The French Revolution meant the demise of the luxurious life at Versailles, but the palace continues to awe visitors who are lucky enough to tour some of its 2300 rooms. (Read more about touring Versailles).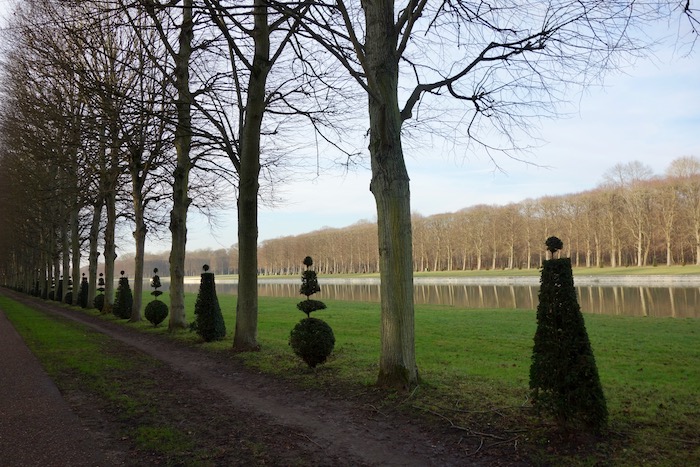 2) Visit the Palace Gardens
The Gardens of Versailles are almost as famous as the palace. Elegant, manicured and vast, they were developed by the famed gardener André Le Nôtre, who began working on them in 1661. It was a 40-year project, and the grounds include groves, ponds, graceful statues, paths and the cross-shaped Grand Canal. Exploring the grounds and gardens is not only a tranquil thing to do in Versailles, it's free, except if it's a special Musical Show or Musical Fountain day (which is Saturdays, Sundays and Tuesdays in high season) plus the odd holiday.
3) Visit the Estate of Trianon
Before I visited Versailles, I was confused by the difference between the Grand Trianon, the Petite Trianon and the Queen's Hamlet. I knew they were all on the Palace of Versailles grounds but after that they blurred into one big mystery. In fact, they are three separate places and you can visit each of them. A Versailles Passport (from €20) will provide entrance to all three.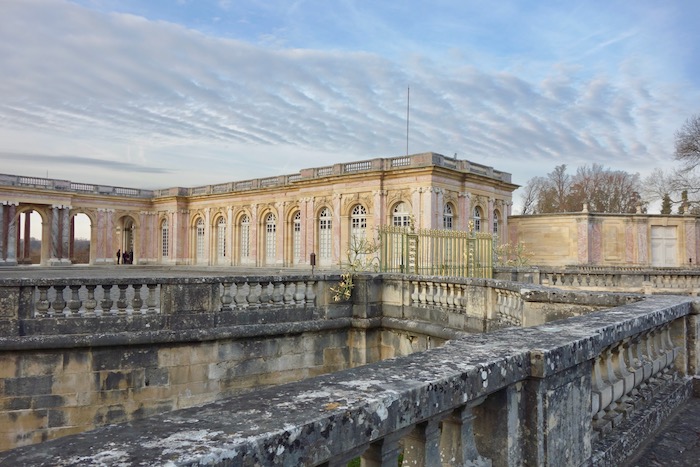 A) Grand Trianon
When palace life got to be too much – or too nosy – what was a king to do but build another palace with pink marble walls, an ornate mirror room and stunning geometric flowerbeds? That's exactly what Louis XIV did, constructing the Grand Trianon as a getaway where he could spend time with his lover Madame de Maintenon.
B) Petit Trianon
Ninety years later, Louis XV would build a palace for his mistress, the Comtesse Du Barry, and the Neoclassical Petit Trianon rose from the ground. Today the Petit Trianon is far more known as the domain of Marie Antoinette. It was here at this intimate palace that the French queen, stifled by the disapproving confines of the court, could retreat with her besties. It didn't make her popular with the excluded courtiers, however, and may have added to the downfall of the royal family. Touring Petit Trianon is a delight, and was one of my favourite things to see in Versailles.
C) The Queen's Hamlet
When three palaces aren't enough, a French queen needs to swing the pendulum the other way and get down to basics. The Queen's Hamlet was Marie Antoinette's rural hideaway, and it's also located on the palace grounds. Obsessed with country life, or at least the bucolic ideal of it, this much-maligned queen found a welcome escape in her model country village complete with farmers, sheep, windmill and dairy cows.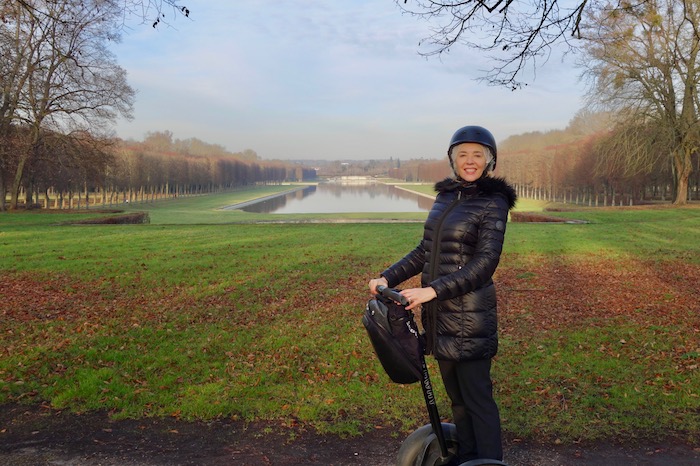 4) Do a segway tour of the Palace grounds
The grounds of Versailles are big, like 800 hectares big, and signing up for a Segway tour is one of the most fun things to do in Versailles. It's also a good way to cover some major ground. An hour-long Segway tour includes the Domaine de Trianon, the Queen's Hamlet, the Grand Canal and the Basin of Apollo.
5) Restaurants in Versailles – celebrity eateries
There are a couple of high-end restaurant options with big names behind them. The Michelin-starred Gordon Ramsay au Trianon in the Waldorf Astoria Trianon Palace hotel is one. The other is Alain Ducasse's chic and contemporary Ore restaurant at the Palace of Versailles itself. I've tried both and enjoyed every minute, except for one minute at Ore when I knocked over my glass of red and it spread all over the gleaming gold tabletop and onto my lap. Ah, well.
6) Eat cheap at Versailles Market
You can't eat 5-star meals all the time. For a breath of fresh air (literally, part of the market is outdoors on certain days), head to Versailles Market at the Place du Marché Notre Dame for something low key and fun to do. Dating back to the reign of Louis XIII (don't worry, we get confused by all the Louis too), it's where to go for your fill of artisanal cheeses, crepes, baguettes and fresh fruit. (Closed Mondays.)
7) Shop and don't stop
Not far from Versailles Palace, about 100 metres, is the Cours des Senteurs, a restored courtyard with a tea salon and one-of-a-kind boutiques such as Atelier des Saveurs, a shop devoted to all things kitchen and taste (including delicious macarons) and the Inédite Toile de Jouy, a former royal factory that specializes in rich fabrics and textiles.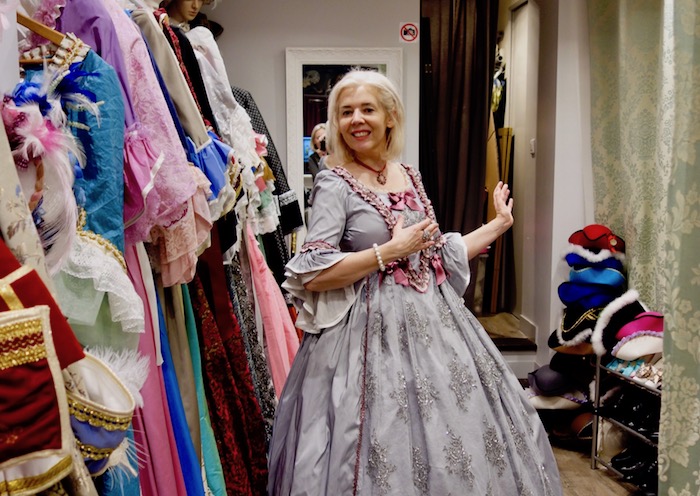 8) Dress up with a costumed photo shoot
For a brief aristocratic moment, you can live the life (or at least the fashions) of Versailles, dressing up at Costumes and Châteaux for your very own photo shoot. If you like wigs, gowns and beauty marks – and they have men's clothing too – it's an excellent momento of your stay.
9) Visit Versailles Cathedral
Right near Costumes and Châteaux on Place Saint Louis is Versailles Cathedral. Confusingly also known as the Cathedrale Saint Louis, or the Saint-Louis of Versailles Cathedral, it was built in the 1700s and the first stone was laid by Louis XV. You can't miss it because of its large dome topped with a point and a cross – and its ornate baroque interior is worth peeking in for.
10) Drink
The rue de Satory also in the Saint Louis district has plenty of bars and restaurants. If it's wine you're after No Water gets good recommendations.
11) Attend a ball at Versailles Palace – when illusions of grandeur aren't just illusions
Ask anyone (or at least my niece) and you'll know that attending a ball at Versailles is one of the most atmospheric things to do in Versailles, especially for those who aspire to a night of fantastical grandeur. You have two options. The Grand Masked Ball of Versailles, held in the Orangerie at the palace is a bit more today (and by today I mean young) with club music, a packed crowd and the baroque costumes of your dreams.
For a more stately pace, the Fetes Galantes is a ball held in the Hall of Mirrors, the most famous room in Versailles Palace. Just make sure you practice up on your period dancing beforehand.
12) Sleep in style at a historic hotel near the palace
I splurged and stayed at the Trianon Palace Versailles Waldorf Astoria. Located at the edge of the Domaine de Versailles (the palace grounds), this is a luxe hotel with a cut stone facade, designed to emulate the haute style of its royal neighbour. Completed in 1910, this 5-star hotel is an airy mix of polish and exuberance, with a bright green velvet settee under an enormous chandelier in the entranceway, lofty archways and plenty of park views. Just don't be shocked when you walk in and see a stuffed zebra. Only animals that died of natural causes have been, um, immortalized. Combining wit with glamour, a stay at the Trianon Palace hotel will give you that noble nudge you need to get into the spirit of Versailles.
13) Music to your ears – the Royal Opera House
The Royal Opera House is known as one of the most beautiful in Europe and was completed in time for the wedding of Marie Antoinette and the future Louis XVI. Its oval shape and unpartitioned boxes were innovative for their time, and it was designed to be all things to all aristocrats: opera house, theatre, banquet hall and ballroom. Today, attending a concert or symphony is a harmonious way of sightseeing while sitting down.
14) Check out a show at the National Equestrian Academy
Here's something different. Housed in the former stables of the Palace of Versailles, the National Equestrian Academy shines a spotlight on the equestrian arts with a unique horse 'ballet' that combines dressage, singing, fencing, archery and dance. You can also tour the stables after.
So there you have it, plenty of ideas for things to do in Versailles, especially on the palace grounds. Mix it up, extend your trip, and enjoy a step into the vanished past of the French royal world.
Pin me!
Visiting Paris? Read my Easy Paris Travel Guide or here are more Things to do in France.