This post may contain affiliate links.
What's the truth about travel blogs? Are they relevant to trip planning? Authentic? Helpful? Here's a candid look at travel blogs, what their problems are and how they can help with trip planning.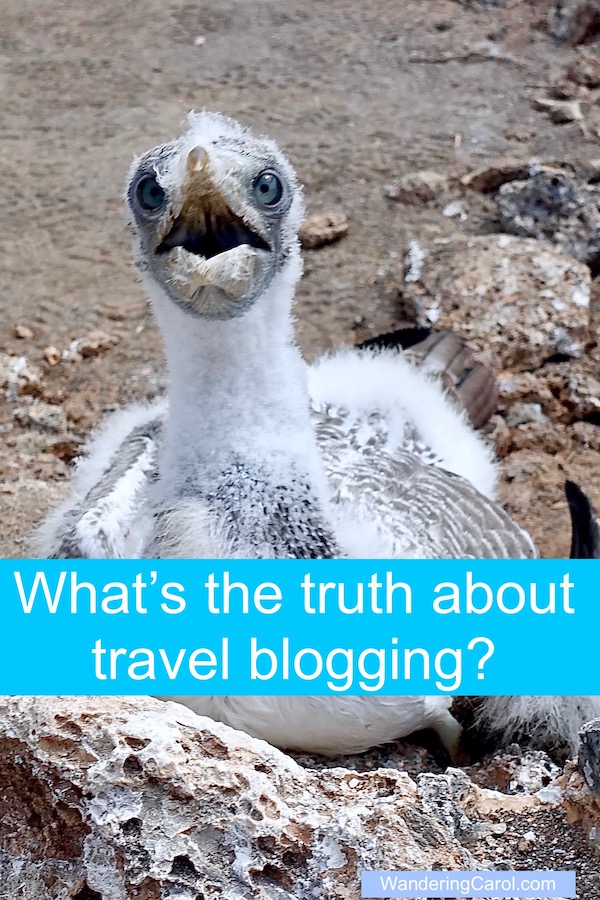 What is a travel blog?
Travel blogs (hopefully) offer a personal view of destinations, hotels and activities. Originally a sort of online diary, blogs have evolved far beyond that, and I use them for trip planning myself.
Why? Because when I'm searching for a hotel, a blog review is more helpful and in depth than a big travel booking site like Booking.com or Expedia, because with these mega sites you have to work hard to read between the lines. Great, the hotel is central. What's it really like?
The quality of travel blogs
There are a million gazillion travel blogs out there. Some are polished, some are provocative, a few are hilarious and many are bland, but they do serve a purpose.
Why blogs are helpful
The best travel blogs will inspire you to get out there and take a journey of your own. They'll also provide helpful information you might not find anywhere else, and (in a perfect world) they are written by writers who have actually been to a destination and have insider knowledge. Often they provide opinions and advice, rather than just stating facts.
If a train station is located three blocks away from the main sights, for example, that's great. You can see that on Google Maps. If it's dodgy at night and somewhere you should avoid after dark, that's even more helpful to know, and no map will give you that information but a blogger certainly might.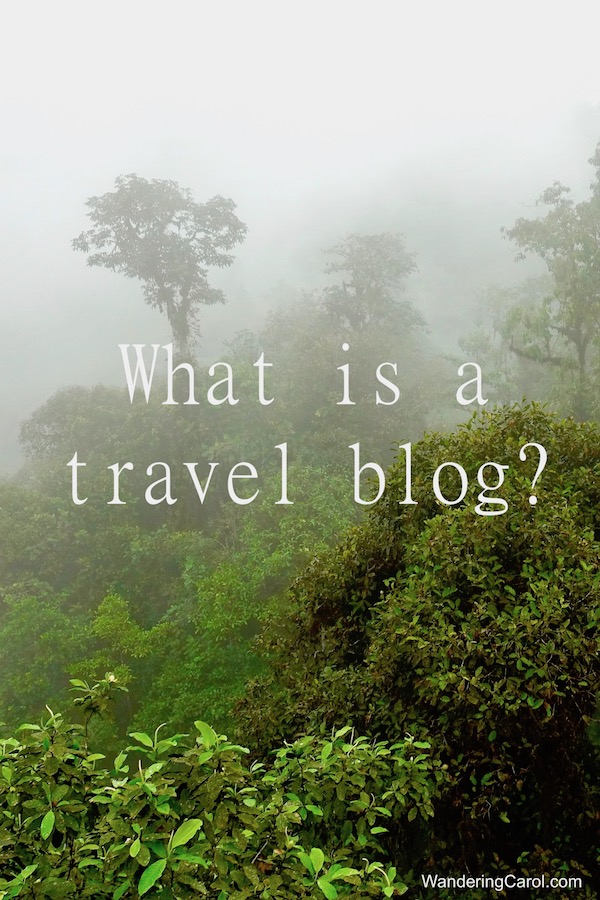 Why travel blogs are better than booking engines and mega sites for trip planning
Reviews on mega travel booking sites like Trip Advisor or Hotels.com are helpful, and I use them when planning a trip. The reviews can swing so wildly, however, be so easily manipulated and are often written so haphazardly that it's hard to picture what your own experience will be like.
Years ago, I stayed at a hotel in London that was the top-rated hotel on Trip Advisor, and I didn't like it. At all. The property was clean and comfortable but it had zero personality and was overrun with guidebook-toting crowds, and getting to the breakfast buffet was like running with the bulls in Pamplona.
If I'd found an entire blog post devoted to the hotel, I might have been able to glean that while great for some (ie those who like to eat a lot at breakfast and want to feel as if they've never stepped away from home), it wasn't the place for me.
What's the difference between a travel blog and a travel website?
Generally, a travel blog is more personal than a travel website, though these days there can be a huge crossover as more and more bloggers team up with other writers to have multi-authored sites, and more and more big companies such as Expedia are adding blogs. It's almost impossible for bloggers to compete with big companies but they do, because travel bloggers want their voice to be heard and they (the good ones) truly want to share their travel expertise.
How do travel blogs beat the big sites? By offering more. By being tech savvy and using key words that the booking sites might not be using. It's still a tough climb, but when your own little blog post beats Trip Advisor in the SERPS (search engine result pages), it's a David and Goliath moment indeed.
People can identify with a travel blog
Many travel blogs are relatable. They're not automated lists of hotels. Have you ever read a really good blog post, and said, "Hey, she/he/the travelling bear/adventure couple travels just like me!" or "Now I know what I should see in Florence/Venice/Paris/Regina/Moose Jaw/Dildo." (Yes, there really is a Dildo. In Newfoundland. It's very nice.)
Travel blogs can make you think
Best of all is when you find a blog post that makes you think about travel in a different way and say, "Ah, right. That's what traveling is all about. Thank you, Travel Blog, for opening my eyes."
How blogs have changed
In the stone age (as in the 90s), travel blogs were often just snippets and snatches of a destination. A postcard not a guidebook. Back then we thought it was our voice that people were going to follow, and that blogs were there to provide instant impressions and a fresh take on the old way of print writing. (Read print versus blogging for more on that.)
While loyal readers still follow their favourite travel bloggers (and I love you all), today most bloggers realize that what people want from the Internet is solid information.
The 'Ten Things to do in XX' or 'How to Take Public Transportation in YY' style of article has taken over the traveling blogosphere as bloggers compete for a reader's attention, strive to provide helpful travel tips and build up their traffic and their following. It can actually be quite depressing sometimes as fewer writers let their personalities shine through.
But here's the thing. Even though most bloggers are happy to share the 'Ten best things to do in XX," and search for these articles themselves when trip planning, they still want to use their voice, share their thoughts and colour a destination through the filter of their eyes. This way you can see a place as they see it, and take what you can from that. Many of my own travel posts are becoming a hybrid of personal experience and how to's. (Which is no easy feat by the way.)
Maybe the definition of blog is no longer applicable to my site. Maybe what I have is now a travel website. Or a travel periodical. Or an online travel magazine. The whole wide world of travel writing is in flux, and my travel blog is in flux along with it. Whatever you decide to call it, I do still concentrate on luxury travel, culture, outdoor adventure and spa travel. That's not going to change anytime soon.
The problem with travel blogs
I'd be lying if I said all travel blogs are good. No one vets a blog post like an editor does with a magazine article. Partly that's the beauty of it. It's liberating. Anyone can start their own blog. But. The problem is that some are poorly (terribly!) written.
Some blogs don't offer relevant travel information. This isn't always wrong. Sometimes a travel post is designed to express something different, like an attitude or an idea, and some blog posts are just designed to get you to click on an affiliate sale. (Which doesn't go to say that if the information is good, and you're going to book a hotel anyway, why not click through on their website so the writer can keep their business going? I'm using more and more affiliates myself, because running a travel website is an expensive business.)
Are blogs impartial?
Here's another problem with travel blogs. There is a lot of criticism against bloggers not being objective, just as there has always been the same criticism levelled against traditional print media. (I've been writing about the ethics of travel writing since at least 2009).
It's a valid concern and I share it. When I read a travel article in any medium I try to read between the lines. Is this person selling something? Were they just after a free breakfast buffet in exchange for a glowing review? If a blogger says the waffles-drowned-in-syrup served with potatoes and whipped cream are delicious but the photo looks disgusting, I'll click to a different site, hopefully a less cholesterol laden one, though we all know photos can be misleading, too.
How I deal with these issues as a blogger
If I take a hosted trip I try to make sure it's somewhere I'll find interesting to start with. If I have a bad experience I try to tell the story through humor. I try to keep an open mind – if the service was rude, is it always rude, or was that with one particular staff member who was having a bad day?
What will the readers' experience be? Above all, I believe that just about any destination has good aspects, and it's my job to find the good, so that readers can enjoy it, too.
Of course I'm biased in what I like, and I have my own weird way of traveling, so if you don't share my particular love for mud baths in strange European spas, you might want to check out my hiking articles instead.
Or you might not share my slavish devotion to old world luxury hotels. And that's important too. You might not share a blogger's opinion, but it might help you figure out what your own opinion is, and what you want from a trip.
Travel blogs make great resources
So. If you're planning a vacation, you might as well enjoy the thousands of free resources and websites at your fingertips. Check out various travel blogs, subscribe to your favourites and thank your lucky stars when you stumble onto an amazing post about that little known destination that the guidebooks never mention, like weird European spas where you're likely to get hosed down naked by a man in a clinical white coat (true story).
Or just have fun with it and read blogs and websites for travel inspiration. If you feel like wasting time, try my Travel Quotes that Drive Me Crazy article to learn why travel writing can be the most confusing thing in the world.
And don't you just love bitchy and or travel disaster-y blog posts? Those are my favourites, too. The freedom of a travel blog to go beyond traditional boundaries is one of the joys of reading (and writing) online. (Read why travel and writing go hand in hand.)
Tips on how to find travel blog reviews
And before I finish, here's a tip on finding blog posts when trip planning: If you're searching for travel information but keep ending up on endless Trip Advisor web pages, add 'blog' to your search query, ie Paris hotel reviews blog, and it might help you skip past the hundreds of hotel booking sites.
Ultimately, how you plan your trip and do your travel research is up to you (well, duh!), but I sincerely hope this post about travel blogs and why they are relevant will inspire you to check out a few.