This post may contain affiliate links.
Check out these fun quizzes to find out the Rocky Mountaineer trip that suits you. Plus, as a bonus, you can take my customized What Rocky Mountain Animal Are You quiz to discover your Rocky Mountain wild spirit animal.
FYI: I'm a Rocky Mountain Brand Ambassador and this post was sponsored. But I designed the exciting What is Your Rocky Mountain Wild Animal Quiz below.
Do you ever do those online quizzes, like What Cheese Are You or What Nationality Is Your Soul? Of course I would never waste time on something like that, especially because according to the last What Animal Are You quiz I did I am a sheep! Puh-leeze. Obviously I am a tiger, or jaguar or … or … a mountain lion!
I was so annoyed (and I mean, if I were a sheep would I even be annoyed? Wouldn't I just, you know, follow along and bleat?) so I did a Find Your Spirit Animal quiz right away, which should have been a deeper look into my soul. My spirit animal is a spider! Seriously? My dreams of being a mountain lion are getting farther and farther away.
How to choose your life changing route
However, some tests are helpful. (And no, I'm not talking about What is Your Love Language.) Rocky Mountaineer, the luxury train through the Canadian Rockies, has designed a Mountaineer Routes Selector Quiz to help you figure out the best Rocky Mountaineer route for you, and I'm sure it's more accurate than that stupid sheep quiz (because I am so clearly a mountain lion).
Rocky Mountaineer Routes Selector Quiz
The Rocky Mountaineer Routes Selector Quiz consists of five questions such as What Movies do You Like to Watch and What is #1 on Your To-Do List? Once you have answered the questions you will not only know which of the Rocky Mountaineer routes is best for you but what kind of traveller you are.
What kind of traveller are you?
Of course I did the quiz. I am a Dream Seeker! (This beats a sheep any day.)
I am, and I quote, "the definition of a daydreamer." My fantasy is to venture into untouched landscapes and take the road less travelled. My dream is to see Canada's most breathtaking and diverse landscapes, and to be humbled by the majesty of it all.
Of course a mountain lion is never really humbled, but never mind. I'm all about untouched landscapes and roads less travelled.
The best Rocky Mountaineer route for a Dream Seeker is Journey Through The Clouds
The Journey Through the Clouds route starts in Jasper, passes Mount Robson – the highest peak in the Canadian Rockies – and takes in the mist of Pyramid Falls (not literally, I hope, because then we'd all get wet). It stops in Kamloops overnight where a Witless Blonde awaits (I'm talking about a beer at the Noble Pig Brew Pub, thanks very much) and finishes up in Vancouver.
Or, if you're a backwards Dream Seeker (and I am, at times, quite backwards) you can do it the other way.
HOWEVER
The Rocky Mountaineer Route I am actually going to do this summer (yes, I'm doing another Rocky Mountaineer journey! Hurrah!) is not Journey Through the Clouds, but the Rainforest to Gold Rush train trip. According to the Rocky Mountaineer Routes Selector Quiz, it's ideal for the Adventure Bound personality.
Which really makes me wonder if I am who I think I am. Either that or there's a bit of the Adventure Bound Traveller in all of us.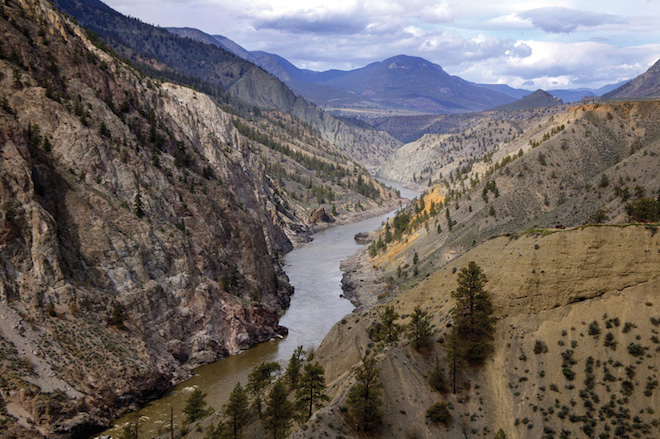 Rainforest to Gold Rush
I chose the Rainforest to Gold Rush Rocky Mountaineer route so I can, according to the selector description:
travel fearlessly into the wild and rugged terrain of Western Canada
revel in the dramatic landscape changing before my eyes
have a never-ending adventure as the Mountaineer train sails through the ranch lands of the historic Cariboo Gold Rush region and BC's coastal rainforest.
This, as you can clearly see, is a mountain lion adventure, which clearly proves I am not a sheep. (And my spirit animal is not a spider.)
So. In the spirit (animal) of online quizzes and best Rocky Mountaineer routes, I offer you my own quiz so you can find out what Rocky Mountain animal you are and what is your true Rocky Mountaineer soul trip.
Your custom-designed What Rocky Mountain Animal Are You quiz
1.What would you like to eat right now?
a) salad with fresh berries, smoked salmon and honey balsamic dressing
b) bloody rabbit carcass
c) grass
d) water lily leaves
e) roast venison
2. If attending a masquerade party you would go as:
a) a large movie star naked under a fur coat
b) a wolf in sheep's clothing
c) a sheep in sheep's clothing
d) a person with a big fake nose and two trees tied to your ears
e) Cat Woman
3. How do you like to spend the winter?
a) sleeping
b) loping through the woods catching weasels
c) crowded into a warm barn trying to get the thought of lamb chops out of your mind
d) using the trees on your head (which are still tied to your ears from the masquerade party) to root through snowdrifts for pinecones
e) avoiding strangers
4) What do your toenails resemble the most?
a) claws
b) fangs
c) cotton baton
d) antlers
e) deadly weapons
5. How do you like to spend your evenings?
a) thrilling people with the majesty of your being and grunting
b) howling with a small group of friends
c) doing whatever everyone else is doing
d) standing in a lake up to your knees
e) licking fur
Answers to my custom-designed What Rocky Mountain Animal Are You quiz
Mostly A's. You are a Grizzly Bear
Congratulations! You have such a mesmerizing effect on people that they stop in their (train) tracks when they see you and point like starstruck teenagers.
Your true soul-tripping Rocky Mountaineer Route: Let's give you the First Passage to the West from Vancouver to Banff, because like you, it's the most popular.
Mostly B's. You are a Wolf
Congratulations! You are adventurous, courageous, family oriented and know how to appreciate the beauty of the moon.
Your true soul-tripping Rocky Mountaineer Route: The Journey Through the Clouds route from Vancouver to Jasper, because you're as beautiful as a mountain cloud.
Mostly C's. You are a Sheep
Sorry. What can I say. Apparently I'm one, too.
Your true soul-tripping Rocky Mountaineer Route: We'll give you The Total Package, a circle combo of Rocky Mountaineer routes that takes in everything from glistening turquoise waters to wildlife-packed plateaus, because you really need something to make you feel better about who you are.
Mostly D's. You are a Moose
Congratulations! While not quite as much the centre of attention as a Grizzly, you are still always popular at parties and your long legs make you a looker! (So do the trees tied to your ears. You should think about taking them off.)
Your true soul-tripping Rocky Mountaineer Route: Let's give you the Rockies to the Red Rocks, because this is Rocky Mountaineer's newest route, goes through the Moab Desert, and you are an adventurous soul.
Mostly E's. You are a Mountain Lion
Congratulations! While you're not good with strangers, you have a slinky sex appeal, and woe betide those who mistake your shyness for weakness: You have the strength to take down a deer.
Your true soul-tripping Rocky Mountaineer Route: Of course we're going to give you Rainforest to Gold Rush because this is the route I'm doing and deep down I'm a mountain lion. Right? Am I right? Why is no one answering me?
About Rocky Mountaineer
Rocky Mountaineer is a luxury train and tour company that offers vacation packages on four scenic train routes through Seattle, British Columbia and Alberta. Get more info or book your trip at the Rocky Mountaineer website.
Related Rocky Mountaineer train travel blog posts:
Learn more about Rocky Mountain Scenic Routes.
Planning a trip to Canada? Visit my Things to do in Canada article.