This post may contain affiliate links.
As a Rocky Mountaineer Ambassador, I've done every route and written several Rocky Mountaineer reviews. Here is a review of the two-day Vancouver to Banff 'First Passage to the West' train trip.
Vancouver to Banff – An Unpredictable Adventure
Pine and larch trees rush by as I stare out the panoramic window on a Rocky Mountaineer train journey from Vancouver to Banff. The swish of green backdropped by craggy peaks is so mesmerizing I barely register what looks like a dirty white Swiffer duster in the trees.
"Bear!" shouts Cacinda, the passenger in front of me.
Leaping to my feet, I plaster my face against the window, scouring the tracks below for a coveted black bear sighting. Scrambling for my camera, I accidentally turn it off instead of on, and by the time I'm ready to capture a wildlife shot of National Geographic proportions – perhaps complete with raised claws and fangs – the black bear is gone.
"I only saw a white thing," I said glumly.
"That was it!" Cacinda says. "It was white."
"A polar bear?" a woman jokes from a few seats away.
Okay, clearly not a polar bear. Canada might be the Great White North, but we're not in the arctic. We're on Rocky Mountaineer's First Passage Through the West historic rail route from Vancouver to Banff, a fitting way to celebrate the luxury train company's 30th anniversary.
"Maybe it was a spirit bear," another woman pipes up.
"There are no spirit bears here," says the first (who is, in all honesty, a bit of a know-it-all). "Spirit bears are up on the rainforest coast of British Columbia."
"What are spirit bears?" a woman with an Australian accent asks.
Good question. Spirit bears are practically mythical creatures. There are only about 100 of them in the world, all of them in the Canadian wilds. Technically they're black bears with white creamy fur, pale claws and black noses.
Also known as Kermode bears, they're mainly found on the islands of Princess Royal and Gribbell Islands off the coast of BC – but we're nowhere near there. We're in Alberta east of Kamloops, somewhere along the 850-kilometre route between Vancouver and Banff.
So, not a spirit bear either.
Wildlife in the Rockies
The general consensus is that no one believes Cacinda. "It wasn't a bright white," she says defensively. "It was a dirty white."
I feel a fizz of adrenalin. Could the smush of fluff I saw have been some kind of flaxen furred bear?
Technically, it would be the second bear we'd seen today. The first one was across the river and so far away it looked like a black peppercorn – not the wildlife sighting of my dreams. But. If I'd just seen a bear the colour of oatmeal, a type of bear I didn't know even existed; it would be like spotting the Rocky Mountain version of a unicorn. Maybe even better than a grizzly.
It would definitely make up for missing the mountain goat earlier that morning when I blinked.
Admittedly, if it was a bear, it was only mooning me with its shaggy white rug of a bottom, but how much of an animal do you actually have to see? How many people on this planet can say they've seen a white-looking bear at all?
And, if it really was a blond bear, my journey will be propelled from a scenic train trip with gourmet cuisine and luxurious comfort into a possibly life-altering experience. How exactly it will change my life, I'm not sure, but at the very least it's a rare connection with the untamed Canadian Rockies.
One of the Rocky Mountaineer hosts comes through the car. "It was a bear," he confirms. "Some black bears are a very light colour."
Bear Sighting on Rocky Mountaineer
"And I saw it!" I shriek. So what if I'm enjoying it more in retrospect? It was an uncurated event hand delivered by nature, proof that this Canadian luxury rail trip from Vancouver to Banff – or Banff to Vancouver, as it travels in both directions – is always an unexpected adventure.
Sitting back in my reclining seat at the rear of our glass-domed coach, I return to the hypnotic views. I may not have seen a spirit bear, but that shaggy pale bottom will always be a spirit-of-the-Rocky-Mountains bear to me.
Fact Box: What You Need to Know about Your Rail Trip
No one can tell you precisely what a Rocky Mountaineer Banff to Vancouver trip will be like because it's always going to be unique to you.
There are some things you can count on: attentive service, efficient transfers and a flag-waving red carpet send off, but ultimately nature is the star here, and no one can tell a diva what to do. Even if the diva in question is a rumpled ghostly bottom waddling into the forest.
What Can You Expect on a Rocky Mountaineer Vancouver to Banff Journey?
A Unique Rail Route
The First Passage to the West trip is a one-of-a-kind experience because Rocky Mountaineer is the sole passenger train allowed on this line. The only other way to travel it would be to disguise yourself as a grain of barley, or maybe a lentil, and go on a freight train.
Though if you were a grain of barley, you might fly off the freight car and get eaten by an ecru-coloured bear, which wouldn't be nearly as much fun as spotting one from a comfy dome car.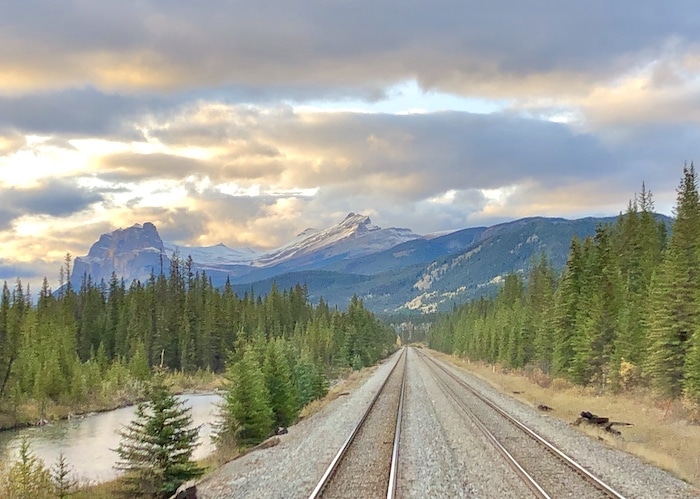 Stunning Scenery
From the coastal stretch near Vancouver through a semi arid landscape then a deep dive into the snow-capped peaks, waterfalls and glaciers of the Canadian Rockies, the landscape is what draws many guests to the Rocky Mountaineer rail routes.
Just as wildlife sightings are never predictable, however, neither is the scenery. Views change with the seasons, weather and time of day. You might see mountains illuminated by streaks of sun-setting gold, streams shrouded in mist or pale lakes with the morning light sparkling on them like silver embroidery. You might also see trees capped in snow and branches scraping up into ominous clouds – or all of the above.
The Unforgettable Attractions of Vancouver, Banff and Lake Louise
The start and end points of your First Passage to the West trip are outstanding destinations. In Vancouver, the city's natural beauty is highlighted by places such as Stanley Park, the Capilano Suspension Bridge and the waterfront, while neighbourhoods such as Granville Island and Gastown offer urban hip and history.
In Banff, Sulphur Mountain offers sweeping views of the Bow Valley. The main street is lined with shops, hot springs let you soak up the alpine atmosphere, and the Fairmont Banff Springs Hotel provides old world grandeur and charm.
Less than 60 km away, Lake Louise is a photo op in the making, its translucent turquoise tint created by glacial silt that reflects glimmering blues and greens.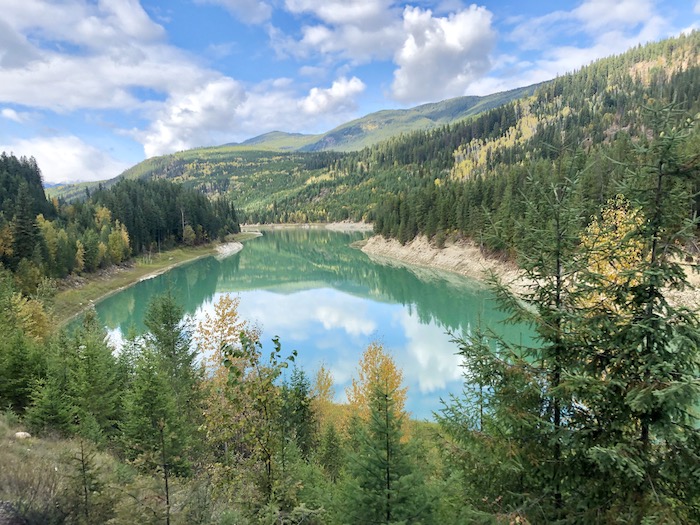 Major Landmarks of the Canadian West
During the journey itself, which is always during daylight hours with an overnight stop in Kamloops, the First Passage to the West unveils some of the most important sights and milestones in the development of the Canadian West. Here are a few examples:
Hell's Gate
At this dramatic point along the Fraser River, water barrels its way through the pinched cheeks of the Fraser Canyon's narrowest point. The 'gate' is only 34 metres wide, yet the amount of water roaring through surpasses the volume of Niagara Falls.
The Last Spike
Today, with highways and flights providing quick access across Canada, it's easy to overlook the importance of the rail line. Back in 1885, however, the completion of the railway was a unifying moment when the East was joined with the West.
On this classic train journey through the Rockies you'll pass the mark at Craigellachie, British Columbia, where the last spike on the Canadian Pacific Railway was ceremoniously hammered home.
The Spiral Tunnels in Yoho National Park
It took me two trips on the Rocky Mountaineer route between Banff and Vancouver to truly appreciate the Spiral Tunnels. (I never said I was a quick learner.) Now they amaze me. Completed in 1909, they're a marvel of engineering, two curving tunnels carved through the solid rock of Mount Ogden and Cathedral Mountain. The undertaking took two years and 75 boxcars of dynamite to complete.
What happens as you go through the Spiral Tunnels is that you are slowly turning inside a mountain. Think of it. You're inside a mountain, and while you're in there you're curling your way up (or down) some 60 feet altogether.
The twirl is so subtle our host had us guessing which way we were turning. The first time we all guessed correctly and said left. The next time I was convinced we were turning left again, but we were veering right. I also couldn't really tell we were going uphill. Clearly, it's hard to get your bearings when you're deep in the bowels of a mountain.
Kicking Horse Pass
Before the Spiral Tunnels offered an easier path, trains had to tackle the perilous climb (or descent) to the Kicking Horse Pass. The gradient was so steep that the first time a descent was attempted, the train was a runaway and plunged into the Kicking Horse River below, which just makes you appreciate the Spiral Tunnels even more.
Adding on to Your Rocky Mountaineer Journey
There are plenty of other sights to see. Rocky Mountaineer has many different packages to add on to either end of your trip. Here are a couple of ideas:
Take an Icefields Parkway Tour between Banff and Jasper
Consider extending your trip with an Icefields Parkway bus tour from Banff or Lake Louise, where you'll travel along a dramatic stretch of highway past glaciers and alpine lakes, ending up in Jasper, a mountain resort town that retains its earthy local feel.
You can even do a loop. Take the train from Vancouver to Banff, do the Parkway Tour and do the Rocky Mountaineer Jasper to Vancouver route back.
Visit Kananaskis Country
If you are doing the Vancouver to Banff train route you can get off the beaten path by adding an overnight trip to the Kananaskis Pomeroy Mountain Lodge in Alberta, about 80 km from Banff.
A ski destination in the winter, the Kananaskis region is not overrun with tourists. The main draws for me are the peaceful mountain setting, and the resort's connected (but privately run) Kananaskis Nordic Spa, a misty spread of hot and cold outdoor pools, sauna, steam and relaxation areas.
Another plus of a stay at the Kananaskis Pomeroy Lodge is the cuisine: think fresh grilled asparagus, beef tartar with premium cuts of Canadian beef and house made pasta.
Looking for more options? Check out some other Rocky Mountaineer packages and add ons.
Rocky Mountaineer Review Wrap Up
The Rocky Mountaineer route from Vancouver to Banff is a classic luxury train journey through some of Canada's most spectacular wilderness. This historic route is a symbol of the true spirit of the Rockies, though whether you find your 'spirit' in the form of a bear sighting, a perfectly plated dish of Pacific Sockeye Salmon or at the edge of a pristine mountain lake is up to you.
For more information on Rocky Mountaineer or to book a trip, visit their website, and check out my article on all three Rocky Mountaineer routes
Note: As a Rocky Mountaineer Ambassador, I was hosted on this trip.