This post may contain affiliate links.
Paris with Limited Mobility
Do you have problems walking but still want to travel to Paris? More and more people are in the same boat. This guest post by Rebecca Minton shows the best way to enjoy Paris with limited mobility.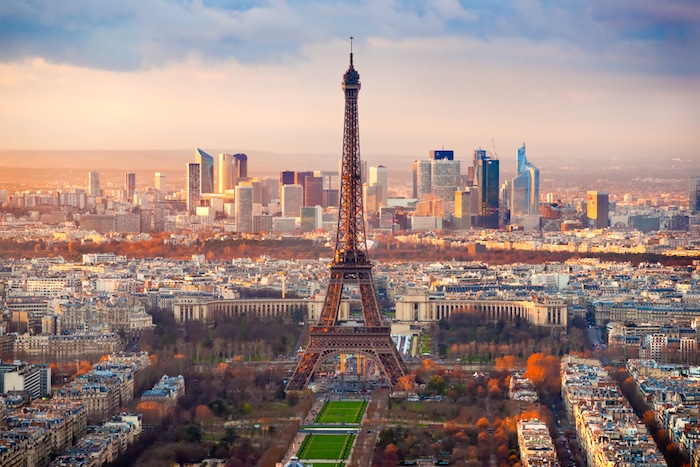 The Challenge of a Trip to Paris for Travelers with Less Mobility
A week in Paris with family and friends sounded ideal. But there was a challenge: how to balance competing needs and interests.
Our main concern? We had a person recovering from knee surgery who couldn't walk more than two blocks at a time.
On the other hand, we had two people who would be crazy restless if they couldn't walk miles through art museums. One person had almost zero tolerance for crowds, line ups and general travel stress, while the rest were on board to enjoy it all. One thing we all had in common was an appreciation for good food.
This is how we juggled our needs and discovered the answer to this important question: Can you still enjoy Paris with reduced mobility?
Whatever your personal level of mobility is, the answer is a resounding yes.
This article is dedicated to travelers who, while they don't need a wheelchair – though it's never a bad idea to opt for one at an airport – have limits to how much time they can spend walking and standing, but who still want to experience the best of Paris.
Consider a Travel Agent
Using a travel agent when you have specific mobility needs, or a variety of travellers with different interests, is a huge help in planning a trip. A knowledgeable agent can advise you on convenient areas to stay in, recommend accessible hotels and find you airline seats with extra legroom.
When to Travel to Paris
If you have problems walking for long periods, it's easiest to get around when the weather is right. Who needs the hassle of slippery rain-soaked streets?
September is one of the best times to travel to France though it can be busy. The shops are open again after the long French August holiday and everyone is hoping all the other tourists will have come and gone. May is another wonderful time to be in Paris.
Summer can be very hot, but it's idyllic for sitting in shaded outdoor cafes when you need a break. Though you'll find long lineups and crowds.
Fly Direct
One of the best things about traveling to France is that it's easy to get to. Air France, with their hub in Paris, connects to many destinations. If you can possibly manage it fly direct, even if it costs more. Any transfer means a lot more walking.
Flight time from Toronto to Paris is about 7.5 hours. You can fly from Montreal to Paris or from New York in just over 7 hours. From Chicago, direct flights can get you there in just over 8.
Put Your Money into a Flight Upgrade
Of course, if you can afford it, and sitting for long periods of time is a problem, premium economy or business class is the way to go.
If you need to keep your legs straight as I did once after knee surgery, try the front row
of the plane where you have more room and can prop your legs up on the wall.
Make Use of the Airport Lounge
Get a Priority Pass for airport lounges so you can avoid the crowds, have complimentary food and beverages, charge appliances and work and sit in comfort as you await your flights. We got a Priority Pass and then forgot to bring it. Do as I say and not as I do!
Choose Your Hotel Wisely
We chose a small hotel with a spa. Small is good: No long walks to and from the elevator. And speaking of elevators, many accommodations in Paris lack elevators so double check that one. Booking.com has a filter for hotels with elevator access.
Our pick was a Small Luxury Hotel of the World Hotel, the Narcisse Blanc Hotel in the 7th arrondissement on the left bank. Not only was it a block away from our daughter who had moved into the area, but it was two blocks away from the Seine. What is more of a stress reliever than watching boats go by?
The Narcisse Blanc Hotel
The Narcisse Blanc Hotel is named after the an almost forgotten opera star from the Belle Epoque, Cléo de Mérode who was known as the Narcisse Blanc.
The pearl and mauve decor, the hearty (everything from berries and croissants to eggs benedict and lattés) breakfast, personal attention of staff and spa made stress an impossibility. The pristine pool, hot tub, sauna and steam bath were open from 7 am to 10 pm.
The Narcisse Blanc Hotel is located at 19 Boulevard de la Tour-Maubourg, 75007, close to the corner of Rue Saint-Dominique. It is a block from the green expanse of the Esplanade des Invalides which is in front of the gold domed Hotel des Invalides where Napoleon is buried and the Musée de L'Armée is located.
Stay Central – But Not Too Central
Stay in an area, if not off the beaten path, then at least a few blocks away from the key tourist areas. At the same time, it's good to not be too far from the center of Paris.
The further out you get; the more difficult transportation becomes. The further east you go, the edgier and
more youthful Paris gets. It can also seem a little rougher in some neighborhoods, especially around the train stations.
That being said, the more easterly neighborhoods are the place to go to find vegan food or veggie smoothies. Make Canal Saint-Martin a day trip if you must.
I've made mistakes in the past, staying further south than Montparnasse or in an iffy area east of Montmartre and I can tell you, for a short trip, it's much better to be closer to the center.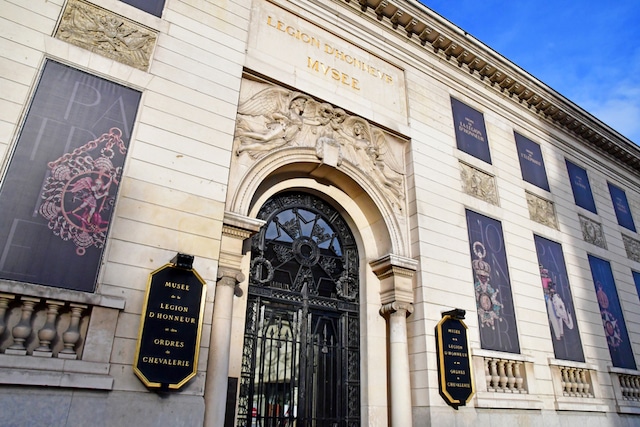 The 7th Arrondissement for People with Limited Mobility
Paris is comprised of 20 administrative districts called arrondissements. Arrondissements 2, 16, 7, 6 and 5 are ones I prefer because they combine ease of transportation, with less frantic tourist activity.
I'm a left bank person, though, and our recent stay at the Naricisse Blanc Hotel was perfect for our needs.
The 7th is an affluent district which includes, besides the Hotel des Invalides, the Eiffel tower in the Champs de Mars gardens and various government buildings. It is across the river from other grand sites such as the Grand Palais and Petit Palais.
Notwithstanding the impressive architecture, the 7th feels more local than touristy, perhaps because
many of the buildings have traditionally been military, embassy or government oriented. When we stayed at the Narcisse Blanc Hotel, for example, we saw a 4-star general and his retinue emerge from the building next door.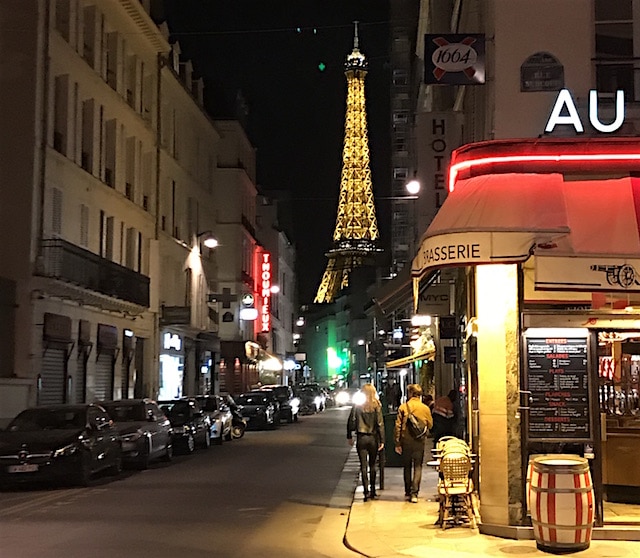 A Paris Neighborhood with Many Attractions
The local feel of the 7th arrondissement doesn't mean it's boring. There are a myriad of bistros, cafes and shops on the long and winding Rue Saint Dominique, Rue Cler and Rue de Grenelle, leading to the Eiffel Tower to the east.
It is also home to the d'Orsay, Rodin, Quai Branly and Maillol museums.
Make the Most of the Cafes
If you have trouble walking, Paris is perfect for its abundance of cafés. One famous café area is the 6th arrondissement which is centered around the Boulevard Saint-Germain.
This area is a fun area, home to art galleries, innumerable restaurants, shops, the Luxembourg Gardens – where there are plenty of benches to stop and rest – and historic cafés.
My favorite café in this area is the Cafe de La Marie overlooking the Fontaine Saint-Sulpice which is in front of the second largest church in Paris, Saint-Sulpice.
After shopping for fresh cheese and produce at the nearby newly constructed market, or window shopping among the elegant boutiques on and off the streets off the Boulevard Saint-Germain, or after touring this mega church where Baudelaire was baptized, it was a relief to sit down for an excellent café allongé.
Check out the scandalous history of Paris historic cafes.
Visit the 6th
We were able to cope with a little more crowd stress and did the classic Paris tourist thing in the 6th arrondissement. We all enjoyed an aperitif or hot chocolate at Les Deux Magots, a historic cafe overlooking the oldest church in Paris, Saint Germaine-des-Prés.
Les Deux Magots and the nearby Café de Flore are famous for having been frequented by celebrated writers and artists and have been featured in literature and movies.
Most importantly, they are places where you can tour historic sites and people watch while seated with a glass of champagne or a cup of hot chocolate.
Enjoy Local Specialities like Hot Chocolate
Can't walk far? Stop often and make those breaks count with something sweet. A French specialty seems to be hot chocolate and certain cafés are known for their particular brew.
They all taste like they are made from melted chocolate and cream and are usually served in teapots, good for a couple of cups full. It occurred to me that one could look up lists of the cafés serving the best hot chocolate and base a whole Paris trip around the discoveries. Just saying…
Tips for Getting Around Paris with Limited Mobility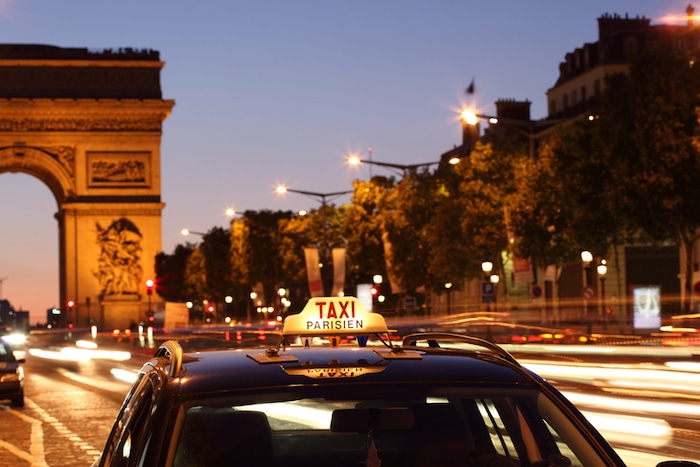 Transportation
It seems obvious but take cabs, Ubers and buses. Personally, I love the metro system because it is so efficient, cheap and has stations everywhere. However, every metro trip involves walking fast up and down stairs and through crowded tunnels.
This article on accessible Metro and RER lines on the Paris by Train website has a section on reduced mobility.
Another issue for people who can't walk far in Paris is the cobblestone streets. They can leap out at you when you least expect them. Take is slow, don't get distracted by the wonderful shop windows and tantalizing smells that drift out of cafes, and try to plan your route to avoid the worst of them.
Take Taxis
Out of concern for the person in our group with limited mobility we took cabs almost everywhere and the price was almost always under 20 euros. The minimum price was 7.10 euros and we paid that frequently for 3 or 4 block
trips…but hey, it was worth it to enable everyone in the group to get to the key beautiful Paris sites without suffering.
The few times with couldn't flag down a cab, we sought out nearby cab stands, called cabs or hopped on buses going the right direction.
Get to Know the 63 Bus
When you don't want to walk too far in Paris, the 63 bus may just be your best friend. Even for those without any mobility challenges the 63 bus route is a bargain tour of Paris all in itself.
The route extends east to west from Gare de Lyon to Porte de la Muette and stops at a dizzying array of museums, historic sites and key tourist areas. It is a fantastic bus route for a couple of reasons.
Bus 63 is about the most direct way to go east to west or west to east in the center of Paris, and much of the route follows the Seine so you get a view of the most beautiful sites in Paris.
Not all is perfection: My daughter describes it as hot, smelly and crowded during rush hour, but still the best place to people watch in Paris and the easiest way to get from the 5th arrondissement (think Saint Germaine des Prés) to the 16th (think Trocadero with the best view of the Eiffel Tower).
Single tickets, books of 10 or multiple day passes can be purchased in metro stations.
Save Your Soles with the Batobus
Our big discovery was the Batobus. For 19 euros we got 48-hour unlimited rides up and down the Seine.
Ideal for people in Paris with physical limitations, this boat service stopped at major tourist destinations such as the Eiffel Tower, the Musée d'Orsay (full of impressionist and other masterpieces) and Notre Dame Cathedral (sadly covered in scaffolding) with access to the Latin quarter.
Other Batobus destinations include the Isle Saint Louis (think Berthillon ice cream); Jardin de Plantes (gardens and zoo if your feet can bear it); the Hotel de Ville (access to the narrow cafe and shop filled streets of the Marais and the BVH department store); the Louvre; Concord and Hotel des Invalides.
It was soothing for both soul and soles to listen to the sound of the river and avoid the traffic by traveling this way. It was also our saving grace during a metro strike.
Tickets are available at all of the 9 stops. See website for more information.
Sightseeing: If you can't walk far choose smaller museums
The Louvre with its masterpieces is glorious but is not for the sore of feet or if you want to avoid stairs. (There are elevators but they can be hard to find.) It's the same with the Pompidou and d'Orsay museums.
As an alternative, seek out the small gems such as the Musée national Picasso-Paris in the Marais, the Musée Jacquemart-André, or the Musée Bourdelle.
Paris has many more museums that are manageable for travelers with limited mobility, and seeking out these lesser-known attractions out will give you a deeper dive into the French culture.
Only See One Museum a Day
Most importantly, and this is key – visit only one museum a day…or, if you have bad knees or walk with a cane, maybe even every second day. We chose the Musée de Luxembourg, which had a bite size temporary exhibit of masterpieces of English painting.
One person in our group wasn't up to walking through even a small exhibit at the Musée de Luxembourg so he had a snooze in the Luxembourg Palais gardens and indulged in a world-renowned dessert in the attached Angelina Cafe. Actually, I admit, we all went to Angelina.
Angelina, Musee de Luxembourg : 19 Rue de Vaugirard 75006 Paris, France
Phone : 01 46 34 31 19
Want more sightseeing? Check out this travel article for the Best Things to do in Paris.
A New Find – The Floating Museum Fluctart
If you are more interested in having a cup of tea or a cocktail but still want to say you went to a museum, try the floating museum Fluctart, 2 Blocks away from the Narcisse Blanc Hotel by the gorgeous Pont Alexandre III.
It's a tiny, floating museum focusing on street art (think Banksy) but it's mostly a gently rocking, open air bar that gets you in the swing of things with spray paint bottle and skateboard menus. It's peaceful during the day but stays open till 12:30 am. Admission is free.
Musée Fluctart : 2 port du Gros Caillou, 75007 Paris, France,
Phone : +33 7 67 02 44 37
Get a Museum Pass to Skip the Entry Lines
If you plan to tour museums and monuments get a 2-day, 4-day or 6-day Museum Pass at the Charles de Gaulle airport or any of the listed sites and skip the ticket lines (Warning: You will still have the security lines to go through).
For more on what to see in Paris, check out this Easy Paris Travel Guide.
Take a Custom Tour
If your budget can afford it, sign up for a private tour that caters to your pace, rather than you trying to keep up with a large group tour. Read my article on private luxury tours in Paris.
Don't Over Plan
We arranged to do one sightseeing trip a day and that was just enough. For instance, one day we took the Batobus to Hotel de Ville and a cab to Place des Vosges in the Marais where we admired the 17th century arcades, sunned in the park and indulged in a superb hot chocolate at Carette.
Carette : 25 Place des Vosges, 75003 Paris, France Phone : +33 1 48 87 94 07.
Naturally we followed that up with a steam bath in the hotel spa and dinner in a nearby restaurant.
Don't Overdo the Shopping
I may be tarred and feathered for saying this but skip the large department stores. They are as exhausting as the Louvre. If you must shop in a department store choose the smaller BVH which has everything you could possibly want in a smaller space.
Le BVH Marais: 52 rue de Rivoli, 75004 Paris, France (Batobus stop : Hotel de Ville)
But seriously, shopping in less crowded areas (think Rue Saint Dominique) will help you retain peace of mind, energy and happy feet. One person can take a breather in O'Brian's Irish Pub and the others can run down the street and canvas the boutiques.
O'Brian's Irish Pub 77 rue Saint Dominique. 75007 Paris. ++33 (0)1 45 51 75 87.
If you like fashion, check out this travel article about following the footsteps of Coco Chanel in Paris.
Restaurants and Bars in Paris
Research, Plan and Book Ahead
This is obvious but something I forget to do. Making dinner reservations ahead of time will save you endless walking and searching – something that can be draining for people with reduced mobility issues.
If you don't plan ahead and your dream restaurants are all booked, eat early and try café food, ethnic restaurants or have supper in a café. If worse comes to worst, load up at the wonderful delis and have a picnic.
Also, ask a Parisian for recommendations. We did and were able to try some wonderful restaurants we never would have discovered on our own. (See list below).
Enjoy Champagne
Champagne flows like water in Paris. You can buy it in convenience stores. We had a complementary bottle in our hotel room. You can get a glass in any cafe. If you are really keen you can book a day trip to the Champagne area and tour the vineyards in a mini-bus.
Stop for a Libation the Moment your Feet Get Tired
It is great if you can jostle your way into a sidewalk seat in a crowded café and sip a glass of something while you people watch. If you want a less frenetic experience, however, and you want to learn more about French wines, try a wine tasting in a wine shop with a knowledgeable wine sommelier.
We took a cab to a small wine shop away from the crowds and enjoyed a personalized sampling of wines we would never have discovered on our own. No bar hopping required.
Try Aux Vents des Vignes Cave & Bar in the 5th at 26 Rue Berthollet Paris, France 75005. Run by Charles de la Tour du Pin, a true oenophile, he personally tries very wine he sells and does intensive research on French wine trends and culture. We stopped in for wine and cheese before dinner at Le Mabillon.
Phone: +33 (0) 6 14 98 12 50. Visit their Facebook page.
Eat at the Beach
In summer, the city brings in sand and makes actual beaches at various locations along the Seine, so take your picnic and wine, pack a beach towel and veg out in the sun.
Restaurants to try in Paris
In the 7th arrondissement
La Fontaine de Mars: 129 Rue Saint-Dominique, 75007 Paris, France
(traditional French food with really great steak and a pretty location – reservations likely
necessary)
Garance: 34 Rue Saint-Dominique, 75007 Paris, France
Phone: +33 1 45 55 27 56 (we weren't able to try it due to no reservations but it is said to be
incredible though pricy.)
Restaurants in other parts of Paris
Maceo: 15 Rue des Petits Champs, 75001 Paris, France (Favorite of my daughter – great reviews
and vegetarian options. This would be good if you do a day trip to the Palais Royale area on the
right bank)
Reservations: maceorestaurant.com, michelin.fr
Phone: +33 1 85 15 22 56
Le Loubnane: 29 Rue Galande, 75005 Paris, France loubnane.fr
Reservations: zenchef.com
Phone: +33 1 43 54 21 27
(The total gourmet Lebanese food and mint tea experience).
Monjul: 28 Rue des Blancs Manteaux, 75004 Paris, France monjul.com
Phone: +33 1 42 74 40 1 (good Indian food with reasonable prices in the heart of the Marais)
Juste: 48 Rue Laffitte, 75009 Paris, France
Phone : +33 9 82 33 93 47
(Casual place for fresh seafood and pasta. I'm told they maintain their own oyster beds so it's
kind of a sea to table restaurant). Try this after a day trip to L'Opéra.
Where to Go for Dessert
Brasserie L'Isle de Saint-Louis: 55 Quai de Bourbon, 75004 Paris, France
Phone: +33 1 43 54 02 59 (A view of the Seine while indulging in Berthillon ice cream. The
Mont Blanc combining crème fraiche, chestnut cream and ice cream…and maybe chocolate…is
to die for)
Le Sarrasin et Le Froment: 86 Rue Saint-Louis-en-l'Île, 75004 Paris, France
Phone : +33 1 56 24 32 06 (Crèpe de Marron with crème fraiche will blow your diet and delight
the taste buds) This is a tiny restaurant with excellent crepes.
Paris with Reduced Mobility is Possible
Planning a trip with those of limited mobility in mind proved to produce a trip that pleased everyone because no one was trying to pack a year's worth of Paris into a week.
I personally love walking for miles, discovering a city, but it was a revelation for me that Paris can be 'done' and, in fact enjoyed, without making it a slightly grueling marathon.
The key is to 'do' Paris like you live there…except with a few extra taxis. Relax, take it easy, enjoy and chill!
Read more:
For people traveling to Paris with disabilities, Sage Travel has a good article on wheelchair accessible travel.
Check out France Luxury Travel for more upscale travel destination ideas.