This post may contain affiliate links.
If you're looking for hotels near Canada Place in Vancouver, British Columbia, you won't get closer than the Pan Pacific Hotel Vancouver, which is part of the Canada Place complex itself. A luxury hotel in downtown Vancouver, the Pan Pacific Vancouver offers stellar views, a convenient location and access to all the sights. To bump up the luxe factor, book a room on the Pacific Club floors.
A stay at the Pan Pacific Hotel in Vancouver
The bellman looks very proud of the newly-renovated Pacific Club Floor rooms at the Pan Pacific Hotel Vancouver. "They've just been finished," he says, bringing in my luggage and beckoning around my room on the 23rd floor.
I want to pay attention and admire the warm 'bird's eye' maple finishings and soft blue and grey colours, but I can't. Not when a huge view over the Burrard Inlet is waving at me through the picture windows, shouting, "Look at me! Look at me! I'm beautiful."
A room with a view
The Pan Pacific Vancouver may be justifiably proud of their major renovation that saw all guest rooms and meeting spaces sleekly updated, but for me, the main draw is still the prime waterfront location on the top floors of Canada Place, Vancouver's landmark pier that serves as a tourist hub, cruise ship terminal and convention centre.
Not only does it offer staggeringly beautiful views, the central downtown location makes it handy for pre or post cruise ship passengers looking for a hotel near Canada Place, and for travellers who want easy access to top attractions such as FlyOver Canada, Gastown and the Coal Harbour Seawall.
About the Pan Pacific Vancouver
The Pan Pacific Hotel Vancouver is a luxury hotel with 464 guest rooms, 39 suites, two waterfront restaurants – Oceans 999 and The Five Sails. It also has a spa, fitness centre and an outdoor rooftop pool and hot tub. If you choose to stay on the Pacific Club Floor (usually about $100 more per night), you'll find a secluded 'hotel within a hotel' feel and I plan to make the most of it before taking the Rocky Mountaineer train from Vancouver to Jasper.
Pacific Club Floor Lounge
Tearing myself away from the view I head down the hall to the Pacific Club's private lounge, where service is deluxe, hors d'oeuvres  are complementary between 5 and 7 p.m. and you can relax and read the newspaper with a glass of BC wine. Only I can't focus on the newspaper because the views of the harbour, the North Shore Mountains and Stanley Park are once again demanding my attention.
Maybe if I lived in Vancouver, the views would become all 'oh, blah, there's that sunset over the water again,' or 'oh, big deal, there's that sun glinting off  the snowy mountaintop' but for someone who rarely visits Vancouver it's like trying to ignore British royalty or some A-list Hollywood actor casually sauntering by.
Celebrities at the Pan Pacific Vancouver
Speaking of celebrities, a few who have stayed at the Pan Pacific Vancouver are Jennifer Anniston, Antonio Banderas, the Rolling Stones, Prince Charles and Princess Diana (oh, I miss her!), more than one Canadian Prime Minister and the Sultan of Brunei. No doubt they stay in one of the vast deluxe suites but, as anyone staying in a suite also has access to the Pacific Club Lounge, it's possible, at least theoretically, that Jennifer Anniston sat in this very seat I'm sitting in.
This makes me wonder if there are any celebrities around me right now. I take a closer look at the guests: a couple with a guidebook, a father and son duo and a group of three men, but none that bear a resemblance to either Harrison Ford or Richard Gere, who have also stayed here. Oh well, there's always tomorrow.
Exploring the hotel
When I get tired of people watching I decide to explore, and here's a note about the lobby. When you walk into Canada Place at ground level you might be expecting to see a hotel lobby but it's on the third floor so you need to go two escalators up or take an elevator. (The doormen will take your bags.) What you will see on the ground floor are a group of soaring totem poles, a striking way to start any trip to British Columbia.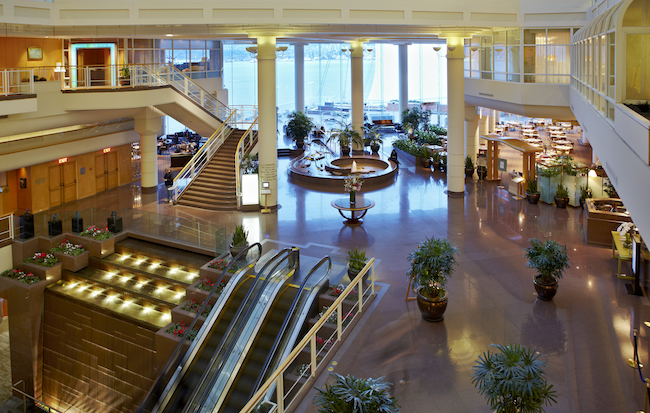 Even if you're not staying here, it's worth stopping in for a drink
On the third floor, I wander out to the waterfront terrace and realize I've been here before. When my husband and I were in Vancouver two years ago, we had lunch here and I remember being smitten by the panoramic views of Stanley Park and the Lion's Gate Bridge. No wonder it all looked a bit familiar.
Making friends at the Pan Pacific Vancouver
Back in my room, a seagull looks into my room from the window ledge. He's a very well behaved bird and we have an enjoyable chat – although admittedly it's one sided on my part. I try to ask him if he saw Jennifer Anniston when she was here, but his beady stare tells me he doesn't indulge in celebrity gossip. It also implies I shouldn't either, so not another word about Jennifer Anniston staying at the Pan Pacific Hotel Vancouver will escape my lips.
Breakfast in the Pacific Club Lounge
The next morning I head to the lounge for my complementary breakfast. Sitting down with a plate of fruit and a serving of eggs Benedict, I see a dark-haired woman taking a video of the buffet so I bound up again. The only people I know that take videos of breakfast buffets are either travel bloggers or food writers, and curiosity gets the best of me.
"Are you a travel blogger?" I ask.
"I am," she says, looking only slightly surprised. "Travel, food and lifestyle."
"I knew it! Where are you from?"
"Here in Vancouver. But I'm staying here for my bachelorette party," she says.
That's interesting, I think. All kinds of celebrities might grace the Pan Pacific Hotel Vancouver, but if a local chooses to stay here, that's the best kind of recommendation of all.
Travel tips for staying at the Pan Pacific Hotel Vancouver at Canada Place
Pin me!
Pan Pacific Vancouver address: 999 Canada Place, Vancouver, British Columbia, V6C 3B5. Visit the hotel website for more info on rates and reservations.
Perks of staying on the Pacific Club floors
The Pan Pacific Vancouver is a popular hotel so there may be lineups at check-in, especially if there is a convention going on. If you're staying in a Pacific Club room, you can check in at the Pacific Club Lounge.
Pacific Club guests also have access to a private concierge (which I made good use of when I wanted a last minute hair appointment).
Perks include a West Coast complimentary breakfast in the lounge, an honour bar and a substantial spread of snacks and hors d'oeuvres at cocktail hour. There is always tea and coffee available.
Cost for the Pan Pacific Vancouver
Rates vary depending on day and season. I found rates from about $250 and up. Pacific  Club is generally about $100 more.
Getting here
I paid about $40 for a taxi from the airport.
Spending some time in Vancouver? Read One day in Vancouver. For more on Canada travel read Things to do in Canada.