This post may contain affiliate links.
The 5-star Grand Velas Riviera Maya Resort has one of Mexico's top spas. It's a great way to bump up the romance on a Caribbean vacation. Read on for our experience.
"Would you like a couple's suite?" The receptionist at the Grand Velas Riviera Maya Spa asked my husband and me as we checked in for our treatments.
Riviera Maya – A good setting for romance
Hm. A couple's suite, I thought. Behind the receptionist, a large wood carving was mounted on the wall. Outside, a wooden boardwalk through the jungle was surrounded by ferns, ceiba and cedar, and the faint spa smell of eucalyptus spiralled under my nose. Atmospheric indeed.
Couples that spa together …
In all the spas I've dragged Mark to we've never once had a couples massage, never looked lovingly into each other's eyes, hands outstretched towards each other before sinking into spa bliss on our side-to-side massage tables.
"No," my husband, Mark, said.
Say what?
I narrowed my eyes. This was our first wedding anniversary and we'd been celebrating with a week at the 5-star Grand Velas Riviera Maya Resort near Playa del Carmen.
But did I need to take one more step? Maybe a couples spa suite is an essential part of an anniversary bonding experience. Why hadn't anyone told me? Maybe the way to deepen romance is through a deep tissue massage.
Thinking of an all inclusive vacation? These top adult only Mexico all inclusive resorts will give you some ideas.
"Yes!" I said, hearts floating around my head. Not that our week-long vacation hasn't been romantic. We've had sunset walks on the beach, bonded (eventually) over a cooking class and even split a Happy Anniversary chocolate dessert. But now, I thought, it's time to take the romance up a notch – spa coupledom here we come.
Mexico's best spas
Besides, I explained to Mark (at least in my head). If you're going to sample tropical togetherness it might as well be at one of Mexico's best spas. Voted the top spa in the world by Virtuoso Magazine, the Grand Velas Riviera Maya spa is not your average tack-a-few-treatment-rooms-onto-a-resort-and-call-it-a-wellness-oasis type of a facility.
The spa is the focal point of our section of the hotel, the Zen Suites, one of three sections at the Grand Velas Resort.
Grand Velas Zen Suites
A minute's shuttle van away from the beach, the Zen Suites section is rooted deep in the jungle with its own designer-chic pool, tasteful and enormous lobby, restaurants and wooden walkways that hover above the forest floor.
Beach smeach
At first I was taken aback our room wasn't directly on the beach, but after our butler, Sebastian, (yes, seriously. I said our butler) showed me the night-blooming lotus in a lily pond between hallways, I started to feel Zen's sultry pull.
Wildlife on the Mayan Riviera
Zen even has its own jungle ambassador, a wild racoon who likes to patrol the hallways in the evening, and which I stalked for two nights in a row because I was hoping it was actually a coati mundi, a racoon-like mammal (or, as my husband says, "a racoon-y thing") with a long snout and tail.
Newsflash: It wasn't a coati mundi or even a spider monkey. On the plus side, it wasn't a wild jaguar looking for a late night snack.
Riviera Maya Spa Coupledom here we come
Mark didn't seem enthused about a couples suite, maybe because he was worried l'd yap through the whole thing. But I like a quiet spa moment as well as the next person. He'll come round, I told myself, once he sees how our love has deepened through the shared experience of Mayan-inspired wellness.
Why you should do a couple's treatment at the Grand Velas Riviera Maya Spa
The first thing that happens after you check in to the Grand Velas Spa is that you are taken into either the men's or women's side to experience the Riviera Maya Water Journey (also known as a hydrotherapy circuit).
Learning that the Riviera Maya Water Journey was segregated came as a bit of an eye blinker as I'd been intent on strengthening the emotional bonds of our marriage right away, but in all honesty once I saw the pools I forgot I even had a husband.
A secret service spa experience
The second thing that happens at the Grand Velas Riviera Maya Spa is that you will immediately feel like Obama or Mariah Carey as you are handed over from spa butler to spa butler and then to another spa butler, all of whom are impeccably polite as they murmur into their mouthpieces to report your exact location.
(At least I hope they were reporting my location and not the fact that my stomach was hanging over my bikini because of all the extra courses I've been eating at dinner.)
A quick Grand Velas Riviera Maya Spa review
One of the largest spas in Latin America, the Grand Velas Riviera Maya Spa also has to be one of the most gorgeous. A sleek and elegant mix of pools, plants, glass, dark wood, slabs of black marble and gorgeous grey brick, it's so integrated into its surroundings that you're not even sure if the jungle is inside the spa or out.
That's why you need to read this spa review. Because I can tell you that the Grand Velas Riviera Maya Spa is both in the jungle and the jungle is inside it. I'm told the spa is situated in a dried-up cenote, which has to be one of the most unique spa locations in the world.
What is a cenote?
A sinkhole doesn't sound very glamorous, so instead picture a cave with the top sliced off. Usually cenotes are filled with fresh ground water, but in this case, the limestone walls were dripping in plants. The Yucatan Peninsula is peppered with cenotes, and the Mayans believed they were sacred places inhabited by spirits and gods.
The Grand Velas Riviera Maya Water Journey
It's not often a spa can surprise me, but the cinnamon-scented sauna at Grand Velas was my first happy shock, and from now on it's my mission to ensure all spas in the world are cinnamon scented, and that a spa butler will always hand you cucumber slices for your eyes on a silver platter before you go in.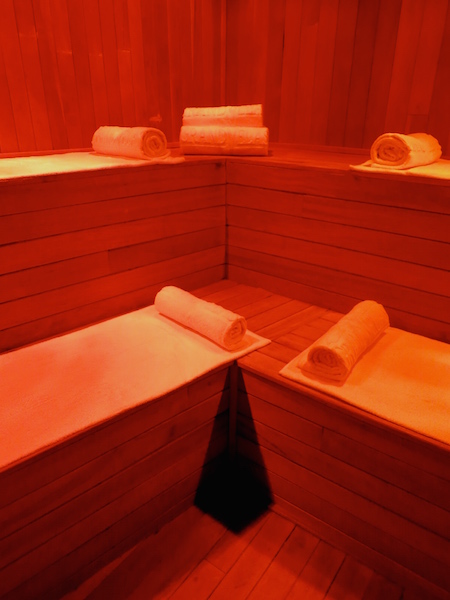 The Clay Room at the Grand Velas Spa
The clay room was another eye opener. I couldn't imagine what it was going to be like and kept picturing a group of women mud wrestling, but it's a DIY steam detox in which you are provided with aloe vera for the face, conditioner for your hair and clay to rub on your body. Armed with these you sit in a tiled steam room, and not a single woman leaps out of the mist and tries to put you in a choke hold.
The spa pools at Grand Velas
The rest of the Riviera Maya Water Journey is very glamorous, from the double-sized bubble beds in the pool to the hot and cold leg-walking circuit, blue-lit jacuzzi and deck chairs by the faux jungle stream.
On to spa coupledom at the Grand Velas Riviera Maya!
Our cream and burgundy spa suite was airy with floor-to-ceiling windows overlooking the cenote wall. I'd planned on boosting the deep love with my husband immediately but it was hard because I couldn't stop laughing at the sight of him in disposable underwear.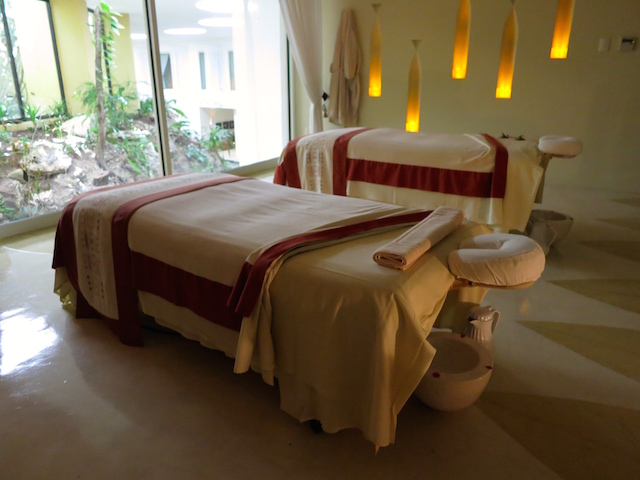 In my defence, it's said that couples who laugh at with each other have the strongest relationships. (And as a bonus, since I managed to snap a picture of him without him knowing, I can blackmail him for all the rest of our happy lives together, especially around Christmas when I mention Tiffany's new catalogue.)
The real Riviera Maya spa experience
Then the treatment began and everything changed. I began to see it wasn't just the facilities that make the Grand Velas Spa rate so highly but the spa experience itself. The shades were drawn and the room became shadowy. Mark and I sat in robes beside each other on a bench, our feet in basins of sand.
"To ground you," explained our female therapists. There were herbs and scents and something organic was pressed between our palms as we held hands. The slow quiet ritual was mesmerizing and for the first time I felt as if it might be possible to tap into a wee trace of Mayan energy.
Grand Velas spa treatments for couples
As Mark and I hadn't booked couples treatments such as the Meeting of Two Souls or a Romantic Rhythmic Massage, our treatments weren't in exact synchronicity. Mark was having a back massage and I'd opted for a sampler: half an upper back massage and half a facial, because that way we could still be in a couples suite plus I could experience a facial. I love facials more than the sun itself and refuse to give one up for any man, though evidently, in the name of love, I was willing to give up half.
Has our love bond intensified?
As I lay on my back, the therapist gently massaging my face, I peeked over occasionally at Mark in case he was gazing lovingly in my direction, revealing his profound and everlasting affection, but he remained planted face down on the massage table.
Couples treatments versus spa-ing solo
Before I sank into that lovely state of zoning out, I thought about the differences between a couples treatment and solo treatments. When you're having a spa treatment alone, an intense albeit temporary relationship develops between you and your therapist. There is touch involved, and trust – not least because you are pretty much wearing nothing – but mainly because you are putting yourself in their hands, saying, heal me, make me better/younger/calmer and/or pain free.
A communal spa experience
During a couples spa treatment the energy is different. It's more diffuse, and at the same time more communal – a shared experience involving trust and tranquility and connected energies all around.
Or maybe it's the location that's affecting me, I thought, as I started feeling all dreamy and floaty. After all, the Mayans considered cenotes sacred and maybe a bit of residual ancient energy was trailing down the limestone walls.
And then again, maybe it was all in my head.
Was it good for you, too?
Afterwards, when I'd come back down to earth I asked Mark if he'd felt any mystical energy, or if he'd noticed a difference between solo treatments and spa coupledom.
"No," he said (which was a fairly predictable response because I'm still working on developing his intuitive spa perception). Still, I thought, as we headed off for a sunset walk under a pink and grey Mayan sky, it doesn't matter whether you're consciously aware of it – a tendril of Mayan magic might still have seeped under your skin and into your soul.
Travel tips for the Riviera Maya
The Grand Velas Riviera Maya is a 15-minute taxi ride from Playa del Carmen, between Tulum and Cancun. Check prices and availability here.