This post may contain affiliate links.
Winter Escape to Grand Velas Riviera Maya
My husband and I are lounging in a beach cabana at the Grand Velas Riviera Maya Resort, canvas flaps fluttering in the ocean breeze. The sun is hot, the setting sultry and what are we doing? We're having an argument discussion.
This is nothing new. Mark is a hockey-playing bureaucrat. I'm a restless travel writer who skates like an awkward penguin. It's not as if we're completely alike.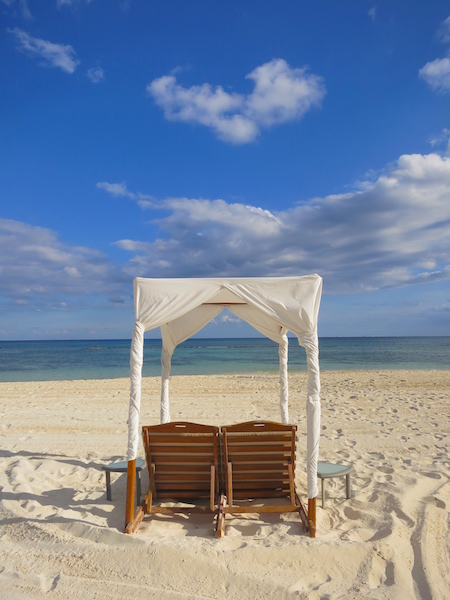 Here, for your reading pleasure, are a few things Mark and I disagree on:
That watching Bachelor Canada is not a valid past time. (Actually we agree in theory. In practicality we do not.)
That regular facials are more important than big screen TVs.
That worms are more scary than bears. (I can't help it. I have a phobia.)
One thing we do see eye to eye on is the benefit of a luxury Mexico vacation, so we've flown South to spend a week at the Grand Velas Riviera Maya, one of the best all inclusive resorts in the country.
The way to a couple's heart …
Another thing Mark and I agree on is food. We both like it. A lot. That's why our discussion at the Grand Velas,a 5-star all inclusive that combines beachful bliss with top-rated cuisine at seven different restaurants comes as a surprise.
Food fight on the Mayan Riviera
"How can you not like the risotto with porcini mushrooms and black truffle at Lucca the best?" I ask.
"Because I like the tuna at Frida," he says.
Does the man know nothing? "Obviously the boneless osso buco veal meat wrapped in mashed potatoes at Piaf blows everything else away."
Mark shakes his head. "The short rib with smoked potato purée at Bistro."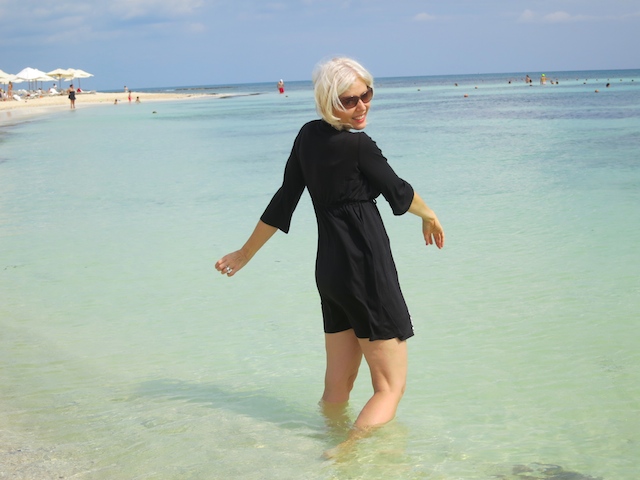 Sigh. I flip my sunglasses down over my eyes. Women are from Venus, men are from Mars and all-inclusive resorts are not generally renowned for their food. Enter Grand Velas Riviera Maya.
Located a 15 minute drive from the Mexican town of Playa del Carmen, this 491-room resort has three pools, monumental architecture (truly, I haven't seen a low ceiling yet), locally-inspired modern art and of its seven restaurants five are gourmet.
In short, it's a luxury all-inclusive for food connoisseurs.
A little bit of luxury, Playa del Carmen style
Grand Velas Riviera Maya is not cheap but after a few days I realize you get eat what you pay for – it has the best all-inclusive food I've ever encountered; it may have the best all-inclusive food in Mexico, and because it's an all inclusive you can have as many courses as you want and don't pay extra for each meal.
Wandering Carol proves Grand Velas Riviera Maya has the best all-inclusive food ever
Hear me out. The wine is excellent, the ingredients fresh and the most inventive and daring of the restaurants, Cocina de Autor, led by celebrity chef Xavier Pérez Stone is the first all-inclusive resort restaurant to ever receive a 5-diamond AAA rating. In the world. I rest my case (but not my fork).
A word about Playa del Carmen chef Xavier Pérez Stone
Voted Best Chef in Mexico in 2012, chef Xavier Pérez Stone also won Iron Chef Canada's 2014 International Competition. In other words, he does the Grand Velas Riviera Maya proud.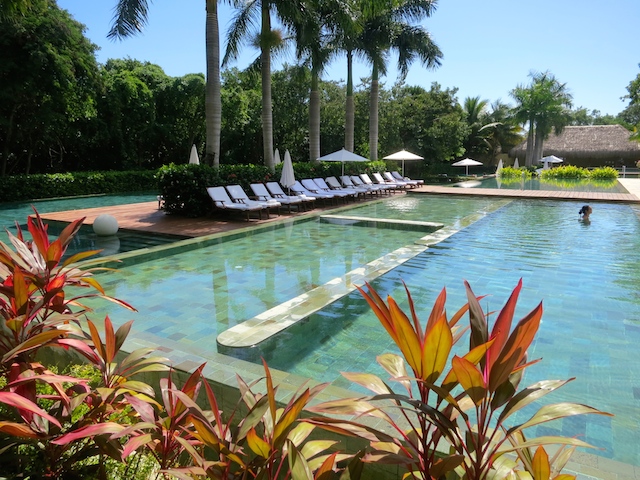 A quick Grand Velas Riviera Maya review
The resort has three separate sections, though you can wander freely between them. Ours, the Zen Suites, is tucked into the jungle while the Ambassador and Grand Class Suites are beachfront. After a tough day shuttling between the chic pool at Zen and our beach cabana on (obviously) the beach, Mark and I get glammed up and head to Cocina de Autor for our big food adventure.
Grand Velas Riviera Maya – Cocina de Autor
Cocina de Autor's decor is tranquil, the cream-coloured latticework, slabs of white and grey marble and pale walls let the food take centre stage. And the Basque-inspired cuisine craves a stage. There is no fear of molecular gastronomy here, and the buzzword is creative evolution.
There is only one menu at Cocina de Autor. It's a tasting menu and it is eight courses long.
The best all-inclusive food experience begins
"There will be two picas, two appetizers, two main courses and two desserts," our waiter tells us, as Mark's eyebrows rise in happy surprise. And while he and I still haven't reached total food harmony, once we begin eating we forget to disagree.
We're too busy tilting our heads and saying, Whaaa? Apple dusted in sausage powder? How does he do that? Trout tartar with cucumber jelly and pork crackling? Who would have thought? Crab wrapped in tomato paper? Of course!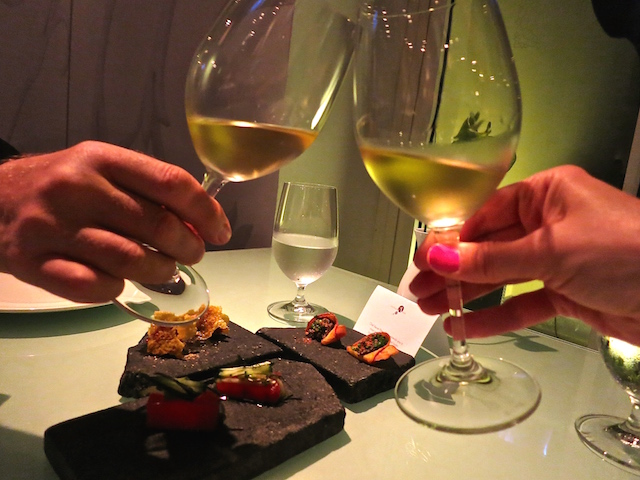 A Grand Velas Riviera Maya food state of mind
By the time we get to quail over apple with almond puree, grapefruit jelly and raspberry powder I give up trying to figure out anything at all, and let my tastebuds do the walking – though in this case they are jogging, skipping and doing the cha cha across the table and out into the sea.
Finally, as stuffed as two taxidermied spider monkeys Mark and I return to Zen, convinced our food odyssey has reached its pinnacle. Not yet.
The Grand Velas restaurant food odyssey continues
The next day we have a chance to take a private cooking class at Grand Velas' striking Mexican restaurant, Frida, named for the Mexican artist, Frida Kahlo. It seems like an ideal way to foster togetherness. Right? Right? Not so much. Instead, it threatens to tear us apart.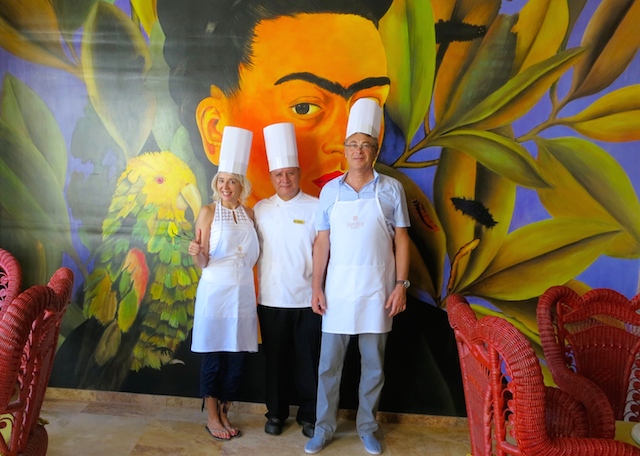 Our own Iron Chef Canada competition in Playa del Carmen
After meeting chef Ricardo de la Vega, who helms Frida, Mark and I are ushered into the kitchen where we spy three frying pans on the stove."One for the chef, one for you and one for your husband. It's a competition," says Alberto, one of the helpful kitchen staff.
Unconsciously I take a fighting stance. I'm not about to compete with the chef, but with my husband it's game on.
Get cooking with Mexican spice
Instead of the more predictable guacamole or tortillas, the chef informs us we're going to make a unique creation of his own design, which I immediately dub Carol-is-Going-to-Leave-Mark-in-the-Dust-Fusilli-with-Corn-Truffle.
The ingredients are a mix of the expected: corn, various chilis, white wine and cream, and the unexpected, such as the Mexican herb epazote, a spice with flavour stronger than tarragon, weaker than turpentine and derived from the Aztec word for skunk sweat.
About Mexican food
Carol-is-Going-to-Leave-Mark-in-the-Dust-Fusilli-with-Corn-Truffle is a two-step dish that involves a sinful amount of garlic-soaked olive oil, an extensive amount of frying pan flipping and a small pinch of elbowing each other out of the way. (And I don't want to tell tales but I didn't spill any sauce directly onto the burner like Mark did.)
The final step involves presentation, another art at which Grand Velas Riviera Maya chefs excel. Using watercress sprouts, goat cheese and edible flowers. Mark tops his pasta as per chef de la Vegas' instructions, while mine, I mention humbly, is a work of edible flower art.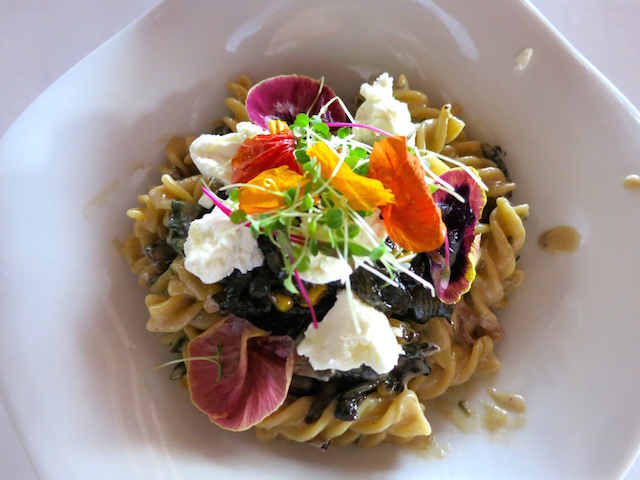 Let the Riviera Maya food tasting begin
As we sit down to eat it's clear that the chef's pasta is far superior. No surprise there. But I'm also forced to admit that Mark's pasta might be just a wee bit better than mine. Possibly I added too much wine. But maybe, if we combine Mark's pasta with my fancy fusilli decor, we'll make the ideal dish. Maybe it's symbolic. Maybe our differing interests and viewpoints add up to one excellent recipe of our own creation. After all, can you imagine a dish with one homogenous ingredient? You'd have a meal as exciting as …. milk.
A good meal takes time
"It is important for each ingredient to take time for cooking. It needs time to release the flavour," chef de la Vega says as we sit down to eat. "The good dishes always take time to mix the ingredients perfectly."
Mark and I clink glasses. Just like a good relationship itself.
Read more about Transat Holidays Luxury Collection – and see my City TV interview.