This post may contain affiliate links.
Flora Farms
A trip to Flora Farms is a fun thing to do in Cabo, especially if you're hungry.
While it might not be an adrenalin-pumping bungee jumping type of fun, or a drinking tequila shooters upside down kind of fun – activities not unheard of in lively Cabo San Lucas – it's an organic farm-to-table feast kind of fun, where lush gardens, farm tours, and artisanal shops elevate a meal to a great day out in this sunny region of Mexico.
What Is Flora Farms?
Flora Farms is a burst of greenery in the desert, a 25-acre organic farm that hosts an onsite restaurant, bar, tours, shops, and activities such as cooking classes, sunset yoga and painting workshops.
And let's not forget an ice cream cart to tempt you with house-made sorbets and ice creams crafted from farm fresh cream and local vanilla.
Where Is Flora Farms?
The journey doesn't do it justice. Located up a dusty road about 10 minutes east of San Jose del Cabo and 40 minutes from Cabo San Lucas, this mini oasis sits in the foothills of the Sierra de la Laguna Mountains.
It's a peaceful place for strolling and dining, or to pick up some fresh produce at their Flora Farms Grocery.
There are papaya trees, mango groves (lucky you if you're there during mango season) and gardens of hibiscus and sunflowers. The landscaped grounds have flower-lined walkways and ponds where ducks wander freely.
It's a good excursion for families, couples, food-centric travelers and anyone who wants to explore an earthier side of Cabo, a relaxing place where culinary excellence and love for the land meet.
Check out this full Los Cabos itinerary for more travel ideas.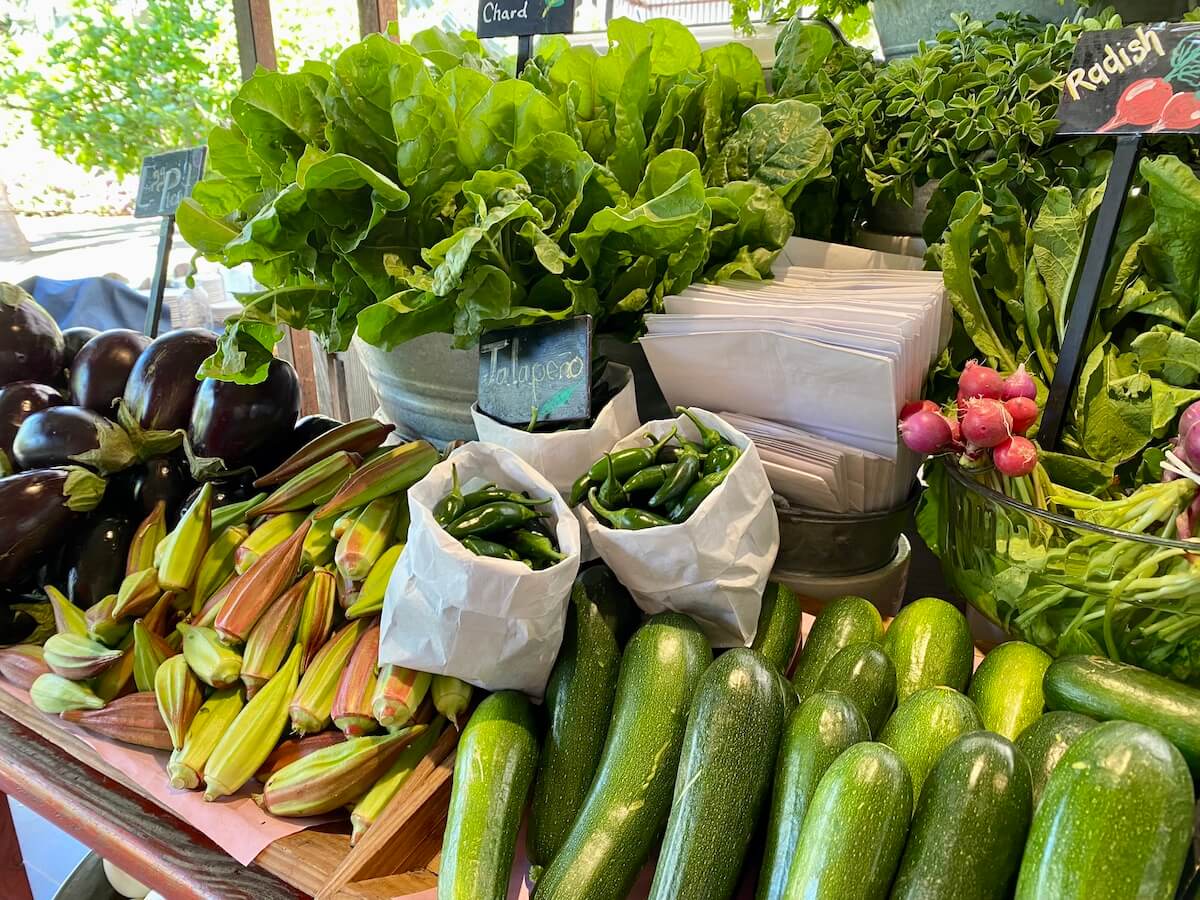 A Farm-to-Table Experience
Flora Farms is a Cabo destination that takes environmental concerns seriously. It appeals to a growing wave of tourists who crave a sophisticated, palate-friendly element to their beach vacation. If you're staying at a luxury all inclusive in Cabo, it's a great chance to explore the food culture beyond their resort.
Like Cabo's design-chic Acre, a boutique hotel, bar and restaurant with its own distillery and organic garden, Flora Farms goes beyond the farm-to-table experience to erase the boundary between farm and table altogether.
You are what you eat, goes the saying, but at Flora Farms, you are where you eat, too.
Fun Fact: Adam Levine and Behati Prinsloo were married at Flora Farms in 2014.
Sustainable Practices
Produce at Flora Farms is grown as sustainably as possible. The soil is nourished with compost and mulch, planting and weeding is done by hand, and insecticide is limited to natural matter like chilli pepper, herb and garlic essences.
(Actually, that sounds quite delicious. Maybe there's an insecticide cocktail in there somewhere.)
Produce is not strictly vegetarian. Humanely raised chicken, eggs and pork are sourced from the farm's 150-acre ranch, where the animals are raised without hormones or antibiotics.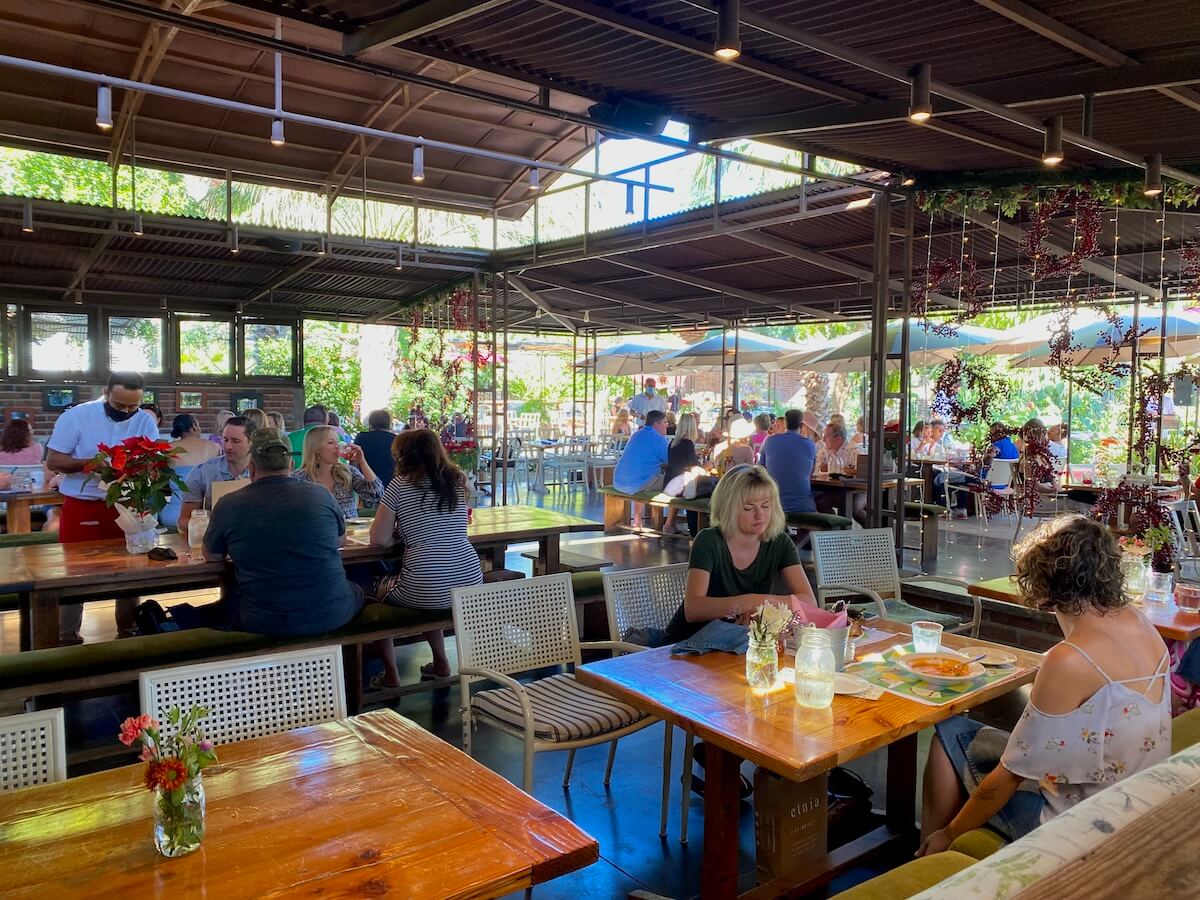 Flora Farms Restaurant – Flora's Field Kitchen
The onsite restaurant, Flora's Field Kitchen, is the major draw for visitors and locals. Reservations are recommended as the organic fare and fabulous setting has made it one of the most popular restaurants in Los Cabos.
Dinner reservations are particularly in demand as the Field Kitchen is a romantic place to go in Cabo. Another prime time for dining? Sunday brunch. Farm fresh eggs Benedict, anyone?
Flora Farms Restaurant Menu
On the seasonal Flora Farms menu you might find anything from chilled corn soup and a Walk Through the Garden salad to house-made burrata cheese, and pork that comes from a unique breed of wild Iberian hogs crossbred with Dutch pigs.
(You can read more about the intriguing roots of Flora Farms and its founders Gloria Wallace and Patrick Greene, at the Cabo Like a Local website.)
Bakery
Carb lovers can indulge in artisanal breads made daily at the onsite bakery in a wood-fired oven.
Also on the wood-fired oven menu is the farm's Neapolitan-style pizza. There are 15 different types to choose from, so if it's a Margherita you're in the mood for or a hand-crafted sausage and fennel pizza with gluten free crust, you're in luck.
One thing you won't find on the Flora's Field Kitchen menu is beef. With the amount of water it takes to raise cattle, it's not sustainable in the dry Baja California Desert climate.
Whether you choose to have a craft cocktail at the Farm Bar or Flora's Field Kitchen, you're guaranteed fresh ingredients.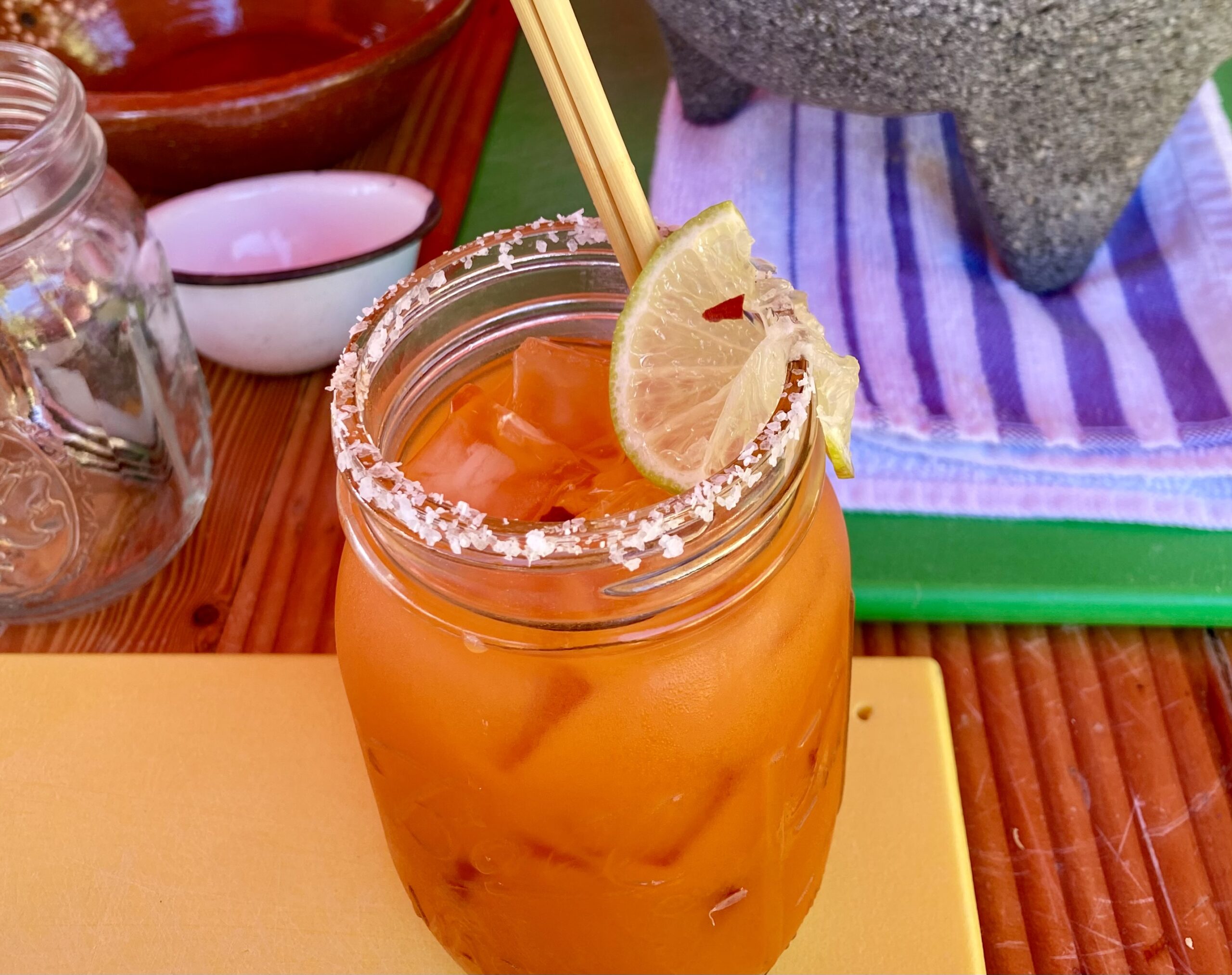 Cooking Classes at Flora Farms
The restaurant is tempting, but sometimes it's fun to be more hands on. A cooking class at Flora Farms turns the art of Mexican cooking into an interactive adventure.
The 3.5 hour cooking classes run from 10:30 a.m. until 2:00 p.m. (9:30 to 1:00 in August and September) and by the last hour you'll be salivating as you wait to dive in.
The class includes a tour of the farm, a culinary demonstration with hands-on instruction, a craft cocktail – we had heirloom carrot Farmaritas – and an al fresco lunch.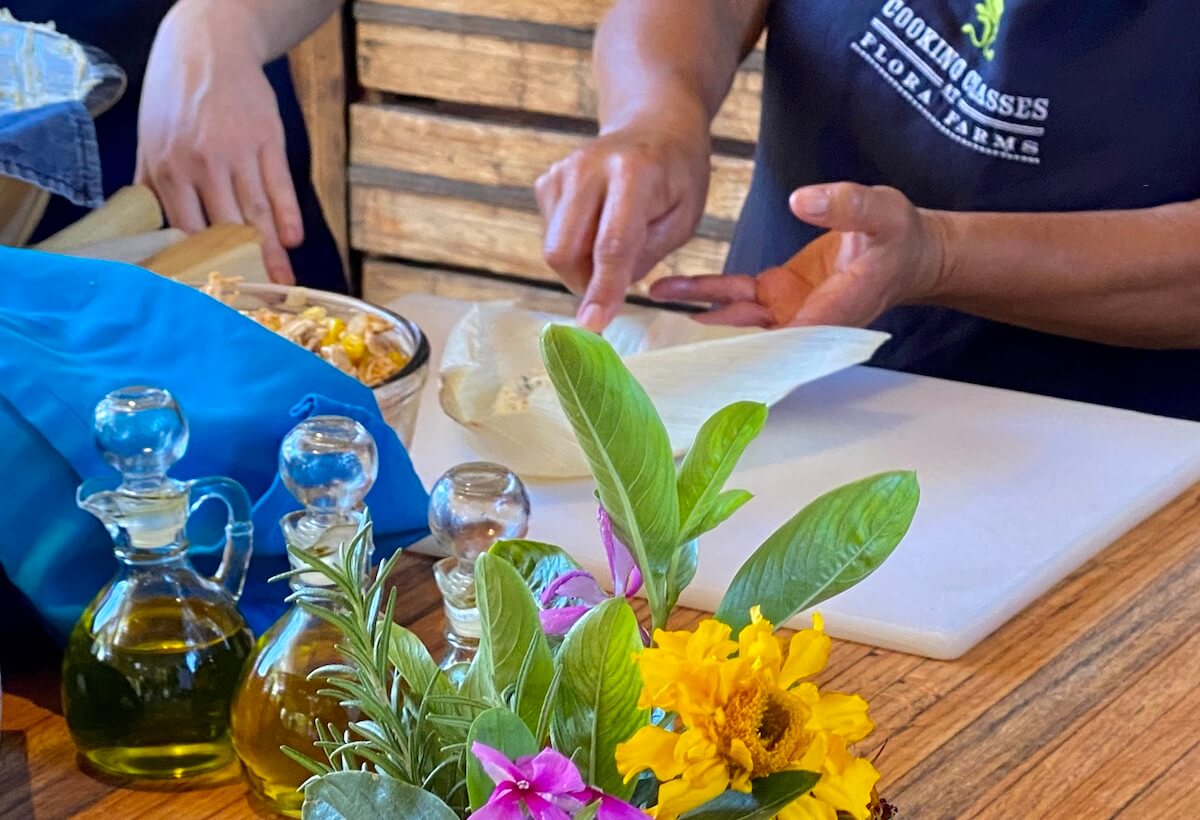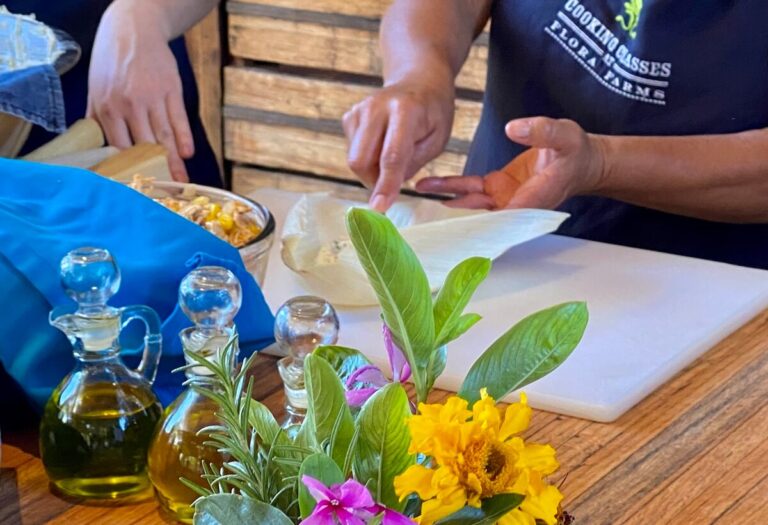 There are three different Mexican food cooking classes you can sign up for:
Mondays it's Roasted Vegetable Tacos with cilantro-lime cream, guacamole, tomatillo salsa and corn tortillas.
On Wednesdays the cooking class menu serves up Seasonal Tamales with hibiscus cream, guacamole, chile de árbol salsa and Caesar salad.
Fridays is the day for Regional Salsas with rosemary guacamole, charred habanero guacamole, and corn tortillas.
Taking a cooking class is a unique thing to do in Los Cabos, not just because it's tasty and fun, but because the skill you'll leave with is a way of taking a bit of Mexico back with you.
And don't worry if you don't remember all the steps. You'll be provided with a recipe booklet to take home.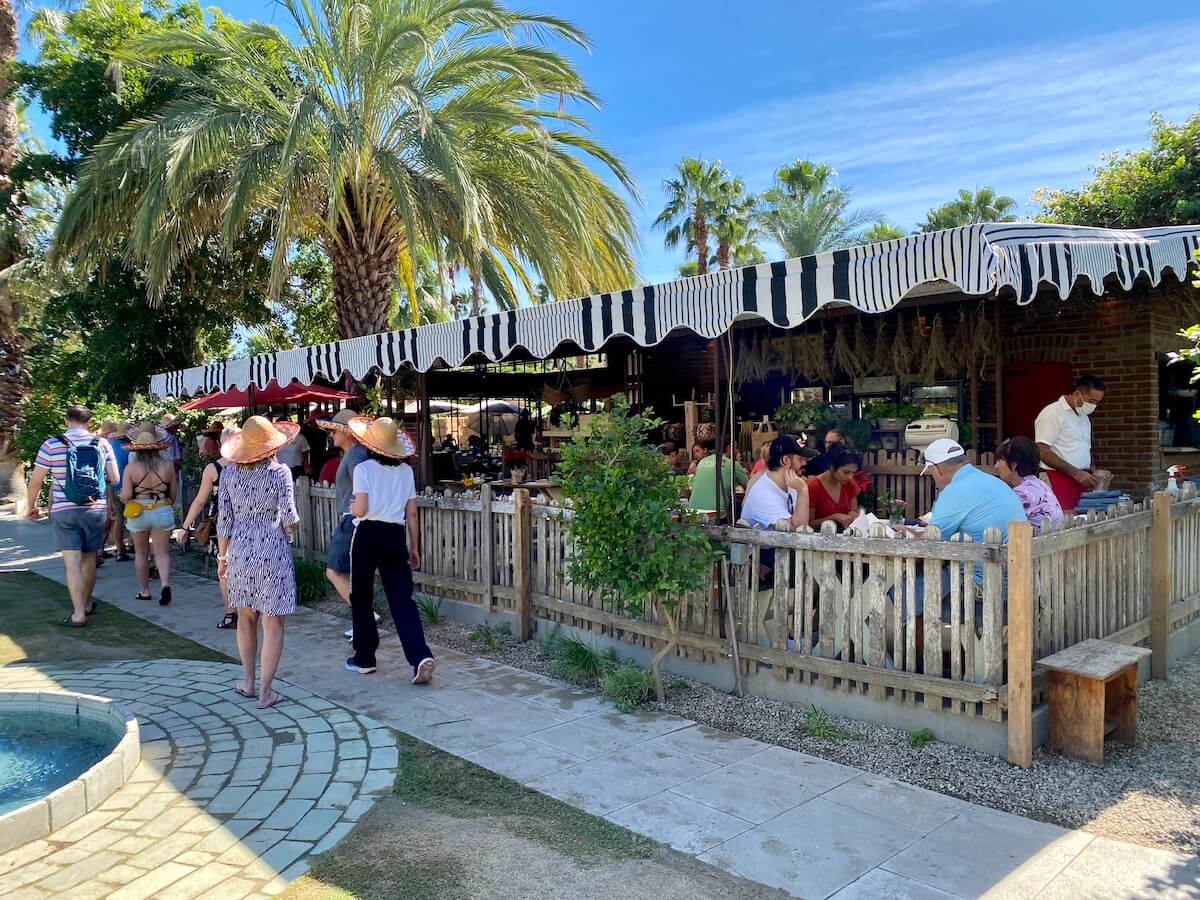 Free Farm Tours
The great thing about farm tours at Flora Farms in Cabo is that they're free. And learning about the property – what is harvested, baked, juiced and cooked here – makes that heirloom tomato Bloody Mary afterwards all the more satisfying.
Helpful Tips for Your Visit to Flora Farms
Flora Farms Reservations
Do you need a reservation for Flora's Field Kitchen restaurant?
Make one to avoid disappointment. You can book on the Flora Farms website here.
Restaurant Hours:
Floras Field Kitchen is closed on Mondays.
Tuesdays to Saturdays:
Breakfast: 9:00 a.m. to 10:30 a.m.
Lunch: 11:00 a.m. to 2:00 p.m.
Dinner: 5:00 to 9:00 p.m. (November-May) / 5:30 to 9:00 p.m. (June-October)
Sunday Brunch 10:00 am to 2:00 pm
How do I make a reservation for a free farm tour?
You can reserve your farm tour here.
How do I sign up for a cooking class?
Email the cooking class director at [email protected].
Do you need to reserve just to visit the farm or shops?
No, you can drop in.
How do you get to Flora Farms?
If you don't have a car, a taxi is your best bet.
What Other Activities Can You Do at Flora Farms, San Jose del Cabo?
The farm has a spa. There are also special events going on all the time. There are art classes, and even cottages for purchase if you like the community (or the food) too much to leave. Visit the Flora Farms website for more info.