This post may contain affiliate links.
The glamorous Le Train Bleu will change the way you think about train stations forever
Le Train Bleu – one of Paris's most beautiful restaurants
Where the heck am I? I crank my head and stare up at a cathedral-like ceiling that is completely, and I mean completely, coated in frescoes and gold. I'm supposed to be in Gare de Lyon to catch my Paris to Barcelona train, but now I'm wondering if I took a wrong turn and ended up at the Petit Palais instead. Or maybe Versailles?
I look down the curving staircase to the ground level of the building where hundreds of people are rushing around with suitcases and tickets. Nope. It's definitely Gare de Lyon and I'm at the entrance of Le Train Bleu.
Le Train Bleu, Paris
Le Train Bleu may look like some grand Belle Epoque palace, but it's a restaurant, the pride of the Gare de Lyon train station. Known for its fine French food such as leg of lamb carved at your table, foie gras and roast veal, the cavernous space is festooned (isn't that a great word, festooned – now say it five times really fast) with ceiling frescoes, elaborate carvings and gilt (another excellent word that conjures up both golden excess and the accompanying guilt at enjoying it).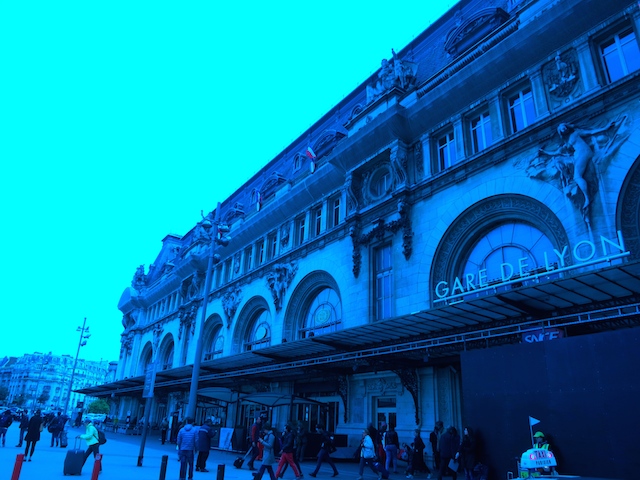 Making a Europe rail journey special
My point is (and yes, I do have one, thanks very much) that even a simple train trip can be transformed into a fabulous journey if you slow down, smell the truffle oil and take time to see what's around you – chances are it's more interesting than you think.
(A simple train trip becomes even more interesting (and harrowing) if it involves bizarre co-incidences, dramatic almost-miss-the-train moments, a high speed TGV train and a Eurail pass from Rail Europe like mine did – which is why this is a 2-part story.)
My Le Train Bleu coincidence
Browsing Facebook from my Paris hotel room (no, of course I don't waste time on Facebook when I travel – I just happened to, erm, accidentally land on Facebook while doing important travel research), I saw that another Toronto-based writer, Patricia Sands, was in Paris. I messaged her, only to learn she and her husband had made reservations for the SAME restaurant on the SAME day at the SAME time I had.
Of all the restaurants in Paris we were both going to Le Train Bleu. Is that not a co-incidence?
(Even weirder, novelist Patricia and I had ended up in Nice on the same day the year before. At that point I'd never met her in person and only knew her through her blog, but we seem to be perpetually on the same track.)
Slow down and smell the … historic stone of the Gare de Lyon
But before you rush into this monumental turn-of-the-century train station, stop. Look around at the Gare de Lyon. The Art Nouveau-style Gare de Lyon was constructed for the World Exposition of 1900, along with other made-to-impress buildings such as the Grand Palais and Petit Palais (now art museums).
Check out the graceful archways and lofty 64-metre clock tower that could be Big Ben's blond sister. See? You've just done something cultural and you didn't even have to go to a museum.
Le Train Bleu – one of Paris's best restaurants
Even if you're not hopping a train and have no interest in Gare de Lyon whatsoever, Le Train Bleu is well worth a visit (just ask Patricia and her husband, who came here just because).
Opened in 1901, Le Train Bleu was designed to be a glamorous icon of modern France, symbolizing travel, technical innovation and luxury. And here you thought a restaurant was for eating in, right?
Wrong! It's so you can stand there with your mouth gaping open. (And if you're lucky some food will miraculously fall in.) Twenty-seven artisans were involved in creating the lavish decor, and the 41 paintings of French scenes were painted by some of the biggest artists of the day.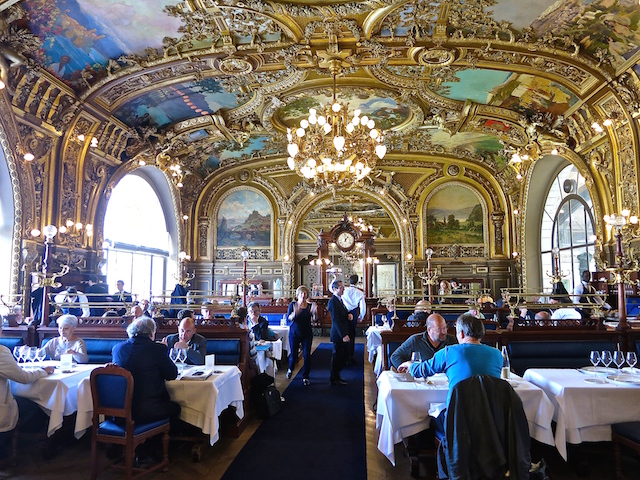 Le Train Bleu Experience
I was very excited to step into this world of historic luxury travel and also excited to see Patricia as I'd been wandering around alone in Paris for three days.
"Is my friend, Patricia Sands here?" I asked the hostess once my bags had been stored in the luggage closet and I'd gawked around sufficiently. "I have a reservation for just one person but I think she and her husband said they'd be here, too, and …"
"No," said the hostess.
"Hey, Carol!" I turned to see Patricia waving against a backdrop of gold. "Glad you could make it!"
So much for being an honoured guest. As I made my way to the table I had the grumpy thought that past regulars such as Coco Chanel, Brigitte Bardot and Jean Cocteau wouldn't have been so easily dismissed. Ah well. I was there for the atmosphere.
You can't eat atmosphere, however, so I scanned the menu, stifling a gasp as I noted the 7-course Train Bleu Menu for €105, though it did come with a glass of Pommery Brut Royal champagne.
"I'll have a salad," I told the waiter.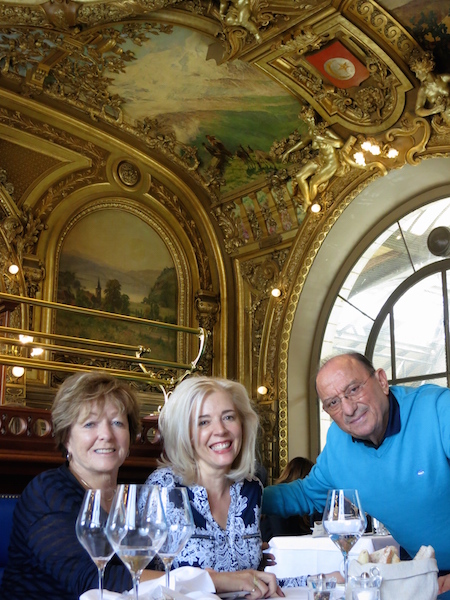 The train station restaurant was the setting for many films
How fun it was, eating my very lovely salad, catching up with Patricia and meeting her charming husband. The news of the day was that Patricia was just finishing up the 3rd book in her popular Love In Provence series.
"Oh, you have to pose with bookmarks or something!" I said.
"I couldn't," she said.
"You can," I insisted. What better place for a photo op than Le Train Bleu? This top Parisian restaurant is celebrity in its own right, having starred in films such as Nikita, The Mystery of the Blue Train (an Agatha Christie mystery), The Tourist and – not least – Mr Bean's Holiday.
No doubt we endeared ourselves to the staff by getting in the way posing gracefully in the aisle, but it's not as if we were the only ones. In fact, I defy you, as a tourist, to stand amidst all that luxury and not start snapping photos.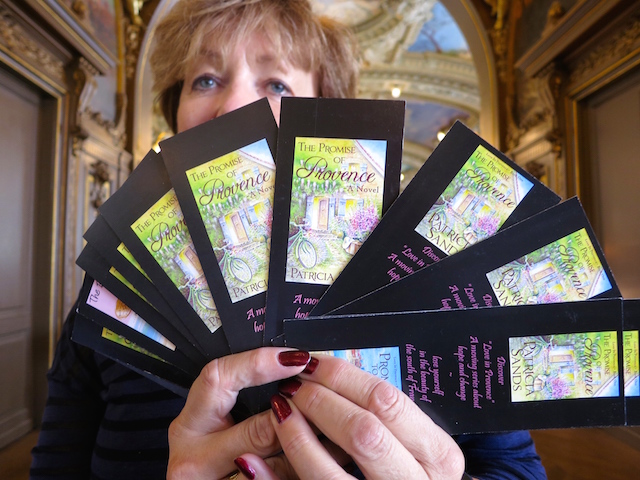 The name of the train restaurant, a humble beginning
While the restaurant started out with the less-than-impressive name Buffet de la Gare de Lyon, it was renamed after the famous Blue Train, Le Train Bleu, that ran the haute monde such as  F. Scott Fitzgerald, Evelyn Waugh and Somerset Maugham to the French Riviera in the 20s.
A sad moment in Gare de Lyon literary history: Since we're talking history, let me tell you it was in Gare de Lyon that Hemingway's wife, Hadley, who was joining Ernest in Switzerland, stowed a small suitcase on her train before going out to buy water in the station.
The suitcase, containing many of Hemingway's manuscripts-in-progess, was stolen. Thoughtfully, Hadley had also brought along the carbon copies, which were also stolen. What a romantic reunion in Switzerland that must have been.
The moral of the train station story: Always watch your bags!
Get me to the train on time
With all the fabulous history and decor, it's hard to leave a restaurant like Le Train Bleu so I lingered – and I would have lingered longer if Patricia's husband hadn't looked at his watch and politely said, "I think perhaps you should go."
(I prefer to think he had my best interests at heart and wasn't simply trying to get his wife back, although it could have been a conspiracy between him and the black-and-white-clad waiters who wanted their aisle back.)
Give yourself time to find your train after eating
I wasn't worried about catching my train because 1) I'd given myself loads of time so I could visit the first class Grand Voyageur Lounge and 2) because I'd wisely validated my rail pass before lunch.
I was wrong. My train station adventure was just beginning, and I quickly learned that while it's good to slow down and enjoy your surroundings, it's also important to keep an eye on the time.
(Go here for the Paris to Barcelona Train Adventure Part 2 and essential Europe by rail train info)
Travel guide for Le Train Bleu restaurant in the Gare de Lyon
About Gare de Lyon Train Station
Where is the Gare de Lyon? The station is at 20 boulevard Diderot in the south east of Paris.
How do you get to Gare de Lyon by metro? You can reach Gare de Lyon Metro Station on lines 1 and 14 of the Paris Métro.
How do you get to Gare de Lyon by RER? The RER on the D Line stops at the Gare de Lyon.
Note for 1st class train travel: If you're traveling with a first class train ticket you have free lounge access at the Gare de Lyon's Grand Voyageur Lounge on Level 1 of the station.
About Le Train Bleu, Paris – the world's best train station restaurant (I may be biased so feel free to prove me wrong)
Like it? Pin it!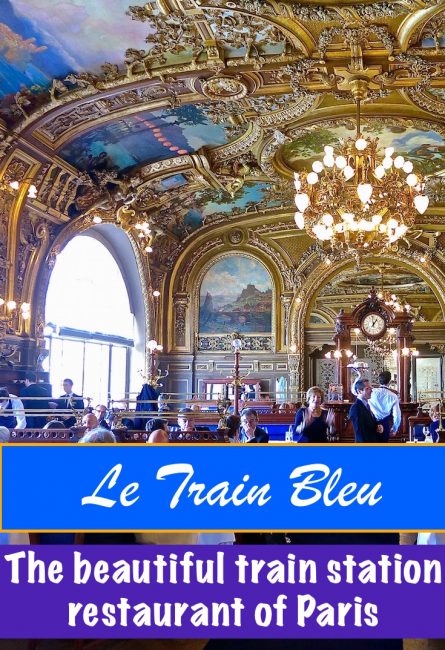 Where is Le Train Bleu Restaurant? Le Train Bleu is easy to find. It's in Hallway 1 on the concourse of the station. Look for the glamorous curved staircase. There is a small elevator to the right side (if you're facing the stairway) through a hallway. Hopefully it works when you're there! It wasn't when I was so I tipped a busboy to carry my bags up. And down.
Menu at Le Train Bleu, Paris: Le Train Bleu also has a lunchtime Traveller's Menu with regional roast leg of lamb, gratin dauphinois and strawberry layer cake for 48€ or a 4-course Art's Menu including wine for €62. There is also an a la carte menu.
No time (or budget) for a meal? You can visit Le Train Bleu's Big Ben bar.
Make a reservation to dine at Le Train Bleu Restaurant Paris – 1st floor, Gare de Lyon, Place Louis Armand.
Planning a trip? Here's a link to my comprehensive Paris travel guide and more destinations in Europe to visit.