This post may contain affiliate links.
Budapest is a musical city and there's no better way to explore this vibrant Hungarian city than with your ears. Here's everything you need to know about Budapest music, Franz Liszt sights, the music-themed Aria Hotel, concerts, the State Opera House and more.
Music in Budapest
I'd like to say I fell in love with Franz Liszt in Budapest for his music, but really it was his hair. It was an instant attraction when I saw him on Liszt Ferenc Square, his bronze locks flying in the wind like all those New Wave bass players I used to date in the 80s.
The chemistry was irresistible. I crawled into his lap. His skin was smooth as steel, cool to the touch.
Franz Liszt statue
I looked up at Liszt adoringly, then realized I shouldn't be throwing myself at him like this as I'm 1) a married woman and 2) already sleeping with Pavarotti back at the musically-themed Aria Hotel Budapest.
Not that I'm the first fan to fall for Liszt, one of the most celebrated pianists and composers of the 19th century. "Women fell for him all over Europe," says Ava, my group's guide.
Lisztomania
Yes, Lisztomania is a real thing. Hungarian-born Franz Liszt toured Europe extensively and was, some say, the world's first rock star, with women fighting over everything from locks of his hair to broken piano strings.
Maybe that's why the smooth bronze lap of the Liszt statue in Liszt Ferenc Square has been worn to a sheen.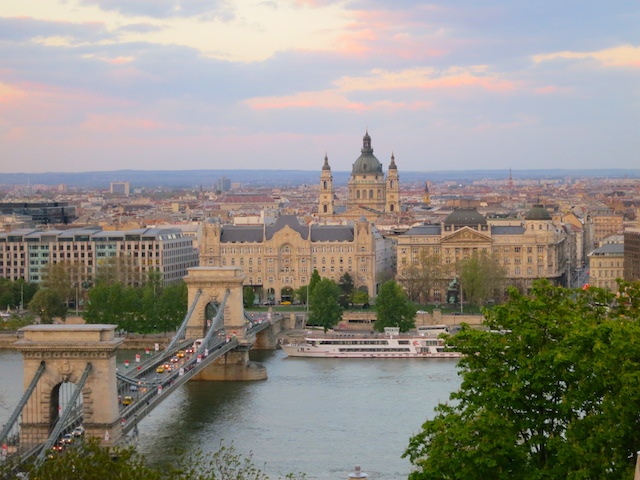 Music sights in Budapest
I give Liszt a last look of longing and go for lunch, thinking that if I've caught Lisztomania, the city is to blame.
Budapest music accompaniments are everywhere in Hungary's capital, from suites named for famous musicians at the Aria Hotel Budapest to buskers in Vorosmarty Square, historic concert halls and the opulent Budapest Opera House.
Spend enough time in Budapest and it's hard not to get swept up in its … er, song.
Anyway, why would you want to? Exploring music in Budapest is a lyrical way to get to know the city, adding a sweet-sounding cultural depth. Plus, it's just fun.
The Old Liszt Academy
In the evening I went to the old Liszt Academy for a concert and here's what you need to know about the old Liszt Academy. It isn't called the Liszt Academy anymore but the Old Music Academy, because there is a different more glamorous Liszt Academy at Budapest, Liszt Ferenc tér 8.
The old Liszt Academy is located in the building where Liszt himself lived from 1881 to 1886. I wasn't sure what to expect, but if it was golden cherubs and dazzling ornamentation (which it kind of was), the old Liszt Academy was a down-to-earth surprise.
The concert hall was nice but not grand, more like somewhere I might have given a piano recital in grade school.
An Authentic Hungarian Concert
It was perfect, a touch of the real Hungary, a concert put on by the senior students of the prestigious music academy that Franz Liszt helped found.
The young musicians' dedication, visible in their looks of concentration as they started to play, reminded me of myself when I was studying piano … or, no, scratch that. Now that I think of it, I was put on probation by my piano teacher for not practicing. A blow to my mother, who has her Grade 8 Piano. (Sorry, Mom!)
Ah well, my failure as a virtuoso doesn't mean I can't appreciate the music of my crush. My eyes close dreamily. The music flows through me. Wait. I open one eye. "This isn't … Liszt," I whisper to Ava.
Pin me!
Concerts in Budapest
"It's Mozart," she said.
Mozart! Somehow I'd assumed everything at the old Liszt Academy would be Liszt. Not that I have anything against Mozart. I just feel a little disloyal, especially when my fingers start tapping softly on the arm of the chair.
Don't worry, Franz, I whisper to the air, Mozart is a mere dalliance. He's nothing compared to you.
Looking to book a concert in Budapest?
Check out a 90-minute concert by the Danube Symphony Orchestra
here
. Or combine a concert with a Danube cruise and dinner
here
.
The New Liszt Academy
After the concert I would have liked to go upstairs to the Liszt Ferenc Museum but it was too late. Instead, we stopped to see the New Liszt Academy.
This more famous concert hall in Budapest has all the Art Nouveau splendour of my lavish-laden dreams: crystal chandeliers, marble pillars and Hungarian-made Zsolnay tiles that gleam with an iridescent sheen.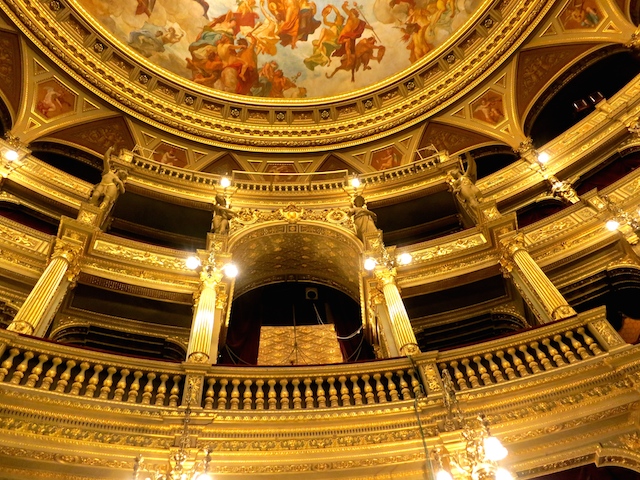 The Budapest Opera House aka the Hungarian State Opera House
The next day, unable to get music out of my mind, I toured the Budapest Opera House. When it was opened in 1884 it was meant to be the grandest of the grand – only not quite as grand as the one in Vienna because the Austro-Hungarian Emperor, Franz Joseph, couldn't allow anything to trump that.
Even so, the Budapest Opera House, renowned for its superb acoustics, is decorous to the extreme and essential stop on any Budapest music tour. In addition to a 3-ton chandelier surrounded by a fresco of Greek gods, so much gold (3 kilos to be exact) coats the fixtures you'd be excused for thinking you've stumbled into a Hungarian Fort Knox.
Check out a Budapest Walking Tour and Opera Visit here.
Another Franz Liszt monument
The best part of the Budapest Opera House was that when I went outside my sweetheart Liszt was waiting for me, sitting patiently in a niche in the Neo-Renaissance facade, and while his expression was a tad stoney (he might have heard I'd spent the evening with Mozart), the connection we had was so strong one could even say it was carved in stone.
The Aria Hotel Budapest
In the afternoon, I returned to the Aria Hotel Budapest, where my whimsical purple and golden Pavarotti Suite made me feel as if I were sleeping in a musical garret (though I hasten to assure you I did try to get the Franz Liszt Suite first, but it was occupied).
Music decor at the Aria
There is always something new popping out at you at the Aria Hotel Budapest: a tiled piano path through the lobby, a musical mural on the breakfast room wall or an obelisk-shaped art installation with flowing piano keys.
Aria's Music Garden Courtyard
As I strolled into the lobby (which will heretofore be known as the Music Garden Courtyard), I stopped by a circular lime green couch cocking my ear like a songbird. It was as if music in Budapest had come to life, right here in my hotel. Was that, could it be … Liszt?
A unique piano concert
Hypnotized I walked closer to the hotel's centrepiece piano, which isn't any old piano but a futuristic grand piano made with carbon fibre instead of wood, developed by Hungarian concert pianist, Gergely Boganyi.
Dark hair flying, fingers fluttering over the keys like wings, a man was playing the piano. My heart skipped a melodious beat. It was Liszt come to life. I was sure of it. I'd willed him here by my passionate devotion.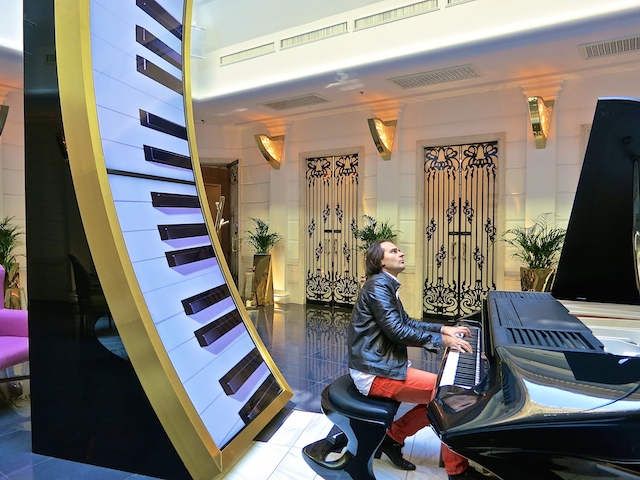 The other Hungarian virtuoso
"It's Gergely Boganyi himself," someone whispered. "The most famous pianist in Hungary."
Ah. Not Liszt but close.
Born in Vác, Hungary, Boganyi began playing the piano at the age of four. He studied at the Liszt Academy, won the gold medal at the International Franz Liszt Competition and was awarded the Liszt Prize by the Hungarian Ministry of Cultural Heritage. If any pianist embodies Liszt, it's he.
My very own Hungarian Rhapsody
I stood mesmerized at this impromptu concert (though not so mesmerized I forgot to press record on my camera).
And in that one moment everything I'd seen (and heard) in the Hungarian capital came together, as if concertos and sonatas and musical notes are the ribbons that tie Budapest together, merging its past with its present, and its concert halls and statues with its musicians and modern hotels, all wrapped up into one perfectly harmonious tune.
Travel tips for a 'music in Budapest' themed trip
The Old Music Academy and the Liszt Ferenc Museum are at Wesselényi u. 52.
The Franz Liszt Academy of Music is at Liszt Ferenc tér 8.
The Hungarian State Opera House (Budapest Opera House) is at Andrássy út 22.
Where to stay in Budapest
A member of the Library Hotel Collection, the Aria Hotel Budapest is a boutique luxury hotel with a musical concept. With their Harmony Spa, year round rooftop High Note Sky Bar and central Pest location near Saint Stephen's Basilica, it's a fun and funky place to stay in Budapest.
Free perks at Aria Hotel Budapest include: Breakfast buffet, daily cocktail hour wine and cheese, an extensive music library and wifi. Check prices and availability for the Aria here. The Aria Budapest is at Hercegprímás 5.
Note: My trip was hosted by Air Transat – all opinions and music love is my own.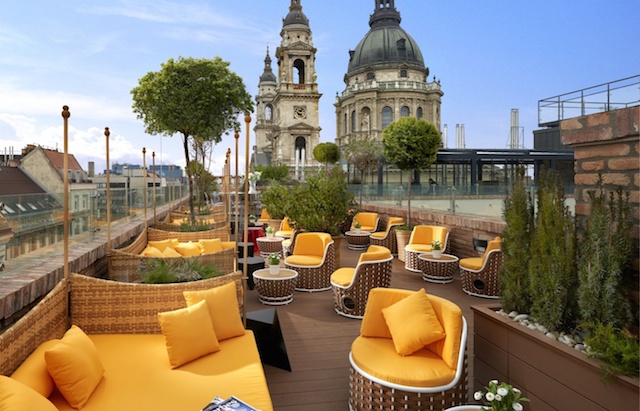 For other fun activities read Things to do in Budapest, Hungary.
Pin me!