Visiting Hungary? If you love wine and hot springs don't miss Eger and the Valley of the Beautiful Women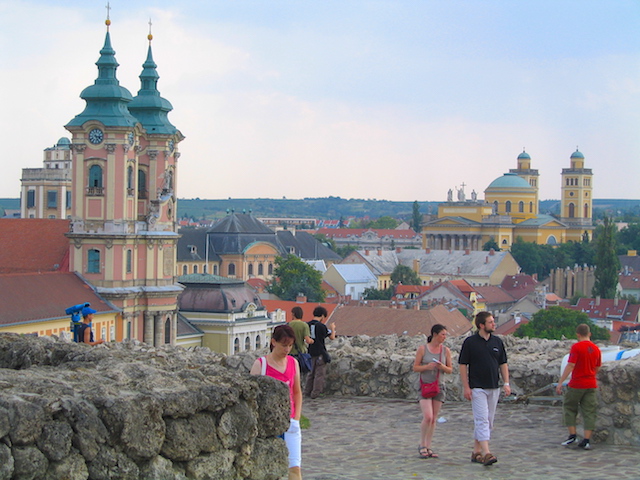 Exploring Eger, Hungary
My search for the Valley of the Beautiful Women was on. I'd arrived in the town of Eger, Hungary, 130 km north of Budapest, the night before, intending to check out the sights. The thermal springs were easy to find, as my chalet-style hotel, the Hunguest Hotel Flora, opened right onto the water park.
Eger, a Baroque beauty
The 13th-century castle of Eger was easy to spot, too. It rose from the town centre, its sturdy stone walls surrounded by pastel Baroque buildings. The Valley of the Beautiful Women was trickier. I only knew that it was a wine valley a 30-minute walk from town, famous for Egri Bikaver, a robust red wine more familiarly known as Bull's Blood, a staple of college students worldwide. Its name is said to have come from the 16th-century invading Ottomans, who believed the fierce Hungarian soldiers got their strength by drinking wine mixed with bull's blood.
The castle of Eger
Deciding anything alcohol related was best as an end-of-the-day activity, I headed first to the castle. It was here, in 1552, that 2,000 wine-fueled Hungarians fended off over 60,000 invading Ottomans. It wasn't just the men fighting. The women of Eger fought, too, pouring oil, soup and hot fat over the invading Turks from the castle ramparts. After a 38-day siege, the Ottomans retreated and Eger was free.
The fact that in 1596 the Turks returned and were victorious is, of course, a less celebrated moment in Hungarian history, though a 40-metre tall minaret is a reminder of their 91-year rule.
If Bull's Blood was going to make me as fearless and feisty as a Hungarian warrior woman, I was all for it. But I still didn't know how to get there, and heading out of town with no clear idea where I was going seemed risky.
I was standing in the main square looking at an ornate pink church when a hokey little tourist train pulled up to the curb. "Do you go to the Valley?" I asked the driver.
"Yes! Yes! Stop at Valley of Beautiful Women for 10 minutes and drink a cup of wine."
It was 6 p.m., the last train of the day, so I hopped on. Crammed in among a group of French families, I clung tight as we sailed through the streets and past the town limits, swooping into a small horseshoe-shaped valley dotted with cave-like cellars.
"10 minutes!" the driver said.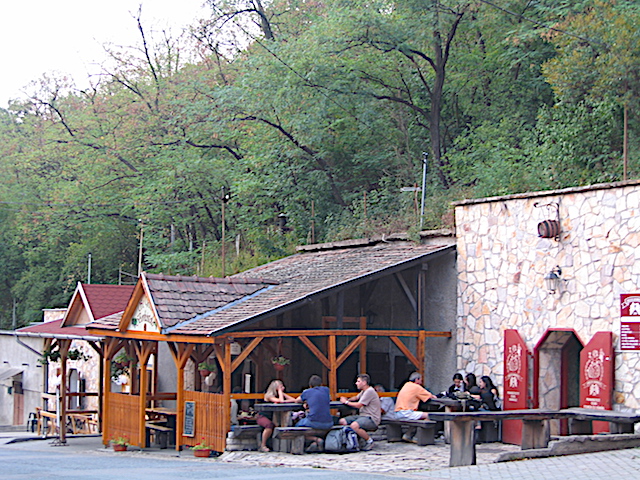 Eger and the Valley of the Beautiful Women
It would take more than 10 minutes to make me feisty and fearless and the Valley of the Beautiful Women looked intriguing, so I decided to ditch the train and worry about getting back later. While some of the wine cellars were dressed up with patios and brick or wooden facades, others had simple creaky wooden doors. Likely dug by locals seeking refuge during the Turkish occupation of Eger, the caves make ideal wine cellars, providing storage and outlets for local vineyards. Like Bulls' Blood itself, the establishments looked unpretentious and inexpensive – the kind where you can bring your own bottle to be filled.
Outside a cellar with a fake castle front, I started talking to an Englishman from Brighton named Dan. His grandfather was from Eger, he said, and he'd been raised on Bull's Blood.
Exploring Eger and the Valley of the Beautiful Women
Glad for an expert guide, I followed him into a tunnel-shaped cellar. Bottles were laid flat on shelves against the wall and pitchers of wine sat on the counter. A blond woman served me a glass of red, then Dan and I cellar hopped around the horseshoe. The highlight was cave 28, where the carafes on the counter looked like science experiments and the Bull's Blood, light and tart, slid down my throat and before I could say I didn't really care for it, it was gone.
In no time at all I'd learned how to say cheers in Hungarian (Egeszsegedre!), that Bull's Blood was a blended wine, and that 2003 was a good year, but I hadn't solved the problem of getting back to my hotel. "Are you walking back to town?" I asked Dan hopefully.
"Sorry, I'm camping near the valley," he said.
I'd have to go back alone. Night was falling, I had only a vague idea of where the town was, and I'd drunk too much wine. At least, I thought, heading out the valley, into the dusk and eventually back to town, I felt fearless about it.
Travel tips for Eger, Hungary, and the Valley of the Beautiful Women
How to get to Eger from Budapest: Eger is a two-hour train ride from Budapest. It can be done as a day trip but the charming Baroque buildings, wine cellars and thermal springs warrant an overnight stay.
Where to stay in Eger: The Hunguest Hotel Flora offers free entrance to the water park and is a short walk to the centre of town. www.hunguesthotels.hu/en/hotel/eger/hunguest_hotel_flora/
Read more about Top Places to Visit in Europe