This post may contain affiliate links.
I try not to haunt (pardon the pun) cemeteries too often as I don't want to give our friend, Death, any encouragement, but as I approach the Modernist Cemetery in Lloret de Mar, a coastal resort town in Costa Brava, death seems as far away as you can get.
Sunshine sparkles off cupids, elongated crosses stretch into the sky and gargoyles crouch over headstones. In fact, the Lloret de Mar cemetery is so exuberant and full of life that for a moment I think I've taken a wrong turn and ended up at Antoni Gaudi's Sagrada Familia in Barcelona.
A Gaudi-esque vision
You won't find the work of Gaudi here, but if there is a Gaudi-esque vision to the Modernist Cemetery in Lloret de Mar, it's because the primary architect behind it, Joaquim Artau i Fàbregas, was a Catalan Modernist of the Gaudi school, as were most of the architects who designed the various tombs and pantheons here.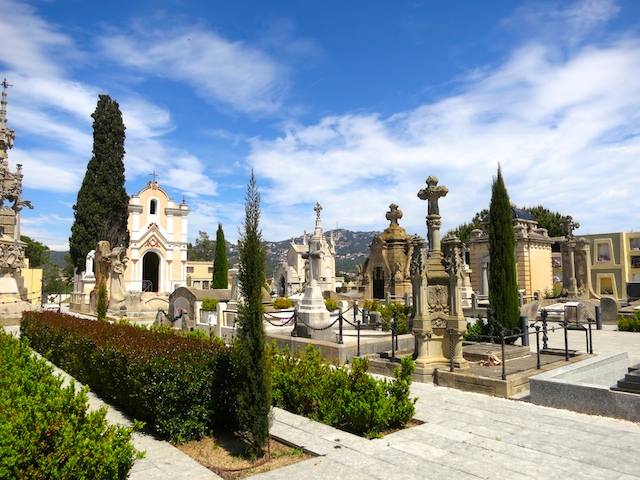 What the heck is Catalan Modernism?
It's crazy, that's what it is. Related to Art Nouveau, but with a strong local flavour, the Catalan Modernist movement dates from about 1888 to 1911. Centred around Barcelona, with Gaudi as its super celebrity, Catalan Modernism is eccentric and imaginative, favouring curved lines over straight, medieval and gothic motifs and organic imagery.
To put it mildly, one would not describe the Catalan Modernist movement as one of minimalism. And that's what makes it so fun.
History of the Modernist Cemetery in Lloret de Mar
Opened in 1901, the Modernist Cemetery in Lloret de Mar was funded by wealthy locals, the Indianos, who had made their fortunes in the sea trade in the Americas before returning home – and what a way to show their status … through art in the permanence of death.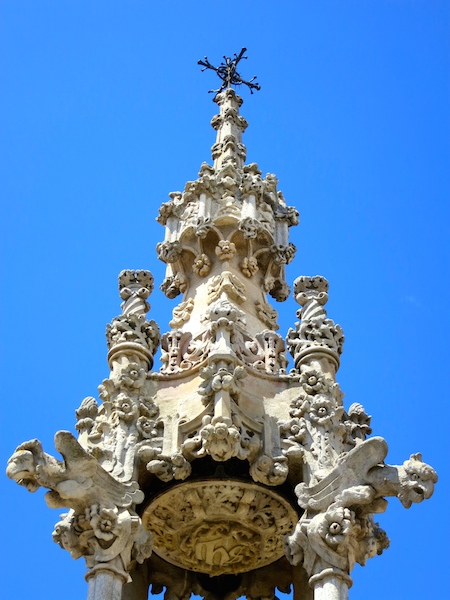 The ghosts of architects past
There's not another soul in the cemetery (at least not one who isn't transparent and floating). It's just me and a sky so blue I think Gaudi himself must have painted it.
As I bound from tombstone to tombstone, taking photos, reading plaques and trying to decipher words such as hypogeum, cippus and Fleury cross, an old woman enters the cemetery. Leaning heavily on her cane, she walks toward the chapel at the back of the cemetery.
I'm not far behind her, intending to enter the chapel to take pictures, then stop. Suddenly I'm embarrassed by the camera in my hand, and for thinking the cemetery is here for my personal entertainment when for those with ties here, such as this woman, it must represent the biggest loss of all.
I hover on the threshold of the chapel. After a minute, the woman comes out and we meet on the doorstep. "Hola," she says, after the briefest pause.
"Hola," I reply.
She nods and heads to the left, toward a wall of smaller blocks, the newer part of the cemetery. I can hear the stump of her cane on the path, like a grandfather clock marking time.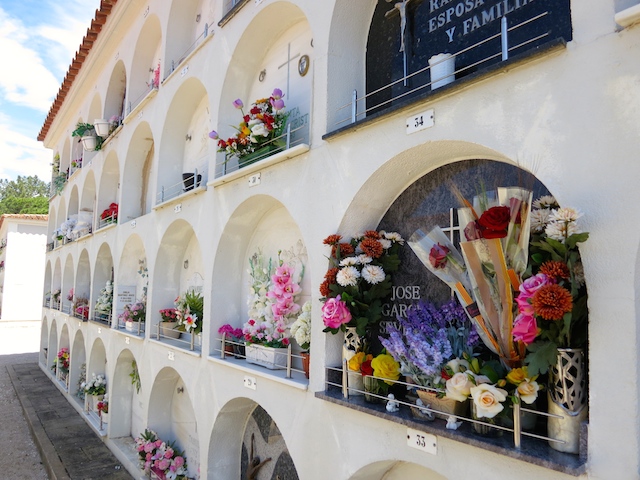 The dark side of cemetery tourism
As I stand there I'm faced with the darker side of tombstone tourism, the ethical conflict of sightseeing on the back of other people's grief.
I think of other famous cemeteries I've visited, graveyards popular on the cemetery tourism trail: Père-Lachaise in Paris where Jim Morrison and Oscar Wilde are buried, and the Tikhvin Cemetery in St Petersburg, Russia, the resting place of Dostoevsky.
When death seems far away
Somehow those cemeteries had seemed so historical and long removed from mourning it hadn't bothered me to be a tombstone tourist, though if I'd run into, say, Jim Morrison's sister or illegitimate daughter among the guitar-playing fans holding vigil by his grave, I probably would have felt differently.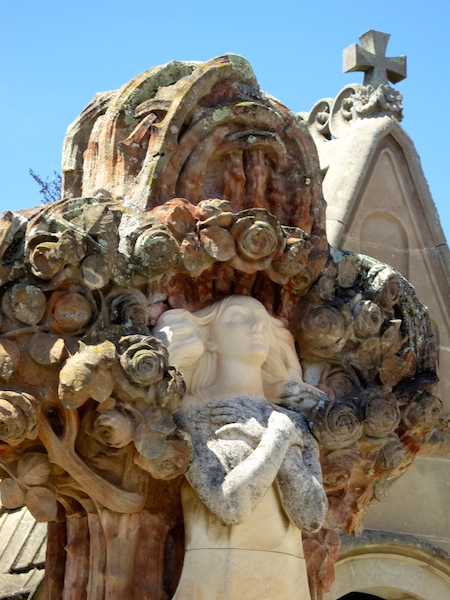 Cemetery tourism and the lure of the graveyard
Just what is it about cemeteries that attract us anyway? The greying beauty of weathered tombs? The atmosphere of peace that seems to carry the idea of eternal rest on its shoulders like a pall bearer? The wistful hope that those we love or admire still linger in the moss and the soil?
It's a strange world, the cemetery, a plateau where life and death intertwine, where we're forced to confront our own mortality and the mortality of those we love.
I wonder who the woman lost, who she has come to remember. Her father? Husband? Chastened, I realize I don't want to be here any longer.
I'm only a few steps past the cemetery when I'm hit so hard by the nectar-sweet scent of elderflowers that for a minute I'm convinced the spirits of the modernist architects have boxed me around the ears with a flowery powder puff, shouting in strong Catalan accents that cemeteries, with all the creativity, love and artistry they inspire, are not just a surrender to death but an affirmation of life, and not something to run away from.
Travel tips for the Modernist Cemetery in Lloret de Mar: The Modernist Cemetery, also known as the Modernist Cemetery of the Indianos, is on Cami de Repos, about a 10-minute walk from Lloret de Mar's centre.
Read more about Northern Spain:
Read more about Europe Top Places to See in Europe
Visit: Lloret de Mar Tourism for more info on Lloret de Mar.