This post may contain affiliate links.
Are you thinking of sightseeing in Lloret de Mar on the beautiful Costa Brava in Spain? Here's how to see all the sights with one day in Lloret de Mar.
Most people go to Lloret de Mar in Costa Brava, Spain, for the beach. Not me. I went to spend four days in a conference room. This left me with only one day in Lloret de Mar to explore and here's how I spent it.
It's not the best day, or the most comprehensive guide to this resort town on the northeast coast of Spain – but it's the only day I had and I am still (metaphorically) hugging it close to my heart.
Where is Lloret de Mar and Costa Brava?
Costa Brava, the 'Rugged Coast' of Spain, lies between Barcelona and the French border. It's popular with budget-minded package tourists, but still has plenty of unspoiled regions and unbeatable sea views. The town of Lloret de Mar is one of the main beach resorts – and after arriving here straight from Paris it seemed shockingly affordable.
One day in Lloret de Mar – consider going to the beach then change your mind
I have a problem with weather. The one time in Lloret I put on my bathing suit and went to the pools at the Evenia Olympic Resort (which is really three hotels together), the wind might as well have come from the far Canadian north. I didn't even make it to a deck chair. I went and lay down in my room instead.
The next night when I went to a roof deck party for TBEX, I wisely dressed warmly, layers on layers topped with a leather jacket. And while I was sweating people were dancing in sundresses! So, with only one day in Lloret de Mar to myself I knew that if I went to the beach and stripped down to a bathing suit it would start to hail and storm immediately. And it would be all my fault and then a thousand million travel bloggers would hate me.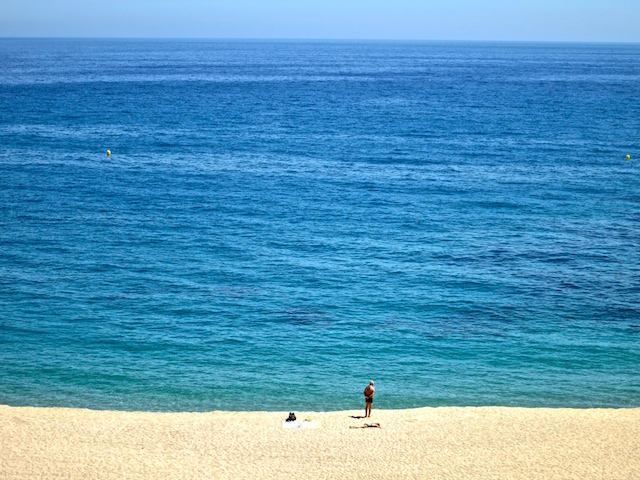 One day in Lloret de Mar – look for the very closest tourist attraction to your hotel
Without a doubt I am the laziest sightseer ever. Also, all of my shoes were giving me blisters, as if they'd suddenly turned into snapping lobsters instead of inert pieces of leather. With this in mind I looked at a map and decided to visit the Modernist-style Cemetery of Lloret de Mar, which is only a few blocks away on Cami de Repos.
If you are at all enraptured with Antoni Gaudi and the Sagrada Familia in Barcelona, then visit the Lloret de Mar cemetery. That crazy curvy exuberant Catalan Modernist style is in full force here and while you won't see any sepulchres or anything else by Gaudi, it's fascinating to see an example of the modernist movement beyond Gaudi's rock star attractions in Barcelona.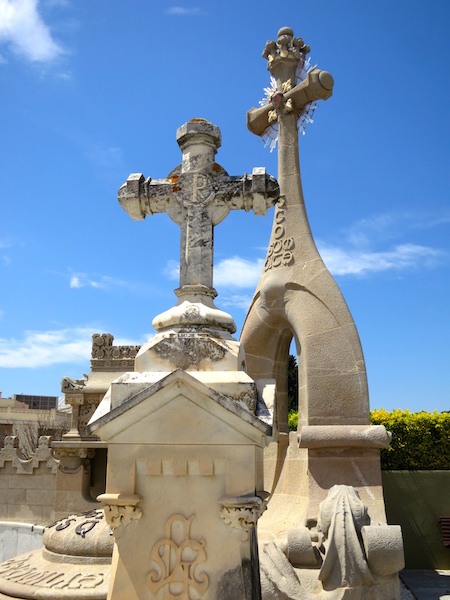 Search in vain for the Hermitage of Sant Quirze
According to my Lloret de Mar tourist brochure, the Chapel of Sant Quirze is the oldest chapel in Lloret de Mar, possibly dating back to the time of a Christian Roman General named Quirze.
According to my map, the Hermitage of Sant Quirze is very near the Lloret de Mar Cemetery, and so when I saw a sign I followed it only to end up back where I started, so I gave up and decided to walk down to the beach.
Beaches of Lloret de Mar in Costa Brava, Spain
The longest beach in Lloret de Mar is Lloret Beach. It's 1.5 km long and in the centre of town. There are also lots of happy holidayers there and, knowing they would all have bathing suits and beach towels and probably umbrellas and coolers, too, and that I would become jealous and bitter when I saw them, I angled west to Playa de Fenals, or Fenals Beach instead.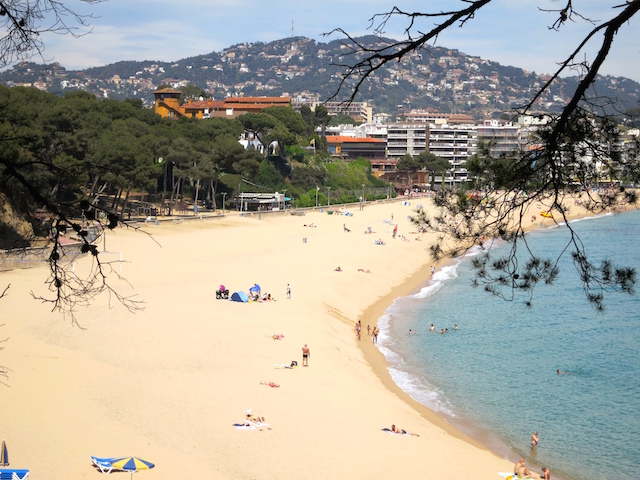 What you need to know about the beaches of Lloret de Mar
Beaches are not in short supply in Costa Brava. Coves and bays are separated by craggy cliffs, and up on the hilly parts between beaches there are walks and attractions that will leap out at you when you least expect it.
Fenals Beach
I liked Fenals Beach at once. It's sleepier than Lloret Beach, set in a sheltered bay. The sand looks decent and the water a lovely costume-jewelry blue. I walked the length of the promenade past the Snack Sunshine Bar then up into the hills.
Trails in Lloret de Mar
Wandering through the pines and oak-filled Coastal Forest was shady and peaceful with views of the Mediterranean below.
I saw a sign for the Hermitage of Santa Christina, a Neoclassical chapel from the 18th century with roots that go back to 1376, and thought that might be interesting. However, being in happy wandering mode rather than in purposeful goal-oriented mode, I was suddenly following signs for the Santa Clotilde Gardens instead.
Santa Clotilde Gardens
Created 1919, the Gardens of St Clotilde are modelled after the Italian Renaissance, with space, colour and the landscape all working together to create balance. It's a prime example of the Noucentisme Movement, which (and I had to look this up) is a Catalan movement that was a reaction against the Catalan Modernist Movement, and emphasizes order and classicism – and also proves that everyone in the whole wide world hasn't always been in love with Gaudi after all. (Nice sea views, too.)
Snack Sunshine Bar
It wasn't my intention but somehow I ended back at the Snack Sunshine Bar, and if you're looking for authentic Spanish tapas and atmosphere … erm, probably this isn't the place. It's right on the water though, so if you're after a beer break while sunbathing, this should suit your needs.
After my lunch of veal and salad I sat just outside the loo at the back of the restaurant on a low wall to add a second layer of bandaids to my blistered feet.
Connecting with nature on the Costa Brava
As I was sitting on the wall a woman came to use the facilities and, just as if a hand slammed down a can of white paint from the sky, the biggest splash of white ick landed between us. The woman must have jumped a foot in the air. I've truly never seen anything like it (the deluge, not the woman).
We both looked up to the sky in fright but didn't see any pterodactyls or other huge flying creatures so finally the woman delicately stepped over the large abstract design on the cement and we went our separate ways. What an exceptional way to connect with the indigenous wildlife.
Wrapping up our One Day in Lloret de Mar itinerary (or trying to)
At this point I had seen enough, so I walked back up the hill I'd come from and down the other side toward Lloret Beach as I knew the way from there. But it wasn't Lloret Beach I ended up on, it was a small cove called Cala Banys, which would have been terrific in an oh-I-found-a-hidden-beach-I'm-so-special kind of way if you had a car and didn't have to walk all the way back up the hill, which by now you have taken an intense dislike to.
Castle of Sant Joan
Then poof! I found myself at the 11th century Castle of Sant Joan, which is pretty much just ruins now but the restored keep is impressive. I was also impressed (she says modestly) by the fact I'd managed to fit in another Lloret de Mar tourist attraction, when all I'd set out to do was see the Modernist Lloret de Mar Cemetery and be lazy.
The cat park of Lloret de Mar
I'm not saying this is creepy (except it is) but once I made it back to Lloret de Mar, though still with no idea where I was, I came to a small park. A park meant benches to rest on so I waltzed on in only to be hit by a horrific smell – the smell of a cat litter box that has never ever been changed and in all likelihood never will be.
Then I saw them. Cats. Cats everywhere, lounging, lolling, stretched out in the shade, some hissing, some climbing, some just looking philosophical.
Now I am a cat person, and if I weren't married, would surely aspire to being a batty old cat lady right here and now, but even I had to admit that this was not just smelly but surreal.
(If you want to find this mysterious cat world for yourself, search for a place called Travessia de les tres Creus.)
In its own way this park of cats was just as fascinating as castles and coves, simply because it was so unexpected. Trying not to breathe too deeply, I sat down on a bench thinking of towers and cemeteries, of modernism and anti-modernism and pine trees and free-roaming cats, and came to the conclusion that as beachy as Lloret de Mar is, it has an even larger life beyond the sea.
Travel tips for Lloret de Mar, Costa Brava, Spain
Getting to Lloret de Mar: I was coming from Paris so I took the AVE high speed train to Girona. From Girona I took a bus. The bus station is right next to the train station. You can buy your ticket on the bus. It cost about 5.95 Euros and took around 45 minutes.
If you're coming from Barcelona you can take the train to Blanes and a bus from there. The Sarfa bus leaves from the Barcelona Airport or from Barcelona Nord Bus Station.
Looking for a fascinating day trip near Barcelona? I loved visiting Montserrat.
Where to stay in Lloret de Mar
As I said, our conference was based at the Evenia Olympic Resort. The cheapest of the 3 hotels in the resort is the Evenia Olympic Park, though all 3 hotels share facilities and in all honesty I never had a clue which part of the resort I was in. It's not uber glamorous, but neither is Lloret de Mar (no offence, with views like that, you don't need to be) and I thought the resort's pools and grounds were excellent.
The bad thing about the Evenia Olympic Resort: It's not in the centre of Lloret de Mar, but about a 10-minute walk to the beach. The good thing about the Evenia Olympic Resort: It's not in the centre of Lloret de Mar but a 10-minute walk to the beach – the town has its fair share of tacky souvenir shops, night clubs and bars and you might like to get away (though I did see a couple of higher end stores as well). Above all, I truly loved the helpfulness of the staff at the hotel.
Check availability and prices:
Things not to miss in Lloret de Mar (except somehow I did)
The Parish Church of Sant Roma Chapel – Built in Catalan Gothic style, it dates back to the 16th century but has modernist additions. I'm seriously annoyed I missed this.
The Neoclassical Lloret de Mar Town Hall on the Placa de la Vila – I'm seriously amazed I missed this. How I became a travel writer is beyond me.
There are a gazillion more things to do in Lloret de Mar: Visit Lloret de Mar Tourism for info and enjoy.
If you're a travel blogger or interested in becoming one here's the link to TBEX, the Travel Bloggers Exchange site.
Read more: on Top European Destinations