Another sacred spot, another failure. Ah, well. I look out over the wind-rounded ridges of Montserrat Mountain, Spain, wondering if I'll ever live up to people's expectations. Truthfully, I'd rather dodge them altogether. The wind blows my hair as I look past the Cross of St Michael and down over the valley floor of Catalonia.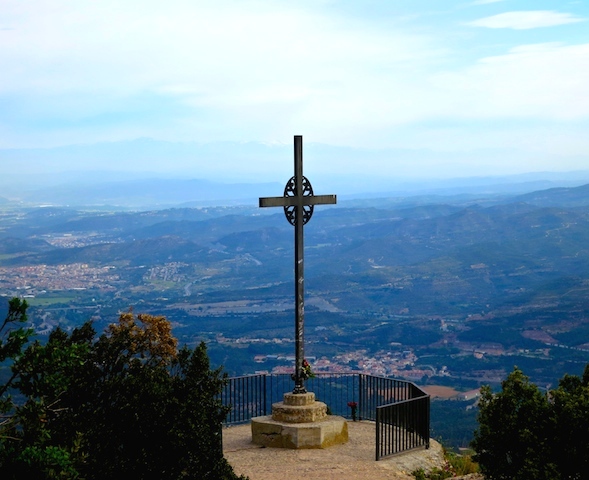 Just breathe
I breathe. Spread my arms wide like the cross. This is why I signed up for this tour of spiritual places in northern Spain. For a chance to experience the Sierra de Montserrat, a mountain ridge so improbable and moving the German philosopher Goethe declared, "Nowhere but in his own Montserrat will a man find happiness and peace."
Like Goethe, I'm here at the 'Serrated Mountain' to find my inner Montserrat.
What I've found so far, however, is (yet another) confrontation with my non-robust self, my dread of pre-dawn tours and desire to hike alone (except when worried about serial killers and wild boars). A person who let the group down.
It's not as if I set out to be a failure. In fact, let's not call it failure. Let's call it: Finding My Own Path, Which Happens to Be Slower, And Possibly Shorter, And Hopefully More Downhill Than Everyone Else's Path.
Montserrat – the Serrated Mountain
At least our guide, Carlos, had been understanding when I'd confessed I wasn't up for a pre-dawn 5-hour hike up Montserrat Mountain, so my companions, a handful of travel bloggers went without me.
The Cross of St. Michael was to be their first stop, where they were going to watch the sunrise and drink hot "Coca de Montserrat" and I'm sure it was a life-changing moment full of camaraderie and epiphanies. My eyes sweep the ground for telltale signs of their stop, an empty cup with chocolate dregs crusting the bottom perhaps or little paper flags from their home countries of Portugal, Norway and USA.
Of course there is nothing. It's just me and Montserrat, a mountain that rises up so unexpectedly from the plains of northern Spain it's said to have been carved by angels.
Where is Montserrat Mountain in Spain?
Sitting about 50 km northwest of Barcelona, the 10-km long Sierra de Montserrat mountain ridge was formed, if not literally by angels, then by a delta that deposited a mountain's worth of sediment, gravel sands, and pebbles in a long-vanished ancient lake.
Then, for the last 20 million years or so rain, wind and acidic soil have used Montserrat Mountain as a way to express their creativity, carving and eroding it into fanciful shapes and needle-like columns.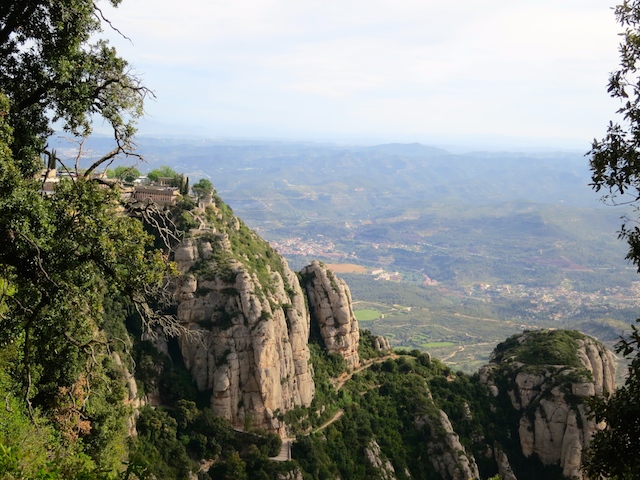 From some angles it looks like a mass of (slightly squashed) organ pipes sculpted from clay. At other times it looks cartoonish, the Flintstones version of a sacred mountain. Some say it looks like the fingers of God reaching up. One thing is certain, it's a tourist destination with a presence and one of the most popular day trips from Barcelona.
A sacred mountain
Above all, Montserrat is a pilgrimage spot. The devout come to see the Black Madonna, a wooden statue found glowing in a cave back in 880 AD. The statue, carved by St Luke himself, has a mind of its own. When it refused to be moved from Montserrat Mountain, by suddenly becoming enormously heavy and impossible to move, the powers that be (the 'powers' in this case being Count Wilfred the Hairy) ordered a chapel built around it. A benedictine monastery, the Santa Maria de Montserrat, was established in 1409.
(Mysteriously, the statue of the Black Madonna dates back to the 12th-century Romanesque era, making it 300 years younger than its actual discovery, but no matter – that's how miracles work.)
What is Montserrat, Spain?
For the Benedictine monks who live here, Montserrat is the 'Holy Mountain.' For hikers, it's a natural paradise and to New Age believers it's the heart chakra of the world. In essence, Montserrat is many things to many people, and I'm trying to figure out what it is to me.
Montserrat Museum – St Jerome
I'd like to hike farther (yes, I would so!), but I need time to visit the Montserrat Museum on St Mary's Square. Among the many artworks there is the famous Caravaggio painting, St Jerome in Meditation – a dark brooding painting that suits my contemplative mood.
Montserrat Museum – the accidental museum
Montserrat Museum was created almost by accident – a Spanish-born phoenix that rose from the ashes of Napoleon's troops, who sacked the monastery in 1811 in retaliation against the Catalan guerrilla fighters who'd holed up here. If they could have they probably would have smashed Montserrat Mountain itself.
The ruin of Montserrat Monastery in Spain
Montserrat Monastery was destroyed, its precious jewels plundered, artifacts smashed – though the Black Madonna escaped unscathed. Montserrat was forced to re-invent itself, or at least to rebuild. When the new Montserrat Basilica was erected in the late 19th century, the monks bought a few paintings for its walls, but unexpectedly so many donations of artwork poured in, the vast majority from Catalan donors, that a museum practically established itself.
I take a last look out at the valley. Do I need to re-invent myself, I wonder? Re-build myself into something bigger and better, someone who doesn't desert her team? I place my palm against the rock of the mountain, as if to tap into Montserrat's earthy energy, then give it a pat and walk on. After a few steps I come to a crossroads. One path leads up Montserrat Mountain; a challenging trail the group must have followed.
I take the other path, the one that leads down.
What do you do with your inner Montserrat once you find it?
A bird flashes out of a yew tree. I pause at the statue of an angel and think about what I gained from not keeping up. A leisurely breakfast (mountain sunrise not included) in the stone-lined dining room of the monastery hotel. A hike in the silence of early (but not too early) morning before the tour buses arrive. No blisters.
I start swinging my arms as I lope down the trail. Maybe life isn't all about challenge and self-improvement. Maybe you don't have to climb every mountain in your path – at least not every day. Maybe finding your inner Montserrat isn't enough to give you the peace and happiness Goethe refers to, you have to accept the person you find.
(And PS: When I showed up for our hike the next day to the Cami dels Bons Homes, the Good Men Trail, near Berguedà, at the lovely hour of 10 a.m., only one other person wanted to go. Everyone else's feet were too sore.)
Not in my defence: The two bloggers from JustaPack.com went back and did the entire Good Men Trail. Here's Randi's story about the hike I didn't do in Montserrat. And here is Tawanna's story over at Mom's Guide to Travel about the hike I didn't do in Montserrat. I told you I missed out!
A Montserrat Mountain, Spain, Travel Guide
As a day trip from Barcelona – Montserrat is a popular day excursion from Barcelona, which is precisely why I don't recommend it (unless your only other option is not to go at all.) The real magic of Montserrat, Spain, happens after the tour buses depart and before the arrive in the morning. It gets really crowded during the day.
Getting to Montserrat Monastery, Spain, by train (to a mountain that rises out of the plain)
To get to Montserrat Mountain from Barcelona take the train from Espanya Rail Station. (Line 5 towards Manresa.)
Then take either the Cable Car from Aeri Montserrat Station or the Rack Railway Cremallera Funicular from Monistrol Montserrat Station up to the monastery.
Or, you can be a pilgrim and walk up from the foot of the mountain. (As you can guess, this was not the option I selected.)
If you're visiting other destinations in Europe you might want to travel with a rail pass, Rail Europe offers a variety of passes.
Where to stay on Montserrat Mountain, Spain
There are a few options to stay at Montserrat Monastery. One is to do a religious retreat and I'm seriously thinking of returning to this spectacular place to do just that (at which time, of course, I'll be hiking before dawn every day).
Note: While the Monastery of Santa Maria de Montserrat is a Benedictine monastery, people from any religion (or non religion) are welcome to visit. The 'Holy Mountain' is for everyone.
I stayed in the most deluxe option, the 3-star Hotel Abat Cisneros beside the monastery. The building has hosted visitors and pilgrims since 1563. It's basic but I liked it, and talk about a room with a view. Prices vary depending on when you stay – a room in August on a Saturday night for 2 for example is €63 but can go as low as €32.
There are also apartments at the monastery, the Abat Marcet Apartments built in the 60s – they'd make a good base to explore Montserrat from.
For more information on Montserrat Mountain visit the monastery website.
For more information on visiting the area around Barcelona visit the Barcelona Territory website.
What to do in Montserrat Monastery, Spain
1) Listen to the Montserrat Boys Choir, Escolania. It's one of the most prestigious – and oldest – boys choirs in Europe. Historical records show there was a choir in Montserrat as far back as the 13th century.
The Montserrat Boys Choir sings daily in the basilica at 1:00 p.m. (Except during July or at Christmastime, though you should check the website to be sure). Here's another reason to stay in Montserrat overnight. The choir also sings in the evening at 18:45 – and there is no crowd. It's truly rather otherworldly.
2) View the Black Madonna. 'La Moreneta.' This is the most venerated relic in Catalonia so be prepared to wait in line.
3) Hike. Yeah, yeah, I'm a fine one to talk. But there are a number of hikes and walking paths on Montserrat Mountain, and it's one of the best ways to experience the destination.
4) Go up. Way up. From the Monastery of Montserrat you can take the Funicular de Sant Joan – the steepest funicular in Spain – up to the top of Santa Magdelana. From here you can follow a footpath to the Hermitage of St. Jeroni. Note: The peak of St Jeroni is the highest point of Montserrat Mountain – 1,236 metres.
5) Visit the Montserrat Museum. It seems unlikely that such a prize of a museum would be found way up a mountain, but the Montserrat Museum has a serious collection of art, especially strong in Catalan masters. Highlights, in addition to the Caravaggio, include work by Picasso, Miró, Dalí and the famous Post War artist, Antoni Tàpies, whose Modernist abstract painting Montserrat segle XXI hangs on the museum walls.
6) Tap into some mystic planetary energy. Some believe the planetary heart chakra energy spot stems from the mountain of Montserrat. To be more precise, the energy spot is located in the centre of the atrium of the Montserrat Basilica – so if you see people spontaneously hugging each other or reaching up into the sky, you'll know why.
Read more about Europe Popular Places to Visit in Europe
Read more Spain: Top things to do in Lloret de Mar and Tombstone Tourism and the Modernist Cemetery of Lloret de Mar