This post may contain affiliate links.
Barcelona Montserrat Tour: How to Arrange Your Trip
Are you planning on doing a Montserrat day trip From Barcelona? If you are, you might be wondering which is better, joining a group, doing a private Montserrat tour or going on your own.
This article tells you how to do all three. And the top things to do in Montserrat once you're there.
Can You Stay in Montserrat Overnight?
Yes, it's very atmospheric to linger longer and stay overnight. This way you can dodge the crowds and enjoy the monastery's peaceful simplicity. If you want to stay overnight in Montserrat, we'll tell you how to do that, too.
We'll also look at the top things to do in Montserrat once you're there – because Montserrat Mountain, one of the top attractions in Spain, is much more than a single thing. It's an experience.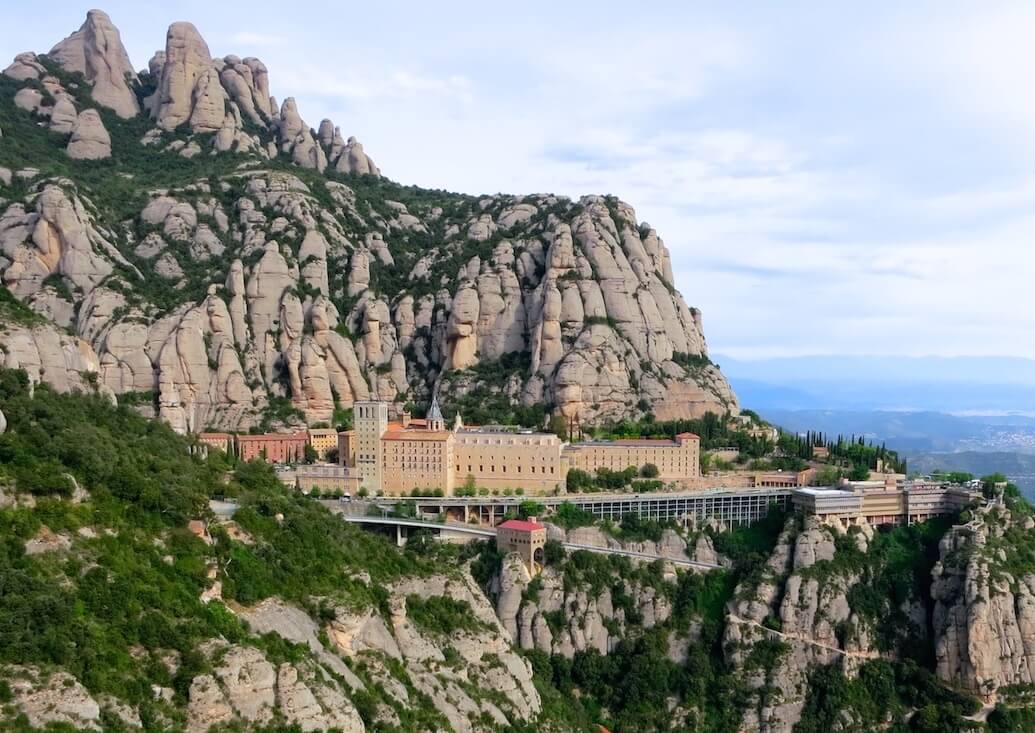 About Montserrat Mountain
Located high in the Serrated Mountains (so called because the top of the mountain range looks like a the jagged edge of a saw), Montserrat is a monastery, an area of astounding natural beauty and a destination. It has incredible views, hiking trails, museums, restaurants and even a couple of cable cars.
A Sacred Site in Spain
Montserrat Mountain is one of Spain's most sacred sites. Chapels built by hermit monks have existed here since at least the 9th century. Its past is bloody, mystical, and uplifting all at once – and the more you learn about it, the more engrossing it becomes.
Today, the Santa Maria de Montserrat, a Benedictine abbey improbably built into the mountainside attracts both tourists and the devout, while the hiking trails and otherworldly scenery are equally powerful lures.
A Unique Place to Visit Near Barcelona
Montserrat Mountain rises up so unexpectedly from the plains of northern Spain it's said to have been carved by angels.
The incredible 10-km long Sierra de Montserrat mountain ridge was formed, if not literally by angels, then by a delta that deposited a mountain's worth of sediment, gravel sands, and pebbles in a long-vanished ancient lake.
Then, for the last 20 million years or so rain, wind and acidic soil have used Montserrat Mountain as a way to express their creativity, carving and eroding it into fanciful shapes and needle-like columns.
There are a number of ways to tour Montserrat from Barcelona, and this can make organizing your trip feel overwhelming. Let us help you sort it out.
Montserrat Day Trip From Barcelona
Can you visit Montserrat in one day? Absolutely. Most people do.
Travelling to Montserrat, Spain, makes a great day trip from Barcelona. A stunning mountain monastery high in the Sierra de Montserrat, this unique Spanish destination is only 50 km (30 miles) from Barcelona, but a world away when it comes to landscape, tranquility and atmosphere.
The Montserrat Mountains attract tourists, hikers, spiritual pilgrims and lovers of history alike. You can do a Montserrat Barcelona tour in a day, though you can also linger longer and stay overnight to dodge the crowds and enjoy its peaceful simplicity.
If you want to stay overnight in Montserrat, we'll tell you how to do that, too.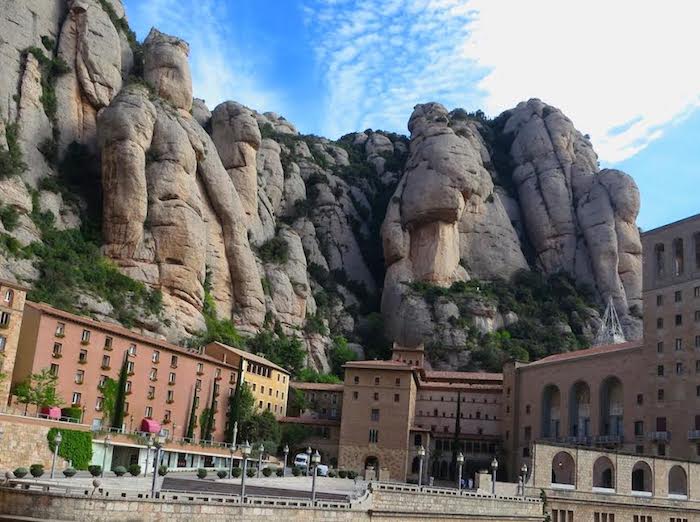 The Serrated Mountain
From some angles the mountain looks like a mass of (slightly squashed) organ pipes sculpted from clay. At other times it looks cartoonish, the Flintstones version of a sacred mountain. It's called the Serrated Mountain because its peaks resemble the rough edge of a saw.
Some say the Montserrat Mountain range looks like the fingers of God reaching up. One thing is certain. Montserrat Mountain is a tourist destination with a powerful presence and it's one of the most popular day trips from Barcelona.
Tours from Barcelona to Montserrat
One way to visit Montserrat from Barcelona is by signing up for a tour. You can do a group tour or pay more and opt for a private guide. Below we'll talk about the pros and cons of both.
Private Barcelona Montserrat Tours
There are a number of benefits in doing a private tour to Montserrat from Barcelona: namely space, privacy and flexibility. A private tour is more tailored to you and your schedule than a shared tour, and you won't be herded around in a group.
You also don't need to stand around and listen to that annoying person in the group who asks 100 questions, unless you and your party want to ask 100 questions.
One reason to choose a tour over an independent visit is that you'll get the expertise of a private guide.
Which is Better? A Montserrat Private Tour or a Group Tour?
Two factors to consider when deciding whether to book a private tour or a group tour to Montserrat are ease and time.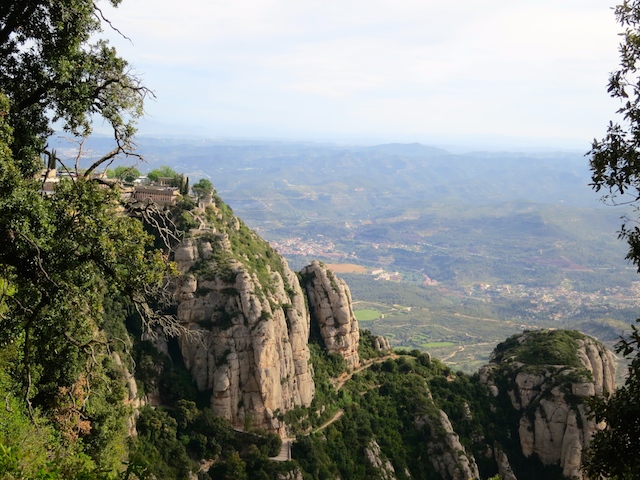 Most private tours (and some group tours) include hotel pickup. This makes a Barcelona Montserrat day trip easy. If it's a private tour you won't waste time driving around picking up and dropping off other passengers. You also don't need to deal with public transportation.
The downside of a private tour, of course, is price. Then again, Montserrat is a special place and deserves special attention – if it's in your budget.
It's worth checking if a tour costs per person or per group. If it's per group, a private tour can work out to be quite affordable.
But if a private tour is not in your budget, don't worry, there are several other great ways to tour Montserrat.
Booking a Private Barcelona Tour Montserrat
Here are some options for private Montserrat tours:
From Barcelona: Montserrat Private Guided Tour and Cable Car
This Barcelona Montserrat Private Guided Tour and Cable Car includes hotel pickup, a private guide, and, of course, the trip up the mountain for the region's spectacular views. The bonus is that this tour also offers an optional hike.
Prices from $500 USD for two. Check out other prices and availability.
A Private Tour From Barcelona: Montserrat Half-Day Wine and Tapas Trip
This private Montserrat tour has more of a wine and food focus, with a visit to a boutique winery where you will learn about Catalan wines. It includes a short visit to Montserrat. The price per group starts at $764. Check times and availability.
More Affordable – A Barcelona Private Day Trip to Montserrat with Lunch by Train
If you want the personalized service of a private guide but prefer to go by train, one option is this Barcelona Private Day Trip to Montserrat with Lunch. It clocks in at $158 per person. Check it out here.
Barcelona to Montserrat Tours With a Group
Many people choose a group tour for their Barcelona day trip to Montserrat Monastery. It's a good option if you want the expertise of a guide and don't want to deal with figuring out train schedules or buses. They can also be good value.
Another reason to do a day trip with a group is that it's a fun way to bond with other travellers, especially considering you're sharing an experience as unique as Montserrat, a Spanish landmark that has an energy all of its own.
The Best Guided Barcelona Montserrat Tours
If you think a guided day tour of Montserrat is for you, here are some group tours to choose from.
From Barcelona: Full-Day Montserrat & Wine Small Group Tour
This might be the most popular way to tour Montserrat – combining a wine tour with a visit to the 'magic mountain.' Walk through vineyards, explore Montserrat National Park, see the Black Madonna in the monastery and learn about Catalan culture.
Prices from $116. Check availability here.
Montserrat Monastery: Guided Tour with Early Access
This 5-hour tour of Montserrat Monastery includes transportation from a Barcelona meeting point and a visit to Montserrat Museum with skip-the-line access. Price from $65. Check it out here.
Small Group Morning or Afternoon Tour With Hotel Pickup
Most Barcelona Montserrat tours start in the morning but this Montserrat Half Day Trip has an afternoon option as well. Nice if you want to linger over breakfast. The small group tour is limited to eight people so you won't be lost in the crowd.
From $116. Check prices and availability for this half day Montserrat tour here.
From Barcelona: Montserrat Monastery & Natural Park Hike
Montserrat Mountain is renowned for its hiking trails and natural beauty, and adding some outdoor adventure to your day trip will show it at its best. This Montserrat Monastery & Natural Park Hike includes a guided walk in the breathtaking Montserrat National Park.
Price starts at $63. Check times and availability here.
Montserrat Monastery with Horse Riding
For something different, tours to Montserrat with a horse riding excursion are also available here.
Touring Montserrat Spain on Your Own
Can You Go to Montserrat Without a Tour?
You certainly can. The benefit of independent travel is that it gives you complete freedom. Well, complete freedom except for being dependent on train schedules and lineups.
The bonus of arranging your own Barcelona to Montserrat day trip is that once you're here, you can create your own itinerary and explore at your own pace. This is important as there are many things to do in Montserrat, and if you want to hike you'll appreciate the extra time to explore the trails.
Is Montserrat Free to Visit?
Yes. At least entrance to the monastery grounds, basilica and hiking trails are free. However, there are transportation costs involved and an entrance fee for museums and exhibits. Food can be pricey as well.
The downside of arranging it yourself takes some organization, but it's a very popular way to do do a Montserrat day trip.
Below you'll find tips on how to get to Montserrat, the top things to see and where to eat – everything you need to plan your self-guided Montserrat to Barcelona tour.
Montserrat Day Trip – Getting Here
There are a few options for getting to Montserrat from Barcelona. If you want to tour Montserrat on your own, you can go by train, bus or car.
Barcelona Montserrat Train
Train is one of the best options for a Montserrat day trip from Barcelona – but FYI: It only gets you to the bottom of the mountain. From there you have the choice of the cable car or the rack railway.
The good thing about taking the train to Montserrat is that trains leave hourly, which lets you be more spontaneous about when to go. The trip should take about an hour.
How to Take the Train to Montserrat
To get to Montserrat from Barcelona take the train from Espanya Rail Station. You want Line 5 towards Manresa.
Travel Tip: Buy a return ticket so you don't need to wait in line to buy a ticket on the way back.
If you want to take the Cable Car up to Montserrat get off at Aeri Montserrat Station. You can buy a skip-the-line cable car ticket here. The cable car is the fastest and most popular way up.
If you choose the Rack Railway Cremallera Funicular get off at Monistrol Montserrat Station, which is one station farther.
If you're extremely ambitious, you can walk up from the foot of the mountain. This is not for the faint of heart. Most people hike the trails higher up, either from the monastery or by taking the Sant Joan funicular farther up.
Which is better, the Aeri Cable Car or the Cremella Rack Railway?
The Aeri Cable Car is faster and more dramatic. You could take the Aeri Cable Car up and the Cremella down. Because the Cremella Rack Railway is one stop farther away, you're more likely to get a seat on the return Montserrat Barcelona train, which can get crowded.
Note: Some return tickets require you to ride up and down Montserrat Mountain the same way, so make you sure you know what ticket you have.
From Barcelona to Montserrat by Bus
Another easy way to do a day trip from Barcelona to Montserrat is by air conditioned bus. This round trip bus leaves in the morning from the Plaza de Catalonia in the morning and returns the same day. Price is from $43. Check times and availability.
The downside of a taking a bus on your day trip to Montserrat is that you need to keep to the once-a-day departure and return schedule.
Driving From Barcelona to Montserrat by Car
If you like to be master of your own schedule, driving to Montserrat is an option. You can either park at the bottom of the mountain and take the cable car or rack railway up, or brave the mountain road and park at the monastery, where you can park for free for the first two hours. The trip should take about an hour.
Buying Tickets for a Self-Guided Tour of Montserrat
You can buy a Montserrat: Museum and Monastery Experience Ticket for $20 here. This doesn't include transportation, but has timed entry to see the Black Madonna in the basilica, an audioguide, entry to the Museum of Montserrat and the Interactive Audio Visual Exhibition.
Reminder: Entrance to the basilica itself is free.
Buying All- Inclusive Tickets for Montserrat from Barcelona
ToT All-Inclusive Ticket
If the train is your preferred way of travel to Montserrat you can make it easy on yourself and buy an all-inclusive ticket from Barcelona Tourism. Price is from 52.90 Euros. You can find more info here.
It includes:
Your metro ticket in Barcelona to the train station in Plaça Espanya
Your train ticket to Monistrol de Montserrat
Tickets for either the Cremallera rack railway or Aeri cable car up to Montserrat
Tickets for the Sant Joan funicular, which you can take from the monastery up higher into the mountains
Entrance to the Montserrat Behind Closed Doors exhibit.
Admission to the museum
A meal in the self-service restaurant at Montserrat
Visit Montserrat + Train & Rack Railway Combo
Another option to buy a Visit Montserrat + Train & Rack Railway combo ticket through the monastery website itself. Price is 42 Euros.
Montserrat Monastery Restaurants
You have several options for Montserrat restaurants.
The Restaurant Hotal Abat Cisneros has a huge stone arch, exposed stone and was actually the monastery stables in the 16th century.
For panoramic views and Mediterranean cuisine you can dine at the Restaurant Montserrat on the ground floor of the Mirador dels Apòstols. You can book online.
You can grab a quick meal on the second floor of the Mirador dels Apòstols at the Montserrat Buffet.
There is a cafeteria on the monastery grounds as well.
The Bar de la Placa is another option.
Top 10 Things to See on Your Montserrat Day Trip From Barcelona
Whether you're doing a Barcelona Montserrat tour on your own or with a guide, it's helpful to know the highlights of this unique monastery destination. Here are the top things to do in Montserrat.
Visit the Basilica
The basilica is Montserrat's main draw. Over the years it has gone through a number of reconstructions. Built in the 1500s it had to be rebuilt after the Peninsular War and the facade was again redone after the Spanish Civil War. It's seen a lot of brutal battles in its day.
Listen to the Montserrat Boys' Choir, Escolania
It's a good idea to time your visit to the Basilica to hear the famous Boys' Choir. Escolania is one of the most prestigious – and oldest – boys choirs in Europe. Historical records show there was a choir in Montserrat as far back as the 13th century.
When can you hear the choir? The Montserrat Boys' Choir sings daily in the basilica at 1:00 p.m. (Except during July or at Christmastime, but check the website to be sure as they go on tour.)
If you're staying in Montserrat overnight, here's a secret: The choir also sings in the evening at 18:45 – and there is no crowd. It's truly otherworldly.
View the Black Madonna
The Black Madonna, 'La Moreneta,' is a revered icon in Spain. The 12th-century Romanesque statue of the Virgin with the baby Jesus on her lap is famous for its dark colour.
Also known as the Virgin of Montserrat, it's the most venerated relic in Catalonia so be prepared to wait in line. It's located in the basilica. There are many miracles attributed to it.
Hike in Montserrat
There are a number of hikes and walking paths on Montserrat Mountain. Some of the more popular walks are:
The Way of the Cross is a scenic easy walk that takes about 40 minutes and leads to St. Michael's Cross, a spot that offers stunning views over the countryside.
The Cami dels Degotalls, a flat shaded walk on the Degotalls, which means "Magnificent Path' with views of the Pyrenees and numerous artistic sculptures and monuments along the way. The walk takes about 50 minutes.
The hike from the monastery to Santa Cova takes you to the pilgrim site of Santa Cova, where an image of the Virgin Mary is said to have appeared. The walk takes between an hour and an hour and a half and the climb back up can be avoided by taking the Funicular de Santa Cova.
More ambitious is the hike to Sant Jeroni. Most people access it from the Funicular de Sant Joan. (See below.)
Take the Funicular up Santa Magdelana
Way up. From the Monastery of Montserrat you can take the Funicular de Sant Joan – the steepest funicular in Spain – up to the top of Santa Magdelana. From here you can follow a footpath to the Hermitage of St. Jeroni.
Note: The peak of St Jeroni is the highest point of Montserrat Mountain – 1,236 metres.
Visit the Montserrat Museum
It seems unlikely that such a prize of a museum would be found way up a mountain, but the Montserrat Museum has a serious collection of art, especially strong in Catalan masters.
Highlights, in addition to the Caravaggio's Saint Jerome in Meditation, include work by Picasso, Miró, Dalí and the famous Post War artist, Antoni Tàpies, whose Modernist abstract painting Montserrat segle XXI hangs on the museum walls.
Tap into the Heart Chakra
Some believe the planetary heart chakra energy spot stems from the mountain of Montserrat. To be more precise, the energy spot is located in the centre of the atrium of the Montserrat Basilica. If you see people spontaneously hugging each other or reaching up into the sky, you'll know why.
Visit the Montserrat Interactive Museum – the Espai Audio Visual
For a better grounding in Montserrat history and surroundings, an interactive display Inside Montserrat focuses on different aspects of this mountain sanctuary.
Is a Montserrat Tour From Barcelona Worth It?
If you're keen to see some of the Catalan countryside and attractions outside Barcelona, a day trip to Montserrat can be an incredible journey.
As you can see there are many different ways to visit Montserrat Monastery, Spain. For a customized trip you can opt for a private Montserrat tour, which gives you the luxury of a dedicated guide.
You can join a small group tour that saves on costs while taking the headache out of planning your trip. Or, you can plan your own Montserrat day tour from Barcelona itinerary that puts you in charge of your time.
Whichever way you decide to visit Montserrat, the dramatic mountain location and the spiritual quality of this isolated locale in the Catalonia region of Spain, is a one-of-a-kind experience and one of the best day trips from Barcelona.
Staying Overnight in Montserrat
If you stay overnight in Montserrat, it's much easier to appreciate its special energy. It's a good idea if you want to hike in the morning, or hear the Boys' Choir at night.
There are a couple of options for simple hotel accommodation at Montserrat Monastery.
Hotels Montserrat
Hotel Abat Cisneros
The 3-star Hotel Abat Cisneros is beside Montserrat Monastery, and offers basic amenities, but some rooms have incredible views.
Address: Monasterio de Montserrat, Plaza del Monasterio, s/n, 08199 Montserrat, Barcelona, Spain.
Staying in a apartment at Montserrat Monastery
There are also apartments at the monastery, the Abat Marcet Apartments . Address: Monastir de Montserrat, s/n, 08199, Barcelona, Catalonia, Spain.