This post may contain affiliate links.
Travelling to London, England, and want to explore the world of the upper crust? Then get yourself to the elegant West End neighbourhood of Mayfair. But before you go, get in the know and read these 5 quirky things you might not know about Mayfair.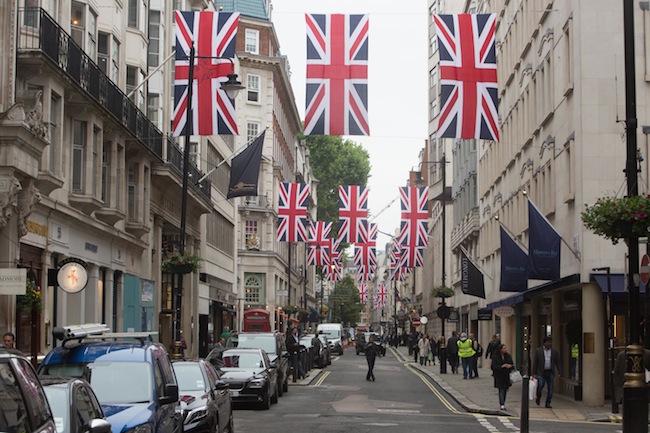 5 facts about Mayfair you might not know
After I wrote about London's posh district of Mayfair for a newspaper, I had all these extra tidbits about this seriously snobby rarified neighbourhood, so welcome to my leftovers: 5 things you might not know about Mayfair, one of the ritziest areas in the UK.
Where is Mayfair?
This chic West End neighbourhood of Mayfair runs up against the east border of Hyde Park and runs east to Regent Street. It reaches up to Oxford Street in the north and down to Green Park and Piccadilly in the south. Grosvenor Square is its swanky historic heart. So now that we know that, let's begin.
Fun fact about Mayfair #1: What celebrities lived on Brook Street?
One of the most fun things to do in Mayfair is just walk around – and while you're walking head to Brook Street. Jimmy Hendrix, the Bee Gees and Handel all stayed on Brook Street in Mayfair – not at the same time obviously, but can you imagine the neighbourhood jam if they had?
Fun fact about Mayfair #2: Where are celebrities hiding in Mayfair?
Big celebrities such as Jude Law may not be clearly evident at Punchbowl, the Mayfair pub on Farm Street Guy Ritchie bought in 2008 (and sold in 2013), but this 300 hundred year old watering hole may still harbour them.
What is my secret source you ask? My friend's husband got lost looking for the toilet and ended up upstairs in a private room which, he said, was full of people. Is that scientific research or what?
Who, though? Who???? Does Prince Harry still go there now that Ritchie doesn't own it anymore? Enquiring minds want to know!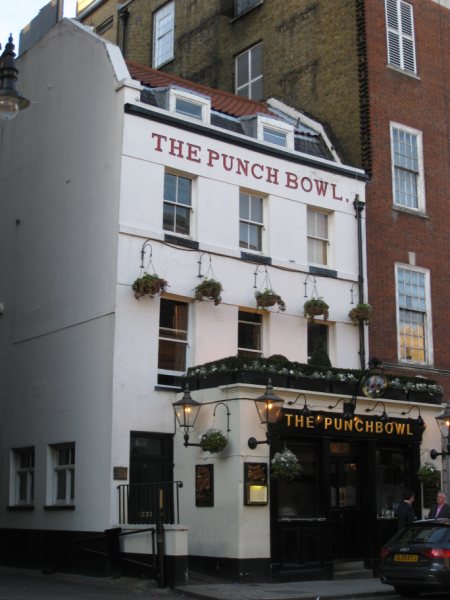 Mayfair fun fact #3: Where is a hidden perfect place for lunch in Mayfair?
Lunching is one of the top things to do in Mayfair, but where? For a very cool and chichi for lunch is …. the café in Sotheby's Auction House. That's right. Go look at the Matisses and Chagalls or whatever else is being auctioned off at 34 Bond Street then nip into the ground floor cafe for some wild halibut and Pino Grigio (reservations recommended – and don't get upset if there are no free art shows to look at when you're there, it depends on their upcoming auction schedule).
Also, you'll be happy to note that according to the Sotheby's website you don't need to wear a tux to lunch:
The Cafe, while situated on one of the most affluent shopping streets in London, imposes no formal dress code, creating an elegant and comfortable environment. Cloakroom facilities are secure and available throughout the day.
Good to know – because personally I hate insecure and unavailable cloakrooms.
Pin me!
Fun fact about Mayfair #4: London's hidden eco wall at the Atheneum
The 5-star Athenaeum Hotel on Piccadilly Street has installed a 'living wall' that runs 8 stories high on the outside of the building.
"Why did they do that?" I asked the bellman.
"Because they could," he said.
"No, really why?"
"It continues the green of Green Park across the street."
How eco chic. Designed by artist/scientist Patrick Blanc the Living Wall at the Atheneum is a massive vertical garden with more than 12,000 plants and vines, giving the phrase 'urban jungle' a whole new meaning … so where's urban Tarzan and how do I fit in a deck chair?
Fun fact about #5: Where did celebrities used to hang out in Mayfair?
A good restaurant with a lively bar is Cecconi's at 5A Burlington Gardens. It's just down the street from the Abercrombie & Fitch shop that looks like a nightclub. Word has it that Madonna used to hang out at this popular Italian restaurant but doesn't anymore. She also probably stays well clear of the Punchbowl now that she and Guy Ritchie have split, because he's the one who got it in the divorce settlement.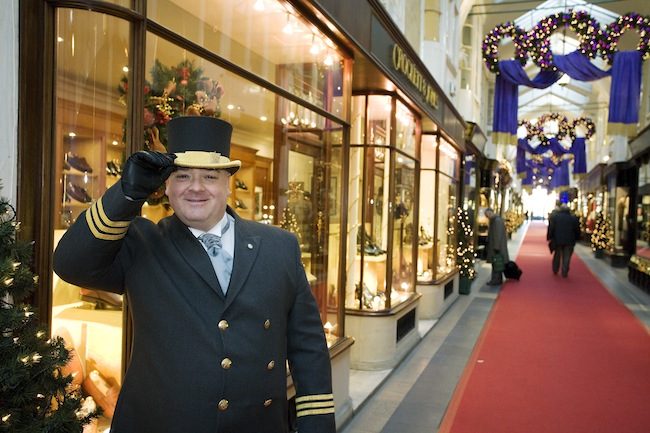 Bonus fact: Where do celebrities hang out in Mayfair now?
If you want to celebrity spot in Mayfair try the Italian restaurant C London, another local hotspot at 23-25 Davies Street. I have no proof whatsoever that Madonna has ever set foot in the place, but Simon Cowell has been known to hang out there.
Or, try to spot Princess Eugenie and Princess Beatrice at the steakhouse and seafood restaurant 34 Mayfair on Grosvenor Square (entrance on South Audley Street), and if you don't manage to see any royals, just settle in for some pricey Waygu beef and pretend you're rich and incognito.
So there we have it. I hope you enjoyed reading 5 things you might not know about Mayfair, even if you already knew them all.
Where to stay in Mayfair
Since you're hanging with the rich and famous, you might as well sleep with them, too. I mean, er, sleep in the same luxury hotels. Here are a couple of top Mayfair hotels to hobnob at, because checking into a luxury hotel is one of the most authentic ways to experience Mayfair of all.
Dukes Hotel in Mayfair: The Queen likes it and Lady Di did, too. Unique to Dukes is their Duchess Rooms service, which is tailor made for female solo travellers and includes extras such as a female escort to your room (not that kind of escort!), fresh flowers, and even a corner table in the dining room should you be dining alone.
The Ritz Hotel London: Old world grandeur remains at this classic luxury hotel at 150 Piccadilly. Some things just never go out of style.
Click here to learn more about top London hotels.
Read more about: Top places to see in England
Read more: about my picks for top European destinations.