This post may contain affiliate links.
London is experiencing a HOTEL BOOM. For a look at some of the newest London hotels, check out my London video and get an inside look into some of the most exclusive new and updated hotels in Britain's biggest city.
Newest London hotels #1 – The Savoy
Oh, to hang out with Frank Sinatra, the Beatles and Catherine Zeta-Jones, all of whom have graced the elegant Savoy at one time or another. And after its astronomically priced three-year renovation, it's certainly ranks as one of the most glamorous and fashionable London hotels.
The Savoy is gorgeous, mod and upbeat all at once, with black and white marble tiles, a leopard print carpet in the art deco River Restaurant and fresh flowers everywhere. To die for.
Watch the London Hotel video:
Sightseeing from the Savoy
Sightseeing is easy from the Savoy with Covent Garden being nearby and just a hop away is the National Gallery and the National Portrait Gallery on Trafalgar Square.
PS: Even if you're not staying at the Savoy, stop in and people watch at the Beaufort Bar.
Rooms at the Savoy start about $550. The Savoy, Strand. Tel: 1 800 257 7544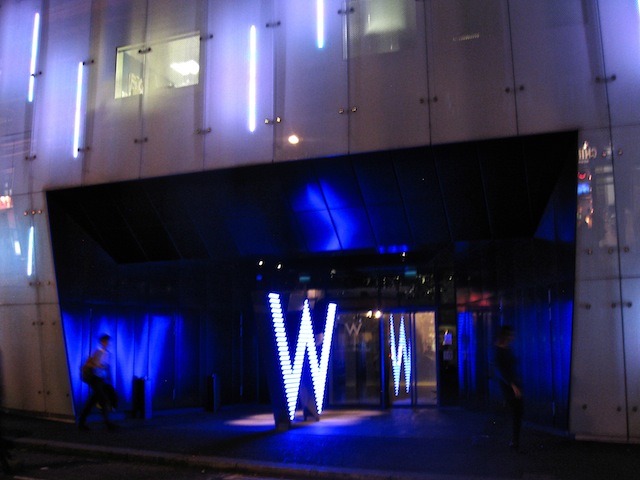 The newest London hotels #2 – W London on Leicester Square
The new W London is smack in the centre of the London action and will up your hip quotient immeasurably should you stay here. Where else can you find beautiful people, W Rock Tea with 'dark side of the moon' finger sandwiches and 'london's burning' chocolate pudding?
Out of all the newest London hotels, the W London is the most whimsical and fun, and painfully on trend, from the risque decorative plates on show in the lobby to the shimmery reception kiosks and disco balls.
Location of the W London Hotel. Just steps away from Piccadilly, Soho and the theatre district you'll save on cab fare and have more time to dream up crazy requests for W's Whatever/Whenever 24-hour concierge.
Drinking at the W Hotel London
While you're at the W Hotel London, stop in for a ginger margarita at the connected Spice Market, the Asian-themed restaurant headed by celebrity chef Jean-Georges Vongerichten.
W Hotel London, 10 Wardour Street, Leicester Square.Tel: 1 877 946 8357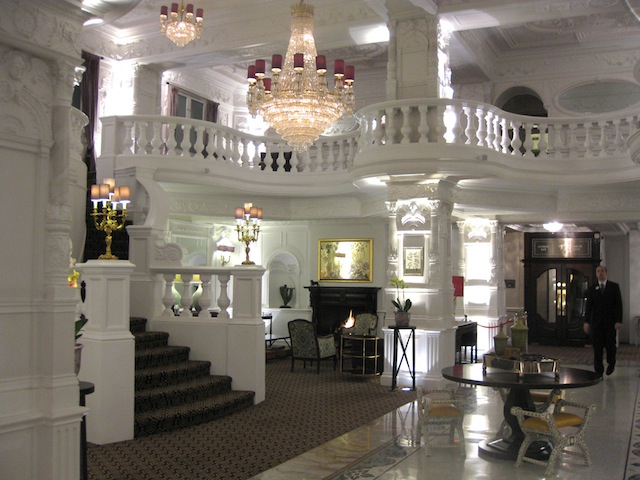 The newest London hotels #3 – St Ermin's Hotel
Conveniently located near the Houses of Parliament, St Ermin's Hotel has been a hot bed of intrigue over the years. During WWII, Winston Churchill used to drink at the hotel's Caxton Bar and it became a key meeting place for secret intelligence agencies.
During the Cold War, one of the infamous Cambridge Five, Guy Burgess, met his Russian handlers in the Caxton Bar.
Intrigue and mystery at London's St Ermin's Hotel
Even more deliciously intriguing, a secret passage that was blocked off after 9/11 leads from the hotel to the House of Commons. If there is any intrigue going on at St Ermin's these days, however, I didn't happen to see it, and sadly, not a single spy approached me in the bar. Still, after a brand new facelift, St Ermin Hotel's rococo lobby couldn't be whiter and grander, and at the very least, you should spot a few MPs (a re-installed Division Bell signals them when it's time to head back to Parliament).
Sightseeing from St Ermin's
For sightseeing St Ermin's Hotel is ideal, you're near Big Ben, Westminster Abbey and Buckingham Palace.
Double rooms at St Ermin's Hotel start around $330, Family/Exec rooms $440. St Ermin's Hotel, Caxton St. Tel: 1 877 218 6004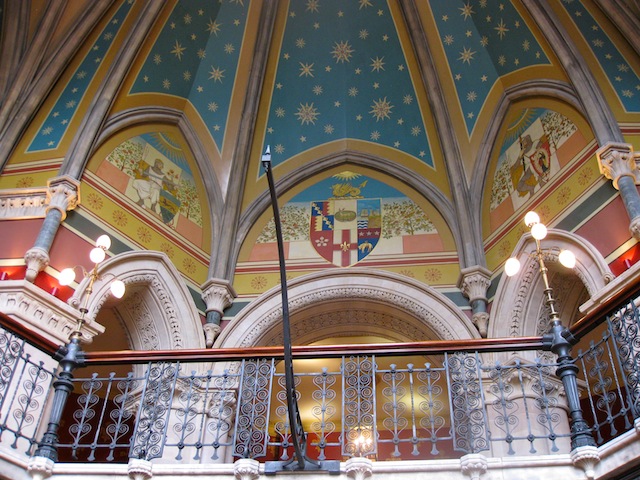 The newest London hotels #4 – St Pancras Renaissance Hotel
Hogwart's lives! Or at least its wealthy cousin, the St Pancras Renaissance Hotel, lives! Looming over Euston Road and St Pancras Station, the St Pancras Renaissance Hotel has risen from the gloomy ashes of King's Cross. Once believed doomed, this imposing red brick hotel, formerly the Midland Grand, was brought back to life with a $400 million renovation.
The high Gothic architecture of the St Pancras Renaissance Hotel offers plenty of old world glamour. And rest assured, the hallways are wide enough for ball gowns and the centrepiece grand staircase curving under a vaulted ceiling will let you make a grand entrance. For something beyond grand, reserve a room in the exclusive Chambers.
Sightseeing from St Pancras in London
Location of the St Pancras Hotel. Personally, I don't find the St Pancras as central as some of the others, but you can't beat it if you're either a bibliophile – The British Library is very nearby – or if you're catching a train – the Eurostar leaves just outside the door.
If you're interested in the St Pancras Renaissance Hotel's fascinating history, sign up for a historical tour and have a Dickens-era punch at the hopping Booking Office Bar.
Rooms at St Pancras Renaissance start about $425. St Pancras Renaissance Hotel, Euston Road. Tel: 1 888 236 2427
Read more: about top places to visit in England
Read more: about my picks for top European destinations.