This post may contain affiliate links.
If you like history, wit and scandal, follow the trail of Oscar Wilde in Paris. From the cafés and hotels he frequented to the Oscar Wilde grave in Père Lachaise cemetery, it's a unique way to explore the City of Lights.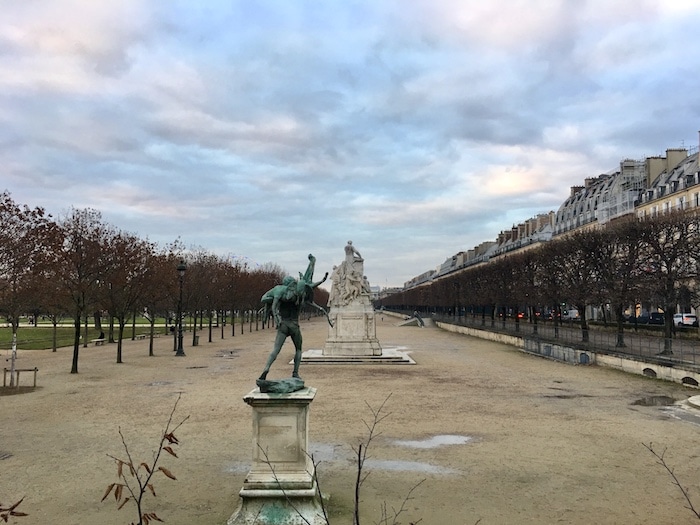 Oscar Wilde in Paris
Handcuffed, standing on a train platform in the rain on his way to Reading Gaol after being convicted of gross indecency, Oscar Wilde, Victorian wit, one of London's most celebrated playwrights, and the author of The Importance of Being Earnest, muttered, "If the Queen can't treat her prisoners any better than this, she doesn't deserve to have any."
Wilde days in France
Maybe that's why, when Oscar Wilde was released from jail two years later in 1897, the Irish-born writer left England for France, first for Dieppe then to Paris. While his previous visits to Paris had been triumphant, after the court case his reputation and life spiralled downhill. He arrived in Paris ill, broke and shunned. For Oscar Wilde, Paris was more like an exile than a retirement fantasy.
More than a century later, I ended up at the same right bank hotel, the modest Hotel Louvre Marsollier Opera, where Oscar Wilde spent his next-to-last days until he was kicked out for not paying his bill.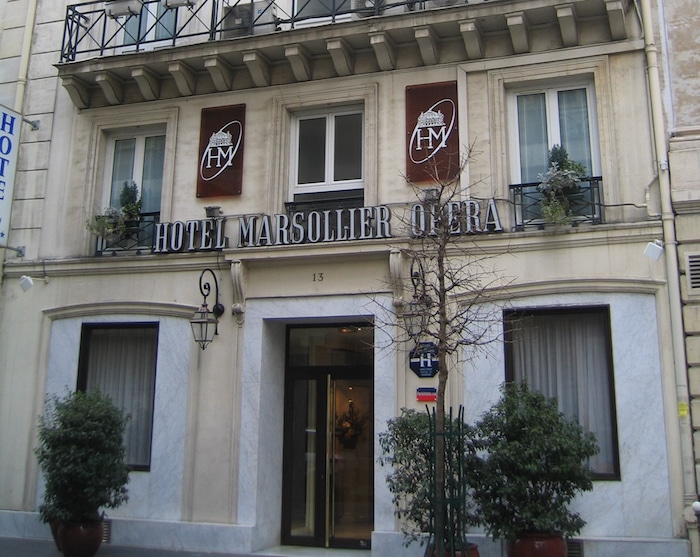 An Oscar Wilde hotel in Paris
Sitting in my 7th floor room, the original wood beams running across the ceiling, I grew curious to visit more of Oscar Wilde's haunts in Paris. With his flair for the original and taste for hedonism, could there be any better partner in crime?
Oscar Wilde grave – Père Lachaise cemetery
My first stop was Oscar Wilde's last, the vast Père Lachaise cemetery (the Cimetière du Père-Lachaise) where he is buried in the company of Colette, Chopin, Proust, Jim Morrison and so many others. Located in the eastern part of Paris, Père Lachaise is a grey atmospheric world of its own. The largest cemetery in the city (110 acres), it's the most visited cemetery in the world, with more than 3 million visitors a year.
It's as much museum as mausoleum, I thought, walking down paved cemetery roads under a pale silvery sky. Strange phone booth sized tombs with peaked roofs vied for space with mournful statues, and amiable cats mewed for attention atop weathered slabs of stone. Where the heck is Oscar Wilde buried, I wondered after 45 minutes of wandering. Finally, I found the Oscar Wilde grave in Division 89.
Did you know? Oscar Wilde was originally buried in a pauper's grave in Bagneux cemetery in the southwest of Paris. Nine years later, in 1909, his remains were moved to Père-Lachaise.
The Oscar Wilde tomb
The Oscar Wilde tomb is a huge stone block accompanied by a nude Sphinx-like winged deity, a fierce angel-esque figure whose once prominent private part had been smashed off by vandals in the Sixties. The striking monument was designed by Jacob Epstein, a sculptor whose only other public commission thus far had been the outside of London's British Medical Association Building, a commission that had caused an outrage at the time. A series of nude allegorical figures, they were considered too sexual for the public good, and caused a frenzy as the public flocked to see the 'obscene' statues so bad for them.
I couldn't think of anyone better to design Oscar Wilde's gravesite. I wondered if the winged angel was a symbol of Wilde himself. If so, I hoped his flight out of Paris and the poverty that had befallen him was a sensational trip.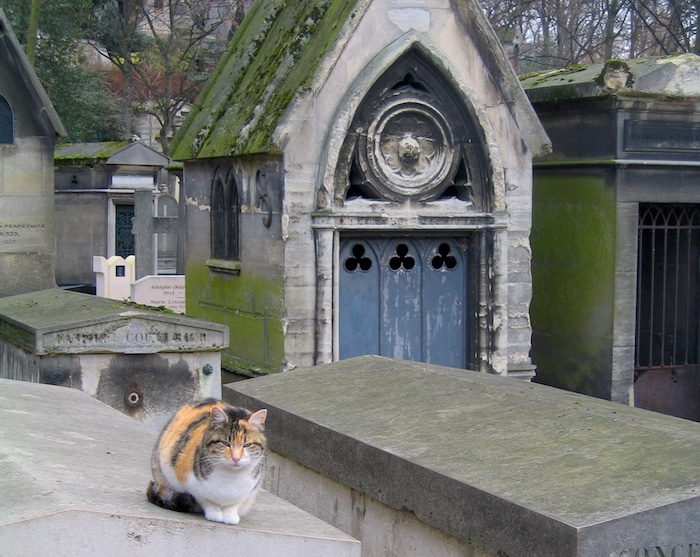 Kissing Oscar Wilde's tomb
Sometime around the late 1990s it became a craze to kiss Oscar Wilde's tomb, the more lipstick the better (taupe being a particularly favoured shade). Briefly, I considered joining the bandwagon and smooching the stone myself, then rejected the idea. For one thing the oil on the endless splotches of lipstick was eating into the stone and setting about the tomb's slow decay. Also, I'd have to scale the seven-foot glass barrier that now protects it from its ardent admirers.
I supposed I could kiss the glass, but if everyone else was doing it, that was reason enough not to. As Wilde said, "everything popular is wrong."
Oscar Wilde in Paris – the Café de la Paix
Deciding a café would be an appropriate next stop, I headed to one of Oscar Wilde's hangouts, the elaborate Café de la Paix on the Place de l'Opéra. Part of the InterContinental Le Grand Hôtel, it was built in 1862 during the reign of Napoleon III. Cowed by the well-groomed Parisians and lavish surroundings, I scuttled in under the ornate gilt ceiling with its blue sky frescoes, and took a table on the enclosed terrace.
A devilish temptation
My intentions were to stick to an unaffordable cup of tea, but with Oscar Wilde whispering in my ear like a devil on my shoulder that "self-denial is the shining sore on the leprous body of Christianity," I ordered a $20 chocolate cake. Moist, filled with caramel, it was topped with chocolate, cream and a flake of gold leaf. Digging in, I felt an instant kinship with the writer, who said he could resist "everything except temptation."
While I was scraping gold leaf off my plate and licking my fork, a young man in a black turtleneck and camouflage pants wound his way through the café and approached my table. I caught the words permettez and invite but not much else. Realizing I'd understood nothing he'd said, he switched to English.
Oscar Wilde's last days
"I saw you from the street and came in to say, you are beautiful," he said. "Only that." He turned and left.
Not deterred by the fact that once he'd seen me up close, he'd beat a hasty retreat, I was filled with a Parisian-fuelled bonhomie. Of course I'm not the only one to appreciate the attention of a beautiful young man. Oscar Wilde did, too. In fact, it was his affair with Lord Alfred Douglas, a man 16 years his junior, that had caused his downfall. Lord Douglas's enraged father, the Marquis of Queensbury, had publicly called Wilde a sodomite. Wilde sued the Marquis for libel and lost, which led to his own ill-fated court case.
In 1900 the Marquis died, leaving Lord Douglas a fortune. Here, in the sumptuous Café de la Paix, a debt-ridden Wilde asked Douglas if he could have an income from the inheritance. Douglas refused and accused Oscar Wilde of wheedling like an old whore.
Like it? Pin it!
Where did Oscar Wilde die?
By now, ejected from the Hotel Louvre Marsollier, Wilde was living on the left bank at the seedy l'hôtel d'Alsace on rue des Beaux Arts. I doubt he'd recognize it today. Now it's the intimate 5-star L'Hotel, the red marble pillars, muted leopard print carpet and small domed atrium more luxe than shabby chic. At the desk I asked the clerk if it was true that the wallpaper in Oscar Wilde's old room, number 16, was a replica of the original.
"Oh, no," replied the woman. "It is from his dining room in London. Because then this was a very bad hotel."
How did Oscar Wilde die?
Hideous or not, that wallpaper is part of history. Not long before his death at the age of 46, some say from syphilis, some say meningitis, he fought his final battle. After receiving a request from the hotel manager for overdue payment, he quipped, "I am dying beyond my means."
But it is his final battle that resonates today, his incomparable wit refusing to fade along with his body. Oscar Wilde's last words? "My wallpaper and I are fighting a duel to the death. One or the other of us has to go."
Sadly, the wallpaper won.
Travel tips for finding Oscar Wilde in Paris
Oscar Wilde hotel
(Note: This fact box contains affiliate links, which means that if you click and purchase anything through me I'll get a small commission at no extra cost to you.)
The 3-star Hotel Louvre Marsollier Opera is a boutique hotel of 28 rooms. It's located at 13, rue Marsollier, conveniently situated between the Louvre and the Opera. Tel: +33 (0)1 42 96 68 14. Check prices and availability here.
Famous for being the hotel where Oscar Wilde died, and where he lived for the last two years of his life, the 5-star L'Hotel is one of Paris's smallest 5-star hotels, only 20 rooms. It's located in the artsy Left Bank at 13, rue des Beaux Arts. It has a cocktail bar, a restaurant, and a hammam spa downstairs. Rooms were designed by Jacques Garcia and are infinitely more tasteful than at the time of Oscar Wilde's death. Tel: +33 (0)1 44 41 99 00. Check prices and availability here.
In happier days, Oscar Wilde stayed at the 3-star Hotel Voltaire – the first time was with his mother. With views of the Seine, the hotel is an affordable option on the Quai Voltaire right across the river from the Louvre, and offers easy access to the Musée d'Orsay and Saint-Germain-des-Près. Ask for a room overlooking the water. Check prices and availability here.
The Oscar Wilde Graveyard – visiting Père Lachaise
Where is Père Lachaise cemetery?
Père Lachaise is located in the eastern part of Paris in the 11th arrondissement at rue du Repos (The Street of Rest. How fitting.)
Getting to Père Lachaise
You can take the metro to the Père Lachaise station or to the Philippe-Auguste station for the main entrance at 8, Boulevard de Ménilmontant, 75020 Paris. (Phillippe-Auguste is closer.) The cemetery is hilly and vast, so be prepared for walking.
Tip: If you get off at Gambetta Station on the metro and go through the back entrance of Père Lachaise at 71, rue des Rondeaux, 75020 Paris, it's a downhill walk and closer to Oscar Wilde's grave.
Cemetery Hours
Low season: Nov to mid March, Père Lachaise is open from:
8 a.m. to 5:30 p.m. Mon – Fri
8:30 a.m. to 5:30 p.m. on Saturdays
9 to 5:30 p.m. on Sundays and holidays.
High season:
8 a.m. to 6 p.m. Mon – Fri
8:30 a.m. to 6 p.m. Saturdays
9 to 6 p.m. on Sundays and holidays
Cost
Entrance to Père Lachaise is free. For more information visit the cemetery website.
Where is Oscar Wilde buried?
Oscar Wilde is buried in the eastern side of Père Lachaise Cemetery in section 89. The closest metro station is Gambetta.
What to see
Almost as popular as Oscar Wilde's tomb is the grave of Jim Morrison, but this great Parisian graveyard is a who's who of celebrities: Edith Piaff, Frédéric Chopin, Molière, Balzac, Colette, Marcel Proust, Eugene Delacroix, Jean de la Fontaine and many more.
How many people are buried in Père Lachaise? They seem to have lost count. Somewhere between 300,000 and 1 million bodies are buried there, making it a true city of the dead.
What can you do at Père Lachaise? In addition to the paying your respects to the multitude of celebrities, you can wander and enjoy the surroundings. Père Lachaise has more than 5,000 trees, winding lanes, and some fantastic 19th-century tombs, carvings and statuary.
History: The cemetery was established in 1804 by Napoleon Bonaparte and designed by the French architect Alexandre-Théodore Brongniart.
Père Lachaise tours
The cemetery doesn't offer tours itself, but there are plenty of private tour companies that offer them. Here is a selection.
There are also some Paris literary tours you can sign up for.

More Oscar Wilde sites in Paris
The Café de la Paix is a palace of a café on the northwest corner of Boulevard des Capucines and Place de l'Opera. It's across from the Opera Garnier at 5, place de l'Opéra.
Oscar Wilde also frequented the Café de Flore on the Left Bank at 172 Boulevard Saint-Germain, 75006 Paris.
He also liked to drink with the Bohemians at the cabarets like the Moulin Rouge. 82 Boulevard de Clichy, 75018 Paris.
Read more: