This post may contain affiliate links.
Mallorca, Menorca, Ibiza and Formentera … don't the names of these four Spanish islands conjure up an image of glitz and sun? To highlight all the glitz and sun you can have at the most deluxe level, here's an article about renting a luxury yacht in the Balearic Islands.
Guest post by Abigail Edon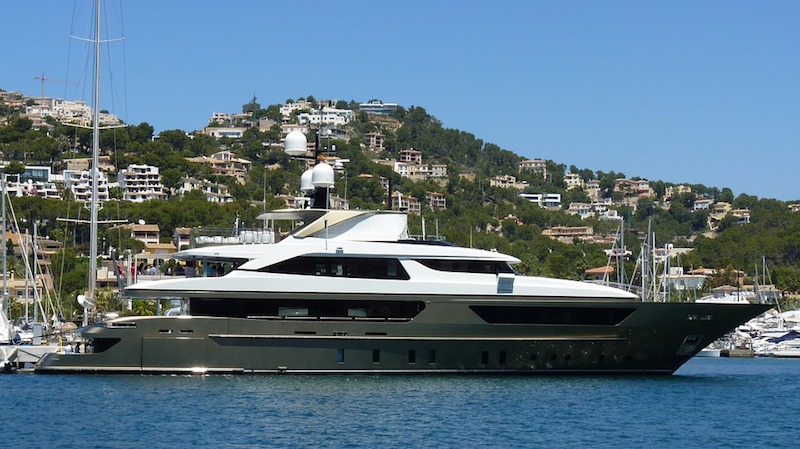 You can't have too many yachts
Why restrict yourself to one yacht when you can have multiple holidays on a variety of astonishing vessels? The sauna on the last yacht was fun but maybe this time you want a jacuzzi? A bar? A bar in jacuzzi? I'm not joking, they really exist.
The main advantage of chartering a luxury yacht is that the whole world is at your fingertips, quite literally. Why restrict yourself to one small part of earth when there is a whole lot of ocean out there? Again, literally.
So… Where to next might be your next question? Let's take a look at the requirement checklist. Great food, wine, beaches, culture, beautiful moorings. Look no further as I have the answer for your perfect yachting vacation. Four islands, crystal clear water and they definitely tick every box. Have you guessed it yet? The Balearic Islands.
Renting a luxury yacht in the Balearic Islands
The Balearic Islands are an archipelago off eastern Spain. These four stunning sisters are made up of Mallorca, Menorca, Ibiza and Formentera. Admit it, you've always dreamt about renting a yacht in Ibiza, now you can make this dream a reality.
These Spanish islands are notorious for celeb spotting. Film stars, sports personalities and singer/songwriters are often seen partying amongst these islands, soaking up some sun on one of the many paradisiac beaches, or maybe doing a diving tour on a boat. Without meaning to name drop Leonardo DiCaprio, Naomi Campbell and Rafael Nadal have said to have fallen under the Balearic spell and have been spotted on countless occasions sailing around on their super yachts.
Depending on how long you charter your yacht for, you can either visit one of these glorious islands or all four in a row. Your skipper and crew will advise on the best sailing route depending on where you would like to begin your adventure, how far you would like to sail, where you would like to moor and where you would like this amazing holiday to finish on the highest of notes.
Sailing around Menorca
Our recommended sailing route begins in Menorca. Traditionally more low key than the surrounding islands, Menorca is a natural paradise, home to the most dazzling coastal paths you will ever saunter along with the best scenery the eye has ever seen – 216 kilometres of it to be exact. Menorca is famous for its beautiful ports with plenty of room for you to moor your yacht.
This means you may not even want to step onto the shore for dinner, but make the most of the stern of your yacht and enjoy your fine dining there. Your crew can whip up a traditional delicacy for you matched with the perfect vino. Bliss! As the evening rolls in, Menorca is just the right amount of lively where you can enjoy the ambience without being too disturbed. The marina looks at its most beautiful as it begins to get dark and the lights twinkle along the small splashes that meet the sides of surrounding boats.
As the sun rises you might consider staying on in Menorca a little longer, it's a great place to spend the day as well as the evening. If you are thinking about enjoying some water sports on your vacation then Menorca is the place to do this. Popular activities consist of water skiing, kayaking, windsurfing of course scuba diving. The crystal clear waters provide the perfect environment to check out spectacularly exotic and colourful fish. If you don't want to dive it's worth taking a snorkel with you.
Other than the sea a spectacular time can be had exploring the island by foot or on horseback. As previously mentioned the coastal paths are really something else in Menorca, so make sure you do take some time out from the sea, walk around, open your eyes, breath in that Menorcan air and absorb those truly breathtaking surroundings.
Up next I want to tell you about Mallorca. Located 116nm from Menorca, it should take just one morning to sail over to this island at a slow pace. If you would like to get there a little faster then that's absolutely doable.
Yachting in Mallorca
Like Menorca, Mallorca is also very well known for its fantastic ports. This is an important aspect for yachters, as more often than not, it's common for people to want to spend time on their luxury yacht and enjoy the surroundings while moored as well as sailing. This way there is something to suit all the family; those who want to explore, and those who want to make the most of their amazing charter yacht.
You will notice from the moment you arrive, Mallorca's addictive and sunny personality which is expressed through its ravishing beaches, azure views, secluded mountains and hill towns. In recent years Mallorca has also taken on a new glam style with five-star hotels replacing budget accommodation. This can only mean one thing, cocktails on rooftop bars. If you want to take a break from the rooftop of your yacht, you might like to check some of these chic spots out. Who knows? Uou might even spot a celeb. Aside from the bars, Mallorca has some seriously great restaurants. From sea food, to steaks, there is something here to tickle everyone's taste buds.
Renting a yacht in Ibiza
Next up in your Balearic Island yachting tour is Ibiza. Now we all know what Ibiza is renowned for. It's the party capital of Spain. And that it is if you want it to be. However, if your dancing shoes are currently hung up and your holiday is more about enjoying the finer things in life ;like tranquility, culture and your damn fine luxury yacht, then you might want to head over to Magna marina. Magna marina is located near the historic Old Town of Dalt Vila in the southeast end of the island. Here you have the best of both worlds, peacefulness, beautiful views and good old Spanish culture. With all the fun stuff within a walking distance.
Yachting to Formentera
Last but not least let me tell you a little bit about Formentera. The distance between Ibiza and Formentera is just 3 nautical miles, approximately half an hour on your yacht. On approach you will cast your eyes upon long stretches of beach backed by dunes and pine trees. I bet you've already spotted the ideal place to pull up a deckchair with a pina colada and good book, while you enjoy the cool breeze on your face. Can you think of a more perfect ending to your mediterranean vacation?