This post may contain affiliate links.
The home of port wine, the Douro Valley in northern Portugal is a buzzing European hot spot. Famous for its wine cultivation and remarkable scenery, it makes a great day trip from Porto. Here are some top things to do in the Douro Valley while you're there.
Article by Ann Kelly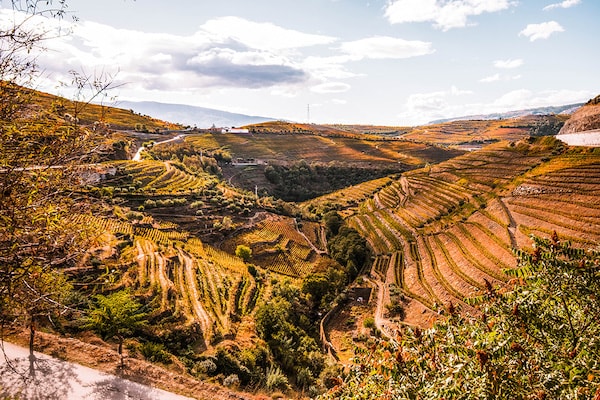 5 Reasons to visit the Douro Valley in Portugal
A 1.5 hr journey inland from Porto will take you to the majestic Douro Valley, a true gem of northern Portugal. Stunning landscapes of terraced vineyards, rolling green and golden hills as far as the eye can see, and a river winding through it all – it's no wonder this place is considered one of the most beautiful wine regions of the world.
When it comes to European fall destinations, the Douro Valley couldn't be a better choice. The vineyards are brought to life as the seasons begin to change. Vibrant orange, yellow and red foliage cover the hills making this place an even more beautiful sight.
Why visit Portugal in Autumn
The other benefits of travelling during the fall months is that the weather is still lovely while the summer crowds have dispersed. With mostly sun and temperatures in the low to mid 20s, the Douro Valley is the perfect fall destination for either a weekend break or as an addition to your Portugal road trip itinerary.
This off the beaten path destination is truly like no other in Portugal. Read on to discover the top 5 reasons to visit the Douro Valley and put it on your fall travel bucket list.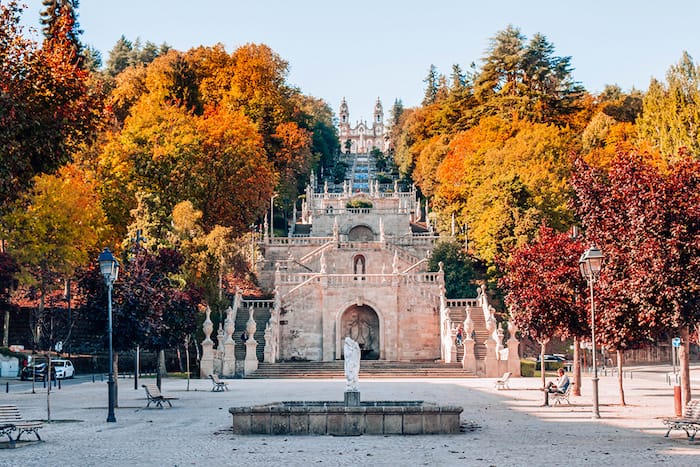 1. Visit a UNESCO World Heritage Site
Not only has the Douro Valley of Portugal been named a UNESCO world heritage site, it's also the world's oldest wine region. Wine production dates back over 2000 years and it's also where the creation of Port wine took place.
For those interested in learning more behind the history and culture of wine in the Douro Valley, the Museu do Douro can't be missed. Located in the town of Peso da Régua, this museum is beautifully set next to the Douro River and has an outdoor terrace where you can sip your Port with a view.
2. Perfect for Road Trips
The Douro Valley was simply made for road trips. Driving through this unique landscape surrounded by the beauty of nature is an unforgettable experience. Panoramic views will have you continually pulling over to take endless photos. Driving is a great way to explore the picturesque villages and vineyards of the Douro Valley at your own pace.
Villages of the Douro Valley
Some of the most popular villages include Peso da Régua, Pinhão, and Lamego. Stop for lunch in Pinhão and then hop on a scenic boat cruise along the Douro River in the afternoon.
One of the most relaxing things to do in the Douro Valley is to take a river cruise. River cruises leave daily from the small town of Pinhão and take you to some of the most impressive sections of the river that cannot be accessed by car.
Check out a Full-Day Douro Wine Tour with Lunch and River Cruise here.
3. Breathtaking Scenery
The Douro Valley has no shortage of scenic views, most of which can be seen by simply stopping the car on the side of the road or looking out the window of a train. However, there are a few dedicated view-points that are simply too magical to miss out on.
The São Leonardo da Galafura view-point which is located between Peso da Régua and Pinhão is definitely the most impressive. Enjoy panoramic vineyard and river views from this stunning location which is the highest point in the Douro Valley.
More viewpoints that are worth checking out are:
 St. Anthony's viewpoint
 Cruz De Ventozelo
 Alto das Vargelas
 Miradouro de São Salvador do Mundo
Check out the magnificent scenery on a day trip from Porto with a Régua & Douro Valley: Scenic Rail and Cruise. Check prices and availability here.
4. Douro Valley is a Wine Lover's Paradise
Ingrained in Portuguese culture and history is the iconic fortified wine, Port. The Douro Valley is no doubt the best place to drink this world-renowned beverage alongside a range of incredible non-fortified Douro wines. Take a tour of one of the many centuries-old wineries and sample some of the delicious wine directly from the source.
Visit two wine producers on this full day Douro Valley Wine Tasting River Cruise and Lunch from Porto. Check prices here.
Wine Harvest in the Douro Valley
If you visit during the fall, you even have the option to participate in the grape harvest, so if you're looking for experiential things to do in the Douro Valley in sun-kissed autumn, this may be for you.
Harvest takes place from mid to late September and there are a number of wineries that allow visitors to take part including Quinta das Carvalhas and Quinta da Pacheca. Harvest season is an exciting time of year in the Douro Valley as this is when the wineries finally begin the process of making that delicious wine.
For a unique cultural experience why not join in the fun of picking grapes by hand followed by stomping on them, an ancient Douro tradition that is still carried out today.
5. Day Trip from Porto by Train
For those looking to take an easy day drip from Porto, look no further. Hop on the historic train that runs from Porto's São Bento train station to the hills of the Douro Valley. The Linha do Douro railway has been named one of Europe's most beautiful train journeys and it's not hard to see why.
This scenic railway runs along the Douro River, through the valleys and mountains and finishes its journey in the village of Pocinho, high up in the Alto Douro hills.
The train also stops at Peso da Régua and Pinhão along the way making it easy to hop off for wine tastings throughout the day. If the train, you don't have to watch your wine consumption.
A Highlight of Portugal
I hope this article has given you some ideas for some great reasons to visit the Douro Valley. For wine lovers, this destination should be somewhere near the top of your list. With world class wine and breathtaking views, this incredible wine valley is one of a kind and stands out as the highlight of my road trip through Portugal.
Author's Bio: Ann Kelly
Ann Kelly, TheRoad-IsLife.com Ann, is the other half of The Road Is Life where she blogs with her partner Rick about travel and living a minimalist lifestyle. Originally from Vancouver, Canada, she is now living in the UK where you can often find her exploring Europe and sharing her travel stories on her blog and social media.
Looking for more Europe articles? Visit Top Places to Visit in Europe.
See below for more tours of the Douro Region