This post may contain affiliate links.
Choosing a hotel in Bangkok should be easy. Prices are affordable, there are plenty of options. The problem is there are too many options. Here's how I picked my hotel.
Can I just say how much I hate jet lag? It's like being stupefied by some witchy Harry Potter spell with a dose of flu on the top. You're falling asleep when you should be admiring the Temple of the Reclining Buddha, restless as a caged animal at 2 a.m., and craving spicy shrimp soup in the morning.
That's why I decided to recover in Bangkok before heading down to the islands. And that's when I became obsessed with choosing a hotel in Bangkok. Like super obsessed! Like I would get up in the wee hours just to see if a deal had come through on the Net.
Pick your priorities
Most importantly, I wanted a 5-star property in Bangkok. Before you dismiss the idea out of hand, consider this. Luxury hotels are cheaper in Bangkok than just about anywhere in the world. This may be your only chance to live like a superstar. Not that I'm dissing budget haven Khao San Road – I've stayed there many a time – but this is my Running-Away-From-Winter Health Holiday in Thailand and I wanted a pool!
Choosing a hotel in Bangkok – cut out the most expensive if you must
Sadly, I had to cut out the really pricy 5-star hotels such as the Mandarin Oriental Bangkok, which is an amazing historic hotel on the river and where Somerset Maugham worked on The Gentleman in the Parlour while he was recovering from malaria.
A hotel with a pool is a nice respite
I wanted a pool in a garden with lots of shady trees. If you are going to be sightseeing 24/7 you probably don't need this option, but if you want to combine touring Bangkok's attractions with some R&R, a pool is a necessity. For me it was vital since I planned to spend most of my time there. And while I was wishing, of course I wanted a spa.
When choosing a hotel in Bangkok what area should you stay in?
When it comes to Bangkok location should be a key consideration. There is a kind of deluxe hotel row around Siam, on Ratchadamri Road near the Erawin Shrine, with lots of fancy shopping centres nearby. That's a good central location. There is the lively Sukhumvit Road and then there is the river. Ah, the Chao Phraya, the River of Kings. You can stare at it forever, especially with jet lag. It's so much better than TV.
Some of the very best hotels in Bangkok such as the Shangri-La Hotel Bangkok and the Mandarin Oriental are on the river. This was my location of choice.
My final choice for a hotel in Bangkok came down to price, pools and location
Finally I chose the Royal Orchid Sheraton Hotel and Towers, which overlooks the river. The Plaza Athenee was neck and neck, inching ahead at one point because of the free fitness classes I saw mentioned on the web. Both properties have rave pool reviews online, but the Royal Orchid won out because at 3 a.m. two night's before I left (yes, I cut it a bit short, I know – but I was trying), I found a price for about $136 plus tax, which was cheaper than the Plaza Athenee plus it had a river location.
(The Swiss Hotel Bangkok was also in the running because prices were a steal – about $90 pre-tax, and because my very favourite shrine, dedicated to Chao Mae Tuptin, a goddess who lives in a ficus tree, is at the back of the parking lot – though it wasn't on the river.)
The lure of the Chao Phraya River
The big draw for the Royal Orchid Sheraton was the river. Every room has a river view. There are two pools, one in the garden-y area and a second sleeker saltwater pool that looks right out over the river. There is a fitness centre (which I walked by a lot, and thought about occasionally) and a sauna in the change rooms. And yay! The Mandara Spa is on the 3rd floor. Read my review of Mandara Spa in Bangkok
Review of the Royal Orchid Sheraton Bangkok
The Royal Orchid Sheraton Bangkok opened in 1983. It's not ultra modern and glam like the St Regis Bangkok on Rajadamri Road, but it's solid quality, has a lovely Pra Kaew Morakot Buddha shrine in the lobby, a gorgeous breakfast buffet (with dragon fruit!) that you can have on the terrace overlooking the river, a traditional Thai restaurant, an Italian Restaurant called Giorgios's, a lobby lounge etc etc. There is free Internet in the public areas.
I didn't find the area around the Royal Orchid great for strolling, although Chinatown is right there which is colourful and there is a walkway from the hotel to River City, an upscale antique and gallery mall.
There is a free very-adorable hotel shuttle boat from the hotel to the Sky Train.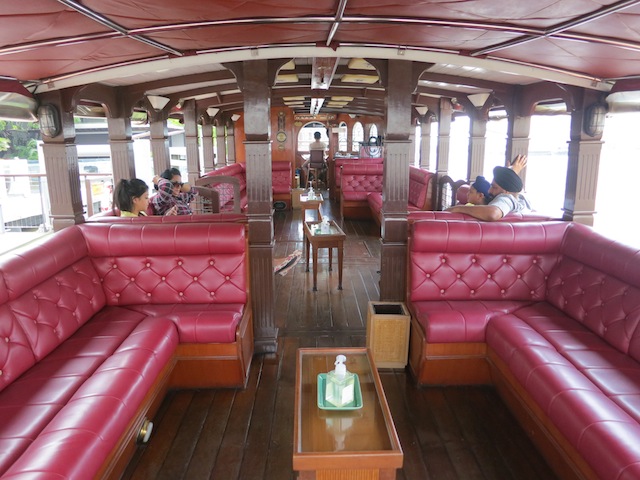 Advice for choosing a hotel in Bangkok
My advice to you. Don't stress about finding the perfect hotel to the extent that you leave packing to the ultra last minute (ahem, that would be me.) Finding the right place took me hours online, checking booking.com, tripadvisor.com, agoda.com, the hotel websites themselves, priceline.com, travel articles and anything else I could think of.
Searching for Bangkok hotel deals
When choosing a hotel in Bangkok, sometimes it's best to book on the hotel websites themselves because then you get hotel points (sign up beforehand – the Royal Orchid is Starwood) though I find the prices at sites such as Booking.com are often cheaper, and I considered putting in a bid at Priceline or booking one of Wotif.com's mystery deals – it's kind of fun to try to figure out which hotel they're talking about and the prices seemed excellent – and maybe next time I'll take a chance – but not this time because I didn't want to miss out on that garden-y pool.


Read more about Luxury Travel in Asia