This post may contain affiliate links.
An soon-to-be-wedded Jessica Biel probably had only one buff man on her mind when she went to an Austrian spa to unwind before her wedding to Justin Timberlake. But she got an extra eyeful anyway, as the traumatized celebrity reported to David Letterman. To hear more about Jessica Biel in an accidental naked man sandwich, read on.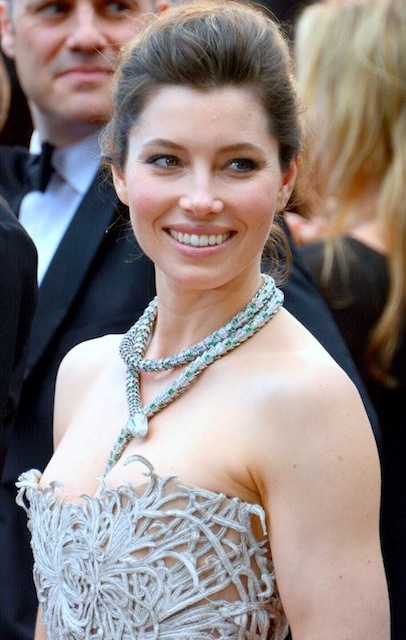 Jessica Biel's accidental naked man sandwich at Austrain spa – in her words
"We're in the spa, in the sauna, and in walk two husky Austrian men," Biel says. "I didn't really quite know what the protocol was, so I just lay there, frozen in my bikini and my robe and my towel and my slippers … and they drop their towels. And they are butt naked. Older, husky men."
Exposed!
"They were naked, okay? And I'm in the middle of them. And I'm thinking, how am I going to get out of here without being rude?"
"And I look over, and I realize, oh my god, it is confirmed – there are balls on wood. I mean, not just naked, but balls on wood, Dave! That's not okay."
Actually, being naked in the sauna in Europe is okay
Let me just interject here. It's completely normal to sweat in the nude in many spas of Europe, and, in fact, clothing is often forbidden. However, Jessica had it right – the balls on wood thing is NOT acceptable. Those things should have been on a towel. Now back to Jessica:
"Honestly, I was so stunned," Jessica Biel said. "I was having this internal conniption. I just lay there… sandwiched in between these …"
Jessica Biel's learning experience
But let's not worry about Jessica's lack of jet-setting spa savvy. She's a fast learner. "We found out later it was actually very normal," she admits. "Some places in Europe, the spas are coed, and nudity is cool."
See? Jessica Biel was the odd man out, not the husky naked guys. She was completely overdressed in the sauna, and somehow I'm thinking those men were wishing she'd hurry up with the culture lesson and just shed the clothes.
Tips for the European sauna
If you are in a German or Austrian spa take note. There are actually two very valid reasons to strip – and no, feeling liberated is not one of them. For one thing, some spa experts believe that clothing restricts your circulation, and that's not what you want in the heat.
For another, you'll embarrass the guests who are naked. So, is the only answer to take it all off in the sauna? Not necessarily. If you're shy, it's perfectly acceptable to wrap yourself up in a towel.
Want to know more about practicing safe sauna? Read the 9 Rules of Sauna Safety.
Want more spa and wellness? Read more at The Spa and Spa Travel