This post may contain affiliate links.
Vichy is one of the most famous spa towns in France, but most mainstream tourists pass it by – which is all the more reason to go. While the spa culture of Vichy can be confusing, especially for a European spa novice, there is an easy way to spa in Vichy, France, and I'm going to tell you how to do it.
What and where is Vichy?
Three hours south of Paris in the unsung Auvergne region, Vichy has drawn water lovers since the Roman times. In the 19th century Vichy was the 'IT' destination for the French aristocracy who made the rounds of the best spa towns in Europe, and if you care to walk – or soak – in their wet noble footsteps, grab a train from Paris or Nice, or hop in a car and wade into a uniquely French luxury spa experience.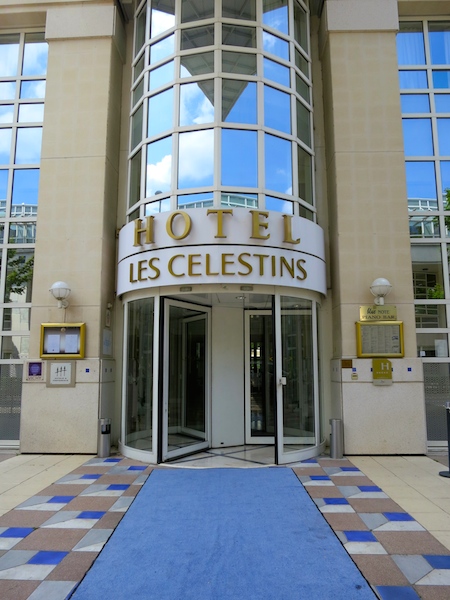 The easy way to spa in Vichy, France – Where to stay: The Vichy Spa Hotel Les Celestins
The deluxe Vichy Spa Hotel Les Celestins is one of Europe's top-rated spa hotels and is probably the best hotel for a spa tourist to stay in. Here's why.
Location The idyllic setting of the Hotel Les Celestins in the Park Napoleon III, between the River Allier and the Parc des Sources (the hub of the spa town) means it's both central and scenic. On a budget? Vichy is a very walkable town and most hotels will be located near the Parc des Sources, so if you're looking for something cheaper feel free.
It's not too expensive for a luxury hotel Considering what it is, I didn't find the Vichy Spa Hotel Les Celestins overly expensive. My husband, Mark, and I paid between 127 and 150 Euros a night, and that included spa access – which was key for me, as I hate being nickled and dimed when it comes to soaking in spa water.
Decor Built in 1993, the Vichy Spa Hotel Les Celestins is a contemporary take on Vichy's Art Deco heritage. It has a sleek decor, plenty of glass and gleam and, not least, an English-speaking staff. Both the restaurant and lounge have park-side patios, which are lovely in the summer. On the 7th floor there is a small indoor/outdoor rooftop pool.
Spa It's connected by walkway to the excellent Vichy Thermal Spa les Celestins.
What the Vichy Spa Hotel Les Celestins doesn't have
If you're looking for a step into Vichy's historical past (haha, what past isn't historical?), the Vichy Hotel Les Celestins is not going to provide it. In fact, Mark and I spent our first couple of days checking out other hotels in Vichy in the hopes of finding a faded palace with some dusty old world glamour rather than the contemporary chic-ness that is the Vichy Spa Hotel Les Celestins.
(This was in addition to wandering through the spa park wondering where all the people were, because Vichy seemed very quiet until we found the tea dance in the Halls des Sources.)
The closest we came to finding hotel history was the Aletti Palace Hotel. One of the last of Vichy's grand palace hotels – and the only one still run as a hotel – it was opened in 1911, and is a gracious, though faded, time warp with crystal chandeliers and plush red upholstery.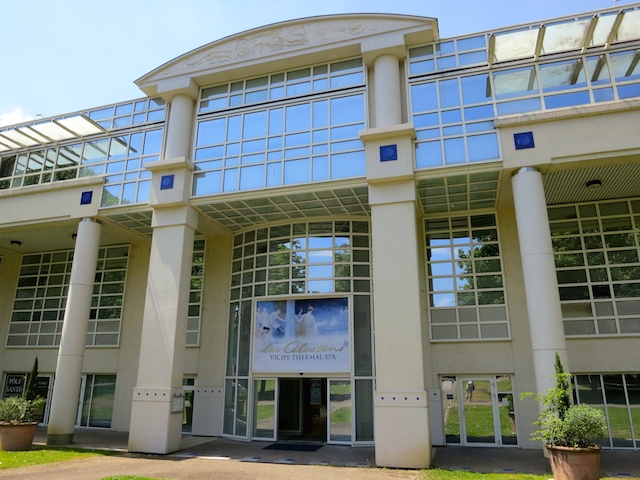 The battle of the Vichy hotels
Visiting the Aletti Palace flamed a small battle between me and Mark. Mark wanted to switch from the Hotel Les Celestins to the Aletti Palace for its genteel old world vibe while I wanted to stay at the deluxe and more modern Vichy Hotel Les Celestins so that we could walk to the attached Vichy Thermal Spa les Celestins in our comfy white hotel robes, because this was supposed to be the easy way to spa in Vichy. (Guess who won? Right. Spa access it was.)
This brings us to the easy way to spa in Vichy: The Vichy Thermal Spa les Celestins
The Vichy Thermal Spa les Celestins is one of the largest spas in Europe: 7500 square metres and 44  treatment rooms dedicated to health, beauty and wellness – and here's why it's the easy way to spa in Vichy.
It's similar to a North American spa The spa is easy to figure out, with a good website in English. Both spa packages and single spa treatments are offered.
It's noble! The Vichy Thermal Spa les Celestins is, according to the Vichy Thermal Spa website, "a luminous open space of vast volumes and noble materials." I, for one, cannot abide a spa that uses ignoble materials and I'm sure you can't either.
The luxe design and decor The  Vichy Thermal Spa is airy, clean and light, with a glass elevator, floors that circle a lofty lobby atrium and sleek contemporary art. Tres chic.
Good spa facilities The Vichy Spa has a nice indoor mineral pool – in which my husband and I soaked religiously every day – as well as saunas, a hammam and an ice fountain (to rub yourself down after a heat treatment).
What you need to know about Vichy Thermal Spa Les Celestins
The spa has different sections. The Institute des Laboratoires Vichy is for skin treatments (think facials) and treatments are based on Vichy products, which I'm sure you've seen in stores, and which are made using water from the Lucas spring, one of 9 springs in Vichy, France.
Medical wellness at Vichy
The more medical/wellness side of the spa offers a variety of holistic treatments and packages ranging from Digital Detox and Anti-Aging to Stress Relief & Sleep and Backache & Joints – the programs here are also all based around the healing thermal springs of Vichy.
Eeek! Do I have to see a spa doctor
To do many of the programs you will need to see a spa doctor, which the Vichy Thermal Spa can easily arrange (and don't worry, it's not harrowing or too expensive but you do have to pay, usually somewhere around $50 to $100). It's very common at traditional European spas so don't get freaked out (like I did the first time I had to).
Best reasons to spa in Vichy, France
To soak in the famous Vichy spring water  – The Vichy Thermal Spa Les Celestins uses water sourced from – no surprise – the Celestins Spring, named for a convent of Celestins nuns founded in 1410.
To improve your health – The naturally-carbonated water of Vichy contains all kinds of healthy minerals such as mineral salts, lithium, calcium, copper, iron and manganese – and if Napoleon III could ease his aches and indigestion using Vichy water, so can you.
To have a facial at the Laboratoires Vichy where a diagnostic test of your skin will dictate the proper therapy. And then you can buy Vichy products to take home (except I already had the product my therapist recommended).
To have a Vichy Shower – yes, folks, Vichy is where the famous Vichy Shower, that 'being showered with water while lying down' treatment originated in 1856. I was going to do a Vichy Shower, then I remembered I didn't love them, so opted for the above-mentioned facial instead.
To get a full-on spa package custom tailored to your health – Mark and I didn't do this, partly because treatments were pricy and partly because we wanted to spend most of our time lolling about in the indoor mineral pool, sweating in the sauna and wandering through the spa park wondering where all the people were.
What you need to know about Vichy, France – it might not be your scene
If you want a very tranquil and soothing spa holiday, Vichy fits the bill, but it might be too quiet for some. While we loved the cycling (we got bicycles from the hotel) through the parks and along the River Allier, and the shopping is surprisingly good for the size of the city, and loitering in cafés in the Parc des Sources a wonderful way to sit out a summer heat wave, the spa crowd in town is mainly elderly and here for a 3-week spa 'cure.'
That said, if you're a European spa lover, Vichy should be on your horizon. With its sleepy gracious charm and these tips on the easy way to spa in Vichy, France – it offers a tranquil (and aristocratic!) path to wellness.
Travel tips for Vichy, France
Hotels in Vichy: Mark and I booked the Vichy Spa Hotel Les Celestins through Booking.com. To look at the Aletti Palace try this page.
For everything you need to know about visiting Vichy and the aristocratic Vichy of Napoleon III: read my Vichy Travel Guide.
Want to enjoy my humiliation? Read about my socially disastrous adventures in Vichy
For more spa articles visit my Spa and Spa Travel page
For more about Europe visit Top European Destinations