This post may contain affiliate links.
With thick forest and scenic hills surrounding the spa town of Karlovy Vary in the Czech Republic, it's no surprise that hiking and strolling are two of the town's top activities. There are many Karlovy Vary walks , but one of the most popular is to the Diana Lookout Tower and to Jeleni Skok, the Deer Leap Lookout. Here's my deer leap adventure.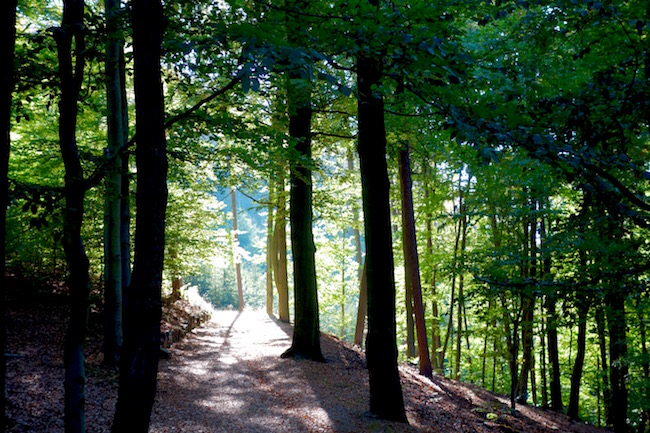 Trails in Karlovy Vary
No real deer hunt could be as fraught with tension as this. Wiping sweat off my forehead, I look up at the hill in front of me. The trail doesn't go that way, but surely the famous deer statue of Karlovy Vary (which isn't actually a deer it's a mountain goat), the one you see in all the travel brochures, has to be on top of a hill.
If this isn't where that stupid deer-that-is-a-goat statue is, I'm giving up, I tell myself, knowing full well I won't.
This is the last attraction on my 'what to do in Karlovy Vary' checklist (as opposed to my Karlovy Vary Czech list, ha ha). If I leave before finding the deer jump statue, my trip to one of the most beautiful spa towns in the world won't be complete.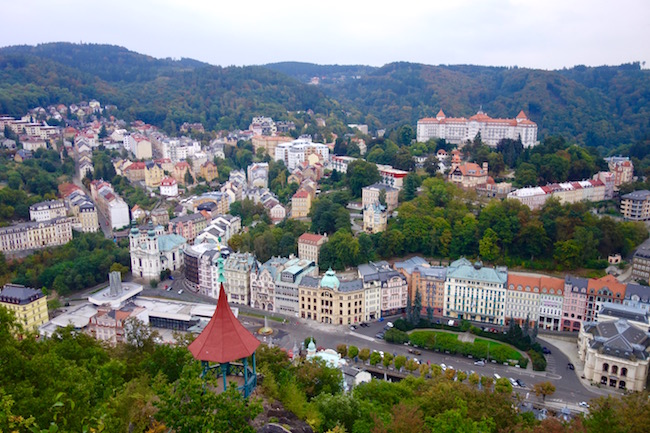 Karlovy Vary walks
For centuries walking has been one of the top activities in Karlovy Vary. Not only are the views sensational, but a key part of any traditional European 'spa cure' has always been hiking, strolling and gentle exercise. It's no surprise then, that the hills around Karlovy Vary are criss-crossed with trails, monuments, gazebos and lookout points – and by roaming the romantic woods, you're stepping into the past, tramping the same ground as many famous Karlovy Vary visitors such as Peter the Great, Beethoven, Goethe and Karl Marx.
Only I bet they never got lost.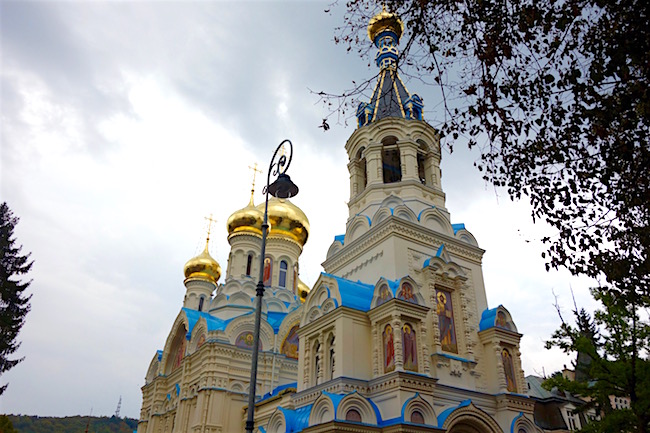 Where is the Leaping Stag?
It's been nearly two hours since I started my search, walking up past the golden domes of the Orthodox Church of Saint Peter and Paul and into the Slavkov Forest.
While I've tracked down a number of attractions in these richly-wooded hills, such as the Diana Lookout Tower built in 1904, which offers stunning views of the Ore Mountains, the Doupov Mountains and Karlovy Vary itself, I haven't come across any animal larger than a chipmunk, breathing or otherwise.
This hill I'm climbing isn't nearly as high as Friendship Hill (Výšina přátelství) where the Diana Tower is located but I have a good feeling about it. I reach the top, ready to burst into a triumphant shout and see … a tree.
No, no, no, I chant on the way down. Maybe the deer-that-is-really-a-goat statue is gone. It's happened before, after the original from 1851 was irreparably vandalized in 1984. In 1986, however, a bronze replica made by the sculptor Jan Kotek was put in its place. I hope it wasn't vandalized again.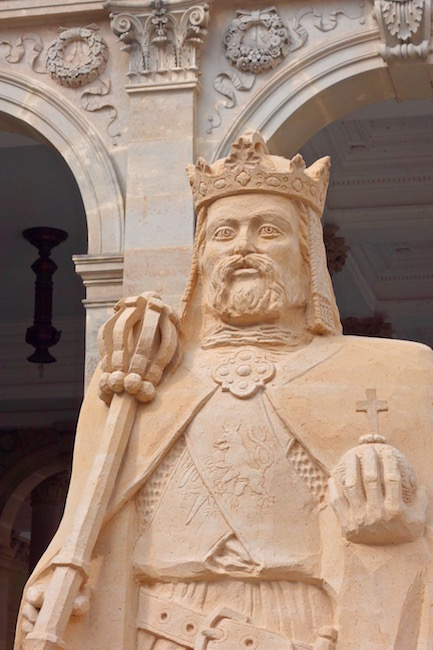 Why is the leaping deer important to Karlovy Vary?
The leaping deer (or stag) is a symbol of the founding of Karlovy Vary. According to legend, Charles IV, King of Bohemia and the Holy Roman Emperor, was hunting in the woods near his castle in Loket when his dog charged after a leaping stag and fell into a scalding hot springs pool.
Instead of boiling him alive, the water miraculously cured the dog's wounded leg. Charles IV, realizing the healing power of these mineral-rich hot springs, immediately founded the spa town of Karlovy Vary.
Is the Karlovy Statue a deer or a goat? A Karlovy Vary mystery revealed.
People interested in Karlovy Vary walks (meaning me) should be forgiven for thinking this iconic statue of Karlovy Vary is a deer or a stag. After all, the legend says deer, there is a funicular stop named Deer Leap (Jeleni Skok), a restaurant named Deer Leap (also called Jeleni Skok) and a Deer Leap Lookout.
But here's the thing. The statue wasn't intended to be a symbol of the stag-leaping legend, it was meant to mock it.  It was commissioned by a wealthy (and admittedly cranky) Karlovy Vary resident, Baron August Friedrich von Litzoy. He argued that a deer didn't have the physical capability to go leaping around on these jagged rocks, therefore the animal in question had to be a type of mountain goat called a a chamois.
An unexpected icon
In the name of accuracy he had this statue of a goat or chamois made, never realizing that people would come to love the statue as much as the legend itself, or that it would cause no end of confusion for tourists like me, who 1) can't find it 2) assume it's a deer and 3) always thought chamois was a sort of soft leather, which it also is.
Walking in Karlovy Vary – Peter's Height Lookout
On another hill, at the Petrov Hill Lookout, I find a monument to Peter the Great, the Tsar of Russia who visited in 1711 and 1712. He gets a monument because, in a great show of horsemanship he rode bareback up this rocky hill before a trail even existed. It's said that to mark his triumph, he carved his name in a wooden cross that once stood here.
There is, however, no Leaping Deer Statue.
Jeleni Skok Restaurant
By now I've climbed so many hills I'm starting to feel like a chamois myself. I'm also starting to mutter out loud, and there may be some swearing involved, but when I find the Jelení Skok Restaurant I feel a fresh burst of hope. If this is the Deer Leaping Restaurant, surely the statue can't be far. Outside, by a picnic table, a handful of men drinking beer stop and stare at me, as if I'm crashing their private party.
"Um, hi." I say, fluttering my fingers in their general direction.
One of the men says something in Czech and they all laugh.
Deer jump frustration
Honestly, haven't they ever seen a deer hunter before? Ignoring them I approach a waiter carrying a tray of empty glasses. "Excuse me," I say. "Where is Jeleni Skok?"
"Here," he says pleasantly.
"No, the Leaping Deer." I make a rock with one hand, a deer with the other and mime a deer-on-a-rock statue.
"Here."
"No! The leaping deer! The leaping deer! Jeleni Skok!" At this point my 'deer' hand is bouncing up and down on my 'rock' hand with some ferocity. In desperation I turn to one of the laughing men. He's burly, red-faced and really quite pleasant considering I'm practically shrieking in his ear. "The deer! The deer! Where's the deer?"
"Ah," He leads me over to a leaping deer plaque on the side of the restaurant and launches into an exhaustive broken-English explanation of the legend of Charles IV and the discovery of Karlovy Vary.
"Yes, but where is the statue?" I wail.
He seems disappointed that I don't want to hear the rest of his story, but obligingly asks another man.
"Kamzik," the man says, waving further along the path.
Kamzik, what is Kamzik?
Kamzik? I thought I was looking for Jeleni Skok. How many names does this statue need?
At least I'm hot on the deer's tail (pun intended). With renewed vigour I set off, but when I spot the same red-roofed gazebo I passed an hour ago, although before I was above it and now I'm below, my shoulders stoop in defeat. "I give up!" I tell a spruce tree.
Dusk is settling over the forest, casting ominous shadows behind every tree and I have to get back to the hotel to pack. The legend of Karlovy Vary will have to live on without me. Stomping my way down the path, I turn a corner and there it is, much closer to the town than I'd realized. The goat-that-should-be-a-deer is perched high on a needle-like rock.
Deer Love
My heart gives a dainty deer leap of its own. "Kamzik!" I cry. I'm so relieved I want to hurl my arms around its little bronze horns and hug it to pieces, but to do that I'd have to scale the rock. Also it could be mistaken for vandalism.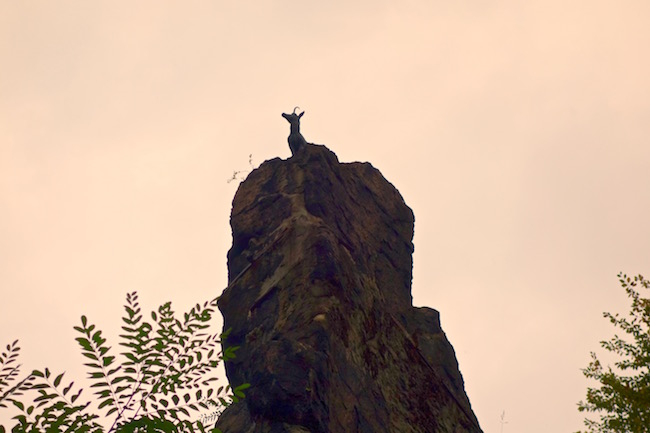 Instead, I throw it a look a fawning adoration. It may be a chamois but it will always be deer dear to my heart.
Travel Guide for Walks in Karlovy Vary
Hiking around Karlovy Vary Essentials
Your life will be easier if you pick up a map and a free brochure on Karlovy Vary walks (called Spa Walks) either from your hotel or the Karlovy Vary Tourist Information Office. You need them both because the Spa Walks brochure has no map, while your Karlovy Vary map show various hikes in different colours, but won't have any detailed explanations of what you will see. Another resource are the large detailed map boards you'll find at certain trailheads.
Even so, you may get lost. Obviously I did, but getting lost is half the fun (except when it's really annoying), and when you lose one trail you'll soon pick up another. That said, you're hiking at your own risk. Don't get too close to drop offs, take water, a map and preferably a cell phone.
If you like it, please pin it!
Spa Walks
The Spa Walks are a series of 22 different walks and hikes with 3 difficulty levels: low, medium and high. They pass various attractions and show the length and time of each walk.
How to access the trails
To get into the hills you can head up from pretty much any point in the tourist spa zone. You're sure to stumble upon a trail at some point. Many trails lead up from the Grandhotel Pupp. Another scenic entry point is to walk up into the former English neighbourhood of Westend, filled with grand old villas and hotels. Across from the Orthodox Church of St Peter and Paul you will see a pretty pond called Little Versailles. You can enter the woods from there.
The Funicular – Exploring the hills of Karlovy Vary the easy way.
Behind the Grandhotel Pupp on Mariánská Lane at the top of the spa promenade is a funicular that you can take up to the Diana Observation Tower. To get to the Deer Leaping Statue (that's really a goat), you can walk down from there. There is also the Jeleni Skok Funicular Station midway, though you might want to ask at the ticket desk make sure it stops there.
To get to the Kamzik Statue (Kamzik means chamois in Czech), follow the signs for Jeleni Skok to the Deer Jump Restaurant, pass the front of the restaurant where the picnic tables are then look for a hand painted sign that says Kamzik 200 metres, and lo and behold, just when you think you've missed it, there it is. It's so easy when you know how (which is why you need this Karlovy Vary travel blog, so you can learn from my mistakes).
Popular sights to find in the woods around Karlovy Vary
Diana Lookout Tower
Taking the funicular up to the Diana Lookout Tower is one of the most popular excursions in Karlovy Vary. The 40-metre observation tower has an elevator up to the top, or you can walk up the 150 steps (I did, because I'm crazy). Entry is free. There is also a restaurant nearby. From this point there are a number of scenic trails.
Therese's Obelisk – Just below the Peter the Great Monument is an obelisk dedicated to Marie-Thérèse-Charlotte de France, the Duchess d'Angouléme. The only surviving child of Marie Antoinette, she stayed in Karlovy Vary in 1833.
Lookout of Charles IV, King of Bohemia – If you're looking for more Karlovy walks and hikes there are plenty of other things to discover. One is the Charles IV Lookout Tower dating back to to 1877, a 2-story Neo-Gothic red brick structure, and the oldest lookout tower in Karlovy Vary.
Goethe's Belvedere – Built in 1889, it's located at the top of 165 steps.
Resources for travelling in the Czech Republic: The Czech Tourism Board has an excellent website with helpful info and travel tips.
Read more about Bohemia and things to do around Karlovy Vary: The Easy Way to Spa in Marianske Lazne and One Day in Loket: a celebrity hotspot. Learn more about hotels in Karlovy Vary.
For more info on Europe read Destinations to travel to in Europe or visit my European Travel category page.
Disclosure: My trip was subsidized by the Czech Tourism Board. All opinions and goat/deer confusions are my own.