This post may contain affiliate links.
Rome is freaking hot in August. This is not a revelation. Newsflash: it's also jammed with tourists. Luckily, we had a place to escape the crowds, The Rome Cavalieri Hotel.
Where to stay in Rome – should you be central?
This is probably one of the only hotels I've stayed in that wasn't really central that I loved. In fact, the more time I spend in Rome, the more I appreciate that the Rome Cavalieri Hotel isn't central.
Rome in high season
If you go to Rome in high season like my boyfriend Mark and I did, you'll find Trevi Fountain insanely packed with photo snapping tourists (oh, wait, that's us.)
Summer heat in Rome. Yikes!
You'll also sweat our more wine than you can possibly take in. But it's still Italy, and who doesn't want to spend time there?
However, when my boyfriend, Mark, and I booked our trip and I let him pick our (cheap) villa rental in Umbria I bargained. "Okay, honey, but if I have to stay in a possible dump for three weeks, we're staying in a 5-star in Rome for 3 days first."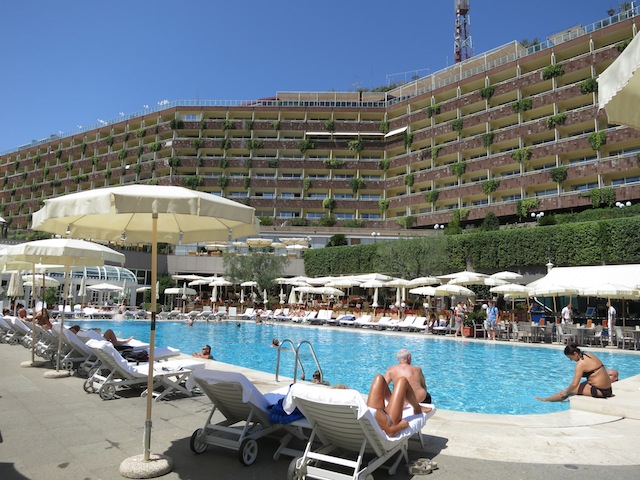 Picking a place to stay in Italy, upscale or bargain?
Admittedly the rental he picked, a little stone farmhouse, does look nice in photos (don't tell him I said that) but I had to complain because it was the perfect excuse to justify staying in a luxury hotel in Rome.
So I picked the Rome Cavalieri Hotel. It's a Waldorf Astoria! Whoohoo! I got a decent price on Priceline, but I was worried that it's not central, it's up on Rome's highest hill. Nice for the view but if you're intent on being in the heart of the action it could have been a problem. I assumed it was going to be a problem for Mark.
Crowds in Rome
And then, however, once we got to Rome we realized that being in the heart of the action in August means WAY TOO MANY PEOPLE.
Space to breathe at the Rome Cavalieri Hotel
We also learned that being at the Rome Cavalieri Hotel means space. 15 acres of Mediterranean gardens. Pools (four of them)!
Grand Spa at the Rome Cavalieri Hotel
The Rome Cavalieri has a lovely spa. (Full disclosure, I tried to get a complimentary spa treatment so I could review it for you, dear readers, especially because it has La Prairie products which I adore, but no such luck. I did however, get use of the pools. Yay!)
About Rome Cavalieri Hotel
All around, the Rome Cavalieri Hotel is seriously luxe, the decor done up in a grand flamboyant style that Italians do so well, with an elegant lobby, lots of marble and old master paintings (Tiepolos! In the lobby bar! Three of them! I nearly had a happiness heart attack).
It also has a 3-Michelin star restaurant on the rooftop, La Pergola.
So hurrah, our relationship is saved, at least until we see our villa in Umbria. (Update: We got engaged in Umbria so the trip worked out well for all concerned – even if some of us like luxury travel more than the other.)
TRAVEL TIPS for the Rome Cavalieri Hotel
Rome Cavalieri Hotel location: The Cavalieri is at Via Alberto Cadlolo, 101, 00136 Roma, Italy. It's on a hill in Montemario. Check out the price at Booking.com.
Complimentary shuttle bus: If you're a  guest at the Rome Cavalieri Hotel you can use the free shuttle bus that goes hourly from the Rome Cavalieri to the Piazza Barberini, which is a short distance from the Spanish Steps and Trevi Fountain. The bus also stops at Via Veneto. We generally took the shuttle bus to the centre and caught a taxi back in the evenings.
Pay to play alert: If you're staying at the Rome Cavalieri Hotel it's still 18 Euros to use the pool per day with a sun lounger and towel included. HOWEVER, an attendant told me that if you just want to swim without the lazing around on a lounger and towel use, there's no charge. For me, however, swimming is all about the lazing around so I would say it's worth it.
Access to the Cavalieri's Grand Spa is also extra, but if you're a Hilton Gold Member spa access is included as is WiFi and breakfast.
Rome Where Magazine just voted the Hotel Cavalieri Hotel Hilton (okay, so somehow it's a Hilton and a Waldorf Astoria because the Waldorf is part of the Hilton family) as having one of the best outdoor pools in Rome:
"Surrounded by 15 acres of Mediterranean gardens, the Hotel Cavalieri Hilton is just about the closest you can get to getting away from it all without leaving the city. The hotel's Olympic-sized pool is a draw for swimmers intent on serious laps, but also for style-conscious sun-seekers: this is one of the chicest poolsides in Rome, as evidenced by the array of designer swimwear modeled by lounger-bound lovelies."
Obviously, they have never seen me in a bathing suit.
Day pass to the Roman Cavalieri Hotel pools: If you do want to spend a day by the pool and you're not staying here you can pay 45 Euros Mon to Fri or 85 on weekends, which really makes the 18 Euro fee for guests seem almost a steal.
For more Rome posts visit the Vestal Virgin page or the Roman Colosseum page.
Read more: about the Best cities to Visit in Italy
For more of the best places in Europe to see: visit Top European Destinations