This post may contain affiliate links.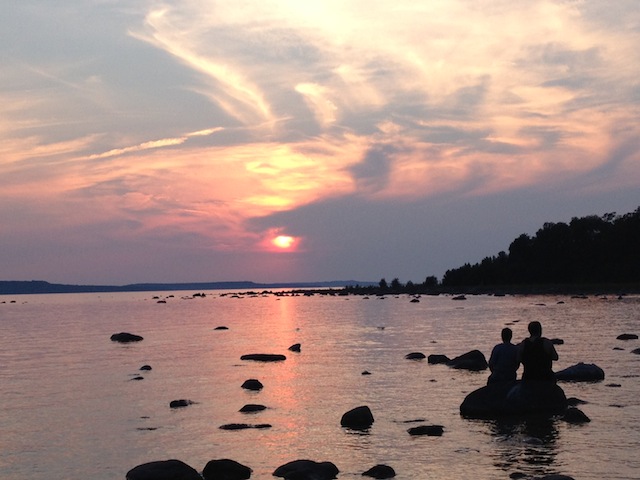 "Are we the only people who start their beach day at 5:30 in the afternoon?" I asked the parks staff at Awenda Provincial Park as Mark and I rolled into the park's office to pay our day fee.
"No, someone else just drove up," the girl says.
Oh, good. We're not the only ones who start their day-tripping late. But getting out early is overrated, in my opinion. It's summer, there is plenty of light until 9 or 10 p.m. and in a heatwave, I can't handle the noon sun. While savvy travellers will tell you to travel during shoulder seasons like spring and fall to avoid crowds, get better prices and enjoy idyllic weather, I'm telling you that's old news. We should be thinking about travelling at shoulder times of day!
Let's take Awenda Provincial Park for example.
It's a 2 or 3 hour drive north of Toronto, just past Penetanguishene, and this way you can get up late on a Saturday, go out for leisurely lunch in the city and still have a whole new day tripping adventure to look forward to. And then once you get there all the competent travellers: the plan-ahead families with their plastic buckets and dogs-on-a-leash and the groups of campers with their coolers who have staked out the best places are leaving.
You get the beach practically to yourself. And in Awenda this is important because there is one special spot, which I've probably mentioned before, because it's one of my very places in the world, and it's at the very end of Beach IV. Be forewarned, it's about a 40-minute walk but we had our bikes.
It's got it's own little natural wading pool …
And if you veer off to the left (you have to step over the huge clump of rocks and go straight into the water so that you are technically avoiding putting your toes on the private beach with the no trespassing sign), it's a lovely sandy bottom, just like mine was after splashing around in shallow water.
If it wasn't for the 50 or so sand fly bites I got, which I'd never gotten at Awenda before, it would have been perfect. But at least this way I had a lasting – just not too lasting, I hope – Awenda souvenir.