This post may contain affiliate links.
When I told my mother I was going to Assisi, a medieval town in Italy, she said that she and my father had gone there on their honeymoon, aka the penniless but thrilling art tour of France and Italy, to see the Giotto frescoes.
"You mean Padua," I said. "The Giotto frescoes in Padua."
"Assisi. We spent quite a lot of time there."
Giotto in Assisi
This is the thing. I didn't believe my mother, but of course she was right. When it comes to art my mother is always right. I knew about St Francis of Assisi in Assisi, but had never heard of any Giotto painting frescoes there, and that made me even more determined to visit – I just didn't realize I'd come so close to spending a night with the ghosts of the great painter himself.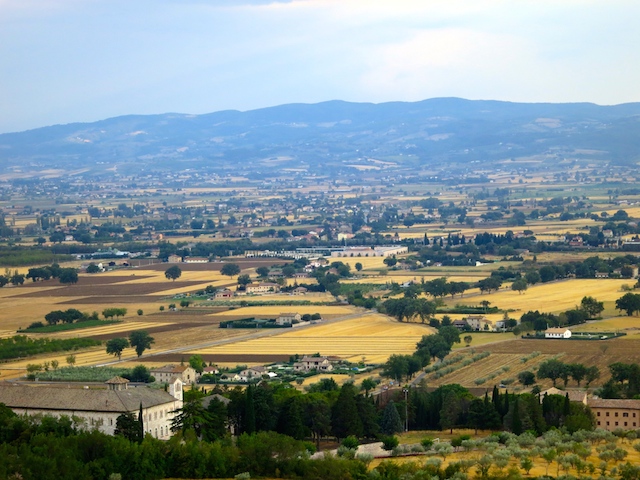 Giotto, the Father of the Renaissance
Giotto di Bondone, a painter born in 1266 is considered the Father of the Renaissance. He revolutionized art with his natural figures and individualist expressions that showed the real world as opposed to a stylized version of it.
All that is very lofty and intellectual. The real reason I love Giotto is because of all the earthy tones he uses and the rich ultramarines and because of the slightly rigid compositions that make you feel as if there is a perfect order to the universe and because of all those little putti with wings and gold halos that seem to poke right out of the sky.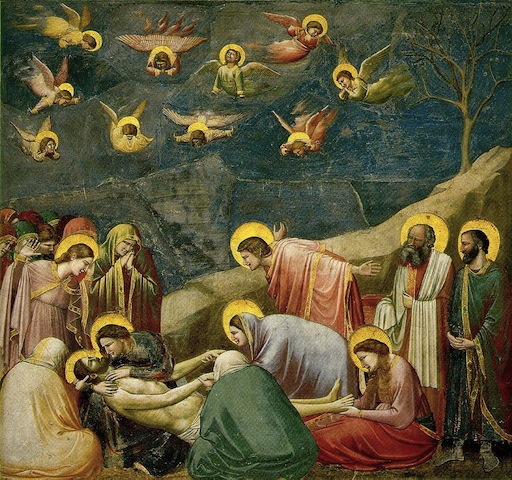 Driving to Assisi, Italy
Since my extremely significant other, Mark, and I were renting a little villa on a hillside in Umbria and were only about an hour away (excluding time taken for wrong turns), we decided to make a day trip to Assisi. And once we caught a glimpse of this stunning walled hilltop town on Monte Subasio I realized why my parents had lingered there. There is a special quality in the town of Assisi, a kind of peace.
One day in Assisi
Unfortunately, Mark and I weren't immediately infused with the peacefulness that a visit to Assisi should bring, because we'd parked on the far side of the town from the Basilica of San Francesco d'Assisi and wanted to find it before it closed, which was in 20 minutes. So my advice to you is: If you plan to spend one day in Assisi, make sure it starts before 4:00 p.m.
If you're visiting Assisi here's another tip: The Basilica of San Francesco d'Assisi is located just outside the city walls on the western tip of Asio hill. Woe is you if you park on the east side and don't have a lot of time.
In addition to the Giotto frescoes I wanted to see the tomb of St Francis of Assisi. So we raced up the escalator that took us up to the top of town and along the cobbled streets, only pausing long enough to ask random strangers for directions. (Or rather Mark raced with me trying to get him to slow down to trotting speed as he is, erm, focused when it comes to getting places.)
Visiting Assisi at the speed of light
And while we're speeding through Assisi at the pace of flying hawks, with me whining behind Mark and thinking to myself that this spiritual hill town should be a place of love and bliss and that, at the very least, Mark and I should be holding hands with occasional pauses to look adoringly into each other's eyes (after all, we had just got engaged in Umbria), let me tell you who St Francis of Assisi was.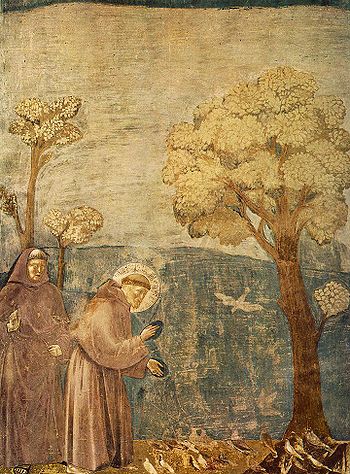 St Francis of Assisi
St Francis, real name Giovanni di Pietro di Bernardone, was born in Assisi about 1182 and died in Assisi in 1226 (40 years before Giotto was born). St Francis is the patron of animals, merchants, ecology and possibly stowaways. A wild and wealthy youth, he was imprisoned in Perugia for a year during a war between rival Italian hill towns.
It was in prison that St Francis of Assisi came to see the shallowness of his life. Eventually, after being released, he cast off his riches and turned to God. He loved nature, preached to the birdies, slept out in the open and is said to have befriended a ferocious wolf, stopping it from terrorizing the townsfolk of Assisi.
Importantly, St Francis founded the Franciscan Order of monks. Perhaps not so importantly, but very endearingly: St Francis is also credited with creating the first nativity scene.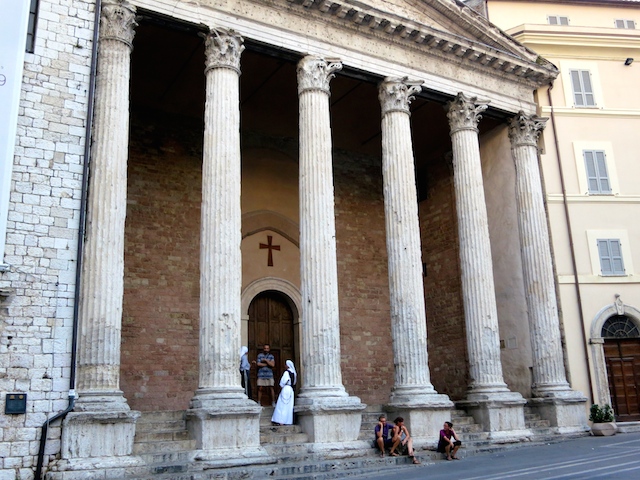 Our day trip to Assisi might be short, but we make it
Mark and I reached the Piazza San Francesco where the basilica is located with 10 minutes to spare. If you're visiting Assisi, here's another essential travel fact: The Basilica of San Francesco d"Assisi is not one church, but two. Plan accordingly and give yourself time – something, as I may have mentioned, we obviously didn't do.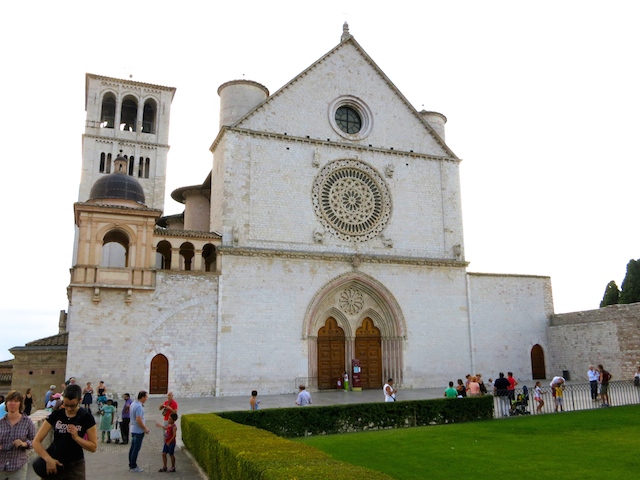 One day in Assisi: Here's what else you need to know about the Basilica of San Francesco d'Assisi
Construction on the Basilica of San Francesco d'Assisi was started about two years after the death of St Francis. In fact, the first stone was laid the day after he was officially declared a saint in 1228. Even today, the church remains an important pilgrimage spot for Christians.
Ghoulish fact: The Basilica of Saint Francis of Assisi was built on an area once used for executions and was called the Hill of Hell, now it's known as the Hill of Paradise.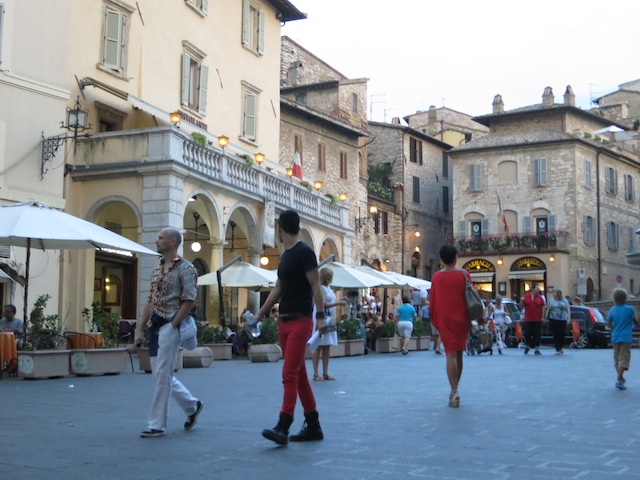 Visiting Assisi – the Lower Church and a tremendous discovery
The Lower Church at the Basilica of San Francesco d'Assisi houses the tomb of St Francis. The body of St Francis was brought here after this part of the basilica was finished in 1230. Fascinating fact: The body of St Francis was buried beneath the High Altar and sealed with stones so that no one could steal it. It was rediscovered in 1818 and a proper crypt was built around it.
I would have liked to linger in the Lower Church, as surely this is the spiritual heart of Assisi, but as time was running out we had to whip up to the Upper Church to see the Giotto frescoes.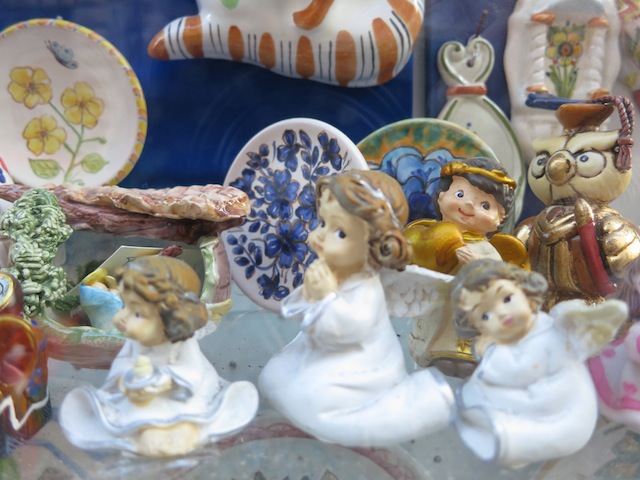 The Giotto frescoes of Assisi controversy
Are the frescoes in the Basilica of San Francesco d'Assisi really by Giotto? That's the million-dollar question. Their provenance has been debated since 1912, not because of their quality, which is unmistakable, but because of stylistic differences between them and some of Giotto's other work. However, as my wise mother says, "whether they are Giottos are not, they are wonderful."
Here's my qualified opinion: They look like Giottos to me.
The Legend of St Francis (probably) by Giotto and how Carol gets in trouble in the Upper Church
If you're visiting Assisi for a day, know this: Five minutes is not long enough for an in depth tour of 28 probably-could-be-Giotto-frescoes that represent the Legend of St Francis, not to mention the work of other 13th century superstars such as Cimabue, who painted the transept and apse.
So. When the announcement came that the church was closing and everyone should leave, it seemed natural to go the other way. It's a very dimly-lit church, and it's possible I disappeared completely as I headed up toward the altar.
At first I went gingerly, but no one came after me, so I relaxed and continued to enjoy the maybe-might-be-Giottos, which as my mother said, are a masterful sight to be seen. I was so caught up in the scenes from the life of St Francis that it took awhile to notice I was the only person left in the church. At least the only person who wasn't a fresco.
Guess I should leave, I thought. But instead I kept going. Wouldn't you? I'd found the famous frescoes of Giotto in Assisi!
Meanwhile an almost panicked Mark was standing outside the door. "They were going to lock it up," he said, when I eventually came out (under duress). "I had to tell them there was still someone in there. You were going to be locked in."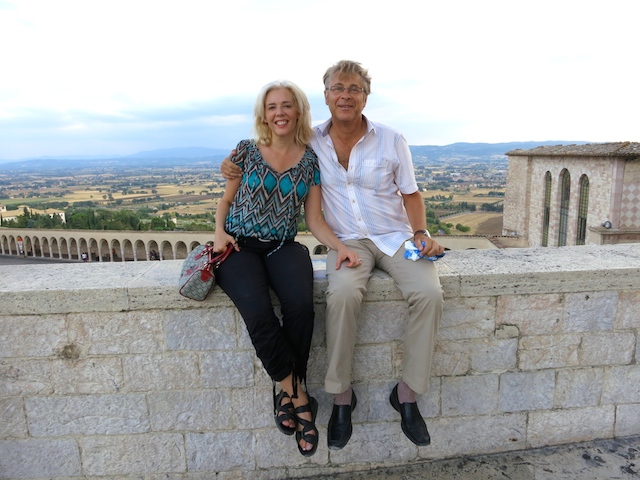 Of course I was grateful Mark was ratting me  out looking out for me, but I was a wee bit sorry, too, because if I had been locked inside the Upper Church of the wonderful Basilica of San Francesco d'Assisi, I would have been able to spend the whole night with the possibly-not-but-now-I'm-sure-they-are Giottos. And that would have been a spiritual experience in itself.
Travel tips for visiting Assisi in Umbria
Where is Assisi? Assisi lies between Rome and Florence about 24 km from Perugia.
Visiting Assisi is possible by train but not amazingly convenient. To get to Assisi from Florence you'll need to transfer in Terontola/Cortona from the Florence to Rome line. From Rome you'll need to transfer in Foligno from the Rome to Ancona line. Get off at Santa Maria degli Angeli Station, about 3 km from Assisi's historic centre and at the bottom of the hill – a 30-minute bus ride on the C Line away.
Parking in Assisi: We parked in the Porta Nuova parking lot, from there there is an escalator up to the city.
Wandering through the ancient streets is the best activity in Assisi (but not at the pace of a flying hawk). Give yourself enough time to enjoy it – especially as there are a lot of uphill climbs.
The Piazza del Comune is an excellent place to people watch. Check out the stunning facade of the Temple of Minerva from the 1st century BC.
If you're spending one day in Assisi, try to make time for the hermitage. Surrounded by forest, set in mountain ravine, the Eremo delle Carceri, the Hermitage of Prisoners, was a retreat favoured by Saint Francis. Despite the name it wasn't actually for prisoners but for the monks to pray in solitude and quiet. (About 4 km from central Assisi.)
When in Assisi, eat gelato. My favourite gelato of our entire trip to Italy was bought from a café on Assisi's Via San Francesco, a shopping street where you can buy every astounding souvenir known to man. Angel plates and glow in the dark rosaries, anyone?
Visit the Chiesa di San Rufino, the Church of Saint Rufino, with its Romanesque facade, bell tower and small museum.
See the pink and white stripes on the facade of the Chiesa di Santa Chiara, the Church of Saint Clare dedicated to Saint Clare, a follower of St Francis who died in 1253. Inside is the San Damino Crucifix, said to have spoken to St Francis, setting him on his path to spirituality.
PS: We ended up in Umbria
Read more: about the Top Cities to Visit in Italy
For more of the best places in Europe to see: visit Top Destinations in Europe