Fifty years ago my parents eloped to Paris and went on a honeymoon in the South of France. Years later, I decide to trace their footsteps and end up on an art trail around the Côte d'Azur. You can, too.
Honeymoon in the South of France deja vu
Strolling down Nice's Promenade des Anglais along the sparkling Bay of Angels, I have the unusual sensation of stepping into my parents' honeymoon – half a century after the fact.
With its luminous seaside beauty, the Côte d'Azur in the South of France has attracted painters for generations, and my parents, two art-obsessed farm kids from Saskatchewan, landscape painter Dorothy Knowles and abstract artist William Perehudoff, were no exception.
After being married in Paris in the early 50's they came to explore the legacy of painters like Léger, Picasso and Matisse. And now I'm tracing their honeymoon in the South of France.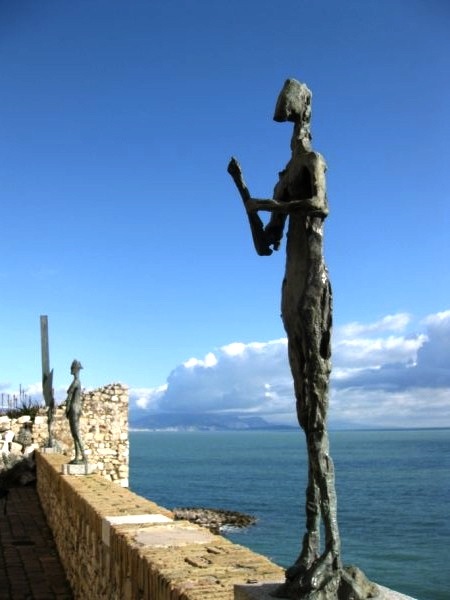 Not much to go on
I am armed with a few of my mother's reminiscences. She wore a red coat. They'd done day trips from Nice and visited the town of Vence to see the just-completed Chapelle du Rosaire designed by Matisse.
"And there was another town, with a chapel that had the work of a lot of different artists," she said. "I remember stained glass by Braque and Rouault."
"Who's Rouault?"
"How can you not know Georges Rouault?" my mother was shocked. "He was so famous."
So maybe my art history is lacking, but there's no better place to get up to speed. In Nice's elegant Cimiez neighbourhood, where Matisse spent his last years, I visit the Matisse Museum, a Genoese-style villa where his brightly-coloured paintings and cut outs hang among some of the very furnishings depicted in his interior scenes.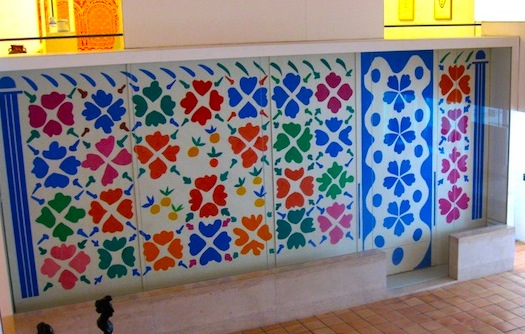 Picassos in Antibes
He's not the only artist with a museum dedicated to him. There is the Fernand Léger National Museum in the town of Biot, the Renoir Museum in Cagnes-sur-Mer, and in the coastal town of Antibes, Picasso's former studio in Grimaldi Castle is now part of the Picasso Museum.
His work during this period, 1946, was joyful and exuberant, filled with satyrs, centaurs and fauns, and the artist donated many of them to the town. "If you want to see the Picassos of Antibes," he said, "you must come to Antibes to see them."
So on their honeymoon in the South of France, that's what my parents did.
Monet in Antibes
Picasso wasn't the only artist inspired by Antibes. The Impressionist master, Monet, so taken with the dazzling changing light he painted the same views repeatedly, saying, "You need to paint here with gold and precious stones."
Tracing my parents honeymoon in the South of France means tracing Matisse's path to Vence
From Antibes I head inland to Vence where it took Matisse four years to design the Chapelle du Rosaire for the Dominican nuns.
"This is not the Matisse Chapel!" says Sister Marie-Pierre, backlit by a shimmering stained-glass window of blue, green and yellow. "It is the Rosary Chapel designed by Matisse!"
It may not be his chapel but it's hard to ignore him. Matisse orchestrated everything, from the flower-stalk-shaped candlesticks on the tan stone altar to the priests' vestments, creating a space where people could "feel purified and relieved of their burdens."
"Look out the window through the green glass," Sister Marie-Pierre tells me. "Everything is green. Now look through the blue. Do you see how the plants look red?"
Magic of Mattisse
I peer out. It's true. The not-yet-in-bloom flowers magically gain colour. Did my parents look out the same window and marvel at the light, I wonder? Did the modern serenity of the chapel inspire them in their own art, though it would be another decade before their first major show?
It's a bittersweet thought – this same week I'm reliving my parents' honeymoon, my father has entered a long-term care facility, his paintings days over.
But here I feel his joy.
Any honeymoon in the South of France worth its salt should include truffles at La Colombe d'Or
Afterwards, needing a break, I stop at the walled hilltop town of St-Paul-de-Vence for a sun-drenched terrace lunch at the legendary restaurant, La Colombe d'Or. Chagall, who lived in town, was a regular, and painters like Miró, Picasso and Braque were known to swap art for food. Today, priceless paintings line the walls.
I finish my black truffle salad (divine!) then visit the nearby Maeght Foundation, a sprawling museum set among umbrella pines, with outdoor sculptures by Calder and Giacometti and a multi-tiered labyrinth by Miró.
I almost bypass the small chapel on the grounds, then step inside. The interior is dim. A spotlit crucifix glows on the wall. Above it, a purple stained-glass window by the Cubist painter Braque lets in a brooding light.
There is another stained-glass window. The artist is Raoul Ubac. With a jolt, I think I've stumbled upon my mother's memory: the unspecified town, the chapel, the stained glass by Braque and Rouault. It's only later I realize Raoul Ubac is not Georges Rouault and that the chapel was completed after my parents were here.
Even so, my own discovery of this tranquil space makes me feel closer to my parents as they were then, two art-loving newlyweds out to explore. A honeymoon in the South of France, I decide, isn't necessarily only for two.
Travel tips for a South of France honeymoon
Nice: The Boscolo Hôtel Exedra Nice is an exuberant mix of belle époque architecture and over-the-top art. www.boscolohotels.com
St-Paul-de-Vence: The hotel and restaurant La Colombe d'Or is an art-laden hideaway with a star-studded history. www.la-colombe-dor.com
Once you're here, the French Riviera Executive Transport Service offers tours and transport of the area. www.executive-transport-service.com
Read more about Things to do in the South of France. For more information on the Côte d'Azur visit www.guideriviera.com.
Read more: about Top Destinations in Europe