This post may contain affiliate links.
To kick off my summer partnership with Rocky Mountaineer, that fabulous luxury train that travels through the Canadian Rockies (Oh, wait. It's not just Canada. Sorry, Seattle, didn't mean to leave you out) and Seattle and … okay, let's start again.
To kick off my summer partnership with Rocky Mountaineer, that fabulous luxury train that travels through the Canadian Rockies and part of the Pacific West Coast, I'm listing the top 5 experiences only a rail ride can provide – also known as why take the train.
Why take the train reason #1) New territory
The train can take you through areas not accessible by foot or car. Example: Whistler, a remote area of the Rockies untouched by human hand. Wait, what? Whistler's been touched? It hosted the 2010 Winter Olympics and has spas and 5-star hotels?
Oh, okay then. How about the Journey through the Clouds route? Were the Olympics ever held on a twisty curve around a mountain near Pyramid Falls or Albreda Glacier? I rest my case.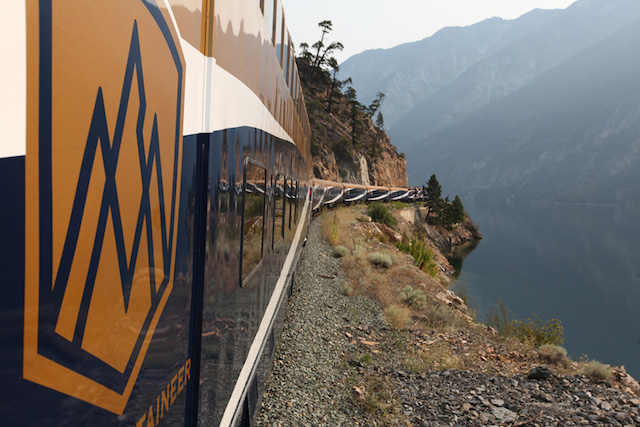 Why take the train reason #2) A rail ride provides the scenic route
There's no denying it. Flying over the Canadian Rockies at 30,000 feet is exciting. For about 10 seconds. You look down, see snow on a jagged peak, then clouds cover everything and you go back to your inflight movie.
In a car you actually have to watch the road (and worry about finding a bathroom). With the train you can give your undivided attention to the stellar scenery and wildlife of the Canadian Rockies. Because the Rockies deserve it. (And so does part of the Pacific West Coast.)
Scenic train route example: The Rainforest to Gold Rush route takes you by Mount Robson, the highest peak in the Canadian Rockies. How many times do you pass something like Mount Robson in your everyday lives? (If you live in the Himalayas or at the foot of Mount Robson, please don't answer that.)
And in the latest breaking train news: The Rainforest to Gold Rush route has just added SilverLeaf Service (up until now this route had only RedLeaf and GoldLeaf Service).
FYI: SilverLeaf Service lies somewhere between ultra luxe-y GoldLeaf Service and very nice RedLeaf Service).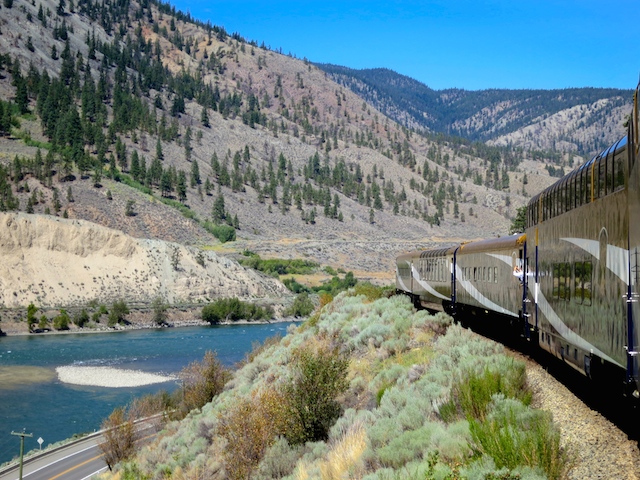 Why take the train reason #3) Freedom and comfort
Traveling by car or plane can cramp your style, literally. Trains give you space to stretch out in, lots of legroom, freedom to roam around and, in the case of luxury trains such as the Rocky Mountaineer, a chance to enjoy fresh air (and wind blown hair) while in the open-air vestibules.
Let me pause here to recommend GoldLeaf Service because of:
the full-length dome windows
reclining seats that rotate to accommodate groups of four
the open-air viewing car
and because that's the section I traveled in and you should always do exactly what I do (unless you don't want to, then just carry on).
Why take the train reason #4) A luxury rail ride provides culinary excellence
Goodbye fast-food road-trip burgers and pre-packaged airplane meals. Traveling on a luxury train lets you enjoy fine dining and wine while on the move.
For example: If you're in GoldLeaf Service, you might eat things like … hot dogs and old muffins. I'm kidding! Think Canadian Barley Risotto, Last Spike'd Beef Short Ribs slowly braised in Okanagan Valley Merlot and Wild Pacific Salmon, all served with award-winning Okanagan wines.
More breaking train news: Rocky Mountaineer has recently bumped up their SilverLeaf Service culinary options, renewing their focus on fresh local ingredients and gourmet snacks. Yes, I will have some more Earl Grey scented trail mix, thanks.
Why take the train reason #5) Nostalgia & charm
Riding a train is like taking a step back in time. Where else can you sit back and enjoy gracious service and stunning scenery just as people did before cars and planes? Before the world got too hectic. (Cue violin music here and let's all pause to consider the sad state of our fast-paced world – now smile because the Rocky Mountaineer understands your pain.)
Nostalgic train route example: The First Passage to the West from Vancouver to Banff passes no end of historic landmarks from the early days of the National Railway and the Canadian Pacific track, the line that helped unite the country and linked British Columbia to the rest of Canada. We're talking about things like the Last Spike here! This is exciting stuff.
Some final words about train nostalgia
To help you relive the days of yore (because we all need more yore) during your trip, Rocky Mountaineer team members will regale you with historical soundbites about Canada, the surrounding areas on your route and the development of the train tracks. Try getting that on an airplane. Once again, I rest my case. Happy traveling.
For more information and to book a train trip visit the Rocky Mountaineer website.
Read more about the Rocky Mountaineer:
How to meet people on the Rocky Mountaineer
Wandering Carol's Amazing Rocky Mountaineer Wildlife Photos
Planning a trip to Canada? Visit my Things to do in Canada article.