This post may contain affiliate links.
Being a brand ambassador for Rocky Mountaineer has been a trip. Here's why I love this luxury train.
All I want for Christmas is my two front teeth seats (on Rocky Mountaineer)

My two front teeth seats (in Goldleaf class, please)

My two front teeth seats (with a glass dome car)
Yes! It's the holiday season and many of you are thinking What the heck do I buy my loved ones. (And if you are, what could be a better gift than a luxury train trip through the Rockies?) I, however, am thinking of the end of the year, which means the end of a beautiful partnership, my blog ambassadorship with Rocky Mountaineer.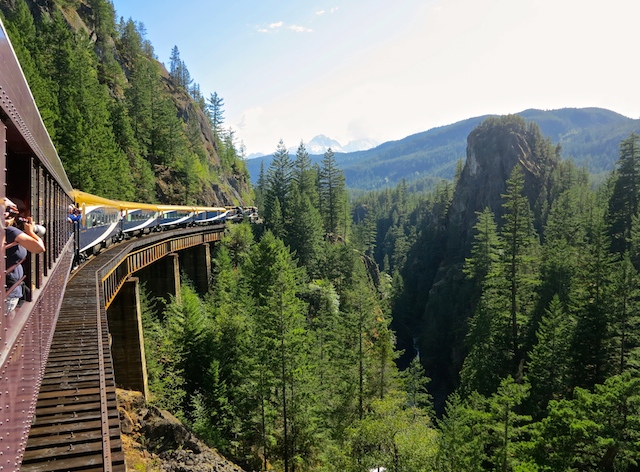 What's a blog ambassadorship?
If this is new to you, let me fill you in. A blog ambassadorship, similar to a brand ambassadorship, is when a company partners up with a blogger who then promotes the company for (usually) a specified amount of time via a variety of ways such as blog posts, social media, photography, public speaking, giveaways or what have you.
The world of blog ambassadorship-dom has definitely gripped the travel blogging world and is a new way for a travel company to reach a blogger's audience and get a different (and hopefully fun, authentic and engaging) voice to talk about their product.
But all good things must come to an end. So please allow me a moment of nostalgia as I wind up my season as the Rocky Mountaineer blog ambassador.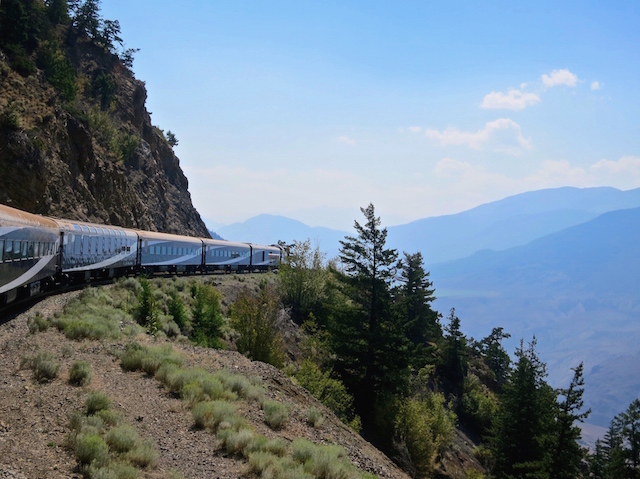 The highlight
The best thing about being the Mountaineer's blog ambassador was – and this is a no brainer – the chance to ride the Rocky Mountaineer with my husband, Mark, because train travel is Romantic with a capital 'R.'
Our trip was more than a train ride. It was a scenic, historic, gastronomic, photogenic train extravaganza that included luxury hotels, a scenic bus tour, not as many wildlife spottings as I was hoping for, far more desserts than I needed and brilliant stops in Banff, Jasper, Quesnel, Whistler and Vancouver. (Though Quesnel was admittedly a whirlwind as we arrived in the evening and left in the early morning.)
Blog ambassadorship stage 1: Banff
In Banff, Mark and I upped the romance factor with a 3-night stay at the Fairmont Banff Springs Hotel (after a not-quite-as-romantic night at a cheap motel on the Banff Avenue strip) before joining a Mountaineer-organized bus tour to Jasper via the Columbia Icefield Parkway.
Oh, the memories
And while Mark got the chance to reminisce about working at Banff's Sunshine Valley ski resort in his youth, I was able to ignore him by focusing on my own memories of working at the Columbia Icefields and now that we've done a Rocky Mountaineer trip together, in the future we'll be able to reminisce about the same thing! Isn't that just the very definition of togetherness?
The Rainforest to Goldrush Route
In Jasper we boarded the Rocky Mountaineer and our next two days were spent riding the rails with an overnight stop in Quesnel. The reason I wanted to do the Rainforest to Goldrush trip was because I'd never been to Quesnel in British Columbia. Actually, I'd never even heard of it, and what I discovered was that this is a region dripping with gold rush history.
The route is as much about travelling into Canada's wild frontier past as it is about the views of the Canadian Rockies and the spectacular-in-a-parched-sort-of-way Fraser Canyon.
A Whistler retreat
In Whistler Mark and I broke up our trip (I said our trip, not the relationship – this is supposed to be a romantic journey, remember?), cozying up at the lakeside Nita Lake Lodge.
What we did – and didn't do – in Whistler
Whistler is a prime outdoor mountain destination and you'd think we would have spent the week hiking into the deep reaches of granite crags and up remote peaks but taking the Peak to Peak Gondola was as far as we trekked into the wilderness because Mark (and I quote) "has a healthy fear of hiking into the forest where there are animals that can eat you."
There is no understanding husbands
For some reason Mark is fine with cycling into woods where there are animals that can eat you. This, plus the fact that we arrived in Whistler during the insanely hopping Crankworx Bike Festival, is how we became intimately acquainted with Whistler's fanatical bike culture.
It's also how I became intimately acquainted with life as an abandoned mountain bike wife when Mark decided to take mountain biking lessons and learn how to hurl himself down Whistler Mountain.
Luckily for the relationship, we also visited the Scandinave Whistler Spa, a Nordic-style bathing complex that may be the very best way of experiencing the outdoors of all.
Sea to Sky Climb
Here's the thing about taking the Rocky Mountaineer from Whistler to Vancouver. Not only is the serenity of Howe Sound a balm for the soul, but as you near Vancouver and are trundling happily along between the coast and an endless row of oceanside mansions, all these train-loving residents come out onto their balconies and terraces to wave at you.
It's such a regular occurrence that the Rocky Mountaineer staff know many of them by heart and can predict exactly who is going to come out of what house.
Authentic travel means interacting with the locals
This non verbal interaction between cultures (the culture of people on the train and the culture of people not on the train) is such a rare and heartwarming interaction with nature – kind of like snorkelling with wild belugas in Churchill – that you immediately start waving back and thinking you are a rock star.
Last stop Vancouver
The ego boost can be a problem because once you arrive in Vancouver and the trip is finished you keep waving to random people on the streets and quite naturally assume everyone loves you, and then your husband starts looking at you with fear in his eyes while searching around for a mountain to hurl himself down.
But here's my point. Rocky Mountaineer, you are the rock star and just like all those train-tripping fans along the route, I'm standing here (well, sitting, actually) waving a warm goodbye.
So Happy Holidays, and may there be train travels in the future for everyone.
Travel tips for the Rocky Mountaineer
I highly recommend people extend their Rocky Mountaineer journeys at either end so they can get to know the destinations in more depth. That's what we did. For more information on routes and prices visit the Rocky Mountaineer website.
Don't know what route will suit you? Read this train travel blog post about Rocky Mountaineer scenic train trips.
For more ideas about travelling in Canada read Top destinations in Canada.
Disclosure: My blog ambassadorship with Rocky Mountaineer included a Rainforest to Goldrush trip. All opinions and nostalgic blitherings are my own.