This post may contain affiliate links.
The dirty truth about writing spa reviews
A lot of my time as a travel writer is spent at spas. But before you go all let's-hate-Gwyneth-Paltrow-because-her-life-is-perfect on me, let me just say being a spa reviewer is not all jet-set chic and whale-music bliss. If you think writing spa reviews is glamorous or aspire to be a spa reviewer yourself (and who doesn't?), read on.
Spa writing is the best job in the world
What? You don't believe it's not all essential rose oil and hushed elegance? Okay, fine. I was just trying to be humble. I DO spend all my time looking polished and spa perfect. Writing about spas is the best job in the world. And here are the photos of my glam perfect spa life to prove it. Or not.
Better yet? You'll get a privileged peek behind the closed door of writing spa reviews.
Playing the grand lady: Writing spa reviews at Lucknam Park near Bath, UK
Why yes, I do write reviews of grand manor houses – especially those with 5-star spas, and when I do I simply must put on my Downton Abbey best for some fine dinners and glamorous swanning around. Aren't you just green with envy?
Speaking of green: my Crushed Sea Salt and Seaweed Body Envelopment at Lucknam Park
Possibly, just possibly, this may not be my best look, but this is the Seaweed Body Envelopment I did at Lucknam Park, a 17th century Palladian mansion set amidst listed parkland and English gardens outside Bath, UK. See how elegant and slimy, I mean, slim the treatment makes me look?
Some Saskatchewan spa loving: Sahara Spa, Moose Jaw
I adore a nice spa lobby, it makes me feel so pampered as I sit with a cup of herbal tea waiting for THE treatment that will make me radiant. I was positively brimming with anticipation at Sahara Spa in Moose Jaw.
The writing-spa-reviews reality: Could I look more divine?
It's all fine and pretty until you go into a treatment room. Then your true colours start to show. Personally, I think my outfit in the picture above is one of the best spa looks for 2015. It's not about co-ordinating accessories, you see, it's about finding your independent spa style. Note how the booties, the mitten and headband above are all different hues! That's just me, being fashionable.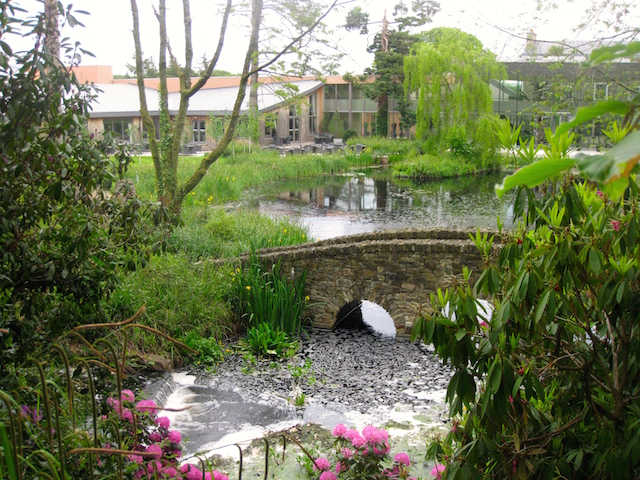 My idyllic life writing spa reviews: Monart Spa in southeast Ireland
This is one of my all time favourite spas (of which I have many). Monart Spa is a destination spa in Ireland where you can wander a labyrinth of poplar trees, stop for free foot massages in the thermal area and have wonderfully reviving treatments.
Like a bucket of ice water on your head. Yes! That's what I'm talking about! This is the peak of a spa reviewer's life.
Spa reviews in exotic Asia
When it comes to spas it's hard to top Thailand for soothing treatments, wellness and detox spas, especially on the island of Koh Samui. Visiting tropical spas and wellness retreats really puts a new perspective on your outlook – turns it right upside down, in fact  – and gives your face a to-die-for rosy glow.
Have I mentioned I hate yoga?
The adventurous spa reviewer goes to Poprad, Slovakia
The town of Poprad at the base of the Tatras Mountains has steaming hot thermal water and a wonderful mix of warm pools at AquaCity wellness complex. So why then, did I feel the need to enter a minus 120 degree chamber to try cryptotherapy?
To write a spa review of course. And I really hit the height of spa chic here, with a femme fatal look (above) that takes you right from the cryotherapy chamber to a romantic dinner in a 5-star hotel. What really makes ties this outfit together is the fun face mask with knee socks pairing – just the thing to wear for pairing wine and cheese.
The sophisticated spa reviewer: La Mirador Kempinski above Lake Geneva
A job writing spa reviews doesn't get any better than when touring Lake Geneva. Montreux Palace, Clinique la Prairie … I could go on and on but I'll stop with the Mirador Kempinski near Vevy, Switzerland, where the wellness-focused La Mirador Medical Centre sits side by side with Switzerland's only Givenchy Spa.
When writing spa reviews one must consider the all-important spa accessories angle
I've never been a big one for bling (kidding!) but I do find traditional ornamentation such as earrings passé. At La Mirador Medical Centre I became interested in a new jewelry trend I like to call Bio-Photon Chips On The Face. Not only will it make you the centre of attention at any posh gathering, it regenerates your cells!
Scenic spa reviews: Auberge de la Montagne Coupée in Quebec
It's hard to get a better setting for a spa, and the spa in the Auberge de la Montagne Coupée (Cut Mountain) is a place to ground yourself and connect with the spectacular natural setting of the Lanaudiere and la Mauricie region of Quebec.
I wanted to connect with the crimson fall foliage so badly that I concentrated very hard and willed myself to turn the colour of a maple leaf! The fact that I ended up looking like Lucifer's mistress is irrelevant; I was connecting with nature.  When writing spa reviews it's hard to go wrong with mud wraps, seaweed wraps, chocolate and/or honey masks if you don't mind hot looks like this. one I affectionately call Radioactive Bombshell. Don't I just glow?
And so my friends, and future spa reviewers. Writing spa reviews may seem glamorous. It may seem like the easiest job in the world. But now you know spa writing's dirty secrets: The only job that involves more mineral-rich mud is pig wrestling, and the only place you'll be draped in more slimy green stuff is a swamp.
You'll never have a good hair day, and you'll be forced to get in touch with your chakras more often than you're in touch with your mother. That said, I agree. Writing spa reviews really is the best job in the world.
Want more spa blog posts? Read The Spa and Spa Travel