Oh, to have $20,000 to stay at the legendary Clinique La Prairie in Switzerland and ingest the cells from the fetus of a black sheep. (If I'd come a few years earlier I would have said inject rather than ingest, but due to EEC regulations, the shots had to stop.)
But whether historic or uber contemporary, Swiss spas and high tech wellness vacations are becoming ever more entwined.
Touring Clinique La Prairie, the grand dame of Swiss Spas
Sadly, I'm not injesting or injecting at Switzerland's Clinique La Prairie. I'm merely touring this deluxe destination spa in Clarens-Montreeux by Lake Geneva. I'm not even getting so much as a facial much less their famed cellular Revitalization Treatment, but I came here on the spur of the moment and it's thrilling just to be able to peek into these hallowed halls.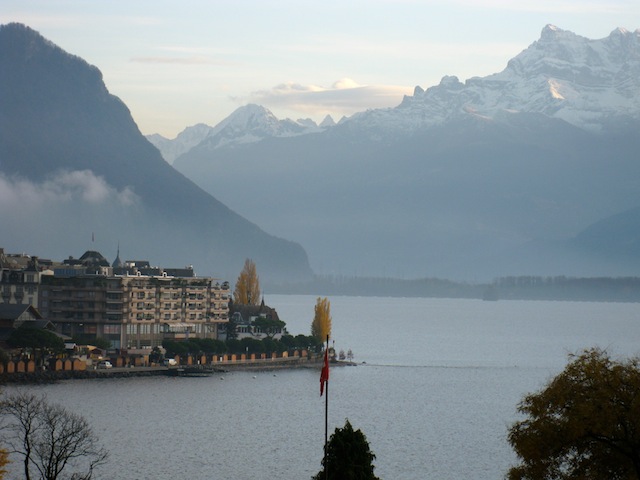 In fact, for a person who makes a career of writing about luxury spas and luxury hotels, and is a huge fan of Swiss spas, it doesn't get more exciting than this. Some day, I tell myself. Some day.
About Clinique La Prairie
When it comes to Swiss spas, Clinique La Prairie is the pinnacle of wellness, the heart of those mysterious retreats where '40's movie stars would disappear to "refresh". While the six-day cellular Revitalization Treatment has evolved since 1931 — as I said, oral emulsions are now used instead of injections — it's still a big anti-aging draw … just don't use that term.
"Anti-aging doesn't exist," a staffer tells me. "We call it slowing the aging process."
Wellness in Switzerland
I call it the Fountain of Youth, but before I can drink I need to save up for a few decades. No matter. There are plenty of other Swiss spas and high tech wellness options are available. La Prairie may be a forerunner of cellular therapy, but plenty of other swanky Swiss spas have gone molecular, combining science, wellness and luxury to treat everything from burnout to slack skin.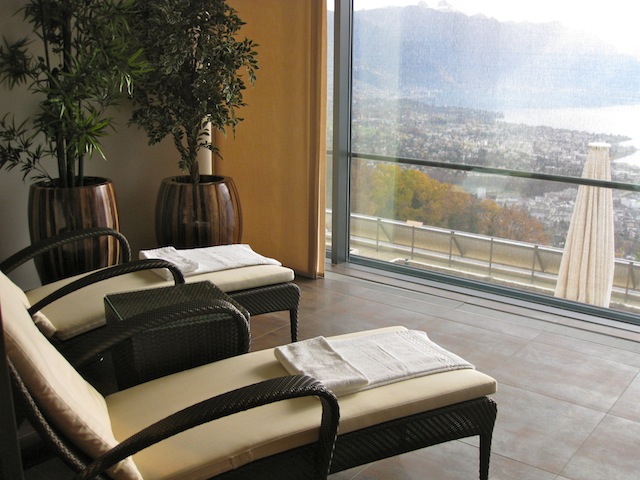 Le Mirador Kempinski, a 5-star path to holistic wellness in Switzerland
Just up the road in Mont-Pelerin, the medical centre at the stylish Le Mirador Kempinski offers a weeklong Bio-Molecular Vitality Cure. High on a hill with spectacular views of Lake Geneva, the hotel is an ideal wellness destination and I'm luckily enough to be sampling a treatment.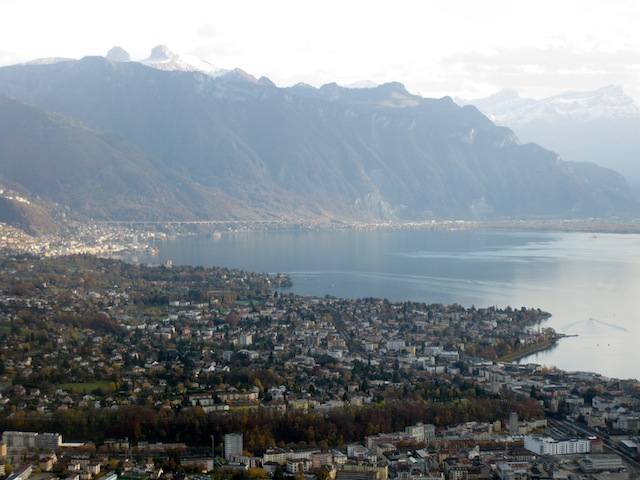 The Vitality Cure, designed to boost energy, is based on the principles of natural medicine and includes futuristic-sounding treatments like magnetic resonance therapy, bio-cellular injections and Oxithermie detoxification.
"The body is like a car," says Dr. Alex Ohlenschlager, director of the Mirador Medical Centre as he pours me a glass of Alpine spring water infused with oxygen. "If you don't use it properly, the batteries will run down."
Check out the Biophotons
I'd be happy to stay at the Mirador Kempinski, one of Switzerland's top spas, for a full tuneup, but only have time to sample a Biophoton Treatment, meant to regenerate cells by stimulating targeted areas of the body with light. In an antiseptic treatment room, Dr. Ohlenschlager checks my pulse and asks if I have medical problems.
"Stress," I say.
He places a number of casino chip-sized filters on my body then leaves me to zone out. Thirty minutes later he's back to peel off the filters. "The ones your body really needs don't come off easily." He seems surprised when the one on my cheek pops right off. "You must be wearing makeup."
Well, yah.
Even with makeup the filter on my forehead is so stuck it leaves a red mark, something my spa therapist notes when I cross the hall to the hotel's light-flooded Givenchy spa. (I may be on a cellular journey but it's no crime to want a Hydra-Sparkling Facial, too.)
On to the Swiss spa of Bad Ragaz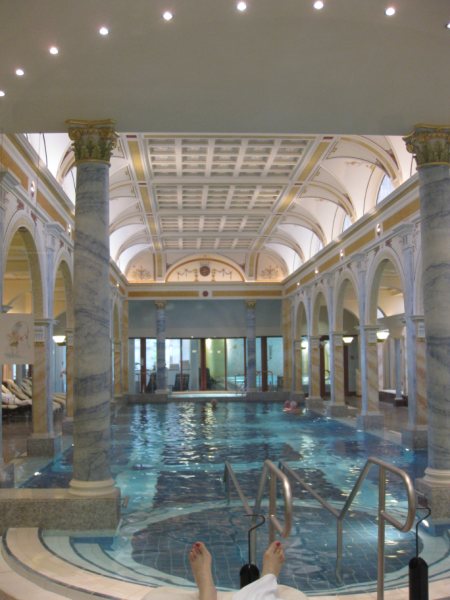 I leave the spa at the Mirador Kempinski glistening and refreshed enough for my cross-country journey to Grand Resort Bad Ragaz, an elegant spa resort southeast of Zurich. If the Kempinski harnesses the power of light, Bad Ragaz harnesses water.
The power of Swiss healing water
The thermal spring that gushes from the nearby Termina Gorge has been used to heal for centuries. With three connected hotels, a Swiss Olympic Medical Centre, extensive wellness facilities and the first Swarovski crystal steam bath in the world, Bad Ragaz has everything a spa connoisseur could dream of, including a Stem Cell Therapy that targets the face and décolleté.
Mesotherapy aka needles in your face at Bad Ragaz
"Where do the stem cells come from?" I ask Dr. Kipfer, a specialist in aesthetic plastic surgery as we sit in his gleaming white office. "Sheep?"
"Your own blood," he says. "We take it from your arm, separate the stem cells with centrifugal force, add ingredients like vitamins and peptides then apply it to your face using mesotherapy and a special oxygen brush so that the stem cells can go down into the new skin, wake it up and say, 'Let's get some collagen going.' "
"Sign me up," I say, undeterred when I learn that mesotherapy means rolling a brush coated in micro-needles over my face. If I couldn't be injected with sheep cells, my own blood is the next best thing. I guess.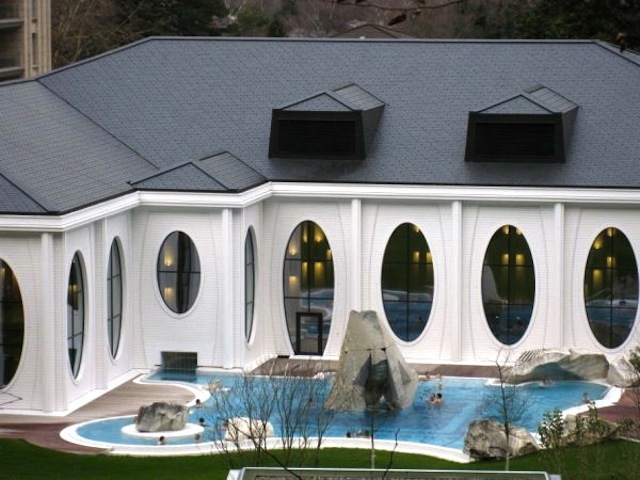 The next morning after a soak in the resort's thermal pools, I report to the Bad Ragaz medical health centre. Is this insane, I wonder, as blood is taken from my arm? While it's sent to the lab, Manuela, my therapist, cleans my skin and brings out the roller.
"Ouch," I say as the tiny needles trundle over my chin.
"That's the bone." She nods sympathetically.
Another therapist brings in a syringe full of pale cranberry-coloured liquid. "Your blood!" she says.
Make that a beefed-up blood cocktail. Manuela smoothes the liquid over my face then a blast from the oxygen brush pushes it deep into my skin.
"Do you see how quickly it disappears?" she asks.
I'll say. My face has sucked it up like a vampire — and this Twilight approach to beauty seems to work — the only after effect is a tingling pink glow and three weeks later my skin still looks smooth and fresh.
What can I say? Cellular therapies are elite, extreme and exciting. They may also seem ghoulish, but maybe that's the key — no one ages better than a vampire.
Swiss spas and wellness travel tips
Clinique La Prairie: The spa isn't half of it. In addition to a full service spa, Clinique La Prairie has five-star hospital facilities and some 60 medical consultants. The inclusive six-night Revitalization Treatment starts around $20,000. Seriously. And that's for the cheapest room.
Le Mirador Kempinski: The inclusive seven-day Complete Biomolecular Vitalization Treatment at the Mirador Kempinski run more than $10,000.
Grand Resort Bad Ragaz: The 'To B. Wellbeing and Medical Health' program at the Grand Resort Bad Ragaz offers everything from plastic surgery to sports training. A Biostimulation and Regeneration Mesotherapy treatment costs approx $1,000, hotel not included.
Visit the Switzerland tourism board for more information on Swiss spas.