This post may contain affiliate links.
The problem with visiting Italian spas that are not through-the-roof expensive is that there is almost no information in English. I thought I'd narrowed my search for an Italian spa to visit down to the spa towns of Viterbo, Tivoli or Ischia – all Italian spa towns complete with hot springs – but then Fiuggi came into play.
The search for an Italian spa – Fiuggi
Fiuggi is a major Italian spa centre and – this is the big draw – Fiuggi cured Michelangelo's kidney stones! How can you not want to go to a spa that cured Michelangelo's kidney stones? Michelangelo said (not to me, obviously, so I can't confirm this) that his kidney stone was the only stone he couldn't love. Isn't that priceless? As priceless (well, maybe not) as one of his sculptures.
Only, I don't have kidney stones but I was thinking that perhaps a trip to Fiuggi could cure something else. Something I didn't know I had, or maybe it could prevent kidney stones that I might have gotten had I not gone to this historic Italian spa town.
Where is the Italian spa town of Fiuggi?
Fiuggi is about two hours out of Rome and I even found the hotel I wanted with a stellar spa package. The Hotel Ambasciatori (doesn't that just roll off your tongue?) and here's the deal:
6 nights with Full board + wellness center + free wifi + cloud bath treatment (25mn) + aromatic massage (50mn)
Price:       599€
Don't ask me what a cloud bath treatment is but I'm sure I could use one. It's probably extremely beneficial for preventing future kidney stones. The deal seemed wonderful to me so I thought I had made my decision, then I stumbled onto a forum discussing the Italian spa town of Fiuggi that said the spa baths weren't baths at all, but more like a spa park, where you walk around and drink the water.
The waters of Fiuggi
The mineral water in Fiuggi is said to be a rare breed of water with a low mineral content that acts as a diuretic and somehow magically dissolves kidney stones. Only, as I mentioned before, I don't have kidney stones. Nonetheless, it sounds like an excellent Italian spa.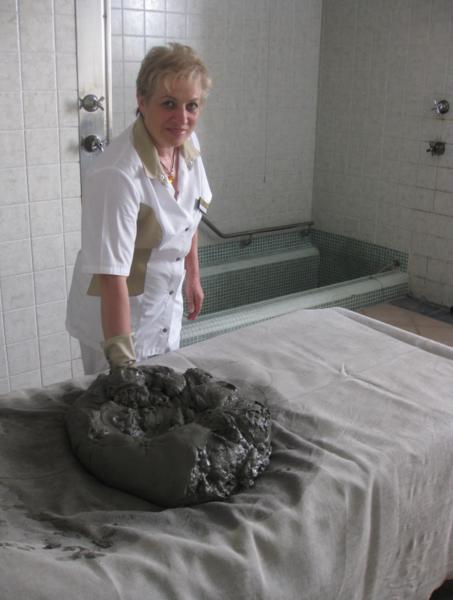 Fiuggi's other claim to fame
In addition to curing kidney stones the water at the Italian spa town of Fiuggi also acts as a detoxificant and we can all use a good detox holiday. Am I right? But the thing is, I really like to bathe in thermal (hot) water as well as drink it. I'm a bit of a water hog that way. So maybe Fiuggi isn't right for me after all, and it's back to square one of my search for an Italian spa.
The search for an Italian spa gets obsessive
I swear, I'm waking up in the night going over the pros and cons of each spa town in Italy, while knowing really nothing about them. Without Fiuggi I have to start all over, and soon I'm going to need an extra spa holiday just to recover from the stress of booking a spa holiday in Italy.
Wandering Carol eventually finds her spa. In fact, since this was written she's found quite a few. Here's a sample:
Montegrotto, Italy
Want help? Check out How to Choose a Spa in Tuscany
Read more about spas at The Spa and Spa Travel