One of the oldest spa towns in Italy is Montegrotto Terme. Adjacent to the better known spa resort of Abano Terme, the town of Montegrotto is just 45 minutes from Venice and is a top destination to relax, renew and soak up healing thermal springs.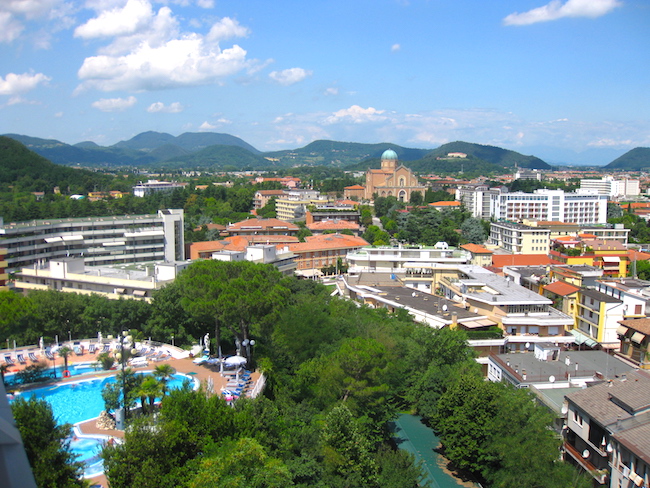 Montegrotto, Italy
It took me awhile but I finally found the sacred lake of Montegrotto – or at least the former site of it. Bubbling hot and vaporous, the lake was set in a wild marshy forest at the bottom of Monte Castello in northern Italy. Revered and respected, the lake was a place of mystery to the ancient Venetians, a holy site devoted to the cult of the horse.
A high-pitched screech distracted me, followed by screams of laughter as two children jumped into the pool. Maybe several millennia ago this was a sanctuary – now it's the grounds of the Hotel Preistoriche in the Italian spa town of Montegrotto Terme, 45 km from Venice and an easy train ride away. Today, instead of sacred pottery vessels and chanting priests, you're more likely to find aqua exercises and deck chairs around a sprawling thermal pool.
Oh, how things change.
Sitting on a mossy stone bench I picked up a stick, tempted to dig into the cracked dry soil where a number of votive offerings like tiny bronze horses and chalices have been found.
I supposed I shouldn't complain about progress. If this were still the 8th century BC I'd be up to my ears in magical rites and sacrifices instead of indulging in a week's worth of spa treatments, and the accommodations wouldn't be nearly as comfy as my 5-star hotel, the Grand Hotel Terme. Nonetheless, I couldn't help thinking something has been lost.
The healing thermal springs
At least the thermal water hasn't changed. Travelling down from the Lower Dolomites the hot springs water takes a 25-year underground journey, soaking up mineral salts before gushing out at a temperature of 87C. Good for the joints and muscles, the mineral-rich water is a big hit with the German, French and Italian spa lovers who flock here.
Spa packages in Montegrotto
It was also a big hit with me. It's not easy finding the right Italian spa but if you like sleepy places, comfortable hotels and lots of spa healing treatments, this is a good choice. Montegrotto Terme and its sister Abano depend on natural therapies that use the healing properties of thermal water and mud.
Other spa treatments in the traditional spa package involve massage and gentle exercise, although there are as many variations in packages as there are trees in the Euganean Hills. Modern hotels also offer plenty of other wellness and beauty treatments such as facials, wraps, manicures and salt inhalation rooms. Almost all spa hotels will also have pools, saunas and steam rooms.
If you're doing a spa package here, you can see the spa doctor to arrange your schedule. My package included half board (breakfast and dinner), all spa treatments, accommodation and access to pools and sauna. Getting a spa package is definitely the most affordable way to spa.
Can you visit the pools at Montegrotto or go to the spa just for a day?
Fortunately for day trippers to Montegrotto Terme, many hotels offer day visits, individual spa treatments or access to their pools for a fee. A few to enquire at include the Hotel Terme Miramonti and Relilax or The Hotel Preistoriche (nice grounds, very basic spa).
Another to try is the 4 star Hotel Millepini. You'll have better luck during the week than on the weekend, and booking beforehand is always a good idea.
Mud treatments
The next morning I entered a tiled treatment room in my hotel wondering if the ancient Venetians ever wallowed in mud. If they did, it would have been an instinctive pleasure. Today it's a science. The mud, a mix of clay, thermal water and beneficial microbes, is cured for two months. Analyzed for its healing and pain relieving properties, the mud here is taken so seriously that the European Patent Office has declared it a drug. Finally, a healthy way to get high.
Though the heat is a bit of a shock. "Yeow," I said, sitting down on what looks like a hot mud pie.
Anna Marie, my therapist, laughed. English wasn't her first language but that much she understood. "Yeow is international," she said, coating my legs and back with maternal care while murmuring things like perfecto and brava! as if I'd accomplished a far more heroic feat than simply getting out of bed.
Was it any wonder a mud bath was my favourite activity of the day?
Fangotherapy
Fangotherapy, or mud treatments, are the keystone of the region's spas, offered at more than 100 hotels in Montegrotto and its larger sister spa, Abano. It was a simple three-step process. After soaking up the minerals in the mud, I relaxed in a bubbling thermal bath then retreat to my hotel room where a second therapist gave me a quick circulation massage.
Exploring Montegrotto
In the afternoon I considered walking to Abano or taking the train into Padua, 11 km away, but Montegrotto was weaving its sacred spell on me and I ended up lounging by the pool.
Finally at dusk I roused myself, meandered through the town's shops and then, because I'm nosy, I poked my head into various hotels. Some had extensive park-like settings dripping with chestnut, acacia and oak. Many had fenced off 'mud farms' where troughs of mud and hot spring water lay steaming in some mysterious alchemy.
At the Hotel Neroniane a row of weathered columns stood spot lit in the garden – a legacy of the Romans who eventually (and peacefully) mixed with the Venetians and dedicated the area to Aponus, God of the Springs.
Montegrotto in Roman times
By the time the Romans settled here Montegrotto was more spa resort than holy site, but there were still some otherworldly figures around. Strangest of all was a monstrous god named Gerion imprisoned deep in the earth. His prophesies of the future were interpreted by an oracle, or priest, who read the signs either through the misty sulphurous water or by tossing golden dice. It's said Hercules consulted the oracle here as did the emperor Tiberius.
I stared at the ground. There's a lot going on under the earth in Montegrotto Terme: roiling water, prophesizing gods, Roman relics and offerings to the cult of the horse. The magic of Montegrotto hasn't been lost, I realized. It's just gone underground.
Travel tips for visiting Montegrotto Terme
About the spa town of Montegrotto Terme
Like many spa towns in Europe, the crowd in Montegrotto Terme is older and it's no party town. It's definitely a spa town to unwind in and is a good break if you're visiting Milan, Venice or Padua.
How do you get to Montegrotto?
The spa town is easily reached by direct train from Venice or Padua. It's on the Venice Milan route. It's just 11 km from Padua. You can also take a bus to Padua but it's a winding route and takes longer.
Abano or Montegrotto?
If you want a spa vacation in Italy, Abano and Montegrotto are both solid options and they're practically connected. Abano is bigger and there is more to do, but Montegrotto is right on the train line, so if you're going to do a lot of day trips to Venice, Padua or other areas in Veneto, it's convenient.
The two spa towns both have hot springs and both have plenty of hotels and are only two km away from each other. I've stayed at both, and they both have their charms.
Want to try another famous Italian spa town? Check out Montecatini in Tuscany. For more hot springs spas in Tuscany, check out the best Tuscany Hot Springs spas.
Spa hotels in Montegrotto
There are a ton of spa hotels in Montegrotto Terme. In fact, every second building is a spa hotel. I stayed at the Grand Hotel Terme in Montegrotto Terme. There are even more hotels in Abano. Compare hotel prices and availability in Montegrotto and Abano below. (I'm a Booking.com affiliate.)
10 Things to in Montegrotto Terme
#1 Head to the spa and soak
The best thing to do in Montegrotto is to spa. A soak in the hot springs will soothe those aches and make you feel totally relaxed.
#2 Mud
Do not miss a mud treatment. This muck is famous. Warning: It may not be the coddling treatment you're used to. You'll be told to strip, lie down and then you'll sweat. But if you ask me, it's worth it.
#3 Explore the Roman ruins
Right along the main street you'll find the archaeological zone with the ruins of a Roman bathhouse. You can see from the street or you can join a guided tour but it will undoubtedly be in Italian. You can also cruise through the grounds of the Hotel Neroniane to see its weathered columns.
#4 Visit the Butterfly Arc
This House of Butterflies houses thousands of butterflies and exotic gardens. There is also a hokey fairyland with gnomes, witches and elves. Via degli Scavi 21 Bis, Montegrotto Terme.
#5 Take the tourist train
Yes, there is one of those little tourist trains that will take you around. Embarrassing, but who do you have to impress? It's a quick and easy way to get to Abano.
#6 Visit Villa Draghi
Standing on the slopes of Mount Alto just west of Montegrotto is the neo Gothic Villa Draghi constructed in the mid 1800s. There's nothing inside to see, but you can wander around the park grounds.
#7 Hike
A nature trail starts at Villa Draghi. You can get there by heading along Via Castello from Piazza Roma.
#8 Visit the Museo del Vetro, also known as the Museum of Glass Art and Spas in Abano to see displays of Murano glass. Via Pietro d'Abano 20, Abano Terme.
#9 See Padua
One of the most rewarding things to do in Montegrotto Terme is to take a day trip to Padua to see the fabulous Giotto frescoes at the Scrovegni Chapel. This is considered one of the masterpieces of Western art and reservations are a must.
#10 Take a day trip to Venice
It's just a 45-minute train ride away so it would be a shame not to venture into Venice to take a vaporetto ride down the Grand Canal or stroll around St Mark's Square.
Read more about Going to the Spa and Spa Travel