This post may contain affiliate links.
I'm just glad I brought a suitcase full of heels and skirts because spas in Italy – at least the ones I've been visiting – go by a drowned-rat-in-a-bathrobe look for day and Italian glam by night. (And if this post sounds like I'm bragging about my wonderful spa life, wait for my next installment – trust me, it ain't all roses.)
Eating alone on a spa vacation
But back to travel hassles. Eating alone can be a big pain when you're travelling solo. So far I've managed to avoid the dreaded alone-at-swanky-restaurant issue opting for sandwiches at a bar – but it finally happened, on my second night at a Tuscan spa called Fonteverde, Italian spa retreat to the stars (not that I'd know an Italian star if I saw one unless her name was Sophia Loren) – I was on my own for a four-course meal. At a former Medici palace no less. Apparently the Medicis liked their spa waters just as much as we do, though I bet not a single Medici ever had to eat here alone.
How to embrace dining alone
Drink: But whatever. Instead of worrying about my solo status, I decided to embrace it. This was made much easier because of a friendly waiter and a glass of red wine from Montepulciano (the waiter told me that Nobile Grandi Annate is one of the best, but it only came by the bottle so I had a smooth glass of Insoglio instead.)
Spy: I also enjoyed myself by spying on the other diners: a seriously gorgeous Italian couple, a few merely sensationally attractive Italian couples, one unattractive scowling couple, two women – language unrecognized – and a trio of who I believe were Russians, though I could be wrong.
Eat local: I sampled the estate's latest production of olive oil –quite peppery – ate a salad (everything local, of course – this is Tuscany), had a bowl of zucchini soup and feasted on braised veal cooked with spring onions and red wine, served with a chestnut  polenta.
Document: I even, though this took bravery, asked the waiter to take my photo.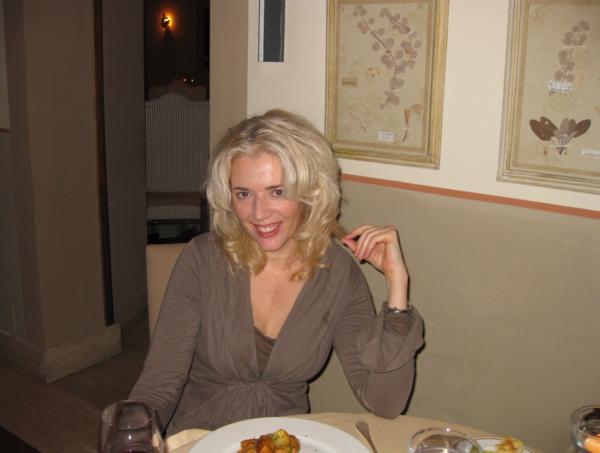 I'm sorry the waiter didn't capture the veal and the wine in the picture. I wanted to make him redo it, but felt stupid enough asking for a shot in the first place. Hopefully the photo captures the festive I-don't-care-if-I'm-eating-alone spirit.
The evening would have been complete if only I could have stayed for desert: a Puff Pastry with Cinnamon, Egg-nog and Orange Sauce perhaps, or Raspberries and Strawberries Tart with Star Anice Sorbet, but I was getting sleepy and truthfully, the conversation I was having with myself just wasn't riveting enough to keep me awake. Next time I promise I'll be more entertaining, because I think I've successfully learned how to overcome one of the solo traveller's major travel hassles: eating alone.
Read more about going to The Spa and Spa Travel