This post may contain affiliate links.
Planning a Swiss holiday? Wondering where the celebrities go? Check out these top luxury destinations in Switzerland.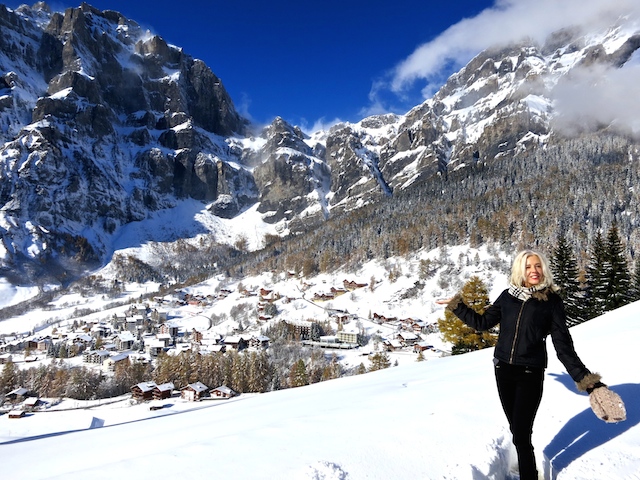 Luxury destinations in Switzerland
When you picture Switzerland, what do you see? Spectacular mountain scenery? Trains that run on time? Chocolate?Maybe you should start thinking glamour, extravagance and impeccable service, because when it comes to top tier travel, Switzerland is your man, er, I mean place – and celebrities love it.
Whether it's renting a deluxe chalet in Switzerland, staying at a swanky spa resort or a historic hotel like Lausanne's Beau Rivage Palace, this clean and swanky European country's got you covered. To help you plan your trip, here are some of the best luxury destinations in Switzerland, along with the best times to go.
Celebrity ski destinations
When it comes to skiing with the rich and famous, there is nothing like the Alps. Switzerland is probably the number one destination in the world for luxe ski resorts. (Sorry, France!) The names of the best ski towns are almost mythical, think St Moritz, Zermatt, Gstaad.
On these hallowed Swiss slopes the views are legendary, the snow pristine and the winter activities outstanding, so try these fabulous ski towns out for (ski boot) size: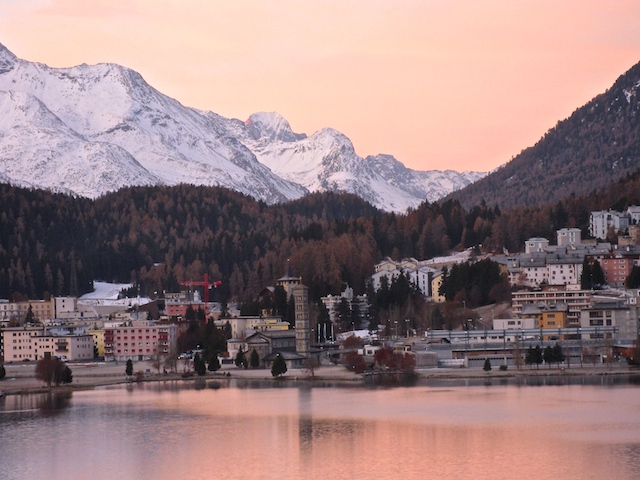 St Moritz
Known as the birthplace of Alpine winter tourism, glitzy St Moritz in the Engadin Valley of Switzerland is famous for its sensational skiing on the Corviglia, luxury hotels (hello, Badrutt's Palace Hotel!), ritzy shopping on Via Serlas and death defying Cresta toboggan run.
St Moritz was a favourite of Alfred Hitchcock, the James Bond movie The Spy Who Loved Me was filmed here, and anyone who is anyone has skied here at least once. From the posh upper crust hanging out at the private Dracula Club (I toured it, and honestly, it's nothing to look at, but maybe that's the point), to a quiet lakeside stroll, St Moritz is a caviar-fuelled locale.
Verbier
Verbier is the place to go in the Valois area if you want to party hard. Ski off piste, whip down the 10 km Tzoumaz toboggan run or visit the Haute Val de Bagnes, Switzerland's second largest nature reserve. After hours revel in the nightlife at the Coco Club or the Farm Club, a Verbier institution.
If your budget is sky high you can even opt for a helicopter picnic in the peaks. And who knows? Maybe you'll run into Richard Branson who owns a chalet here. Oh, and while you're in town don't miss singer James Blunt's restaurant La Vache.
Klosters
Low-key luxe is what you'll find at Klosters, a favourite of Prince Charles and family. It's an aristocratic destination but flash and bling is out of place. Unbelievably, there isn't a single 5-star hotel, but it's where you'll find celebrities at their most outdoorsy and relaxed.
Gstaad
A Hollywood hangout for decades, Gstaad (pronounced 'Shtaad, don't you know?) was a favourite of Elizabeth Taylor and Richard Burton. Current residents include Johnny Hallyday, the famous French rock star, and singer, Julie Andrews.
An idyllic alpine village in the Bernese Oberland, Gstaad offers 85 km of ski runs and five main ski areas, but indoor lovers will find plenty of places to chill including the luxe Gstaad Palace, a venerable hotel that opened in 1913. Once you're rested, check out the nightlife at venues like GreenGo and Alpina but overall the vibe at Gstaad is laid back.
Pin me!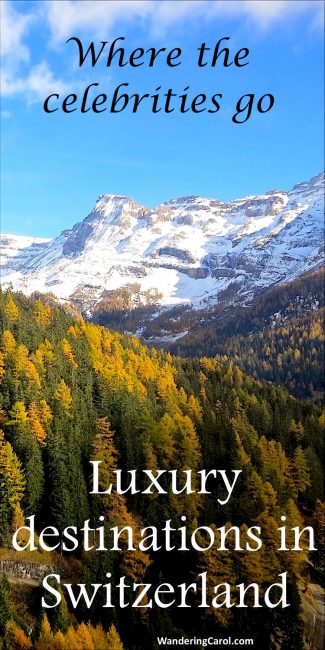 Zermatt
Zermatt is a luxury destination in Switzerland that's good to visit any time of year because its superstar mountain, the Matterhorn, always looks its best.
Whether you're planning to trek the Hörnligrat route up to the Matterhorn summit (not without a guide, please), have lunch at Chez Vrony or Zum See (Pipa Middleton's recommendations), or just enjoy the fresh air, which is exceptionally fresh as only electric vehicles are allowed in town, Zermatt is an ideal spot for a high-end vacation.
Celebrity spotting? Phil Collins, Robbie Williams and Angelina Jolie and brood have all visited and Frida Lyngstad, Abba's dancing queen herself, lives here with her British squeeze, the fifth Viscount Hambleden.
Swiss cultural chic
Basel
Basel is the place to see and be seen during the celebrity-strewn Art Basel in June. Europe's most prestigious art fair, Art Basel brings together some 300 top tier galleries to highlight the best of the art world and make fast-paced multimillion dollar deals.
Travel here to rub shoulders with renowned critics, artists and collectors, not to mention A-listers such as Leonardo DiCaprio. While you're at it, here's your chance to snatch up a $12 million dollar painting by Jean-Michel Basquiat or, if your budget doesn't quite stretch that far, visit a few of the city's 40 museums.
Lakeside luxury on beautiful lake Geneva
Vevey
Ah, for summertime heaven linger along the 'Swiss Riviera' on Lake Geneva that runs east from Lausanne to Montreux. In Vevey, a tranquil lakeside town you can visit Charlie Chaplin's former home, now Chaplin's World museum, and while you're having a coffee at an outdoor cafe keep your eye out for country singer Shania Twain, who lives in nearby Corseaux.
Montreux
Just down the road from Vevey is the town of Montreux, once a favourite haunt of the romantic poet Lord Byron. Here you can stay in the lap of luxury at the Fairmont Montreux Palace Hotel, amble along the lakeside promenade and visit the evocative Chillon Castle.
Montreux is a celebrity town with deep musical roots: Freddy Mercury of Queen lived here, David Bowie recorded here and it inspired Deep Purple to write Smoke on the Water. Even today, the Montreux Jazz Festival held in early summer is a huge musical draw.
Spa with the elite
Bad Ragaz
For a luxury spa and sports holiday in Switzerland it's hard to go wrong with Grand Resort Bad Ragaz, a stunning wellness resort in the Heidiland holiday region between Zurich and St Moritz.
If you want to get a gold facial, sweat it out in a Swarovski crystal steam room or dine in a Michelin star restaurant, you've found your vacation spot.
Consisting of three hotels ranging from grand to contemporary chic, Bad Ragaz has a top-of-the-line spa, healing hot springs and a Swiss Olympic Medical Center where top athletes and sports buffs go to hone their performance abilities. Overall, Bad Ragaz is a one stop extravagant spot for all things wellness.
Clinique La Prairie
Do you ever wonder where celebrities go when they discreetly disappear, only to reappear looking refreshed and renewed? If you want to boost your immunity, dive into some serious anti-aging therapies or perhaps get a wee bit of 'work' done, Clinique La Prairie is one of the most exclusive spa, wellness and medical centres in the world.
Their famed rejuvenation therapy used to entail injecting the fetal cells of black sheep embryos into your liver (no, I am not making that up), but now is a more palatable oral pill based on sheep liver cells, and it has attracted everyone from Winston Churchill to Marlene Dietrich (so it's rumoured) as well as rock stars, sheiks and oligarchs.
It's not for the faint of heart or wallet, a 6-day program runs in the neighbourhood of $20,000.
There are so many other fabulous luxury destinations in Switzerland to travel to, from the urban chic of Zurich (and its luscious Dolder Grand Hotel) to the alpine town of Davos where the political elite gather at the annual World Economic Forum, but if you're curious as to where sports stars, movie stars, pop stars and billionaire bankers vacation, this should give you a start.
Read more about top European destinations.