This post may contain affiliate links.
Sitting on a barstool in the M Bar off the courtyard lobby of the Paradisus Palma Real Resort in Punta Cana, I mournfully set down the cocktail menu, watched other people order Negronis del Campos and Smoked Sherry Bloody Marys and wondered where I could get a stupid cup of hot water with lemon and honey.
It's not fair, I thought. I finally escape winter, get myself to a tropical island, the sunny Dominican Republic, and what happens? I get laryngitis. Laryngitis! My body obviously can't cope with happiness and sunshine. No, it said. I insist you get back to Toronto at once, where the icy wind burns your thighs and your eyelashes are permanently glued together by frost.
Have I mentioned my body, who will henceforth be known as The Betrayer, should never be allowed to speak (especially if I can't either)?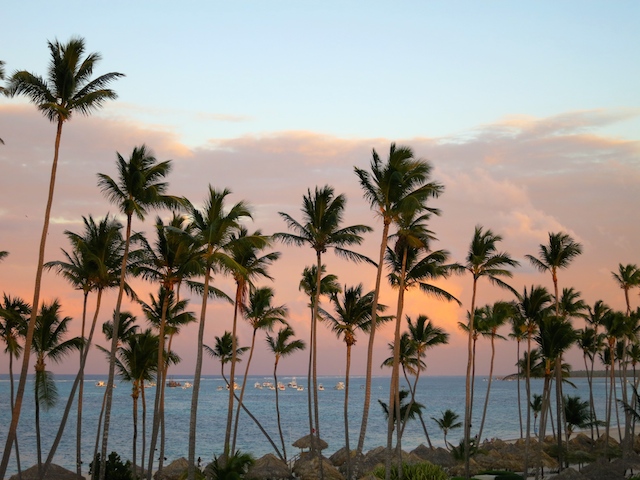 The silver lining: I'm at the Paradisus Palma Real in Punta Cana, a luxury Caribbean resort on a wide stretch of Bávaro Beach, where the sand is like sugar and the waving palm trees look like green-haired dancing girls.
The ugly lining: Every time I swallow it feels as if there's an angry kitten in my throat.
Here's a helpful list for what to do when you're sick on a tropical island
1) Complain to anyone who will listen. In this case it was my butler, Juan, who immediately offered to get a doctor.
2) Determine if you need a doctor. (I determined I did not – I determined I needed sympathy and some tropical holiday healing).
3) Visit the pharmacy – they're used to sick people and will get you what you need, in my case medicinal lozenges from Switzerland.
4) Wash your hands obsessively and don't go around kissing strangers. No need to ruin their Caribbean vacation, too.
What not to do when you're sick on a tropical island
Lie around with a towel on your head.
Caribbean cocktail chic
Back to the M Bar. The Paradisus Palma Real takes its cocktails seriously, forcing me to rethink the whole idea of the all-inclusive resort, which, based on my own family's dysfunctional vacation back in my teens, revolves around bland buffets, bingo, cheap rum punch and dancing the Macarena.
All-inclusives meet tropical island luxury
As my recent forays to some luxury Caribbean resorts like the Paradisus Palma Real have revealed, we now must think of luxury all inclusives in terms of glitz, glamour, creative cuisine … and cocktails. Yes, folks, the time has come. We're no longer talking all inclusive, we're talking luxclusive (and no, I didn't just make that word up).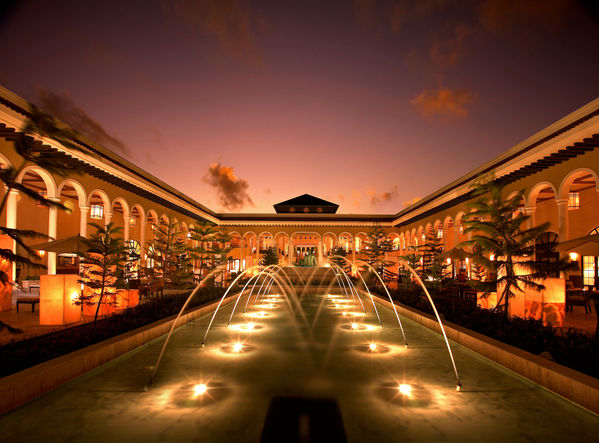 I hate cocktails
Confession: The current cocktail craze has never grabbed my heart (not like a clawing kitten has grabbed my throat), although I do acknowledge Carrie Bradshaw and her cosmopolitans may have put some sexy in Sex and the City. However, to my mind cocktails are sweet and icky and come with maraschino cherries. I know, right? I'm soooo 1992. Okay, let's update this to 2002. Cocktails are sweet and icky and called lychee martinis.
(Okay, fine. Mojitos are an exception. Stop rolling your eyes.)
Let the Caribbean cocktail conversion begin
But I was ready to be converted. I blame this on Miguel Lancha, the Paradisus Palma Real's mixologist, whose passion for the haute couture cocktail is infectious (much like my cold) and who talks about rum in such lofty terms as oak, coconut and vanilla.
I also blame Louis the Bartender at the Paradisus Palma Real as well as my Dominican Republic travelling companions who like to congregate in the bar before dinner. Any bar. There are 9 bars altogether in the Paradisus Palma Real (though some are exclusive to different tiers).
Each bar at the Paradisus Palma Real has it's own concept and its own signature cocktails, which, if you weren't trying to avoid alcohol like I was, would be a fascinating way to tour the resort.
Nightlife at the Paradisus Palma Real
There's the open-air Gabi Beach Bar (which, curiously enough, is not on Gabi Beach), the Lobby Lounge, the over-the-top Red Lounge where the chairs are golden hands and the small but lively M Bar … as well as a random guy playing sax on the beach (who, I realize, isn't technically a bar but I mention him because 1) I want to use his photo and 2) since we're talking cocktails, I want to say Sax on the Beach).
Cocktail creativity at the M Bar
The M Bar is where tonight's tropical island cocktail magic was happening, but not for me. I was sticking to a self-imposed no-drinking rule and sucking medicinal lozenges from Switzerland instead. Could I be a more fun travel companion?
Louis the Bartender tried to hand me a Rosemary and Cinnamon Silver Gin like my friends were drinking, a mouth-watering concoction of gin, lime juice, cinnamon syrup, rosemary, egg white, soda and bitters.
"I'm doo sick do drink," I croaked, noticing for the first time the fresh stalks of celery, rosemary and mint at the bar. Those ingredients looked mighty healthy, I thought. So healthy that having a Dominican Republic designer cocktail was probably like eating a salad or going to a naturopath or … or … getting away to a tropical island resort.
"Whad could you make for a sick person?" I asked in a raspy whisper.
"Something special," Louis said. "Maybe something with tequila or gin."
"Gin is medicinal," I croaked. "At least thad's whad they told me in Spain. But just a tiny bid because I'm not drinking. Whad else?"
"Fresh ginger. And passionfruit," he said.
Fruit is healthy. I tried to say Yes! but it came out more like Yer! so I gave him a thumb's up.
"And some azucar," he said.
"No, no. No sugar. I don' like sweed drinks."
"A little," he said. "For the taste."
"Poco poco," I replied. Poco poco means little little in Spanish (and I hope you're impressed by my keen grasp of the language). "And rosemary?" I added hopefully. Rosemary is an antioxidant. It's supposed to boost immunity. (And, making it even more appropriate for a tropical island vacation, its name is derived from the Latin words for sea dew.)
Louis nodded and started pulverizing ingredients with a pestle.
It takes time to craft a custom cocktail and once it arrived it cheered me up so much I thought we should patent it. We could call it Louis Carol's Luxury Caribbean Cocktail Cure. Our marketing tagline will be, Better than a trip down the rabbit hole. (Lewis Carroll, Alice in Wonderland. Get it?)
I'm not sure if it was the gin, the rosemary or the special attention that perked me up, but I came to the conclusion that if you're going to be under the weather a luxury resort on a tropical island is a good place to boost your spirits. (With spirits! Get it?)
A night of Passion in the Dominican Republic
Our group had a dinner reservation at Passion for 8 p.m. Passion is one of the best restaurants in the Dominican Republic. The Spanish chef behind the restaurant, Martin Berastategui, has 7 Michelin stars to his name and is known for his light imaginative cuisine.
Our group wanted to do the tasting menu, a 7-course extravaganza of flavours, freshness and flair. It was our last night in Punta Cana and Passion was meant to be the highlight of the trip.
Passion is stunning with white walls, red chandeliers and transparent heart-shaped vases, plus it's rated an AAA 4-Diamond restaurant, which, if you don't know what the means, just accept that it's good. Very good.
A menu worth savouring
As I skimmed over the lineup of dishes including Egg Cooked at Low Temperature with Fine-herb Liquid Salad, Slow-cooked Veal with Potato Risotto and Mozzarella Spheres, and Caramelized Torrija with Cafe Latte Ice Cream, no matter how drool-worthy it sounded I had to admit it was beyond me. I wouldn't last the night. That wretched kitten in my throat was trying to claw its way out of my head through my ears and a king-sized bed was calling my name.
"I'm sick," I croaked to Marixell, the maitre d'. "I won't make id for seven courses. Maybe do or dree?"
"Ah," she said. "Why don't we make you something special then? Perhaps a potato soup with lobster and, hm, for a main course something light. Maybe sea bass with cauliflower puree?"
I nodded happily as I dipped a fork in my Cucumber, Apple and Basil Geléé and Scallops Tartare starter. This was even better than a custom-tailored cocktail – it was a bespoke designer meal, and I felt as coddled as a spoon-fed diva.
Funny, I thought, as I took a (small) sip of wine. I knew people came to tropical island resorts to celebrate special occasions – I just never realized laryngitis could be an occasion worth celebrating, too.
Travel facts for Paradisus Palma Real
Paradisus is the luxury wing of the Melia Hotel Group. There are two Paradisus properties in the Dominican Republic, both in Punta Cana. Read a review of Paradisus Punta Cana and Paradisus Palma Real.
Canadians, listen up: Both properties are part of Transat Holiday's Luxury Collection if you're looking for a tropical island vacation with flights included.
Dining: To eat at Passion, there is a $60 additional fee for a 7-course tasting menu plus $40 for wine pairing. (There is also an à la carte menu.)
For more information on Paradisus Resorts visit Paradisus.com
PS: I was a guest of the Melia hotel group, and I'm sure they wish they'd invited someone healthier.