This post may contain affiliate links.
If you want to spend one day in Washington DC, talk to a local for the best tips on where to go and what to see, check out this post by Washington-based Hillary Leo, for tips on where to dine, sleep and sightsee.
One Day in Washington DC
Washington DC is the type of city where, ideally, you'd have several days to explore when visiting.
I've lived here for five years and am still discovering the many neighborhoods, trying the never-ending list of recommended restaurants and scoping out the various boutiques that are sprouting up all around the capital.
What to See on a Day Trip to Washington
The plethora of monuments offers countless opportunities to appreciate the city's history and patriotic spirit along with the many museums that cater to all different tastes.
If you have only one day to spend in D.C. you won't have the chance to experience all that it has to offer; however, you can check out these fun facts about Washington before you go, and cover quite a bit of ground with a 24 hour tour.
(If you have more time, here are some of the best things to do in Washington DC.)
Where to Stay
Three hotels that I would suggest staying for a night at are the Four Seasons , St. Regis or Hay Adams. All three are in excellent locations, offer exemplary service and cater to creatures of comfort.
The Hay Adams is the most preferred of the three for its proximity to, and famed views of, the White House.
The St. Regis is just a block away from the Hay Adams.
If you fancy a stay in one of the most expensive zip codes in Washington, find yourself a room at the Four Seasons in Georgetown.
Getting Active in the Capital
One of my favorite things to do in D.C. is to go for a good run around the National Mall.
If you're an early riser head out for a morning run when the sidewalks and pathways won't be packed by throngs of tourists. Given that you've only got 24 hours, it is a great way to get in some quick sight seeing.
The Washington Monument, the Capitol Building, the Smithsonian museums, Lincoln Memorial, various war memorials and the Reflecting Pool are just some of the things to see while you get a little workout in.
Not a runner? Grab a coffee and go for a stroll to see some of the most quintessential D.C. landmarks.
Indulge with a Washington Brunch
If you've burned off some calories then why not treat yourself to an amazing brunch? Take a taxi or Uber to the U St. Corridor and have a seat at Barcelona or Le Diplomate for delectable eats.
The U St. Corridor is an area that has seen major growth and development over the past few years. There are countless spots to dine, drink, dance and even do a little retail therapy session.
Where to Shop – Tips From an Insider
GoodWood is one of my favorite stores, full of funky vintage and antique finds for the home.
You really can't walk a few blocks in the neighborhood without stumbling upon a store that sells vintage wares so take your time and traipse around for a while.
If you're looking for more name brand buys head to Georgetown for a wide variety of well-known designer goods. Even if you're only spending one day in Washington DC, you can still fit in a bit of shopping.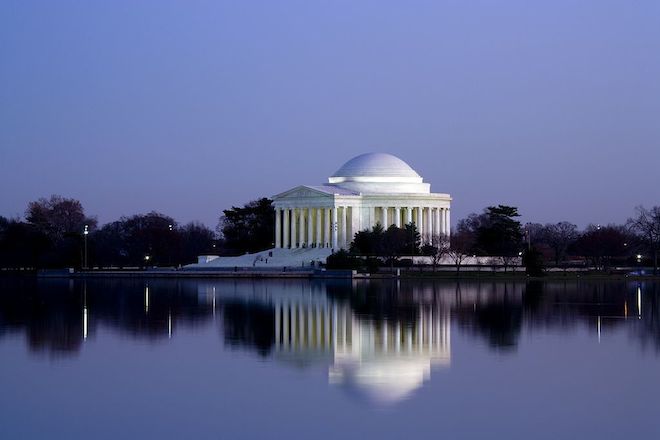 Sights Not to Miss
Once you've gotten your shopping fix make time for something cultural. With only one day in the capital it won't be easy but do the best you can.
The National Portrait Gallery, Hirshorn Museum, Smithsonian American Art Museum, National Gallery of Art and The Phillips Collection are a small collection of the many art offerings in the city.
Often the museums host concerts, wine tastings, painting instruction or game nights once a month. Be sure to check their calendars for any special evening or weekend events that might be going on.
While most of the museums are free, some require a small entry fee especially if it is a special event day.
 Cocktails and People Watching
Reward your retail hunting and cultural intake with a well-deserved cocktail at the bar with the best view in the city. Even a day trip to Washington should include some down time.
POV overlooks the White House and has a perfect view of the Washington Monument (the people watching isn't half-bad either).
On the rooftop of the W Hotel, the bar offers light bites or you can reserve a table for a full dining menu. I recommend a glass of champagne (or two) before heading back to your hotel to freshen up for dinner.
Washington Restaurants
There are so many restaurants that I still have to try in this town, but there are a few that I can recommend that are sure to please even the pickiest diner.
If you're only spending one day in Washington DC you'll be spoiled for choice.
Seafood – Fiola Mare
If you're in the mood for seafood then I suggest Fiola Mare in Georgetown. Located at the Potomac River waterfront, choose to dine al fresco or in the beautifully appointed and nautically themed interior.
Having grown up in Boston it is fair to say that I am quite finicky when it comes to seafood. Fiola Mare has brought fine seafood dining to the District and has my stamp of approval.
A Classic Option – 1789
For a classic dining option at one of the most famed restaurants in the capital you'll want to try for a reservation at 1789.
Among the more popular dishes are the Rack of Lamb with roasted potatoes, rapini, roasted garlic purée and lamb jus and the Pork Chop with roasted chanterelle mushrooms, brussel sprouts, braised pork belly and cider jus.
For the Adventurous Eater – Little Serow
If you're feeling adventurous I suggest Little Serow. The restaurant doesn't take reservations which leaves patrons lining the sidewalk in hopes of securing a seat.
The queue never seems to keep diners away and the accolades keep piling up for this 28-seat Northern Thai restaurant where the menu changes nightly.
A Whirlwind 24 Hours in Washington Wrap Up
Et voila! There you have it… a guide to one day in Washington DC. Hopefully you'll have at least gotten a feel for city after a whirlwind single day stay.
The best time to visit is most definitely the spring. The beauty of Cherry Blossom season can't be beat and the weather is pretty perfect, too. Washington looks forward to welcoming you. Enjoy!
Read more: Visiting New York too? Check out this article on the best things to do in Chelsea NYC or some luxury New York hotels.
About the author: Hillary Leo is a freelance photo editor for National Geographic Society and former fashion editor with an insatiable appetite for travel.